Last Updated on December 24, 2015 by Kristi Linauer
This week, I've had two jobs to do.  The first job was to complete my bathroom.  I'll finish it today, shop for all the little finishing touches and accessories tomorrow, and have the big before and after on Monday.  I've got that under control.
The second job was to come up with the building plan and cut list/supplies list for my mom and me to build this bed frame flanked by bookshelves in Yaleana's bedroom.
Bedroom by Massucco Warner Miller Interior Design
I'm usually pretty good at looking at a picture like that, and just being able to envision how it all goes together.  But y'all, I have stared at that picture so many times this week that I've lost count, and for the life of me, I can't figure it out how to build this thing.  It looks so simple at first glance, but when I start thinking through the actual process, and all of the finishing steps, I get lost.
I know that my brain is probably way over-complicating this thing.  I have a mental block, and can't seem to get past it.  So this is my call for help from you DIY builders out there.
The way I generally build a built-in bookcase is to start off by building a very simple box out of plywood or MDF — top, sides, back, and bottom.  (I leave off the bottom if I'm building on top of a countertop, like on the built-ins in the condo, or the open shelves in the bathroom.)  For example, in the bathroom, I built this box out of 5/8″ MDF…
And then after adding MDF for the shelves, I framed everything out on the front with lumber.  I used 1 x 4's on the sides, a 1 x 6 on the top, and 1 x 2's for the shelves…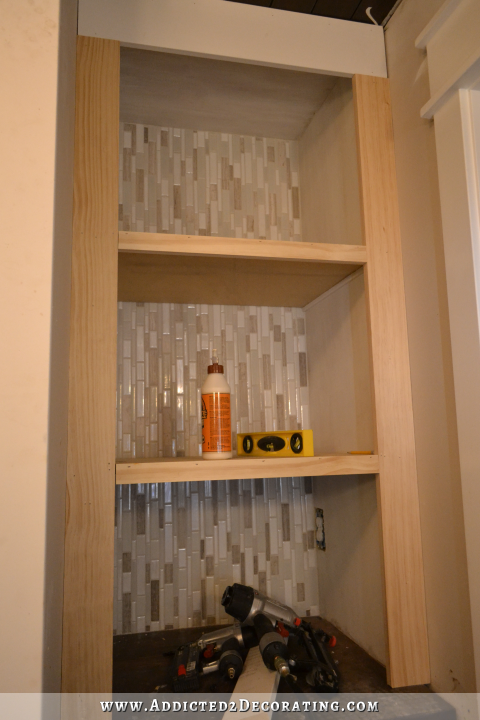 I did the same basic structure for the condo living room built-ins.  First build a basic box…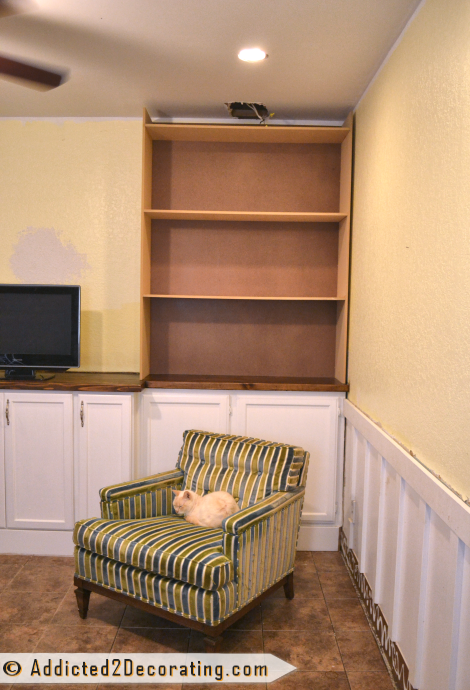 And then frame out the front with lumber…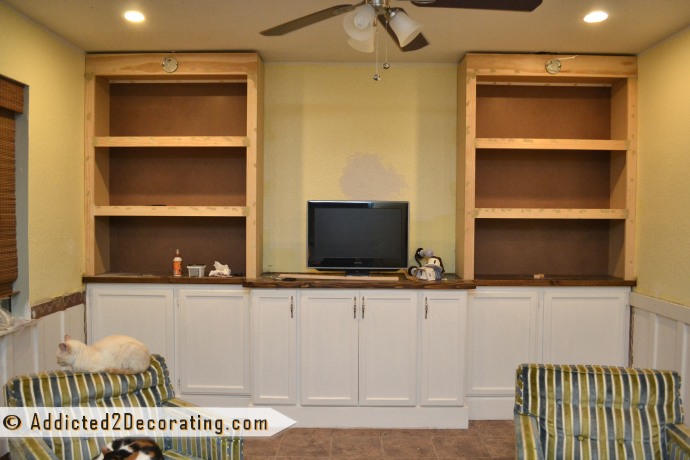 It's all just very basic building, and it's the same way I built the closets in the condo second bedroom, the cubbies above the banquette in the condo breakfast room, and on and on.
But what do I do when one side of the bookcase — where I would normally attach a piece of lumber to the face — is curved and appears to be all one piece?
I know a lot of master woodworkers can bend wood, but that's not something I can do.
I thought perhaps it's built in two pieces –a top bookcase built like normal, and then a bottom part built separately with the curve.  Do you think that's it? And if so, I still can't figure out the particulars.
Like I said, I have a major mental block here.  How would you DIYers tackle this?  It's just those darned curved sides, and how they tie in with the actual structure of the bookcase (where I would normally have something like 1 x 2's attached to the face), that's throwing me.  Do you understand the problem I'm having?  I'm sure there's a simple answer.  If you have any ideas, I'd love to hear them!!
Addicted 2 Decorating is where I share my DIY and decorating journey as I remodel and decorate the 1948 fixer upper that my husband, Matt, and I bought in 2013. Matt has M.S. and is unable to do physical work, so I do the majority of the work on the house by myself. You can learn more about me here.
I hope you'll join me on my DIY and decorating journey! If you want to follow my projects and progress, you can subscribe below and have each new post delivered to your email inbox. That way you'll never miss a thing!