Three Random Things: Bathroom, Built-Ins, and Black & White Stripes
First things first, all that I have left to do in my bathroom is (1) install the pulls on the built-in cabinet, (2) add one more coat of poly to the countertop, (3) install the exhaust fan above the tub, and (4) add some decorative items (including the new shower curtain).  So I will absolutely be wrapping up this six-month project this weekend, and will show you the final before and after on Monday.  Finally!!  🙂
Next, thank you SO MUCH for your input yesterday on how to build those built-ins!  I was so frustrated that I couldn't "see" it myself, but y'all really gave me some great ideas!  There were two suggestions that really made sense to me.  The first one was to build the bookcases in three separate sections — the top section built like a regular bookcase, the drawer section to use as a "connector" between the top and bottom sections, and then the bottom section with the curved side made of two layers of MDF and/or plywood and edge banding to cover the edges.  That made complete sense to me.
But then there was this suggestion that a few of you had, and Julie from Follow Your Heart Woodworking even emailed me this little diagram to illustrate this option.
That's a side view, and I would essentially build the whole bookcase just like normal, and then add the curved "wing" extension separately out of two layers of MDF and/or plywood and edge banding.  Then I would attach the two with something like dowels or screws in pocket holes using my Kreg Jig…and lots of wood glue, of course.  I could cover the seam with a whole lot of  wood filler and sanding.  Right now, I'm thinking this second option is much more straightforward and easier to build.  I'm hoping to get the supplies list ready today to send my mom or brother to Home Depot and get everything cut so that we can get started this weekend.  Hopefully we'll have some progress to share next week!
And finally, I've given up on having a black and white striped rug in my dining room.  If you'll remember, I bought this one from Overstock…
…thinking that the white stripes would actually be white.  They were tan.  Not off-white.  Not a creamy white.  But tan.  I really did try to make myself like it, but I just couldn't, so it's going back.
Then I ordered this rug.  This one had even stripes, and looked to be black and white.
I read the comments to see about the color, and one person said it's not white, it's "linen."  What the heck does that mean?  Linen (even "natural" linen) comes in a thousand different colors.  Another person mentioned the "rich and deep" black and white stripes.  So I took a chance.
Those stripes are tan.  They are literally the exact same color as the first rug, and they look dull and dirty.  So I'm returning this one also, and I'm done with black and white striped rugs.  I ordered a neutral basketweave jute rug (and got the last one).  It arrived a couple of days ago, and I really like it, so I'm sticking with it.  It just reads as neutral and textural, so it won't demand attention or get in the way of other decorating decisions.
But now I really want to add some black and white stripes somewhere because I think black and (actual) white stripes look great with my colorful watercolor floral fabric.
These horizontal striped curtains from The Yellow Cape Cod have been a favorite of mine for a very long time now.  I love stripes in general, but really wide horizontal stripes are even better!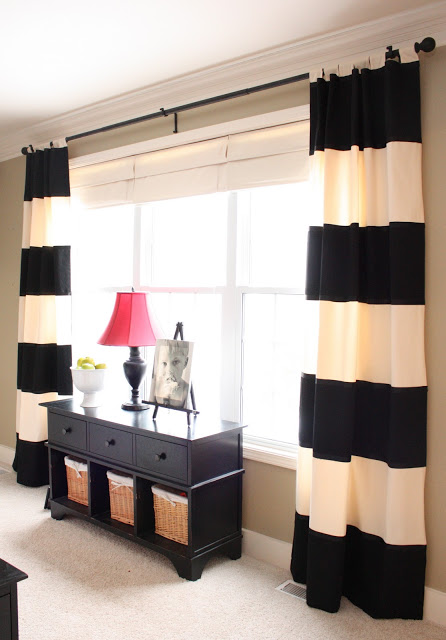 via The Yellow Cape Cod
I haven't selected my side chairs for the dining table yet, so I could even do black and white stripes on those.  I think that would look amazing with my black table and floral captains chairs.
via The Decorista
Or I could just bring in a couple of striped accents.  This throw pillow, with the stripes going in two different directions, has also been a longtime favorite of mine…
via Kassapanola
So I'm not quite sure how just yet, but mark my words…there will be black and white stripes in my dining room and/or entry way.  They just won't be on a rug.  🙂
Addicted 2 Decorating is where I share my DIY and decorating journey as I remodel and decorate the 1948 fixer upper that my husband, Matt, and I bought in 2013. Matt has M.S. and is unable to do physical work, so I do the majority of the work on the house by myself. You can learn more about me here.