Vintage Desk Makeover With An Added Hutch
My mom and I have finished another project for my niece's bedroom — a vintage desk makeover with an added hutch made from 1″ x 8″ lumber and 1/4-inch plywood.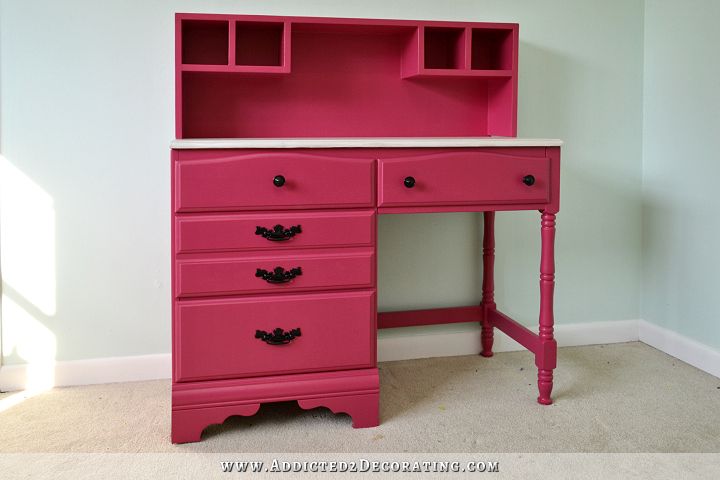 We found this desk at a local consignment store for $40, and it's made of solid wood.
It was actually in great shape when we bought it, other than a few stickers that were on the side.
We thought it would be safe outside until we were ready to work on it since no rain was expected. But unfortunately, what we didn't realize was that we put it directly in the path of the lawn sprinklers that come on automatically. So by the time we were ready to work on it, we had to deal with some damage.  The bottom drawer had begun to split, and both of the feet had also split.
There was also a large split on the side, and another one on the desktop.
Lesson learned.  Don't leave your wood furniture in the path of sprinklers.  😀  All of those splits were easily taken care of with lots of wood glue and clamps, and then some wood filling and sanding.
Once everything was put back together, I set about building a hutch with some cubbies, at my niece's request.  This construction was very simple.  I cut the top and sides out of a 1″ x 8″ piece of lumber, and attached them to each other using wood glue and 16-gauge nails.  I also used a framing square to be sure everything was square.
Next, I made two L-shaped pieces and attached those, also with wood glue and 16-gauge nails, to form the cubbies.
And finally, I added a divider in each section to create the smaller cubbies, and then added 1/4-inch plywood to the back.  I cut the plywood so that it would go down an extra 3/4-inch behind the desktop so that I could later secure the hutch to the desk by gluing and nailing the plywood into the back edge of the desktop.
And then after the hutch was wood filled, sanded, and caulked, my mom gave everything a coat of primer and two coats of paint.  The paint color we used is Behr Glamorous.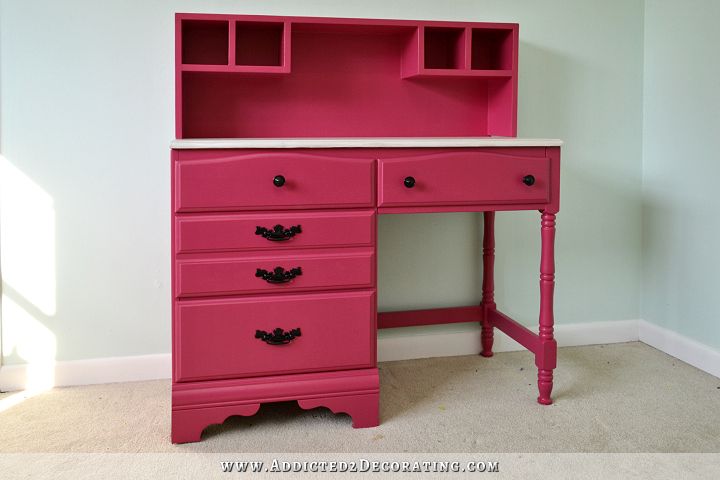 We re-used the original drawer pulls, and used black spray paint in a satin finish to give them a new look.  Then we bought some knobs at Home Depot to match.
I sanded the original finish off of the desktop completely since the wood was so pretty, and rather than stain it, I whitewashed it with watered down white paint (Behr Polar Bear).  That way the desktop stays light and bright, but you can still see the wood grain through the paint.  (Or at least you can in person.  It doesn't really show up very well in my pictures.)
I gave the desktop a couple of coats of Minwax Polycrylic (water-based polyurethane) for added protection.
The desk is perfect for her room.  She had originally requested a desk with shelves above it, but since the desk needs to go under the window where there's no room for wall shelves above the desk, and since she now has loads of shelf storage in the bookcases I built for her, the hutch was the perfect compromise.  And it was my niece's brilliant idea.  🙂
The desk looks so cute in her room, and brings out the reddish pink color in her wall mural.  It's actually the same paint color, but for some reason, the desk looks pinker, and the flowers in the wall mural look redder.  But they complement each other, and will look fantastic together in the finished room.
We still have a dresser to paint, curtains to make, and a full-length mirror to build.  If I remember correctly, I think those will wrap up the big projects for her room, and then we'll just need to add the decorative touches to finish up.
Addicted 2 Decorating is where I share my DIY and decorating journey as I remodel and decorate the 1948 fixer upper that my husband, Matt, and I bought in 2013. Matt has M.S. and is unable to do physical work, so I do the majority of the work on the house by myself. You can learn more about me here.