Artwork Options For Above My Fireplace (It's a Personal Thing!)
Way before I built my own fireplace, I started gathering ideas on how I wanted to decorate my mantel and the wall above my mantel.
You may have noticed that I'm not a seasonal/holiday decorator.  🙂  There are no seasons or holidays that I decorate for personally, and I decided a few years back that I wouldn't force myself to do so just for blog fodder.  So I needed something that was more of a permanent, year round look.
And while I was looking for ideas, I also discovered that I like a very clean look for a mantel and overmantel.  I don't like a lot of clutter, or lots of little tchotchkies.  I just like clean, simple, and classic.
So I decided I want one beautiful painting with wall sconces on either side.  And depending on how that looks, I may or may not put a couple of small items in the mantel.
I just love that clean, simple look, especially when there's an overmantel adding some architectural detail.  I don't have an overmantel yet, but I will!
Traditional Living Room by Seattle Architects & Designers Paul Moon Design
Traditional Living Room by Edina General Contractors John Kraemer & Sons
As far as the painting, I would prefer an oil painting that was done by a real artist rather than me just randomly slapping paint on a canvas and calling it "modern art." 😀  (I'm sure true modern artists would be thrilled with my use of that term in the past to describe my paint-slapping techniques!)
Well, lucky me.  It just so happens that I have a source for free-to-me original artwork — oils on canvas.  That source?  My mom!
I've mentioned a few times before, but my mom is an incredibly talented artist.  While she hasn't painted in years (probably two decades), she used to actually teach oil painting classes out of our home when I was growing up.  My dad knocked out the wall between two of the downstairs bedrooms and converted that into her studio, and about twice a week, that studio would be filled with her students.  I love those memories.
But sadly, it wasn't until I was much older that I really started to gain an appreciation for her actual artwork.  But now, I love the idea of walking into my living room and seeing one of my mom's paintings hanging as the focal piece above my fireplace.  People always say that artwork is such a personal thing, and for me, it'll be personal in more ways than one.
So a week or so ago, I headed over to her house to see if she had something I could use above my mantel.  I knew I wanted a landscape, and that just happened to be her specialty.  So I brought a couple of paintings home with me to try out.
I'm pretty sure this first one will end up being the one.  It's one of her earlier paintings that she did in 1977.  (She started painting in 1973.)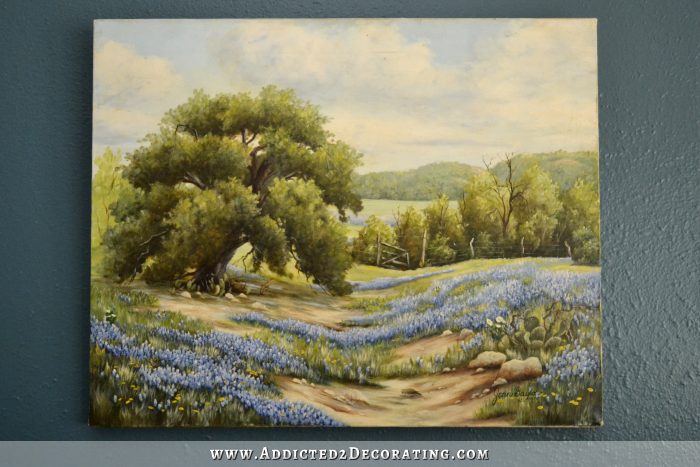 When I brought it into the living room, I couldn't believe how beautiful the colors went with the colors I have in that room!  It's almost like this room was decorated around this painting!  (It wasn't.  I promise!)
Now obviously, it's way too small.  So if I end up using this one, I'll have to have a print made of it, and I'll have it printed on canvas so that it'll look like an original.
I also brought this other landscape home.  It was also painted in 1977.  This one turned out to be Matt's favorite.
I love this painting also (especially that cute little squirrel), but over the years, the oils have yellowed.  And I personally don't like it for my living room nearly as much as I like the first Texas bluebonnet painting.
This one was another contender.  My mom much prefers this painting (she's not too crazy about her earlier work) because it's one of her later paintings, and you can see that she really improved in her painting.
I mean, just check out the detail on that tree.  It's like she painted every single little leaf individually.
(And as a side note, now you can understand why my original tree mural in the condo kitchen kept her awake at night, and why she strongly encouraged me to make some changes, and then kindly guided me along the way.)  😀
Another of my favorites is this windmill painting, which is also one of her later paintings.
See the little quail at the well?  I love that detail!  This painting wouldn't work for me, though, because I really don't think a vertical painting would look as good as a horizontal painting above the mantel.
Anyway, those were some options, but I'm really leaning towards the very first one.
While landscapes were her specialty, she did branch out into some other things — still life, animals, and even a portrait or two.
This is one of my all-time favorite non-landscape paintings of hers.  This hung on the wall above our piano when I was growing up, and I remember people would walk right up to it, squint their eyes, and try to read the text on the pages of the Bible.  😀
You can actually read the page titles, chapter numbers, and page numbers, but the rest isn't really writing.  Sure looks real, though!  And it fooled a lot of people!  You can click on this next picture to see it close up.
And then this is probably my favorite animal painting of hers — a majestic bald eagle.
I have one super talented mom, don't I?! 🙂
I can't wait to get one of those paintings framed and hung above my mantel. It very well might end up being my favorite thing in the whole room.
Addicted 2 Decorating is where I share my DIY and decorating journey as I remodel and decorate the 1948 fixer upper that my husband, Matt, and I bought in 2013. Matt has M.S. and is unable to do physical work, so I do the majority of the work on the house by myself. You can learn more about me here.