I've made really good progress at the condo this week! I'll share with you as soon as I have something interesting to share. 🙂
In the meantime, I'm still spending my free time in the evenings obsessing about my dining room. I include my entryway in that also, since it's basically one big room. Remember that buffet that I got a couple of weeks ago?
I'll be using that in my entryway where I used to have the green scalloped console table that I made. But I won't be using it in its current condition. Other than a few scratches here and there, it's actually in really good shape, but the current stain color on the wood just doesn't really do anything for me.
So I've spent quite a bit of time on Pinterest searching buffet makeovers for inspiration, and I've found so many ideas that I really like.  This two-toned look is a leading contender.  I love painted furniture, and I love beautiful stained wood (as long as the grain is pretty), so with this style I would get the best of both worlds.
But I kind of already have something like that in my hallway (where it might stay since it fits so perfectly)…
…so another piece painted and stained in a similar way might be too much, especially so close to each other.
One of my favorite looks is the stained top/painted base look.
If I weren't already planning to do that whole stained top/painted base combo on my dining table, I might consider this option.  But I think it might be too much having two large pieces of furniture like that in the same room.
But this idea….this idea…stopped me in my tracks.  This is my absolute favorite, and it just looks like me.
I just don't know if I have the nerve to do that to my buffet.  First of all, I don't even know if that idea would work on mine since I have doors with scrolled, carved details on them.  But also, I think I might feel a bit guilty painting all of the wood, especially since it really is very pretty wood with beautiful, subtle grain.
So I've been asking myself, would I feel guilty because I personally have an issue with painting the wood?  I don't think so.  Paint can be stripped if I ever get tired of it, and y'all know me well enough to know that I'd have no problem putting the time and effort into stripping it if that's the look I decide I want in the future.  No, I think it's more the anti-paint brigade (a.k.a., the "wood purists") that I fear.  Have y'all ever noticed how vicious people can get over a piece of painted furniture?
I've noticed it for a few years now, starting with the comment section on Apartment Therapy, and spreading from there.  Now every time I see a piece of painted furniture being featured on a site like Apartment Therapy or Hometalk, I cringe, and not because I don't like the furniture, but because I know what's coming in the comment section.  Have you ever noticed this?  It brings out heated debates, the likes of which you'd never expect to see on a decorating/design site, but would expect on political websites.
Case in point, this dresser makeover featured on Apartment Therapy.
I personally love the design that was done on that dresser, and most of the dresser was left in a natural wood color, but people sure got their feathers ruffled over it! One person even compared the painting of this dresser (which was probably mass produced in the 60s) to painting over a Gustav Klimt painting in order to make it "fun." Really? I mean, people lose their minds when it comes to painted furniture.
Another case in point, this headboard and footboard…
…that was turned into this bench…
That project was featured on Hometalk, and people lost their freaking minds over the fact that she painted that "beautiful" antique bed! I mean, some of the comments got really terrible, like the person who said, "Was looking good up until the idiot decided to paint it!"  Really?  Idiot?  The funny thing is that all of the wood purists seemed to have no issue with the fact that she literally cut the footboard into pieces in order to make her bench.  That wasn't the issue.  The issue that make everyone so mad was that she had the nerve to paint the "beautiful" wood that everyone assumed was a valuable antique.
Well, I love wood.  I love stained wood.  If you've followed my blog for any amount of time, you've probably noticed that I try to add some natural or stained wood to just about every room because I enjoy the warmth it brings to the room.  I love a beautiful wood grain, and I have great appreciation for craftsmanship that utilizes wood grain in artistic ways (even on wood that I generally don't like, like oak).  Remember my oak table with the gorgeous design?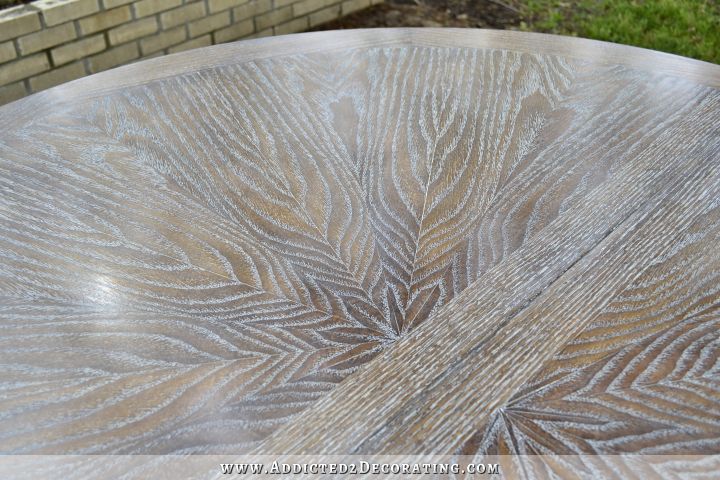 Even though I generally dislike oak, there's no way I could bring myself to paint over that beautiful detailed design.
But even with my love of wood, and my great appreciation for wood grain used in artistic ways, I'll tell you that I think that headboard and footboard, in their original condition, are ugly and gaudy.  There's no way in heck I'd use something like that in my house, even if it was some valuable handmade antique crafted by some famous craftsman (which I highly doubt it was).  I think it looks so much better with a coat of paint on it.
But people got really mean about it, as they do on just about every single post I've ever seen on one of these large sites that features a piece of wood furniture that has been painted.
Probably the thing that irritates me the most about the commenters on projects like this is that they seem to have this idea in their heads that painted furniture is a relatively new fad that has only been around for a few years (presumably with the birth of Chalk Paint, since I see a lot of comments like, "I wish this Chalk Paint fad would die!"), and that it's a trend that will soon die a horrible death, leaving thousands of homeowners mourning the loss of their stained wood furniture and regretting the day they took a brush and paint to their "gorgeous" stained wood.
But painted furniture is not a fad, and it's not going to die.  Painted furniture has been around for centuries.  Sure, it has waxed and waned in popularity from one decade to the next, and it will probably continue to wax and wane in popularity from now to eternity, but it's most certainly not something new, and it's not a fad.  As I've been doing a bit of reading about the history of painted furniture in the last month or so, I came across this article from 1998 (that's seventeen years ago!) that talks about how "painted country pieces are the darlings of the antiques show circuit…"  According to the article:
Along with the vogue for painted furniture has come the realization that early American homes were full of color. Not only was much of the furniture painted, but walls, too, were often covered in bright colors.

As colorful finishes on furniture and walls dulled through wear or dirt, the myth developed that 18th- and 19th century homes were drab. Modernism also contributed to the dulling-down of American decorative-arts history by emphasizing white walls and natural wood finishes.
So painted wood furniture has been around for centuries, and it's not going anywhere.  It didn't come about because of Chalk Paint.  People love to tout the greatness of Chalk Paint, but it doesn't get (or deserve) the credit for the popularity of painted furniture.
But the bottom line, in my humble opinion, is that people have the right to do whatever they want to do with their furniture, regardless of how old it is, who made it, or what kind of wood it's made of.  If they like the piece, but can't use it in its current condition, then they should be able to change it to fit their home.  I just wish that people could share their artistic endeavors without all of the hand wringing and frantic, "OH MY GOSH, YOU'VE RUINED IT!!! IT WAS A VALUABLE ANTIQUE, AND NOW IT'S WORTH NOTHING!!!" types of comments.  But that'll never happen.  This ridiculous paint debate, and the unnecessary drama over wood, will continue for many years to come.
And in the meantime, I think I'll  paint my buffet.  🙂
Addicted 2 Decorating is where I share my DIY and decorating journey as I remodel and decorate the 1948 fixer upper that my husband, Matt, and I bought in 2013. Matt has M.S. and is unable to do physical work, so I do the majority of the work on the house by myself. You can learn more about me here.
I hope you'll join me on my DIY and decorating journey! If you want to follow my projects and progress, you can subscribe below and have each new post delivered to your email inbox. That way you'll never miss a thing!