Scalloped Console Table — Finished!
My console table is finally finished, and I love how it turned out! Now I'm so anxious to decorate the entryway.
I opted for a "less is more" treatment on the table.  I was really leaning towards nail head trim, but once I decided to cut out the ends, I realized that I could be hammering in nail heads for two weeks on this table, and I'd rather spend my time elsewhere.  Plus, I thought the nail heads might end up being a bit too overwhelming since the design on my table is much more scrolly and scalloped than the Jonathan Adler table that had the nail head trim on it.
So instead, I decided to go with a much more subtle metallic dry brush finish in a crosshatch pattern over the painted table.  The color I used is Harbor by Behr, and the metallic is Golden Pearl, which is from Home Depot and comes in little 10-ounce jars.  It's the same color that I used on the Greek Key Side Tables to give them their subtle textured appearance.  (I think this particular color might be discontinued, which is sad because it's the prettiest of the metallic colors available, in my opinion.)
I finally decided to cut the ends out after some comments about the ends looking heavy, and then after looking at some other examples of tables like this.  First, of course, was this table from Horchow which served as one of my original inspiration tables.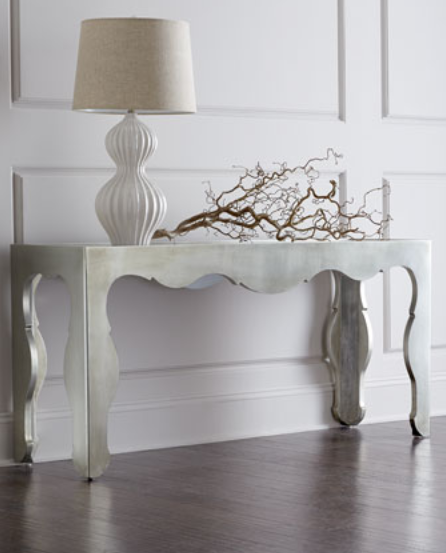 Then I saw this Belle Meade Gigi scalloped coffee table from Zinc Door.
And finally, in the most recent issue of House Beautiful, I saw this entryway by interior design Sara Gilbane.
I especially loved that last example, so I decided that my table also needed open ends. And I'm so glad I went for it! I used the exact same pattern that I used on the front, and it just happened to form this cute little keyhole design on the ends. I think it's my favorite part of the table.
Anyway, let's back up a bit and I'll show you how I got from this point where I left off, to the finished table.
When I left off a few days ago, I had just cut out the design with my jigsaw, and then glued and nailed all of the table the pieces together.  All of the cut edges were still looking a bit rough…
So using 120-grit sandpaper, I sanded down all of the edges, not only around the scalloped design, but also on all of the corners of the table.  I like to sand until I get a slightly rounded look on all of the edges.  And I do this by hand.  An electric sander is too powerful and can easily sand off too much.
Then I gave the table two coats of Zinsser oil-based Cover Stain primer.  (Do not use aerosol spray primer on MDF!!  It soaks right in, doesn't cover at all, and makes the surface rough.)  It's my absolute favorite primer that I use on just about everything.  One reason I love it is because it sands so smoothly once it's completely dry, and I use 220-grit sandpaper to sand it.
TIP: When you sand primer, the part that sands off should look like chalk dust.  If you sand and the part that comes off rolls or pills up at all, you haven't let the primer dry thoroughly.  Wait a couple more hours, and then sand again.
After priming, I painted it with two coats of paint in Harbor by Behr.  (I was really wishing I had a sprayer!!!  That will be my next purchase now that I actually have room to use it.)
Once the paint was dry, I used this funny looking brush from Home Depot.  The purpose of this brush is to create a linen look in paint.  But I didn't quite use it like it's intended.
What I did is pour some of my metallic paint onto a plate, and dip just the very end of the bristles into the paint.  Then I dabbed the bristles onto a clean part of the plate, dabbed them lightly onto a paper towel, and then lightly dragged the bristles across the table top.
When I had enough going in one direction, I went the other direction to create this cross hatch look.
And then I repeated that process on all of the table sides.
It's a very subtle treatment, and it's so pretty when the metallic paint catches the light.
One of my favorite things about it is how the paint just naturally built up on all of the edges as I ran the brush back and forth, so all of the edges are subtly highlighted with metallic paint.
The subtle shimmer is so pretty, and just what this table needed.  I think anything more would have been too busy and overpowering not only for the table design, but also for the room.
Now I'm anxious to create some artwork for the wall, find some lamps, gather the perfect accessories, and finish off my entryway.
Of course, I'm getting way ahead of myself here.  I still haven't even painted the wall or installed baseboards.  😀  I just grabbed some extra baseboard trim and leaned it against the wall for the pictures above, because that wall was so distracting.  So I need to do some backtracking and get those basic things done before I start making artwork.
I've never been one to do things in an order that actually makes sense.  😀
EDIT:
I always forget this part!!  The cost!
2 8′ x 4′ sheets of 5/8-inch MDF: $61.46
1 quart of paint: $15.28
Metallic paint: $6.98
Linen texture brush: $6.94
Wood glue: on hand
Finishing nails: on hand
Zinsser primer: on hand
TOTAL: $90.66 (without tax)
Addicted 2 Decorating is where I share my DIY and decorating journey as I remodel and decorate the 1948 fixer upper that my husband, Matt, and I bought in 2013. Matt has M.S. and is unable to do physical work, so I do the majority of the work on the house by myself. You can learn more about me here.