Make It Happen Monday…Let's Get This Started…and FINISHED!!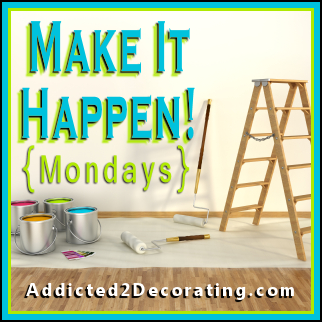 Good morning, all!  And happy Monday to you!  This morning, I'm kicking off something new here at A2D.  It's called Make It Happen Mondays.
This is where we stop starting projects and start finishing projects around our homes.
I was inspired to start this "support group" for myself and people like me — those of us who, for some reason, get a project about 90% complete (or less), and then lose interest and move on to something else — after I wrote this post last week and realized that there are so many others just like me!
Well, the time has come to FINISH these projects, and I'd absolutely love it if you would join me.  If you've got lingering projects that you need to finish, then this is the place where you can get encouragement, support, and accountability.  We'll help each other get over that 90% hump and make it all the way to 100% complete.
Doesn't that sound good?  Doesn't the thought of actually finishing projects that you've had "in the works" for months or even years sound exciting?  Well, let's stop talking about it, and starting doing it!
So here's how this will work…
Every Monday morning, we'll meet here and name that one project that we will commit to finishing the following week.  There's just something about writing the words down…in public…for others to see…that adds a bit of motivation to finish the project.
This won't be a link party, because I want EVERYONE to be able to join in, and link parties would leave out those among us who don't blog.
So, everyone's included here.  Anyone can join us, and you can join at any time.
So every Monday, we'll name that one project that we want to finish that week.  Then the following Monday, we'll meet back here, report on our progress (hopefully that's we've completed it) and name the next project we'll focus on for the next week.  If you're a blogger, you can feel free to leave a link to your blog if you've blogged about your project.  If you're not a blogger, you can feel free to upload your pictures to Photobucket, Flickr, or another photo hosting site, and link to those pictures.  Or you don't have to link to anything.  You can simply describe your project and your progress.
Ready to name your project for this week?
Here's mine.
This week, I'm committing to refinishing my kitchen countertops.  They're in sad shape, and it's completely my fault.
In fact, they're in this shape today because last time I refinished my countertops, I got them 90% complete and then moved on to something else.  I kept telling myself, "I'll get those last coats of sealer on there in a few days."  Well, those "few days" have now turned into well over a year, and because my countertops weren't properly sealed, they now look like this…
You can read more about my countertop issues here.  I'm still uncertain how I want to finish my butcherblock this time.  You all left some great comments, and lots of different ideas and suggestions for sealing butcherblock, so I'm going to have to re-read through all of the comments, narrow down the possibilities, and decide which one is right for me.  I do know for certain that this time, I'm completely unconcerned about my countertops being "food safe".  I simply never put food on my countertops, and this time I'm opting for durability more than anything else.
I thought I could put this off a little longer while I get other things done, but I moved this up to the top of the list this weekend when I noticed this…
It probably doesn't show up that well in pictures, but one side of that joint is starting to raise.  There are also some joints on the tops of the butcherblock that are doing the same thing.  So if I let this go too much longer, my countertop could crack, and then my only choice would be replacing them.  I'd rather get this done now, while the fix is still relatively inexpensive.
So that's my plan for the week.  How about you?
What project are you committing to getting finished this week?  Leave a comment below, put it in black and white, commit to it, and then meet us back here next week to share your success!
I'm so excited about this!  We're going to get things FINISHED!!
Addicted 2 Decorating is where I share my DIY and decorating journey as I remodel and decorate the 1948 fixer upper that my husband, Matt, and I bought in 2013. Matt has M.S. and is unable to do physical work, so I do the majority of the work on the house by myself. You can learn more about me here.