I've had a handful of people ask me about my kitchen countertops lately, so I thought I'd share with all of you how they're holding up, and my future plans for my kitchen.
I haven't actually shown pictures of my kitchen on the blog in a while. So for those who may be new around here, here's what my kitchen looks like…
The room on the other side of the peninsula is the breakfast room that I recently turned into a sitting room. The room just past those open French doors is the walk-in pantry. It's less of a food storage pantry and more of a butler's pantry, but there's no sink or dishwasher or anything that the really fancy butler's pantries have. I do have my freezer in there, though.
And then through the cased opening on the other end of that back wall of cabinets is the music room. You can see just a peek of the music room bookcases in this picture…
So if I stand in the opening between the kitchen and living room, this is the view…
And then if I stand by that back wall of cabinets and look the opposite direction towards the living room, this is the view…
I still love my kitchen a lot. Creating that opening between the living room and the kitchen, and taking down the walls between the kitchen and the breakfast room (which the former owners referred to as a den), made all the difference in the world. While it's a rather small kitchen, and it doesn't have any direct natural light, it still feels big and bright because it's open to the adjoining rooms.
If you've forgotten, this is what the original kitchen looked like…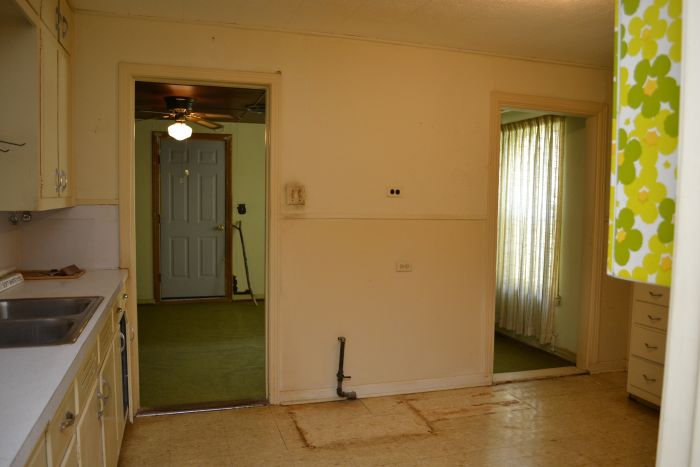 Those two doorways led to what is now the breakfast room, and the peninsula sits where the right doorway and center wall used to be.
Anyway, all of that to say that I love my kitchen, but I don't love my concrete countertops. I've had so many issues with these countertop from the beginning. They were originally white concrete (which isn't really white) that was its natural color and sealed. Those stained terribly.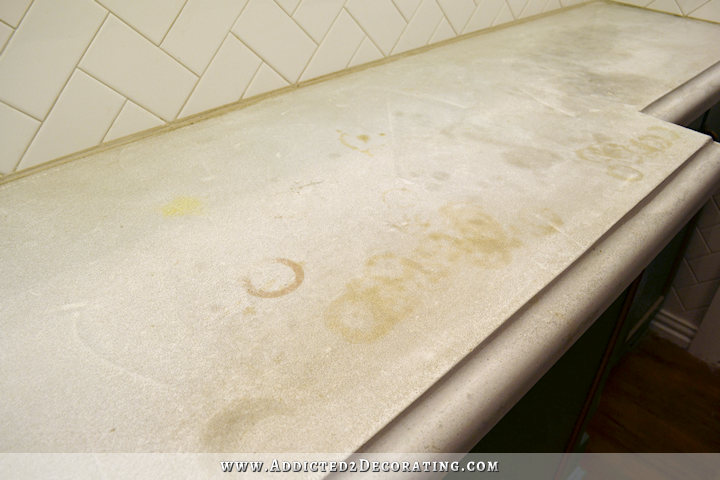 You can read more about that here. So then I had the countertops refinished by a company that refinishes garage floors using a coating called polyurea. They looked really beautiful when they were done. You can real more about that process here.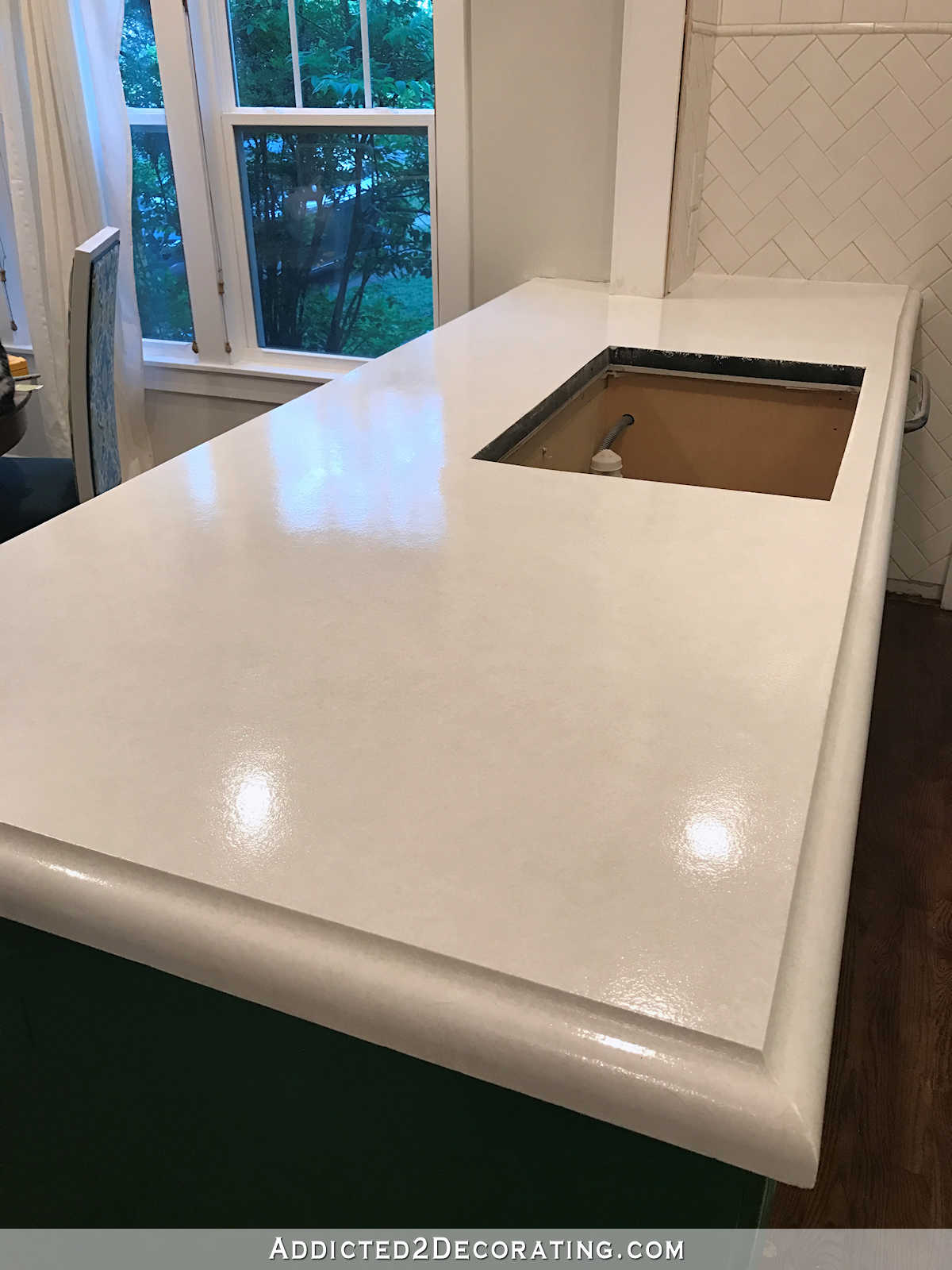 These countertops haven't been horrible. In fact, for the most part, they're pretty durable. I'd put them on par with laminate. But I've definitely had some problems with them. First, I found the one chemical that will eat right through polyurea — isopropyl alcohol. I spilled a large amount of isopropyl alcohol on my countertop, and while I cleaned most of it up right away, I didn't realize that some of it had run under the Instant Pot that I used to keep sitting out on my countertop. It sat there for about two days before I realized it, and by that time, it had eaten right through the finish. You'll also notice a little stain towards the bottom left of the picture, and no matter what I try, I can't get that stain out.
But the area to the left of the sink is the worst problem. This is where I do all of my food prep when I'm cooking, and this area has gotten so stained, dull, and even scratched in a few areas. I don't think it shows up very well in pictures, but you can certainly tell in person.
This whole area right here is splotchy with dark stained areas. And do you see that one pink stain? That's from a Sweet N Low packet. Sweet N Low packets (if they get wet) and mustard stain every single time.
The good thing is that these stains can be bleached out. I buy the bleach gel toilet bowl cleaner and put that on the stains with a paper towel over it, leave it overnight, and by morning the countertops are bright again. But just the fact that I have to continually bleach my countertops in order for them to look bright and clean is such a pain. I'd have to do it at least once a week, maybe twice a week, in order to keep them looking bright and clean. That's way more maintenance than I bargained for.
Anyway, I do have a plan. In fact, I think the day will come when my kitchen will undergo quite a few drastic changes. It won't be any time soon. I'll have to wait until we do the addition on the back of the house. But I'm going to do the very thing that some of you suggested a while back, and I swore up and down that I'd never do.
When we do our addition and add on the family room, laundry room, and new master bedroom, I'm going to open up the back wall to create a cased opening between the kitchen and family room. And then on either side of that opening, I want to replace the current cabinets with floor-to-ceiling cabinets with pull-out shelves. So it will go from this…
To this…
I can just sense that some of you are smirking right now and saying to yourselves, "I told you so!" 😀 You did. You told me so. And as much as I tried to fight it, I know that y'all are right. If I don't open up that wall, I'll end up regretting it.
And after using this kitchen for seven years with its current layout, the decision is even easier. I've come to realize to things. First, those smallest cabinets that I used on that wall (the 12-inch cabinets) are less than useless. Those things won't even fit a dinner plate. I mean, they are a complete waste. And the second thing is that the only thing that back countertop ever gets used for is collecting my clutter — paint cans, small hand tools, paint samples, junk mail, grocery bags, etc. I've never once used that countertop for food prep or buffet service. Every single bit of that happens on the peninsula.
So while I love the look of that back wall, I look forward to the day that I can have wider, deeper, floor-to-ceiling storage on that wall with a pretty cased opening in the middle. And since doing that will reduce the amount of countertop space I have, it will also help me justify in my mind the cost of brand new QUARTZ countertops for the kitchen when we do our addition.
I have no idea when that will happen, exactly. It could be next year if I get all of these other rooms finished this year (home gym, master bathroom, and studio). But I'm content with waiting while also being very excited about the new countertops and much improved kitchen storage that await me in the future.
I'm actually glad the addition didn't happen before now, because I was so set on NOT opening up that wall. It's only been within the last couple of weeks that I've really gotten on board with the idea, and I love the idea of not having to pay for new countertop material that I never use anyway. So in the end, it'll all work out. I don't regret the concrete countertops. Y'all know how I am. I like to try things, and even if they don't work, I just chalk it up to a learning experience. And I also love that I can pass along those experiences to other people who may find them helpful. So there are no regrets at all, but I'm very much looking forward to quartz countertops in the future. And I'm hoping and praying that it'll be next year.
Addicted 2 Decorating is where I share my DIY and decorating journey as I remodel and decorate the 1948 fixer upper that my husband, Matt, and I bought in 2013. Matt has M.S. and is unable to do physical work, so I do the majority of the work on the house by myself. You can learn more about me here.
I hope you'll join me on my DIY and decorating journey! If you want to follow my projects and progress, you can subscribe below and have each new post delivered to your email inbox. That way you'll never miss a thing!