Last Updated on December 2, 2016 by Kristi Linauer
Well, I have been feverishly painting my kitchen cabinets these last three days, hoping that I'd have at least the wall of cabinets finished so that I could have a big "taaaa daaaa" today and show you how my new colors look in the kitchen, but I fell short of that goal. I got everything painted except for the two largest lower cabinet doors, which still need the second coat of paint on the fronts, and the inside of the middle upper cabinets that have the glass doors. Those also still need a second coat of paint. And as far as the others go, by late last night they were still too tacky to handle in order to install them. So I'll give them another day to dry, get them installed this weekend, and show you how it looks on Monday.
And by the way, it looks awesome!!! As much as I loved the green cabinets, I think I like the new colors about ten times more. The Gentleman's Gray (which is a really dark blue) has to be one of the most beautiful colors I've ever seen, and the Revere Pewter is the perfect complement.
So in between coats of paint yesterday, I started searching for the perfect velvet sofa for my living room. While I do have a decorating plan for all of the main areas of the house, I didn't do any kind of design board where things are set in stone. There's still quite a bit of flexibility in specific design elements, and once I choose the big items, the rest will fall into place based on my overall design goals. I have no idea of that makes any sense to anyone but me. 😀
With that said, my search for a velvet sofa didn't necessary hinge around one particular color. In fact, I'm quite open to any color that will go with my overall color scheme, which you will see emerge in my initial selection of sofa possibilities. (Affiliate links below.)
This first one would be my top choice if it weren't so expensive. I'm willing to splurge on a sofa, because in my entire adult life, I've only owned two brand new sofas, and both of have been Ashley brand. I've vowed never to buy upholstered Ashley furniture again (case goods might be fine), and I do want an actual quality piece of new furniture. But still, $3500 for a sofa is a bit hard for me to swallow. It's my absolute favorite, though.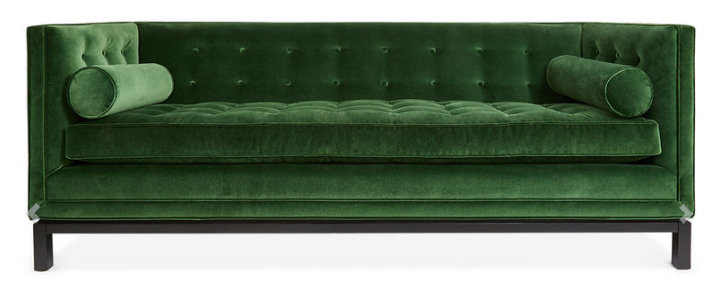 Lampert Sofa in Venice Emerald from Jonathan Adler
Anthropologie actually has the largest selection of velvet sofas that I've found. Their color selection is great, too. And their prices are more within the price range I'm looking for. I could see myself paying around $2000-$2500 for a sofa, and that's a big splurge for me.
Velvet Willoughby Sofa by Hickory in light blue from Anthropologie
World Market probably isn't the quality I'm looking for in my living room (although for a bedroom or office it would be perfect), but I really love the color on this one.
Teal Velvet Kendall Sofa from World Market
Anything that has a hint of purple, or that is actualy in the purple/lavender range, would be a big step for me. It hasn't been long now that I've actually started liking purples and blues with hints of purple.
Bradley Velvet Sofa in Lapis from One Kings Lane
If I can't have the really expensive one at the top of this post, this one is probably a strong second place for me. There's just something about green. I love it. And this green with the dark blue in my kitchen is perfection. To me, it's kind of a throw back to the preppy 80s. I need some navy blue and kelly green argyle somewhere. 🙂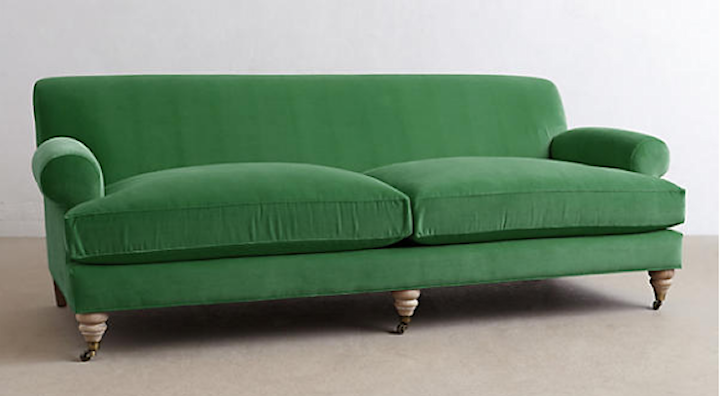 Velvet Willoughby Sofa in Emerald from Anthropologie
Another gamble for me, but wow! I love this color. What I'm not crazy about is the slub velvet. I prefer the smooth velvet.
Slub Velvet Glenlee Sofa in Amethyst from Anthropologie
This color is a bit of a departure for me. It's somewhere in that blue-green range, and I generally prefer my dark blue-greens to be more on the blue side. This one is definitely way more on the green side with just a touch of blue, but I think it's a really pretty and rich looking color.
Graham Velvet Sofa in Pine from Urban Outfitters
This is more along the lines of the dark blue-greens I tend towards — a very blue-leaning dark teal.
Tufted Sofa in Teal by DwellStudios from All Modern
And another option in the purple family, which also has the slub velvet. I think this color is so pretty, and I really love that it has one long seat cushion rather than two or three cushions.
I think this blue is so pretty, but I'm not so sure about the silver nailhead trim.
And I find this color to be absolutely gorgeous. It reminds me of my kitchen cabinet color from the condo. I do wish it came in a smooth velvet instead of the slub velvet, though.
And yet another dark-ish blue-green that's more on the green side. I seem to have picked out quite a few of these. I don't know if it's my subconscious steering me in this direction, or if it's just a matter of availability. I think there are just more green-leaning blue-greens out there right now.
I honestly don't think I could do a dark purple, but I wanted to add it anyway. I can see using dark purple accents in my rooms in small doses, but I think it's still too much for a large piece of furniture. Purples are definitely growing on me, though.
THIS.IS.GORGEOUS!!! This might be the most perfect blue-green color ever. Even though it's greener than my norm, this has to be one of the most beautiful colors I've ever seen. It's just a touch brighter and bluer than the Anthropologie Velvet Fan Pleat Settee above, but that slight change makes all the difference in the world. But unfortunately, it's way out of that price range that I feel comfortable with.
And finally, one more emerald sofa. I love the tufting, but I'm less excited about the rolled arms and rolled back.
So that's my "Round 1" of velvet sofa searches that I think would work in my living room. I really don't think I can make a final decision until (1) my kitchen cabinets are completely painted, and (2) my breakfast room grasscloth wallpaper arrives so I can see how it'll look from the living room. That might have a big influence on my final decision. But in the meantime, I'm going to start ordering fabric swatches from any of these places that have them. I know Anthropologie will send fabric swatches, and hopefully others will also. I'd have a very hard time purchasing a sofa without seeing the fabric in my living room first.
And I'll leave you with this picture that just made me smile. As I was looking for velvet sofa inspiration on Houzz, I came across this sofa and had one of those "Oh, wow!!" moments.
That color is beautiful, and I love the contrast welt cord.
Addicted 2 Decorating is where I share my DIY and decorating journey as I remodel and decorate the 1948 fixer upper that my husband, Matt, and I bought in 2013. Matt has M.S. and is unable to do physical work, so I do the majority of the work on the house by myself. You can learn more about me here.
I hope you'll join me on my DIY and decorating journey! If you want to follow my projects and progress, you can subscribe below and have each new post delivered to your email inbox. That way you'll never miss a thing!