Kitchen Progress — The Biggest Cabinet Removed And A Widened Doorway
I didn't make a ton of progress this weekend on the kitchen.  The fact is that my body just needed a break.  My right elbow has been in so much pain ever since I spent the day doing the prep work for taking out the wall, and then building and installing the header.
So I did try to take things slower this weekend, but it's not like me to just sit and do nothing.  I just can't stand that, especially when I don't have a working kitchen right now!
One major project checked off my list was removing the one large base cabinet where the original sink is.
To be honest, I had very little confidence that I would be able to get that base cabinet out by myself, but I wanted to at least give it a try before calling in reinforcements.
It took probably a couple of hours, and I started by removing the countertop, which was nailed in with about 100 massive nails!!  It came off in three pieces, and the two side pieces where the countertop met the corners were the most frustrating and difficult parts.  The middle part with the sink came out quite easily once the other two were gone.
Then I had to remove all of the trim from around the cabinet, all of the Formica on the walls and backsplash, and even the trim around the doorway.  Basically, I had to remove any obstacle that would prohibit me from just pulling the cabinet straight out.
After about two hours of wrestling all of that stuff free from the wall and the top of the cabinet, the cabinet was finally free and clear, and I was ready to give it everything I had to get it pulled off of the wall.
By that time, I was so exhausted and wanting to take a break, but first I wanted to give it one test tug to see how strong the nails were.  I gave it just a bit of a tug with about half of my strength, and the whole entire thing moved!!!  Matt was sitting there watching me, and with an obvious look of complete shock on my face, I turned to him and yelled, "DID YOU SEE THAT?!  The whole thing moved!!"
And just as easy as that, I was able to move the cabinet away from the wall just by going from one end to the other, pulling it out a couple of inches at a time so it wouldn't get wedged, until it was completely pulled out.  The hardest part was getting it shoved into the breakfast room, but I finally made it.
That got a little overwhelming seeing that room filled with two huge base cabinets, piles of trim and boards, one of the upper cabinets that my father-in-law and I had removed, an extra new-ish cabinet, and a big huge mess, but I got it under control by the end of the day yesterday.
The most interesting/disgusting/kind of creepy thing was moving that cabinet out of the kitchen and seeing piles of leaves under the cabinet, along with one more big hole in the floor, which I immediately covered with a gallon of water for obvious reasons.
I was a bit puzzled by all of the leaves until I spotted one very discernible nest of some sort.
That at least put my mind at ease that it wasn't rats or a snake, since I'm fairly certain that neither of those make nests.  I'd put my money on a squirrel.  And even though I think squirrels are adorable, I still think it's kind of creepy to think that one might have been living under the cabinet in the kitchen.
Aahhhh, the joys of an old house!  😀
But once I finally got all of the old, pieced-together drywall removed, and got all of the mess cleaned up, I was pretty proud of the work I accomplished on my "take it easy" weekend.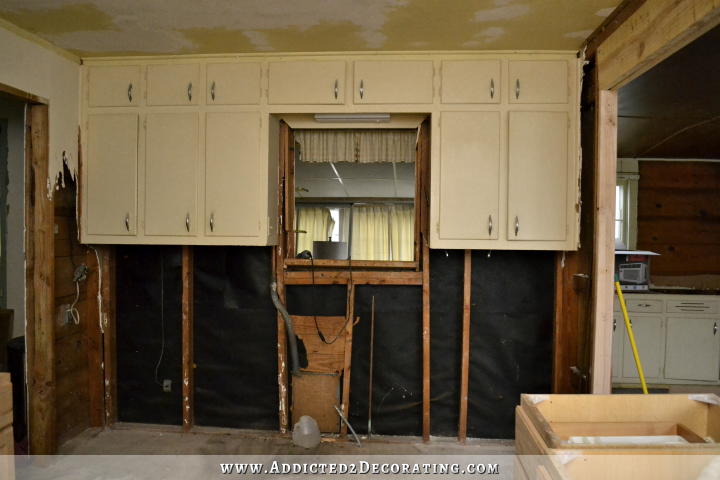 Now I just need to get those uppers out of there!  I have a feeling that's definitely not a one-woman job.  🙂
Probably the most exciting part of this whole process was what I found when I removed the trim from around the door going from the music room to the kitchen.
Do you see that gap between the stud and the door facing?  Well it was like that on both sides!!!
When I asked Matt about a week ago how much the doorway needed to be widened for him to get through it easily, he said about three inches.  There were four-and-a-half extra inches of space hidden behind the door facings!!!
Y'all, I was jumping for joy over this discovery.  That means that I don't have to widen the doorway at all!  And since I won't be moving studs, it also means that I won't have to figure out how to fill in holes in my flooring.
What's there is definitely filthy and will need to be cleaned, sanded, and protected with Waterlox, but at least it's there!
I'm still trying to figure out how to handle the unlevel floor in the breakfast room.
I only need the floor raised up to the point where I can cover it with a plywood subfloor, and then put new floor boards on top of it to match the ones in the kitchen.  It's the only room in the house with a slab foundation, and it also had two cracks running the full width of the room.
And to answer the question I know someone is bound to ask, no the cracks don't scare me at all.  This foundation is probably three feet thick, and it was poured in the late 40s, and probably poured without rebar.  That's why it cracked, and I have a feeling it's been that way for many decades, and that's why the previous owners put carpet in this room to cover the cracks (that was done in the early 80s).  So I don't think it's still moving.  I just need to figure out how to level it.
I know I'll probably need to use some sort of self-leveling concrete product, and for some reason the thought of using that stuff intimidates the heck out of me.  I think it's the thought of having to mix so much of it for this big room, and spread it all out before it starts to harden.  I'm wondering if there's another much easier way to level this floor that I just haven't thought of yet.
If you have any slab foundation floor leveling experience and/or advice, I'd love to hear it!
Addicted 2 Decorating is where I share my DIY and decorating journey as I remodel and decorate the 1948 fixer upper that my husband, Matt, and I bought in 2013. Matt has M.S. and is unable to do physical work, so I do the majority of the work on the house by myself. You can learn more about me here.