Last Updated on June 6, 2021 by Kristi Linauer
Have you ever spent weeks working on a huge, exciting project (oh, I don't know…perhaps like a big walk-in pantry), and then followed that up with a small project that only took three hours start to finish that made you almost as giddy as the huge, weeks-long project? Well, that was me last night when I brought a tiny bit of organization to my kitchen with this DIY tiered spice drawer insert…
If you've read my blog long at all, then you know organization isn't really my thing. But one thing about my pantry project that has me so excited is that once it's done, I'll be able to move everything out of my kitchen that I don't use on a daily basis, and efficiently organize the things that I use regularly. And since I cook almost every day, the idea of having an efficiently organized kitchen really appeals to me.
I have lots of ideas for kitchen organization that are "some day" projects — a pull-out shelf for pots and pans, a pull-out drawer specifically for lids, a large pull-out trash bin, etc. But I decided yesterday that "some day" was yesterday for at least one of these projects. After cooking our lunch yesterday, I was so frustrated. I really dislike cooking in the first place, but I do it because we're doing the ketogenic diet (I'm down 40 pounds…more about that here and here), and it's nearly impossible to do keto while eating out all the time. So I cook. Every day. And I hate it.
But yesterday, it dawned on me that while I'll never be one of those people who thoroughly enjoys cooking and loves spending hours in the kitchen trying out new recipes, I don't have to hate it quite as much as I do. And probably one reason I hate it as much as I do right now is because I spend half my time searching for things and wrestling pots and pans from stacks that are piled high and shoved precariously into the cabinets. So after my third time rifling through this mess…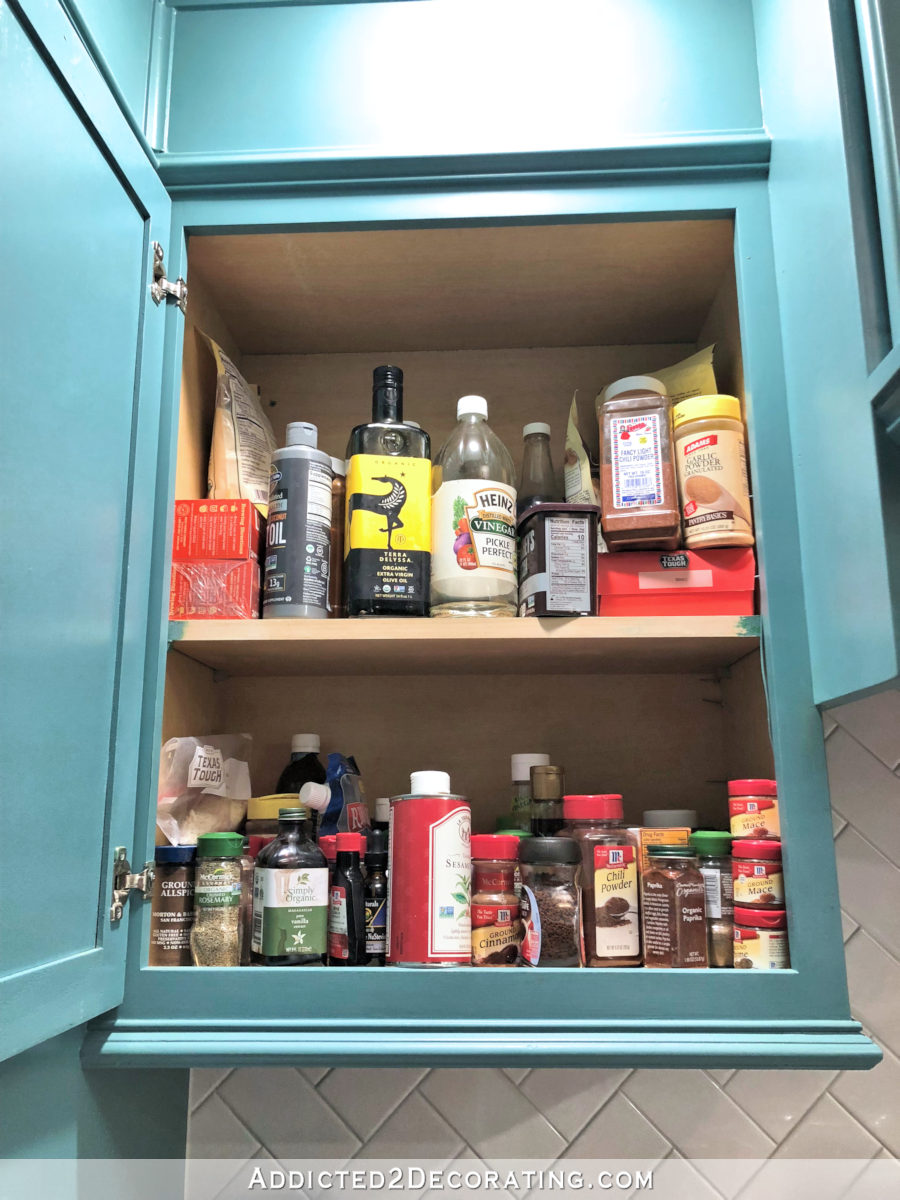 …to find the smoked paprika that I knew was hidden in there somewhere, I finally decided that enough was enough. I may not have time right now to build custom pull-out shelves for pots and pans and lids and plastic storage containers and garbage cans. Those will still have to be "some day" projects. But I can certainly wrangle this mess of spices so that I don't have to spend 15 minutes tomorrow looking for the oregano. So my one and only goal yesterday was spice organization. I'm starting with baby steps.
And in doing so, I decided to use this drawer to the right of the stove, which was another unmitigated disaster.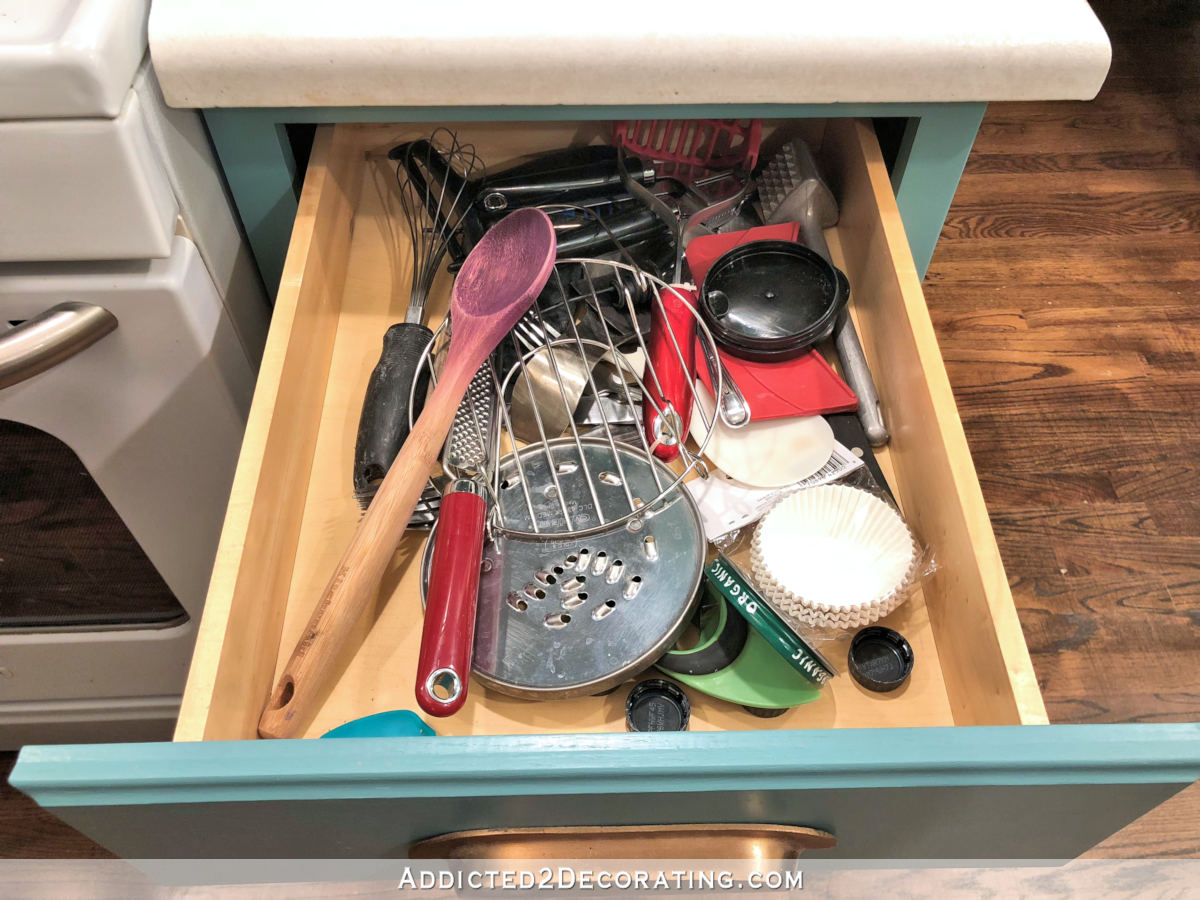 I'll deal with all of that stuff later. For now, I just piled it on the countertop on the wall of cabinets and focused on spices.
Now of course, you can purchase ready-made tiered spice drawer organizers, like this one and this one. But I decided to go the DIY route because (1) I was motivated to do this yesterday and didn't want to have to wait for an online order to arrive, (2) I wanted mine more customized to my particular spice bottles, and (3) it's cheaper. Cheap and almost-instant gratification is what I was after yesterday.
Now about those spice bottles, I ended up purchasing two of these Kamenstein 16-jar spice racks. Interestingly, I found the exact same spice jars (same brand, same size, and empty) at Bed, Bath & Beyond for $1.29 each. So I opted for two of the spice racks from Wal-Mart that actually come filled with spices (and evidently you can get free refills for five years, although I haven't read the details on that yet, so I'm not sure how that works) for $19.97 each. I kept the spices I wanted to keep from the prefilled bottles, and replaced the rest with the spices from my own cabinet. I peeled the labels off of the bottles (which, surprisingly, came off very easily and cleanly) and replaced them with chalkboard labels that I found in the scrapbook/paper/sticker section at Michael's. I used a chalk pen to write on the labels, and then when I got them right (I had to wipe off a few a try again), I sprayed them with a clear coat, let them dry, and then attached the labels to the jars.
To make the tiered insert. I used what are called "hobby boards" from Home Depot. They're made of poplar and generally cut very straight and square, which makes them perfect for really small projects like this. For the part that the bottles actually lie on, I used 1/4″ x 4″ x 24″ boards, cut to the width of my drawer. And for the risers, I used 1/2″ x 3″ x 36″ hobby boards, which I ripped to two inches wide on my table saw, and then cut to the width of my drawer.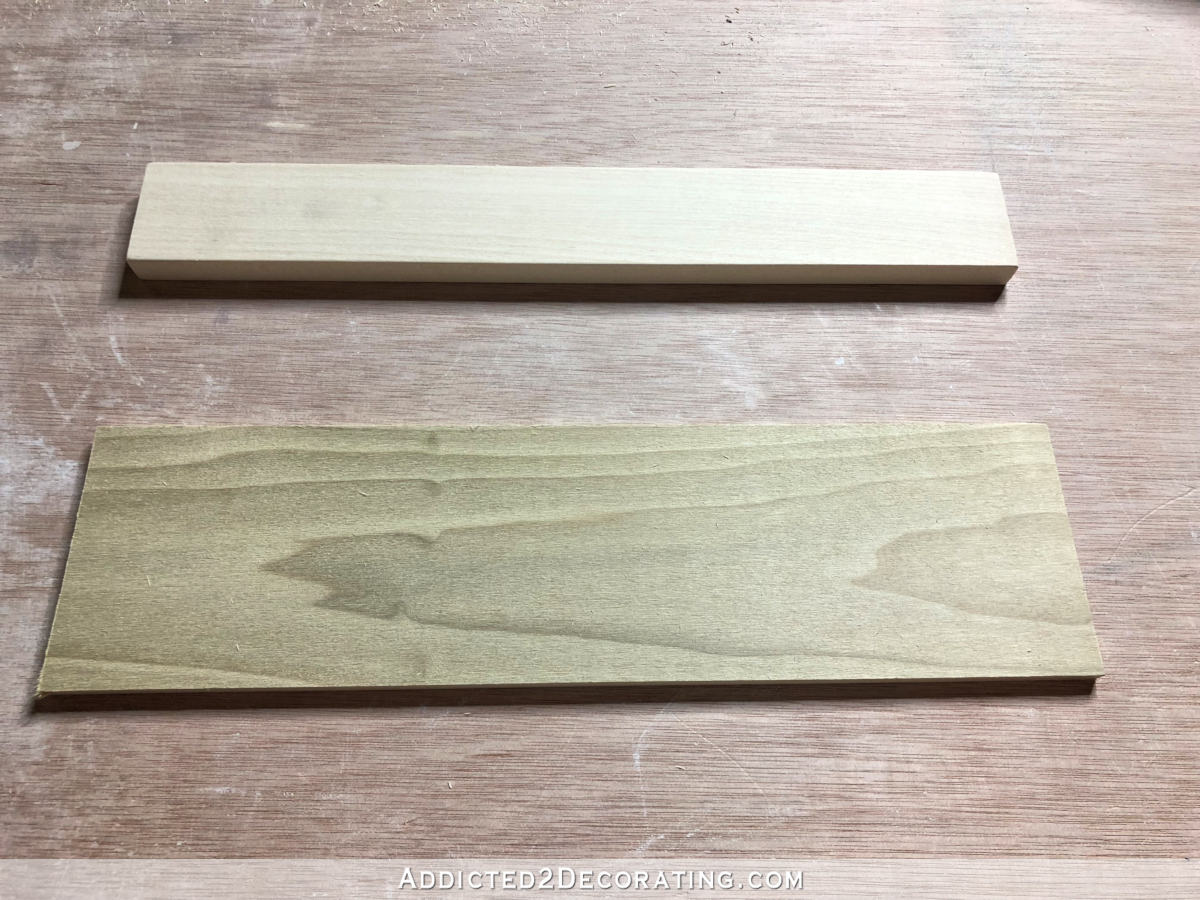 To make the individual tiers, I placed a bead of wood glue on the edge of the 1/2-inch piece…
And then placed the 1/4-inch piece on top and secured it with two 3/4-inch 18-gauge nails.
I made enough of these to fill my drawer, which fit five.
With all five individual tiers put together, I turned those upside down and attached them in the same way (wood glue and two nails each) to form one continuous piece.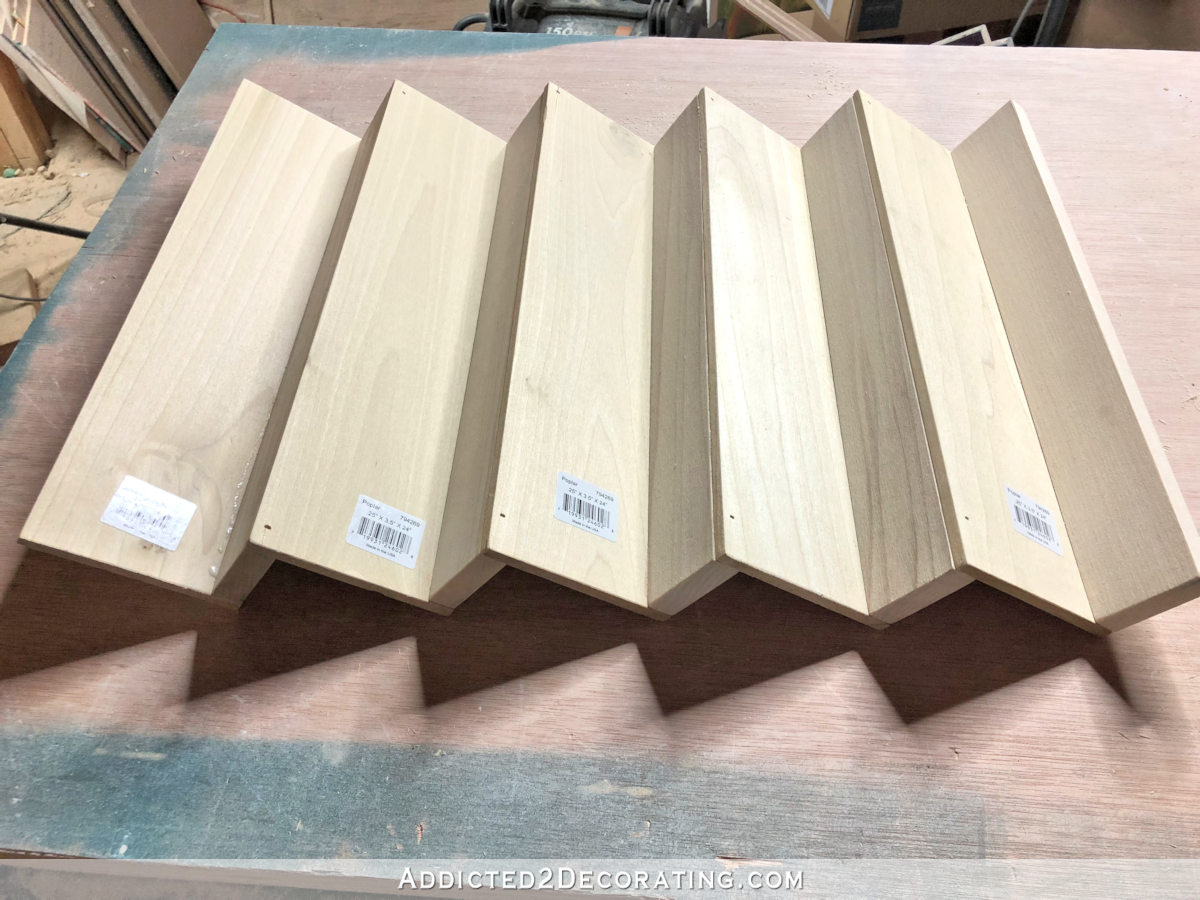 And then I inserted that into my drawer. Evidently I didn't figure just right, because initially it wouldn't fit. (Geometry isn't my strong suite. 🙂 ) So I just took the whole insert to my table saw and ripped enough off of that back riser so that it would fit perfectly into my drawer.
I also had to switch out the drawer slide, because as you can see from the picture above, that back row would have been very difficult to access. But it was a simple 30-minute fix to swap out that standard drawer slide for a full-extension drawer slide to make that back row easily accessible.
And then I was ready to load in the spices.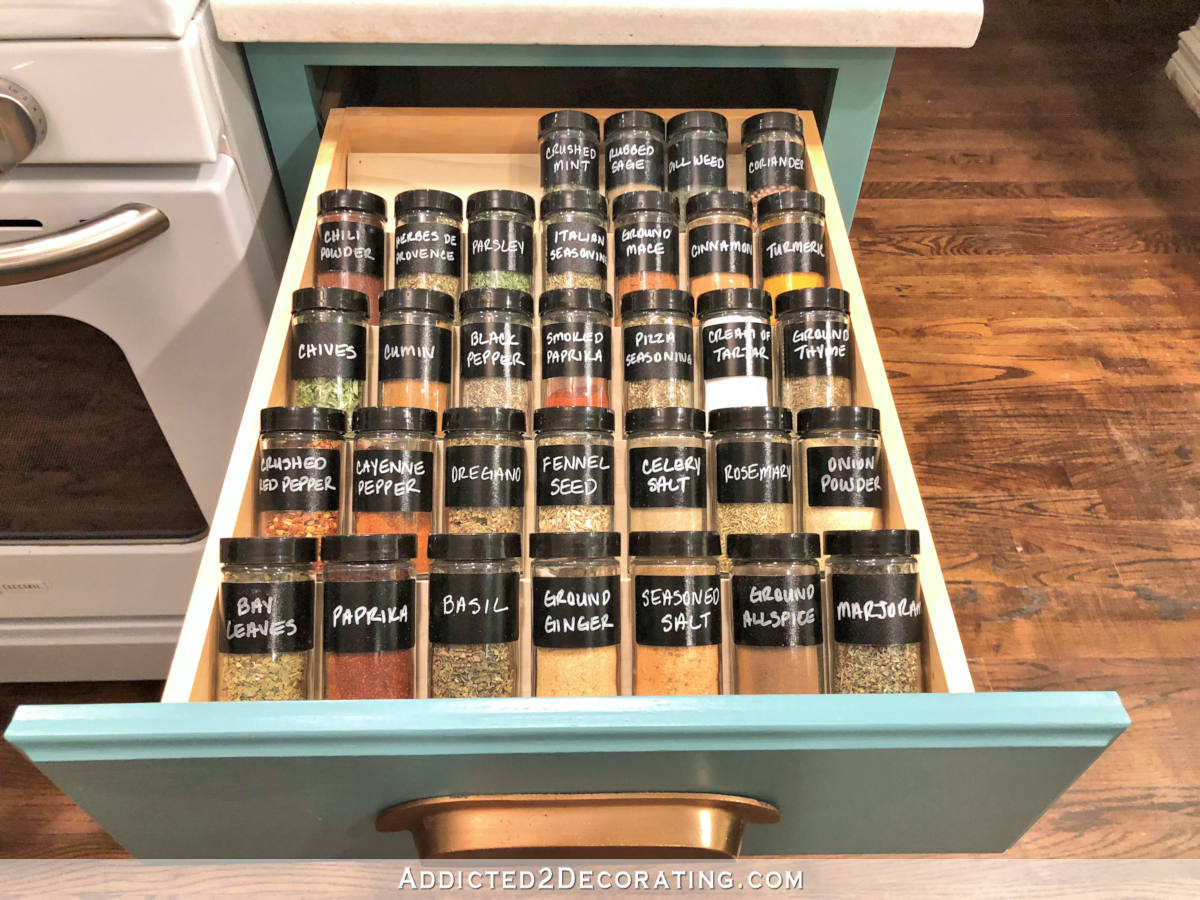 My drawer is 13 inches wide, and it holds 35 spices. Even after filling the bottles with all of my spices, as well as keeping three or four of the pre-filled jars of spices that I've never used before but smelled so good that I didn't want to throw away, I still have room for three more bottles.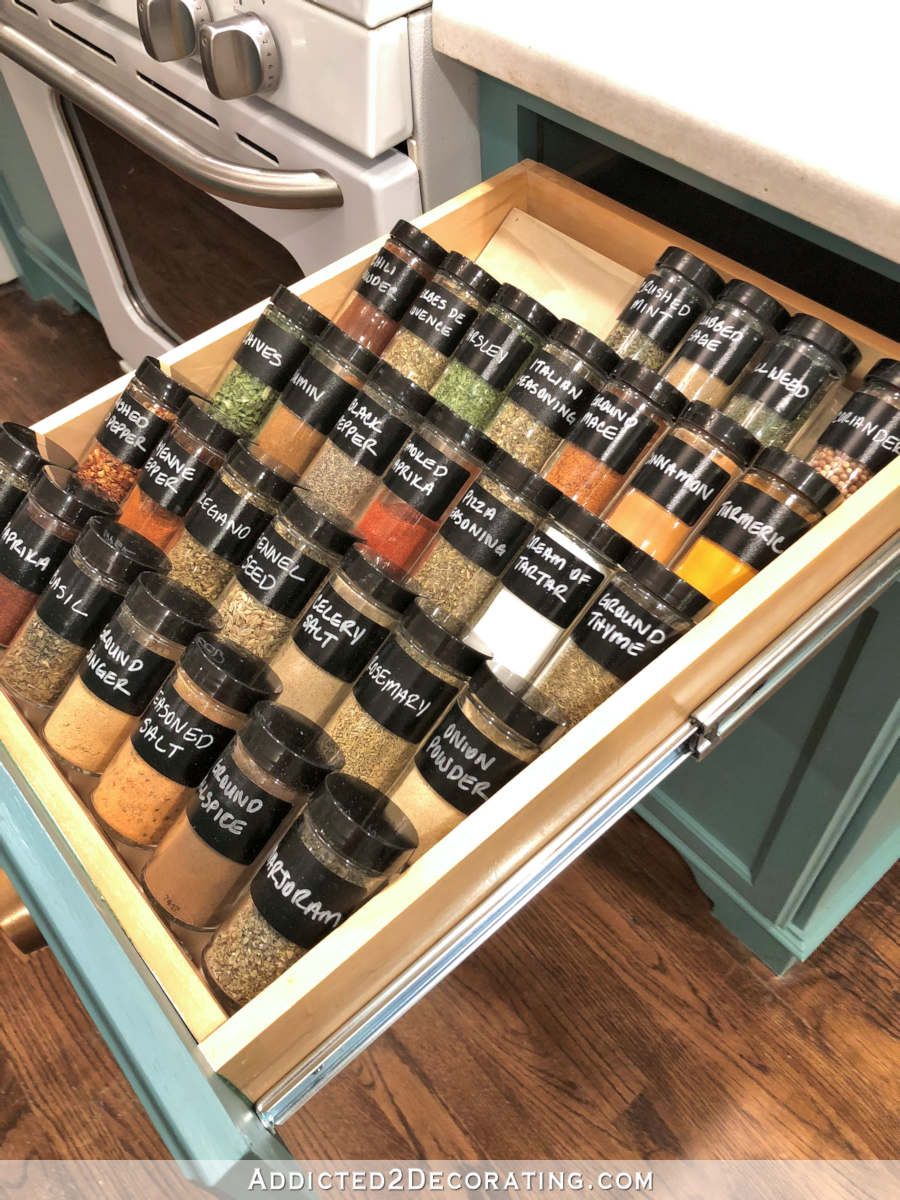 On the very first row, I didn't like how the round bottles had nothing to hold them securely upright, causing them to roll into and lean on each other, so I just added a little piece of wood to give those front bottles something to sit on.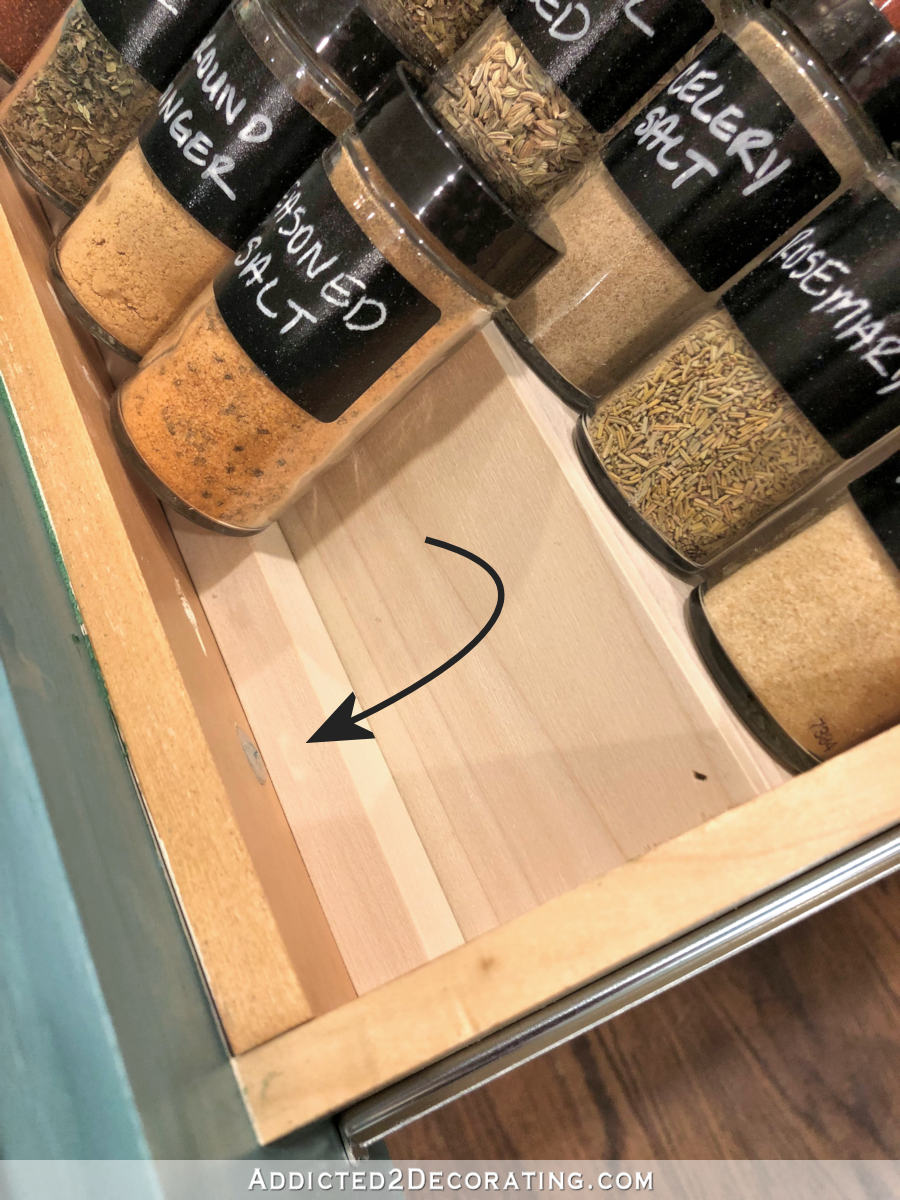 That was an easy fix to a minor annoyance. If you use spice bottles with a square footprint, that wouldn't be an issue.
It's a small step towards an organized kitchen, but I'm actually excited to get in there today and cook. Of course, that excitement may be short-lived once I try to dig a certain pot out of the tall stack of pots and pans that's being held up by the cabinet door, but at least I won't be rifling through a cabinet for 15 minutes trying to find oregano! 😀 It's a small victory, and I'll take it.
Addicted 2 Decorating is where I share my DIY and decorating journey as I remodel and decorate the 1948 fixer upper that my husband, Matt, and I bought in 2013. Matt has M.S. and is unable to do physical work, so I do the majority of the work on the house by myself. You can learn more about me here.
I hope you'll join me on my DIY and decorating journey! If you want to follow my projects and progress, you can subscribe below and have each new post delivered to your email inbox. That way you'll never miss a thing!