Last Updated on May 7, 2019 by
Progress is finally being made on my bathroom makeover! I finished my floor at about 11 pm last night, and let me tell you, working in a small bathroom like that makes me love groutable peel and stick tile even more! But I'll get to that in a second. First, let me show you the progress.
Last time I showed you my bathroom floor, it looked like this…
Well after about two hours of pulling up the top layer of vinyl with my hammer, mini crowbar, and my hands…
And then using this super stinky chemical adhesive remover (that will burn the heck out of you if you get it on your bare skin!!) that had to sit under plastic for 15 minutes before scraping…
I was finally left with a bare concrete floor. So after another couple of hours of installing my peel and stick vinyl tile, and then another hour or so of grouting, I finally have a floor that looks like this…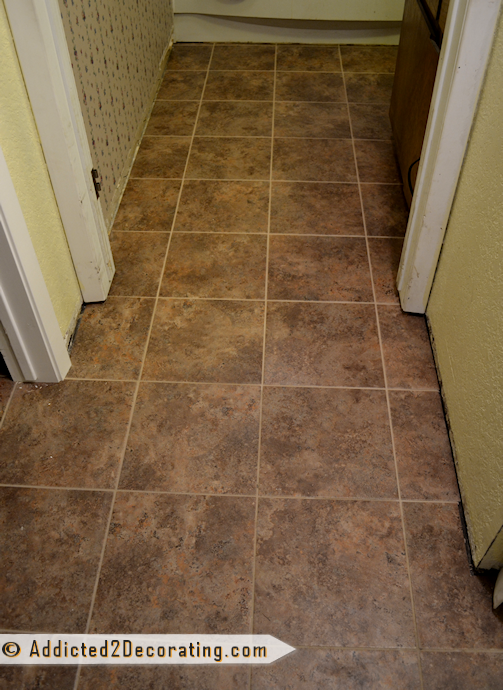 A vast improvement! And I love having a flooring that is continuous from the hallway to the bathroom. In a tiny home like this (my condo is 834 square feet), I think having one continuous flooring throughout helps to make the space feel bigger, rather than chopping it up into even tinier spaces with different flooring in each area.
5 Reasons I Love Groutable Peel And Stick Tile
As I stated above, after working this weekend in this bathroom to get the new flooring down, I have an even greater appreciation for groutable self adhesive peel and stick vinyl tiles. Here are my five reasons why I love vinyl tiles so much…
1. It takes a fraction of the time to install.
If I were using ceramic or porcelain tiles, there's no way I could have finished in just a few hours, because you have to wait about 24 hours for the thinset mortar to dry BEFORE you can even grout it.  With adhesive vinyl tiles, there's no waiting.  Just stick the tiles to the clean floor, and then you're ready to grout immediately.
2. Vinyl tiles are incredibly easy to cut.
There are no fancy tools needed. You just need a straight edge and an X-acto knife or utility knife.
And I can't even imagine the frustration of trying to make cuts like these in ceramic or porcelain…
But that took about two minutes with the vinyl tile. (And as a side note, taking up the old wax ring was probably the grossest thing I've ever done. I honestly didn't think I'd get through it.)
3. It doesn't require any special grout.
You can use the regular grout right there at the home improvement store. I always use the pre-mixed grout just because it's convenient.
Also, because the vinyl tiles are thinner than ceramic or porcelain tiles, the grout isn't as deep. That means that it dries much quicker, which is helpful when you have a house full of kids and/or pets.
4. It's very durable!
I remember the peel and stick vinyl tiles from about fifteen years ago. They were AWFUL. They were thin and flimsy, and the adhesive wasn't strong at all, so the tiles would shift around a bit after walking on them for a while.
Well, the groutable peel and stick tile today is a completely different story.  These things are thick, very durable, and the adhesive on them is super strong!  And one advantage of vinyl flooring over wood or laminate is that it's great for use in areas with water, such as kitchens and baths.  Heck, your whole house could flood, and these tiles would be just fine.  Not so much with wood or laminate.
5. They're much warmer to the touch than actual tile.
In the winter, real tile gets cold unless you have heated floors. With these vinyl tiles, that's not really a problem.
So have you used groutable peel and stick tile in your house recently?  Do you like them as much as I do?  You can also get some that look like wood flooring, which is really nice.  And if you're in the market for a better quality flooring, you can bypass the stuff that they have at home improvement stores, and use a brand like Mannington.  You'll pay a lot more for it, but the quality is pretty amazing!
Addicted 2 Decorating is where I share my DIY and decorating journey as I remodel and decorate the 1948 fixer upper that my husband, Matt, and I bought in 2013. Matt has M.S. and is unable to do physical work, so I do the majority of the work on the house by myself. You can learn more about me here.
I hope you'll join me on my DIY and decorating journey! If you want to follow my projects and progress, you can subscribe below and have each new post delivered to your email inbox. That way you'll never miss a thing!