Last Updated on December 24, 2015 by Kristi Linauer
Or your living room?  Where do you watch TV?  Do you not have a TV in your home?
I seem to be getting questions like this quite often lately, and I got even more of them yesterday when I posted our current floor plan…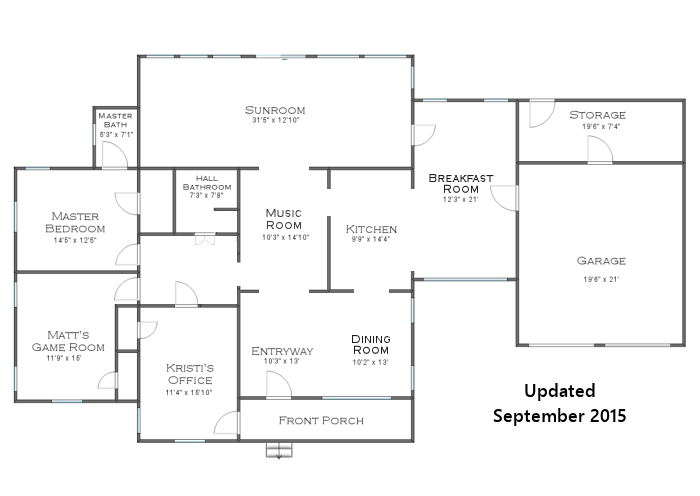 These are very valid questions, and I can certainly understand the confusion and curiosity.
It's true…and probably very strange to most of you…that our house at the moment does not have a family room or a living room.  It used to.  I originally planned to use the front room as a living room just as the original builders intended, and I even decorated it that way in the beginning.  Remember that?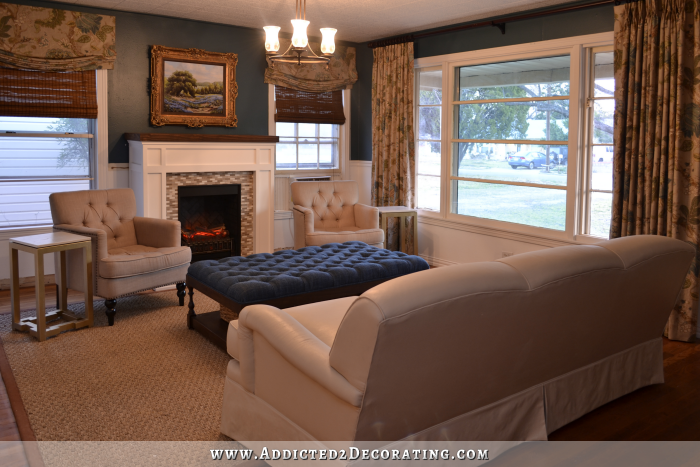 That was my "Phase 1" living room where I updated the walls with a gallon of paint, added some cheap trim as a chair rail, painted a cheap floral thrift store sofa, and used chairs and a rug that I got for free from Overstock.com.  The plan from the very beginning was to make it temporary, but presentable, and then when I was ready to really dive in and tackle the big projects in this room (i.e., removing the polystyrene ceiling tiles, re-drywalling, replacing windows, etc.), then all of the temporary items would be upgraded to whatever I chose to use long term at that point.  I had planned on new chairs, end tables, sofa, rug, and wall color (that's when I had my heart set on grass cloth).  The only things I ever intended to keep long term in that room were the fireplace (still keeping in there), window treatments (finally decided that that fabric just isn't me), and ottoman (still have it and will use it elsewhere).
But, as generally happens with me, plans changed.  The more I planned and dreamed about my final living room design, and the longer I lived with a living room in this front room, the more it just didn't feel right to me.  First of all, we seldom (almost never) used it.  But also, I really wanted a large dining room, and this was the perfect place for it.  So now I'm working towards making this room my dining room.
So where does that leave the living room or family room?  Well, we do have long-term goals to eventually tear down the sunroom and rebuild back there, adding a larger master bedroom, a utility room/laundry room, and a family room.
But until we tackle that remodel, we really won't have a family room.  That's strange, I know.  But you know what's even stranger?  It doesn't feel weird to me at all.
The fact is that Matt and I just aren't "lounge around and watch TV" kind of people.  That might be different if we had kids, but we don't.  In fact, Matt and I haven't had a TV (or one that's actually connected to cable, a DVD player, or anything like that) in over five years.  I used to be a TV junkie.  I would turn the TV on as soon as I woke up in the morining, and it would literally be on all day long, through morning news, daily talk shows, mid-day news, afternoon soap operas, evening news, prime time shows, nightly news, David Letterman, Craig Ferguson, and whatever version of Star Trek came on after that.  EVERY.SINGLE.DAY.  And it wasn't that I was actually watching all of that, or even remotely interested.  I just wanted the "background noise."
Finally one day, after turning the TV off at about 1:00am, I realized that it had been on since 7:00am and hadn't been turned off even one single time.  And then I realized that that was my routine every single day.  It's like something "clicked" in my brain, and I realized how much of my attention was being stolen by this stupid black box sitting in my family room.  So the next morning, I didn't turn it on, and it stayed off all day long.  The next day, same thing.  And the day after that.  And the day after that.
Four months later, I still hadn't turned on the TV even once, and Matt suggested that we just disconnect our cable since we weren't using it.  I kind of panicked at the idea, and told him I wasn't quite ready to make that change.  And yet, day after day, I continued to keep the TV off completely.  Finally, two months later, when I still hadn't turned the TV on even one single time, Matt finally insisted that we disconnect our cable.  I finally agreed.  That was five years ago, and we haven't "watched TV" since then.
We do watch shows, but we watch them on Amazon or Netflix, and we watch them on our laptops.  We also have very specific times during the day when we enjoy our shows — one show during breakfast while sitting at the dining table, one show during dinner while sitting at the dining table, and one show before we go to sleep when we're already tucked in bed.  Some days we may indulge in more, but we are no longer "TV on all throughout the day" people.  And the only TV in our house is the one in Matt's game room that he uses to play his video games.
So all of that to say that no, we don't have a TV, or feel the need to have a room dedicated to lounging around and watching TV.  I do see that changing in the future, which is why a family room (with a TV!) is part of the long-term plan.  But for now we're fine without it.
As a side note, that whole "I just want the TV on for background noise" excuse was complete nonsense.  Having it on constantly was distracting me from getting things done that needed to be done.  It stole my focus, destroyed my concentration, and made my projects take way longer than they should have.  I was so shocked at how much more productive I became when I finally turned the TV off.
But aside from relaxing and watching TV, a family room or living room is also pretty important for when guests come over, right?  So obviously I need to come up with a solution in the meantime.  My interim plan is to turn the right side of the sunroom, which is pretty much being used as a storage room right now, into a sitting room.  (And no, this is not a priority.  My focus right now is my entryway, dining room, and music room.)  It won't be fancy, but hopefully it'll be comfortable enough for chatting and enjoying a glass of iced tea with guests who stop by.
This journey of turning an old house into our forever home is very interesting and unusual at times, but I'm confident that it'll all work out in the end.  🙂
Addicted 2 Decorating is where I share my DIY and decorating journey as I remodel and decorate the 1948 fixer upper that my husband, Matt, and I bought in 2013. Matt has M.S. and is unable to do physical work, so I do the majority of the work on the house by myself. You can learn more about me here.
I hope you'll join me on my DIY and decorating journey! If you want to follow my projects and progress, you can subscribe below and have each new post delivered to your email inbox. That way you'll never miss a thing!