DIY Ottoman Coffee Table – FINISHED!!
It is finished, y'all! And oh my gosh, I love it. I mean, seriously, I love it. This diamond tufted DIY ottoman coffee table is by far my favorite project I've ever done, and definitely the nicest piece of furniture I've ever made.
Does that make me sound prideful and boastful? 🙂 I hope not. Really. But if it does, then please indulge me just for a bit and allow me just this one day to be prideful and boastful. 😀 Because I'm so stinkin' excited about how this tufted ottoman with shelf project turned out!!!
As I've shown you several times, this tufted ottoman with shelf from Layla Grayce was my inspiration.
The things I loved about that ottoman were:
the diamond tufted top,
the legs,
the shelf on the bottom.
The things I didn't love about that ottoman were:
the cream colored fabric on the top,
the finish on the wood,
the size (I wanted a rectangle instead of a square),
the way the shelf was dropped down about 1/2-inch from the side rails (which in my mind would only make dusting quite difficult),
the $1,238.00 price tag.
So I made my own DIY ottoman coffee table, including the things I loved, and changing the things I didn't love about the inspiration ottoman.
If you missed any of the tutorial posts, you can see them here: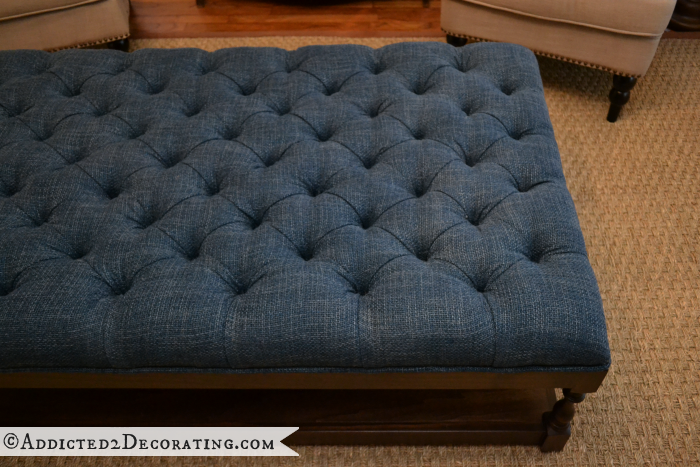 And here are a few more details not covered in those tutorial posts:
The stain I used is Rust-Oleum wood stain in Dark Walnut. I used two coats to get the dark color you see on this ottoman.
I gave the whole base two coats (three coats on the shelf) of Rust-Oleum water-based polyurethane in a satin finish. I sanded very lightly with 180-grit sandpaper after the first coat.
Before attaching the tufted top to the wood base, I added a welt cord that I covered in the ottoman fabric. I simply glued it around the bottom of the ottoman top using hot glue.
After trying other methods unsuccessfully, I ended up attaching the top to the base with my high melt hot glue gun. (The kind you use for woodworking with the really big glue sticks…not the cheap kind you get at a craft store with the tiny little glue sticks made for tiny little crafts.)
And my favorite thing about my DIY ottoman coffee table?  The price!
Here's how the cost breaks down:
Four coffee table legs – $79.75
3-inch high density foam – $57.75 (with 50% off coupon)
Twin size hi-loft batting – $7.50 (with 50% off coupon)
Buttons – $2.50 (a total bargain because I learned a secret to saving big)
8-ounce can of Rust-Oleum Dark Walnut stain – $5.50
Four 8-foot 1″ x 3″ lumber – $30.68
1 package of piping cord – $4.99 (with 50% off coupon)
1 piece of plywood – $25.00
3 yards of 54-inch fabric (Robert Allen Tex Weave in the color Baltic) – $65.97
TOTAL: $279.64
I also used some things that I always have on hand, like wood glue, staples, finishing nails, etc. But if you had to purchase those things, you could still easily make this ottoman for under $350. That's not too bad for a completely custom ottoman, made the exact size and color you want, with the exact fabric you choose!
Of course, keep in mind that the fabric is a huge factor in how much this ottoman will cost since fabric varies so widely in price. The fabric I used was a woven upholstery weight fabric that cost $21.99 per yard from Decorator's Best.
Yep, this is definitely my favorite project so far. 🙂
So what do you think?  Would you ever tackle this project?  The tufting really is the hardest part, but you just have to go into it knowing that it will take lots of patience and that you'll end up with very sore fingers for a couple of days.  The base?  That was the easy part with the help of my Kreg Jig.  Those things can make anyone look like a pro.
And with this DIY ottoman coffee table project finished, I'm going to say goodbye to y'all for a few days, and I'll see you in the new year!  I've been working so furiously on projects that my house looks like a tornado went through.  For the sake of my sanity and my marriage, I need to step away from the computer and get things under control here.  And hopefully, I'll have time to work on some new projects that I can dazzle y'all with in the new year.  😀
I'll be gone all next week, and I'll return on Monday, January 6th.  In the meantime, I'm sure I'll be hanging out some on my Facebook page, so come join me if you haven't already!
Have a very happy New Year, y'all!
Addicted 2 Decorating is where I share my DIY and decorating journey as I remodel and decorate the 1948 fixer upper that my husband, Matt, and I bought in 2013. Matt has M.S. and is unable to do physical work, so I do the majority of the work on the house by myself. You can learn more about me here.