Last Updated on May 9, 2019 by Kristi Linauer
On Wednesday, I made the final payment to the general contractor in charge of the garage-to-studio conversion. That company's part in the conversion/remodel process is officially finished, and the baton has been handed off to me to bring the studio to completion. That will be done through a combination of my own work (I'll install the flooring, build the cabinets, etc.), subcontractors I've worked with in the past and have come to trust (i.e., my drywall guys), and subs that come by recommendation of the general contractor, but with whom I will work directly from here on out.
Working with a general contractor (and subs) can be stressful. We've all heard the saying that when you hire a contractor to do a big job, you should expect it to take twice as long and cost double the price. Thankfully, neither of those things happened with my studio project, but there were still some surprises along the way. And in hindsight, I think these surprises could have been avoided had I taken a few extra steps in communicating with and working with the contractor from the very beginning.
So now that my project with the contractor is done, I want to pass along a few tips that I've learned, and practices that I'll definitely be putting into practice when we do our big addition on the back of the house (hopefully next year).
Before I share these, I want to make it clear that my overall experience with the company I used was very good, and I would highly recommend them. The general contractor was great — very helpful, easy to work with, super friendly, personable, and straightforward. He was not in any way a sleazy, slimy contractor who would take advantage of people, but we all know that those contractors exist out there. The project manager in charge of my garage-to-studio conversion was excellent. He came just about every day to check on the progress. He communicated clearly what had been done, what still needed to be done, when to expect what, and was always available to talk over any questions or concerns I had. And the crew that did the framing…well, I can't say enough positive things about them. They were EXCELLENT. I'd hire them again in a heartbeat to do any and all framing jobs I have in the future.
But even my very good experience had a few bumps in the road, and those can serve as learning experiences for future projects. So here's what I recommend…

1. Know Your House
Here's the simple truth. A knowledgeable homeowner is way less likely to be taken advantage of or allow sub-par work to be done on his or her house. I think it's so important for homeowners to know how their house is constructed, and know the basics of general construction. Do you have a slab foundation or a pier and beam foundation? Do you know where the load-bearing walls are in your house? Just make it a point to understand the basics of how your house is constructed so that you can understand what will go into making major changes to the structure of your home.

2. Educate Yourself On The Basics Of Construction
Contractors and subs don't always do things the best way. They do things the way they're used to — the way they ve done it for the last 10 years — but building methods change. Newer and better methods are introduced, and better products are developed. If you're familiar with these, you can be sure that they're using the best methods and products on your home.
I know the question is, "But don't inspectors look to make sure everything is up to code?" Yes, but being up to code doesn't mean it's the best way. Or to put it another way, I'll share with you something that I saw just this week on a contractor/home inspector forum. I don't even remember the topic I was researching, but one person responded to another by saying, "Meeting code is the bare minimum. So your project meets code? Congratulations. You've done the bare minimum required to pass. You score a D-."
Two examples of this from my own project are (1) window installation and (2) HardiePlank siding installation.
When windows are installed, they have to be flashed in order to keep water out. There is a way to flash windows that meets the bare minimum for code, and then there are a couple of ways to flash a window that far surpass code and give that window the absolute best chance of never leaking, which is what I would call the "right" way to install windows. I have yet to meet a window installer in this area who does anything beyond the bare minimum, which is basically installing the window and then throwing up a few pieces of flashing over the edges of the window. So I educated myself on this (you can learn just about anything you need to know on YouTube), and now when anyone else installs windows on my home, I make sure they do it how I want it done.
When the HardiePlank siding was being installed on the back of the studio, I asked the installers about the tiny little gaps left where the pieces butted up against each other. They said that the painter (that would be me!) would just caulk those butt joints. So I got online and headed to the James Hardie website to see what caulk they recommend for the butt joints. Well, as it turns out, the James Hardie company stopped recommending caulk for the butt joints sometime around 2008, because caulk eventually cracks and/or bulges creating unsightly joints that aren't watertight, which creates a continual maintenance issue for homeowners.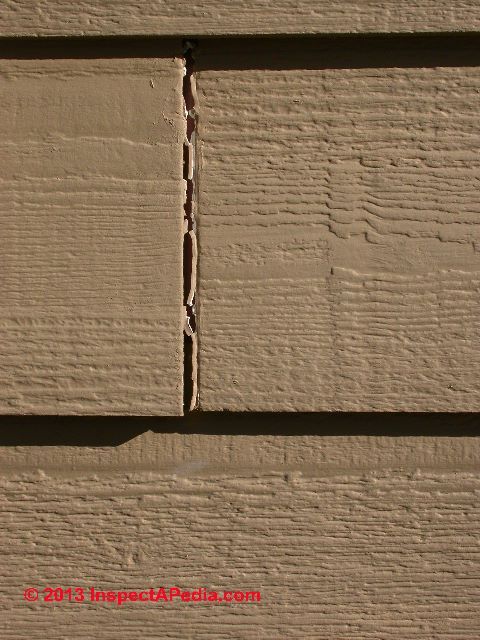 Now they recommend flashing the joints so that caulk isn't needed, eliminating the unsightly cracks and bulges, as well as the continual maintenance issue that caulk creates.
via Home Construction & Improvement
I asked the guys about that, and they said they had never heard of it. Neither had the project manager. Neither had any of the men working in the building supply departments of Home Depot or Lowe's.
So I headed to the store, bought the appropriate flashing, and taught the installers how to flash HardiePlank siding butt joints.
The lesson here? The more you know, the better the results you'll get.
3. Record your meetings with the contractor.
It may seem awkward to ask your contractor if you can record your conversation, but it could potentially save you a few headaches and possibly some money in the end. I wish to goodness that I had recorded my initial conversation(s) with my contractor.
Y'all may remember that I was incredibly frustrated right off that bat with this project. I had three major sources of frustration, and two of them were addressed (and then evidently forgotten) during the initial meeting with the contractor.
The first issue was that the front wall of the garage had two garage doors, and therefore had no concrete footings. From the very first day that I even considered turning my garage into a studio, I wondered how that would be addressed. How would framers raise the floor when only three of the four walls had concrete footings? This was one of two big concerns I had, so I was very sure to ask the contractors I interviewed about that issue.
When I asked this contractor about the lack of concrete footings on the front wall, he said it wasn't a problem. We could just run the floor joists the other way. So when I got the estimate from him for the project, nothing about concrete footings on the front wall was mentioned.
Then about a week before the project was scheduled to start, the project manager came to look at the garage and go over details with me. Pretty much the very first thing he said to me was, "There are no concrete footings here! And that wasn't included on the estimate. We can't do this floor without concrete footings, and that needs to be done immediately so that we can start this project on time."
So right off the bat, I was on the hook for an additional cost for concrete footings — footings that I had specifically asked about and was told weren't needed. The contractor ended up splitting the cost of the footing with me, but that was still an additional $450 added to the estimate even before a single bit of work had been done. I kicked myself over and over for not having that initial conversation recorded.
4. Get everything in writing
This is pretty much common sense, but it bears repeating. Get everything in writing. Communicate in writing via email any changes in the estimate, design plan, finishes and selections, etc. And for heaven's sake, don't delete any of those emails!
5. Get a detailed, itemized bid
When I got the bid for the studio project, it was divided into three sections — studio, mudroom, and bathroom. All of the items that were included in each section were listed as line items, but the prices weren't. The prices were just given as lump sums for each section.
So that made it a little challenging when the project manager would come to me and say things like, "I need to order the French doors today. Have you picked out the ones you want?" Well, no I hadn't, because those doors were included in the bid, but I had no idea how much was given as an allowance for the doors. Did I have to choose the $600 French doors to stay in budget? Could I get the $1200 set? Having to wait on that info can be awkward and cause delays. It's easier if you just have the info right off the bat. It also puts you in the driver's seat and helps you feel more in control of the budget rather than flying blind. If your contractor gives you an itemized bid and you see that he's allowed $150 for a faucet, but you know your heart is set on a fancy $900 faucet, you know exactly how much of an overage charge you're on the hook for. There will be no surprises.
6. Have sub-contractors look at project before signing off on the estimate
A lot of times, remodels/additions are pretty straightfoward with no special circumstances involved. But if you know you have some kind of unique issue involved (which is where "know your house" comes into play), then I highly suggest having your contractor bring his subs to your house to look at that unique issue before you sign off on the estimate to avoid any surprises later.
And this brings me to Item Of Frustration #2 for me.
During our initial meeting, my second main concern to discuss with the contractor was the addition of a bathroom at the back. I knew it would be an issue because the foundation in that room is solid concrete. It's right next to the pantry and breakfast room, which are also on a solid concrete foundation AND have a finished hardwood floor on top. So getting plumbing pipes from the back of the studio, through two rooms of solid concrete foundation, including finished floors, was going to be a challenge. I was assured that the plumber could figure out a solution.
Well, that's true enough. He did figure it out, and he did get it done. It's just required a special $1100 toilet. Yes, $1100. And no, it's not gold plated. 😀
It's a Saniflo toilet that attaches to a special grinder (mmmmm….just think about that for a second) that sits behind the toilet…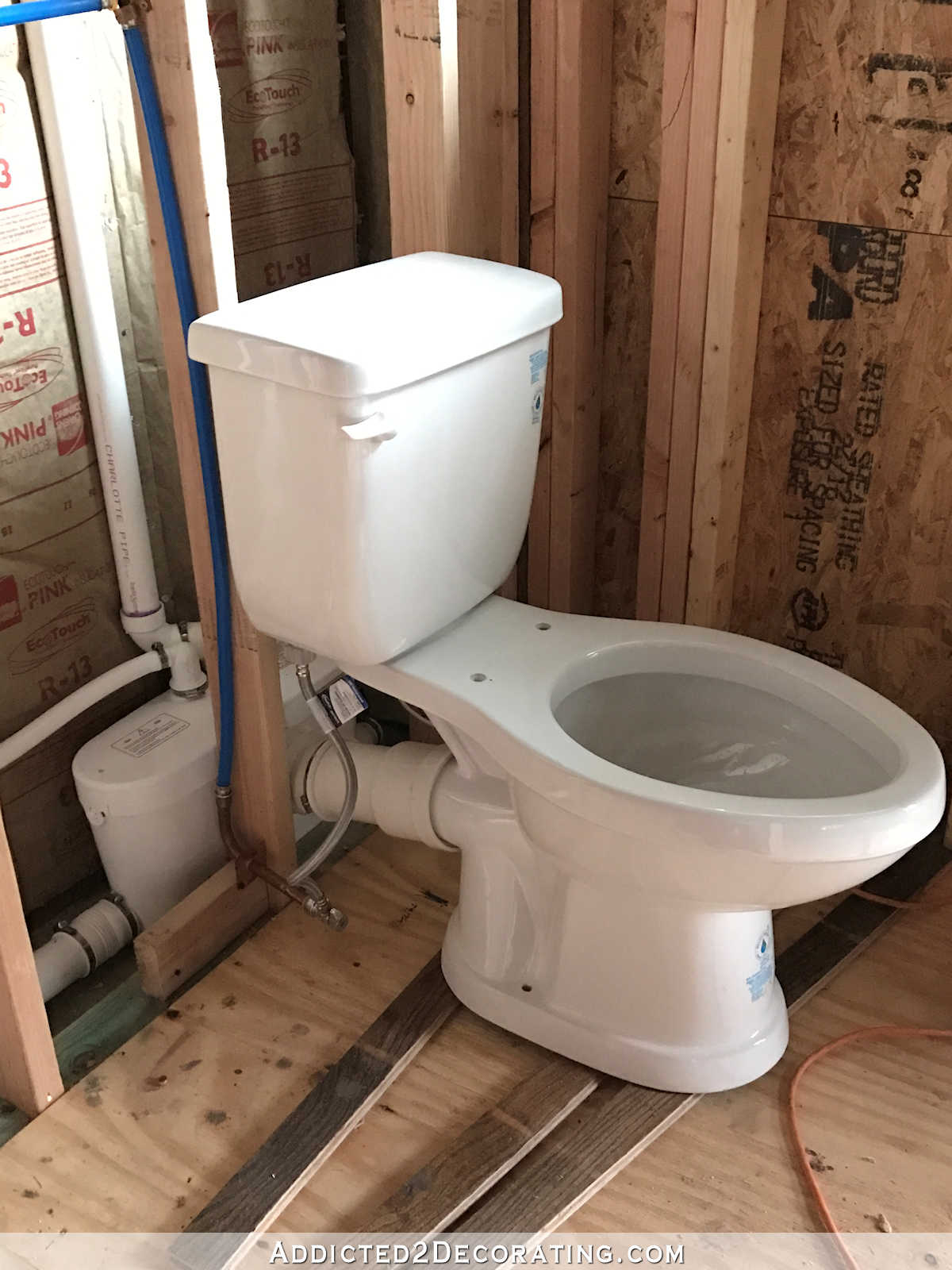 …and that turns…you know…stuff…into a slurry that can be sent up (not down, but up) through a small pipe, into the attic, across the attic, and down through the pipe at the hallway bathroom. It uses enough pressure to send it up vertically 15 feet, and horizontally (i.e., across the attic) over 150 feet.
I knew from the beginning this room would present special plumbing challenges, and I knew it would be expensive to put a bathroom back there. I just wish that the plumber had come to look at the project before I was ever handed an estimate so that I would't be surprised later with needing a special $1100 toilet. The contractor split the price with me, but $550 for a toilet is still about four or five times the amount that I would generally spend on a toilet.
7. Question anything that doesn't quite seem right
This is pretty self-explanatory. If you're told something that doesn't quite seem right, question it until you're satisfied with the answer. If something on the estimate doesn't quite add up, question it until the issue is resolved.
And this brings me to Item Of Frustration #3 for me.
After signing off on the original estimate, I decided that I wanted skylights. Based on the suggestion of a commenter on my blog, I chose a specific brand that opened and closed using solar power, and also had built-in shades that opened and closed using solar power. So no hardwiring was necessary. I found the ones I wanted at Home Depot for $1500 each.
I emailed and told them that I wanted to add two of those skylights, and provided the brand/size, and a direct link to the product on Home Depot's website. I also made a few other additions/subtractions to the estimate in the same email.
When I got the revised estimate back, the skylights had only added $900 to the price. I thought it was odd, but for some reason didn't question it at all. I just figured that it was a combination of his super discounted contractor pricing, along with the net effect of the other subtractions and additions I made, that only increased it by $900.
So when it came time to order them, the project manager asked me to show him which skylights I wanted. He was shocked at the price, and told me that there was no way those were included in the estimate. He checked with the office, and they were shocked as well. Somehow my email with the very specific information regarding the skylights I wanted was overlooked, and they only allowed for the very basic skylights that they generally use — no opening/closing feature, and no built-in shades.
I was frustrated, to say the least. In the end, I decided to forgo the skylights altogether for other reasons. And in hindsight, I realize I should have questioned it the very second I looked at that revised estimate with the skylights and only saw a price increase of $900 for those particular skylights.
So those are the lessons I've learned during this project. And let me reiterate that the overall process was really very smooth, and even with the three Items Of Frustration, I would still work with this contractor again and recommend the company to anyone looking for a contractor. But I will carry these lessons learned into future projects where hiring a contractor is necessary.
If you've worked with a contractor, and have valuable tips to share, I'd love to hear them!
Addicted 2 Decorating is where I share my DIY and decorating journey as I remodel and decorate the 1948 fixer upper that my husband, Matt, and I bought in 2013. Matt has M.S. and is unable to do physical work, so I do the majority of the work on the house by myself. You can learn more about me here.
I hope you'll join me on my DIY and decorating journey! If you want to follow my projects and progress, you can subscribe below and have each new post delivered to your email inbox. That way you'll never miss a thing!