Grasscloth + Wainscoting (The Perfect Combo For My Living Room)
While I was working in the kitchen yesterday taking up the old flooring (which is quite a job…those boards have 3-inch 65-year-old rusty nails holding them down, and they do not want to come out!!), I took a couple of breaks and just sat in my living room and dreamed about what it would look like when it's finished.  Really finished.
You'll remember that I left it looking like this…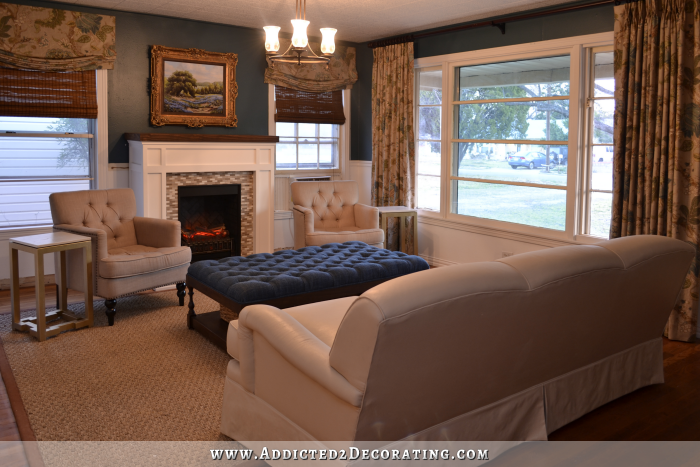 It's a huge improvement over how it started…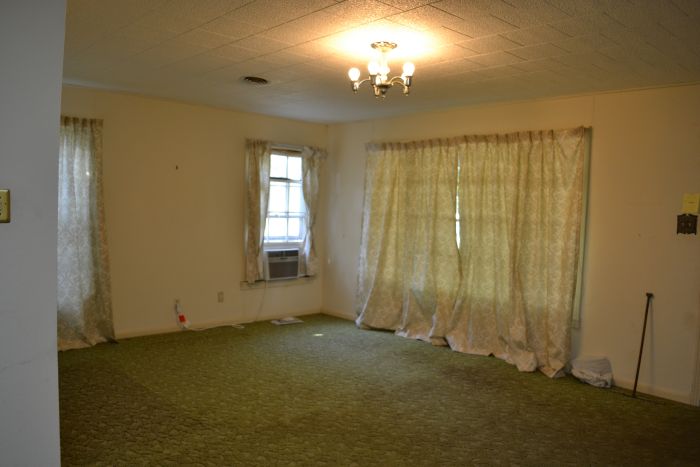 …but it's far from complete. I had some pretty big projects that I had to wait on since my floors were so unlevel. But now that that's been taken care of, I can finally plan on getting it done (hopefully) in the near future.
While there are several things still missing from that room, the two main elements are (1) grasscloth on the walls, and (2) wainscoting on the lower parts of the walls. Grasscloth wallpaper over wainscoting is a combination that I absolutely love, and I've had my heart set on it for the living room/entryway since even before we closed on the house.
Traditional Powder Room by Chicago Design-Build Firms Orren Pickell Building Group
I just love that look of the textured paper on top, with the more polished finish of the wainscoting on the bottom.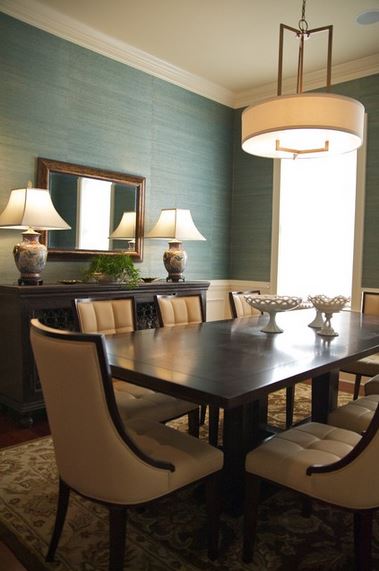 Contemporary Dining Room by Charleston Interior Designers & Decorators Sharon Payer Design, llc
And of course, my hope is that I'll find a teal grasscloth that is similar to the color I currently have on the walls…and that I can actually afford.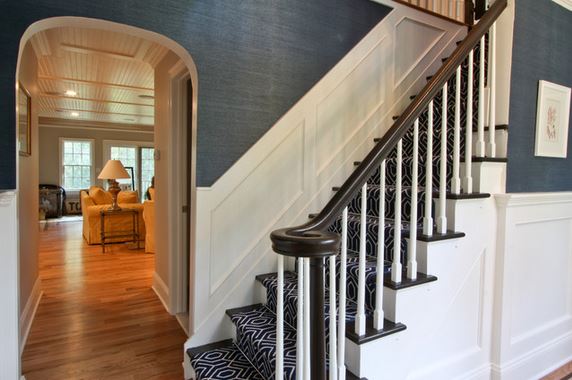 Traditional Entry by Westfield General Contractors Michael Robert Construction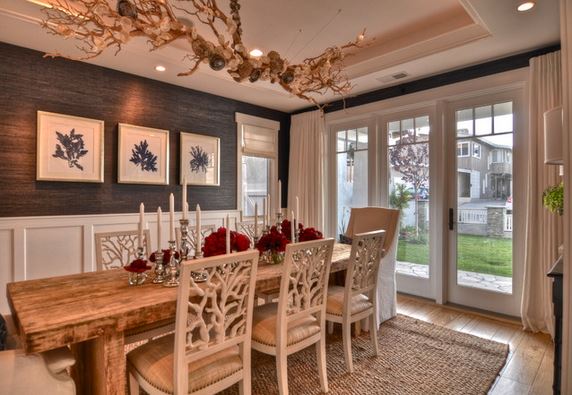 Traditional Dining Room by Redondo Beach General Contractors LuAnn Development, Inc.
So that will be my first challenge — finding affordable teal grasscloth wallpaper, because I'll need quite a bit of it!
My second challenge will actually be narrowing down the numerous wainscoting options to the one perfect option for my living room. I spent about an hour looking through different styles of wainscoting last night, and I think this is my favorite one.
Contemporary Hall by San Francisco Architects & Designers Winder Gibson Architects
Of course, with all of that moulding required to create that look, it's also one of the most expensive options.
A simple board and batten like this one would cost less. It would also go better with my fireplace.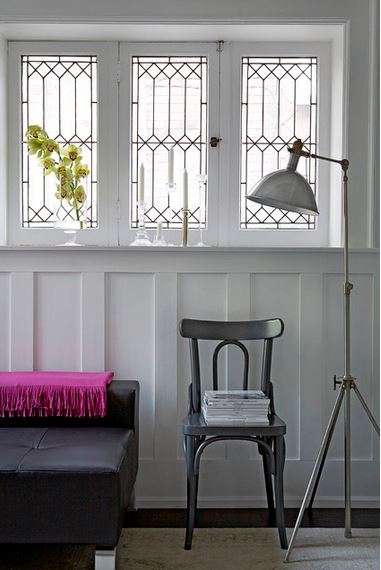 Contemporary Living Room by Toronto Photographers Jeremy Kohm Photography
But I had board and batten like that at the condo.  Plus, board and batten seems to be everywhere these days, and I'm really hoping to do something different here. But then again, I don't want to be different just for the sake of being different if the board and batten is the best option for this house. (That seems to be an ongoing battle in my brain — my desire to do things differently just for the sake of being different often takes me off onto tangents that aren't necessarily the best option for my house. Sometimes it's okay to do what everyone else is doing if that's really the best option. That's a lesson I'm trying to learn.)
Another option would be to do something like this…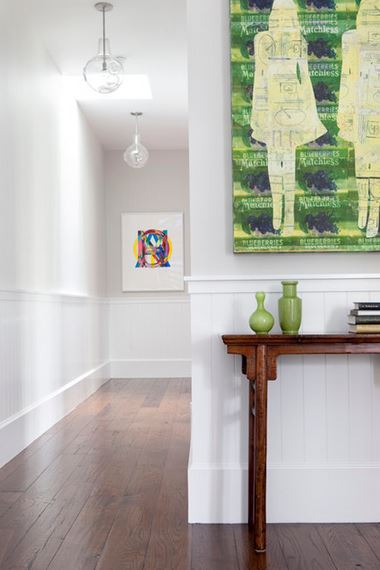 Modern Hall by San Francisco Architects & Designers Feldman Architecture, Inc.
While I'm not really a fan of standard beadboard, I do really like the look of those wider boards. And I think that would blend nicely with the horizontal slatted wall treatment (i.e., shiplap siding) that I'm planning to use in the breakfast room and in the hallway.
And finally, I have to admit that ever since I saw it for the very first time, I've been a bit crazy about the walls in the pool house on the show Revenge.  (I've been over the show for a while now, but the set still amazes me.)  I love how they combined the vertical paneling on the top with the horizontal slatted wainscoting on the bottom.  I couldn't find a picture that shows both really well, but you can see the upper wall in this picture that I found on Seventh House On The Left…
And in this picture from Hooked On Houses you can see the lower part of the wall…
So those are the different options I'm looking at for now, and the factors I'm considering in my decision:
Which style best matches my house?
Which style will go better with other elements in my house (not only elements that are already there, like my fireplace, but also elements that I'm planning, like the shiplap siding treatment in the breakfast room and hallway).
If I choose a particular wainscoting for the living room/entryway, do I need to use that same wainscoting in other rooms that I plan to use wainscoting?  (I'm thinking the answer is "yes."  Right now, the only only other room I'm planning wainscoting is the master bedroom.)  And if it needs to be the same, which one would I be satisfied with in both rooms?
I may find other options before I'm actually able to tackle these projects.  Or I might come up with my very own unique design (herringbone wainscoting, anyone?)  😀
After all, I have to finish up my kitchen first, then build that wall between the entryway and music room, then remove all of the polystyrene tiles from the ceiling and possibly (probably) re-drywall the ceiling before I can even get started on the walls.
But it's fun to think and dream!  Thinking about the pretty stuff is a nice break from the not-so-pretty stuff I'm currently working on in the kitchen.  *Sigh*  It seems never ending at this point, but I'm making progress, so it'll get there eventually!
So do you have wainscoting in your house?  If so, what kind do you have?  If you have a picture somewhere online, I'd love for you to leave a link so that I can see it!
Addicted 2 Decorating is where I share my DIY and decorating journey as I remodel and decorate the 1948 fixer upper that my husband, Matt, and I bought in 2013. Matt has M.S. and is unable to do physical work, so I do the majority of the work on the house by myself. You can learn more about me here.