Last Updated on April 25, 2019 by
I think y'all are going to love today's project! I'm going to show you how to make a diamond tufted coffee table ottoman!
I've actually had a diamond tufting tutorial on my blog for over three years now. That tutorial is what I would call "the correct way" to do tufting, where you attach the buttons using cord through a hole and stapled onto the backside of whatever you're making. (In that case, it was a king size headboard for Gwen's bedroom.) (And FYI, my tufting has improved since then, using some tips that I'll share below.)
But the very first time I ever did tufting was for the bedroom I designed for a six-year-old girl — part of the Waco Symphony Designer Showhouse — and I decided to tackle not only a headboard but also the tufted upholstered backs for the two built-in seats.
That first time, I used a completely different modified method for tufting than the one I shared on my original tutorial, and this modified method is what I want to show you today.
This method is easier if you're working alone to make a headboard or tufted coffee table ottoman. With the "correct" method, you have to continually switch from working on the front of the piece to working on the back of the piece, all while keeping perfect tension on the cord holding the button. It can be quite a challenge if you're working alone, especially if you're making something large like a headboard.
With the modified method I'll show you today, you do all of the work from the front of the piece, and there's no pulling cord to the back and stapling it. Everything will be done from the front.
The bottom line is that with this modified (non-professional-upholsterer-approved) method, you use screws and washers to hold the tufts in place, screwed into the plywood from the front. Then when the tufting is all finished, you glue the decorative buttons onto the screws using hot glue or any other strong adhesive like E6000.
The one thing to keep in mind with this method is that you do not ever want to use this with thin materials, like silks, silky polyesters, etc. I recommend only using it with upholstery weight fabrics, and while heavy decorator cotton fabrics will work, woven upholstery fabrics are ideal.
So let's get started, shall we? 🙂
How To Make A Tufted Coffee Table Ottoman
First, cut your plywood to the size you want (or have Home Depot or Lowe's do this for you).  I used 3/4-inch plywood for my ottoman top.  Then use spray adhesive to adhere the foam to the top of the plywood.  I used 3-inch high-density foam for mine, purchased at JoAnn Fabrics during a 50% off sale.  That's the only time I'd ever buy foam unless I have a coupon.  That stuff is expensive!!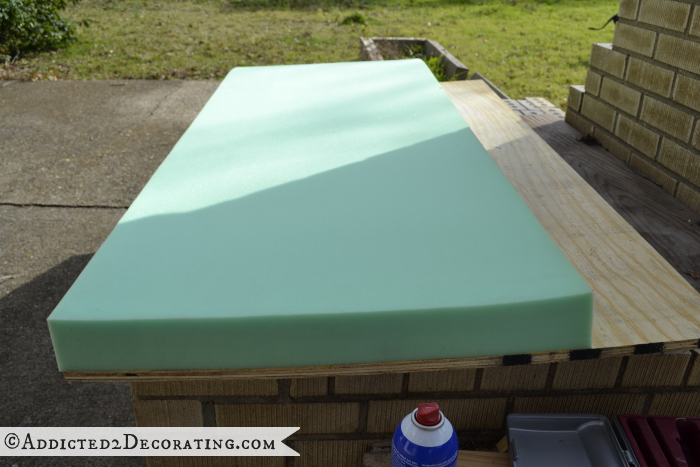 And just in case you're wondering, I use Loctite spray adhesive.  I could only find the middle-performance 200 strength.  I hate this stuff with a passion because it sprays as a mist, and it gets everywhere!  I can feel it on my arms, in my hair, etc.  My favorite is the Loctite 300, which sprays as a web.  Always use spray adhesives that spray as a web because they're easier to control and have way less overspray.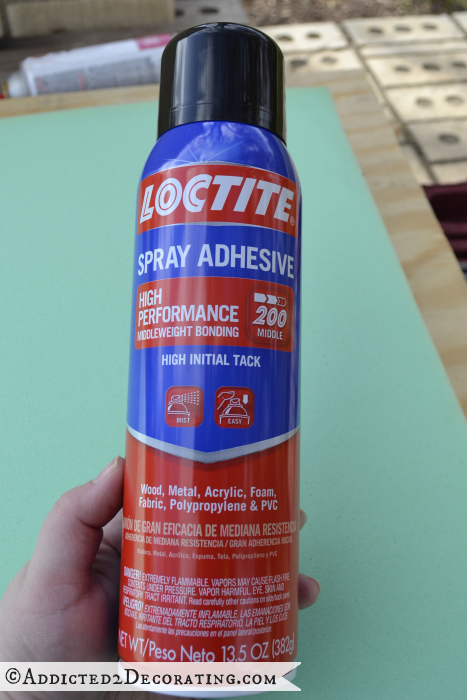 It's perfectly fine to piece the foam together if you need to.  Just be sure that you glue the foam not only to the plywood but also glue the edges of the foam to the edges of the pieces next to it.  And the absolute easiest way to cut foam is with an electric knife.  I have two — one for my kitchen, and another for my toolbox.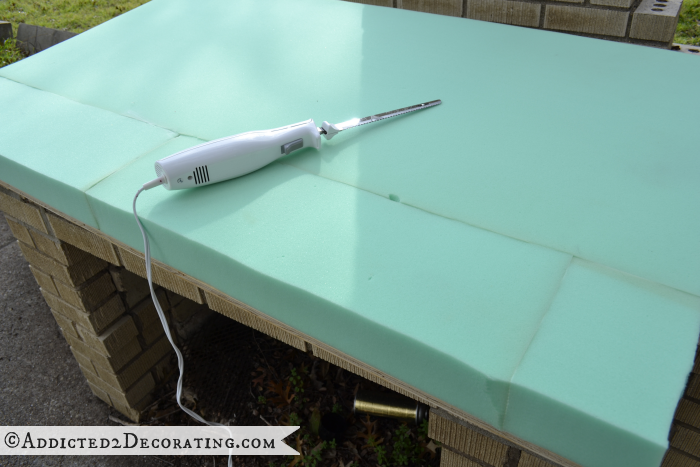 Once the foam is attached, use a tape measure to mark where your buttons need to go. Here's how I did mine.
I wanted my tufted coffee table diamonds to be eight inches wide and six inches high.  First, I measured and marked the center lines on my ottoman going the length and the width (shown in red).  Then from that line, I measured and marked every three inches and drew a line the length of the ottoman (shown in gray).
Then starting on the middle long red line, I measured four inches from the center and then marked every eight inches from there.  I repeated this on every other line.
Then on the remaining rows, I placed a mark for a button along the center line and measured and marked every eight inches from there.  That 4-inch offset between rows is what will form the diamonds.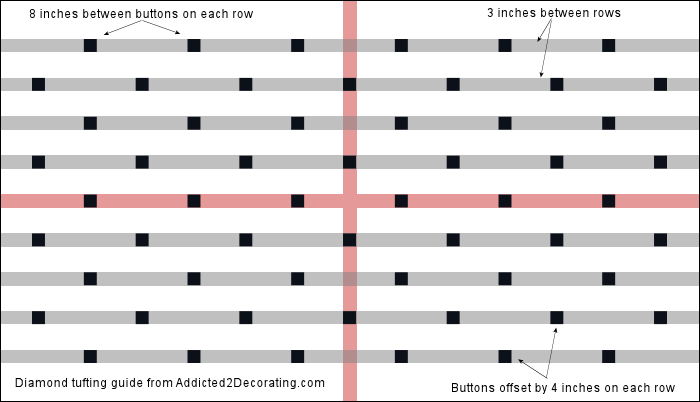 Of course, if you want your diamonds a different size, you can adjust the measurements.
Next, you'll cut out the foam where each button will go. I've used many methods for this, and the absolute easiest method (that requires no special tools!!) is a pair of sharp scissors. Just open the scissors at least an inch, shove the points down into the foam, and cut.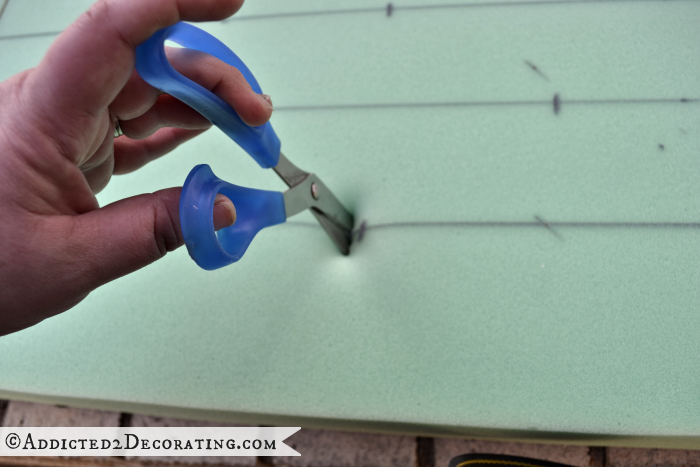 Do this three more times to cut out a square plug of foam for each button. You'll want each one to be no smaller than 1-inch square. If you're using buttons larger 3/4-inch, you'll want to increase the size of the hole.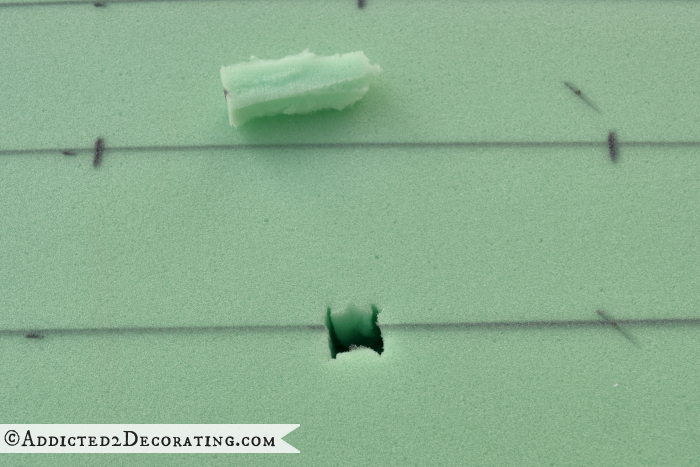 And with all of the button holes cut, it should look like this…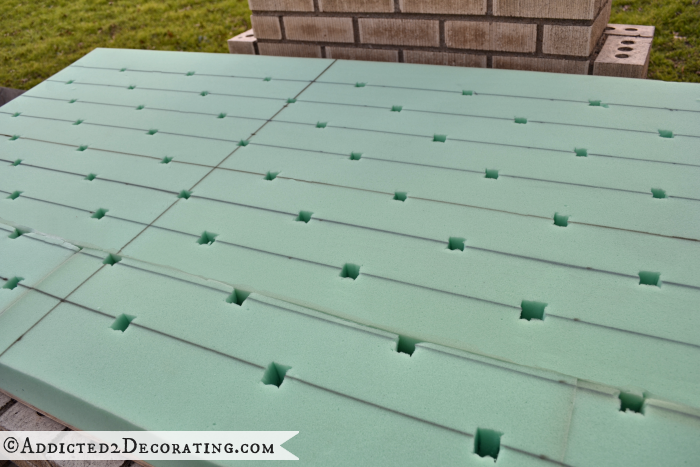 Next, cover the entire thing with batting.  I prefer to use two layers of high-loft batting.  For my ottoman, a twin size piece of batting worked just fine.  Use your fingers to poke holes in the batting for each buttonhole.  (Basically, you don't want anything — foam or batting — giving resistance to your buttons, or in this case, screws and washers.  You want them to be able to sink down into the hole with little or no resistance at all.)
Now it's time to start tufting!
Starting in one corner of the ottoman, poke the fabric down into the buttonhole.  Be very sure that you still have enough fabric to wrap around the edges and to the back!!  Once it's placed just right, screw that tuft into place.  (More details on this in a second.)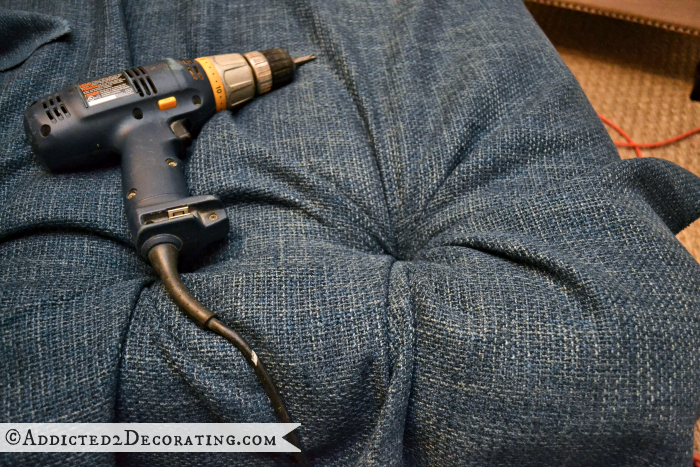 Now working down that row, move on to the second buttonhole.  Work the fabric down into the buttonhole until you can feel the plywood.  You don't want a lot of pressure and pulling on the fabric.  You want to work enough fabric into the hole so that it pretty much stays there on its own.
This is very important: When needing extra fabric in the hole to reach the plywood, do not pull and tug from the side where you've already attached a button!!! Instead, pull any extra fabric you need from the end with the loose fabric. If you pull from the side with the button, you'll pull the fabric too tight and end up with permanent creases in the foam around each button in your finished tufting. (If you look at the first picture of the headboard in this post, you'll see that I made this mistake.) You want the fabric between buttons to be smooth, but you do NOT want to pull it so tight that you get indentations in the foam.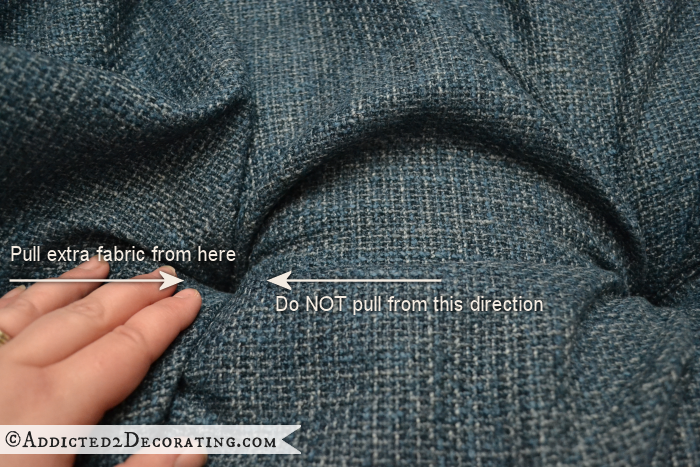 Now use a #8 x 3/4-inch wood screw and a #10 flat washer to secure the fabric in the buttonhole.  Screw right into the plywood.
Continue working down that row until the row is complete.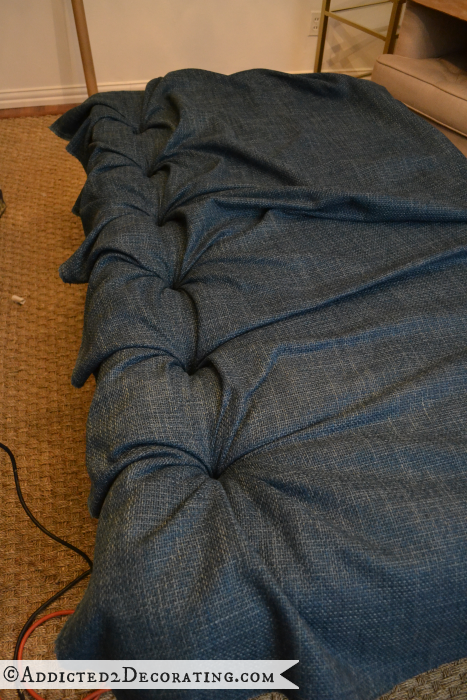 Next, you'll work on the buttons that are straight across from the first row.
In other words, you'll skip the second row (the row with the offset buttons) and move to the third row. Use the same methods as above — don't pull and tug from the button side of the fabric, but instead, if you need extra slack, pull the fabric from the side with the loose fabric. Also, if you're working with a fabric that has a very visible weave, you can use that weave to be sure that you're pulling the fabric straight from button to button.
Continue working on every other row until it looks like this…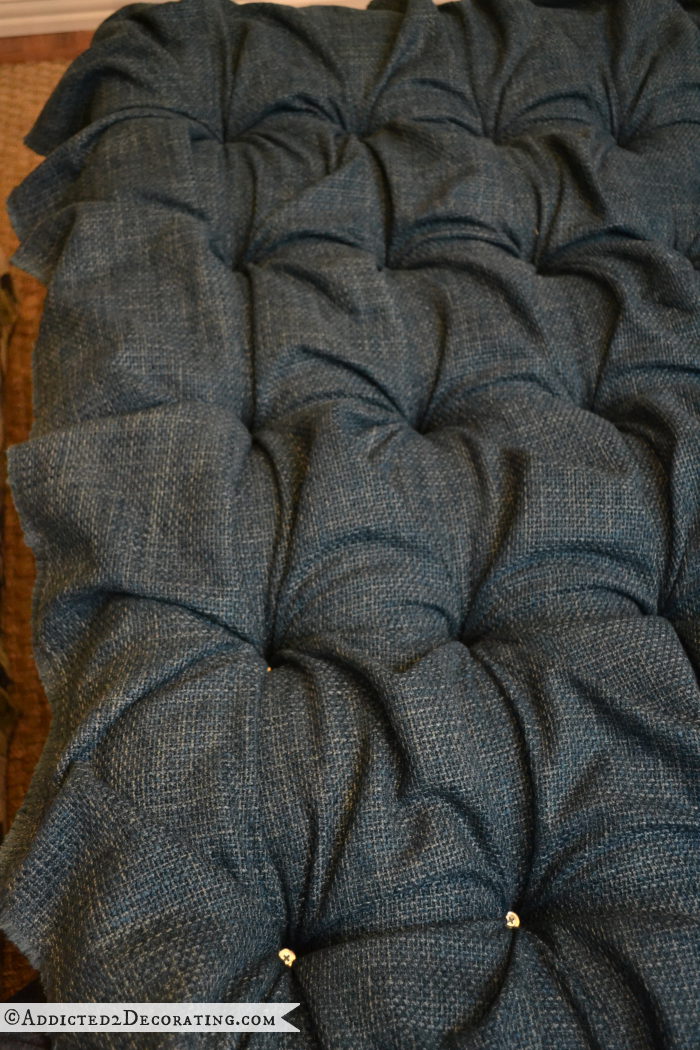 Now you'll go back and work on the rows you skipped. This is where the beautiful diamonds are formed.
First, just shove the extra fabric into the buttonhole to see what you're working with.  You'll probably have some not-so-pretty wrinkles, pulls, and puckers in the fabric.  Don't worry about it!
Now with one hand holding the fabric inside the buttonhole, use your other hand to work with the extra fabric until you've formed folds that take up the extra slack and remove the wrinkles and puckers.  This may take some work.  Just be patient with each one.
Once you've got it looking reasonably under control, add the screw and washer. You might still notice some wrinkles and puckers, but those can be worked out after the screw and washer are in.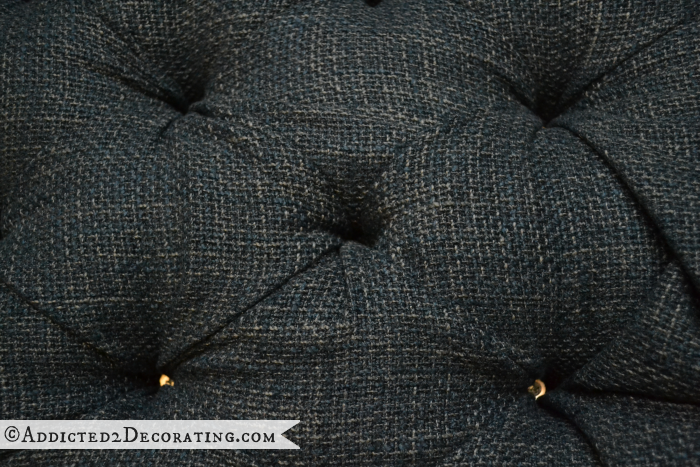 With the screw and washer in, take a second to get rid of any wrinkles that remain by working with the folds until they disappear.
And as you move from button hole to button hole, you'll see your beautiful diamond tufting taking shape.
The main key is just to be patient.  Each buttonhole might take a few minutes, but with enough working and folding, it should look just fine when it's finished.
Also, don't stress about each individual tuft looking absolutely perfect. It's the overall effect that's important. I guarantee you that if you took the time to look at professionally tufted furniture, you'd start to see some flaws in the individual tufts. But the overall effect is still beautiful. So if the pros aren't perfect, we can't expect that ours will be perfect. 🙂
Once all of the tufting is done, it's time to finish off the sides.
I cannot stress this enough.  How you finish the sides will make or break your tufted coffee table results. Seriously.  If you just start pulling and stapling the fabric at random, the piece will absolutely, without a doubt, look homemade (and not in a good way).  Please don't go to the trouble of diamond tufting, only to ruin it with a sloppy job around the edges!!!
The main key with the edges is that you want to create folds directly from each button to take up any extra fabric.
You can do this however you find to be the easier way, but I personally like to start by pulling the fabric between the buttons smooth and securing those areas with a staple on the back.
Then I take the extra fabric and work with it until I've created a fold that takes up all of the additional fabric and removes the wrinkles. Wrap around to the back and staple. Once those areas are done, you can go back and add as many staples as needed to make the fabric on the edge perfectly smooth.
On the finished piece, you should have a fold going from each button around the edge, and the fabric between the buttons should be smooth.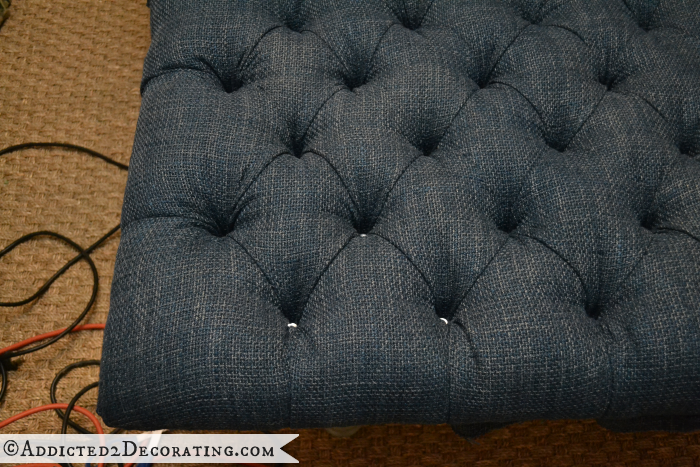 And unfortunately, this is as far as I got with my tufted coffee table ottoman because my staple gun wouldn't shoot staples through the plywood.
I was using the appropriate staple length, and I was applying as much pressure as my (very tired) hands could apply, but those staples just curled up like a ribbon.  I'll be going today to see if I can find staples to fit my nail gun.  That should do the trick.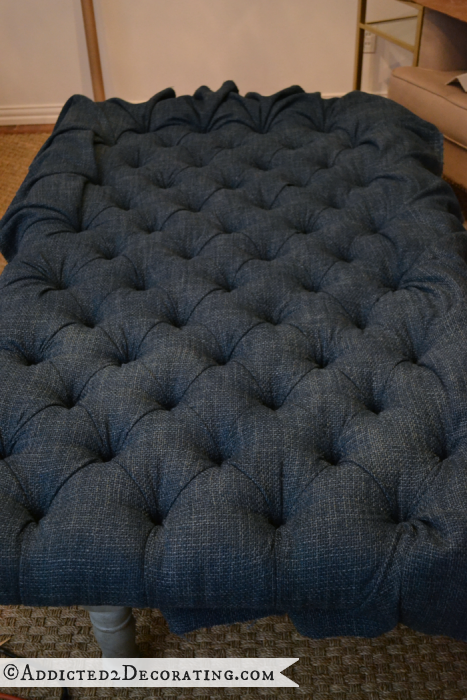 And of course, the finishing touch with this method of tufting is to cover your buttons with fabric (be sure to remove any metal loop from the backs so that they're flat on back), and use an adhesive to glue the buttons to the screws. As long as you use an appropriate adhesive, they should be there permanently.
I hope to finish this tufted coffee table top up today, and then this weekend I'll get started on the coffee table base.
Just in case you missed it, this $1200 coffee table ottoman from Layla Grayce is the look I'm going for…
So check back on Monday and see if I was able to pull it off! 🙂
Addicted 2 Decorating is where I share my DIY and decorating journey as I remodel and decorate the 1948 fixer upper that my husband, Matt, and I bought in 2013. Matt has M.S. and is unable to do physical work, so I do the majority of the work on the house by myself. You can learn more about me here.
I hope you'll join me on my DIY and decorating journey! If you want to follow my projects and progress, you can subscribe below and have each new post delivered to your email inbox. That way you'll never miss a thing!