A Few Living Room Updates
I don't know if you noticed, but last week when I posted my finished fireplace, I strategically focused just on the fireplace and didn't show any of the rest of the room.  That's because the rest of the room looked like a tornado went through.  I had furniture shoved up against the walls, tools spread out everywhere, random piles of rogue tiles here and there, paint cans, and much more.
I finally got the room put back together last night, so now I can show you without being terribly embarrassed.  🙂  Of course, I took these this morning, and it's really overcast today (rainy and cold), so I had no sunlight coming through my windows.  But you'll get the idea.
Here's how the room looks as of two hours ago from the front door.
Now you'll probably notice three things right off the bat.  First, I forgot to put the chair rail trim and baseboards back on the fireplace wall.
Oops.
I was working like a busy little bee getting the room all put back together, painting the trim around the hearth, cleaning up my mess, putting tools away, etc.  I finally finished at about 10:00 last night.  I put my last remaining item away, and came back into the room just to admire my progress (and the cleanness of the room for the first time in over two weeks), and my eye went right to that missing trim.  I was like, "DANG IT!!  I forgot the trim!!!"
But there was no way I was going to drag out my miter saw at 10:00pm and install trim, because that would lead to caulking, and that would lead to priming, and that would lead to painting, and that would mean that I would get to bed at around 1:00am.  That wasn't gonna happen.
Secondly, you'll notice that I've decided for sure to use the Texas bluebonnet painting.
And I know that some of you will disagree with this decision, but I am definitely going to have a larger print on canvas made of it.  I just think it's way too small to go above the fireplace.
Many of you suggested matting it (or even using more than one mat) to make it appear larger.  I didn't remember ever seeing a matted oil painting (although I have seen oil paintings in frames that have a linen or velvet liner that looks like a small mat), so I asked my mom about it.  She said no, you do not ever mat an oil painting.  (And you're never supposed to put an oil painting under glass, either.)  I did a quick search, and found this info on Weston Art & Framing:
Do I need a mat and why?

Generally speaking, yes you need a mat. If you are framing any art on paper, such as watercolors, posters, photographs, newsprint, certificates, etc. a mat is a key element in the final presentation. Mats can also be used in collectable framing and shadowboxes, but never with oil paintings, acrylic paintings or other art on canvas.
Since matting was out of the question, my only other option is to have a print on canvas made of it so that it'll be the right size.
Anyway, the third thing you might notice is that I've done something a little different with the window treatments.
Yesterday, I finally got my hardware (cord pulleys and cord locks) installed on the fabric Roman shades that I made, so now they'll open and close with ease, and without me wrapping the cord around the window lock in order to keep them open.
And then I remembered a picture of a living room that someone sent me (thanks, Darlene!) that had both fabric Roman shades and bamboo Roman shades, so I thought I'd try it out.  Turns out, I really love it!
The wood Roman shades still let in a bit of light when they're down, while the fabric Roman shades completely block out the light, so they really serve two different purposes.  And when the fabric shade is open, it gives the appearance of a valance over the wood shade.  So I think I'll live with it this way for a while and see how I like it.
So now that the fireplace is done, I can move on to the last two remaining big projects in this room.  First, reupholstering the beast.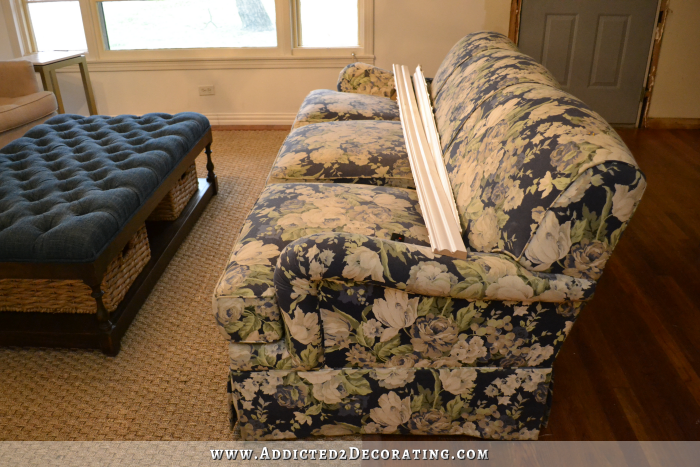 (And yes, there's my missing trim that I found.  I put it there so that I won't be able to sit down on the sofa without being reminded that that task still needs to be completed.)  😀
I'm not sure if you've noticed, but I'm procrastinating on the sofa project.  😀
Okay, I'm sure you've noticed.  The truth is that that project completely overwhelms me.  But I just need to grab the bull (or the beast) by the horns and get it done.
And then, of course, I need to finish up my window treatments for the big window.  Right now, I feel like I'm living in a fish bowl every night when I have my lights on and my window is completely bare.  I desperately need window treatments on that window.
Once those two remaining big projects are done, I can accessorize this room (I still need lamps and a few other pretty things), finish up a few smaller projects, and call this room done for now.
But right now, in this moment, rather than focusing on all of the stuff that I still need to do (because I can beat myself up with that stuff all day long if I allow my mind to go there), let's just take a moment and see how far this room has come.
Here's how it looked the day that we bought it.
And today…
It looks and feels more like "home" to me with each passing day.  🙂
Addicted 2 Decorating is where I share my DIY and decorating journey as I remodel and decorate the 1948 fixer upper that my husband, Matt, and I bought in 2013. Matt has M.S. and is unable to do physical work, so I do the majority of the work on the house by myself. You can learn more about me here.