Last Updated on March 13, 2022 by Kristi Linauer
Almost exactly seventeen months ago, I refinished my butcherblock countertops. The reason I refinished them was because something (I suspect it was lemon juice) left a bleached ring on them. Plus, I was never really pleased with the original color that I chose. But after they were refinished, they looked beautiful.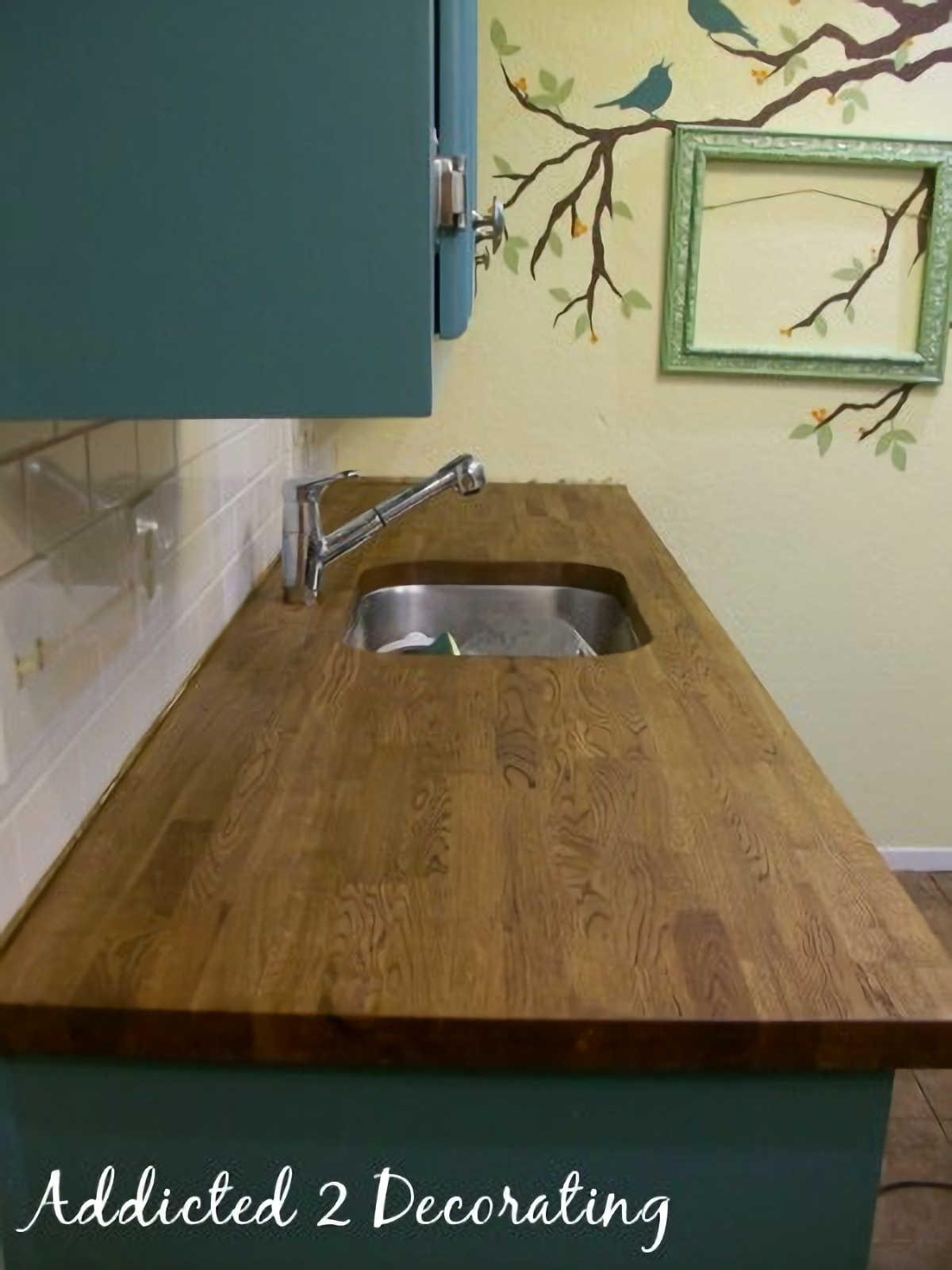 Now, seventeen months later, they look like this…
Isn't that awful?! It's not like that everywhere…just mainly around the sink. I take most of the blame for this. And let this be a lesson in doing things right the first time (or even the second time)
Before I finished my brand new Ikea butcherblock countertops the first time, I did my research. I searched and searched for the best option for staining and sealing butcherblock countertops in a way that would be food safe. After my extensive research, I finally decided to use regular stain, followed by Waterlox to seal them. After a phone call to the Waterlox company, I learned that their product is food safe after it is fully cured, even if used over regular stain.
I used the Waterlox according to the instructions (I did several thin coats, allowing each coat to dry the appropriate amount of time). It really worked well…until the lemon juice incident. That was my fault. I left a plate sitting on the countertop for probably 48 hours that had lemon juice on the bottom. Most normal people wouldn't leave a dirty plate sitting on their countertop for 48 hours. I've never claimed to be normal. 😀
So on to round two…
In November 2010, I sanded the countertops down completely. This time, I decided to mix the stain in with the first coat of Waterlox (which can be done, according to the Waterlox instructions). I loved the color, and the finish. The problem? I never followed up with the required number of coats of Waterlox. Sure, I meant to. It was on my list of things to do. But life got busy, and I never got around to it. So now, seventeen months later, I'm left with this…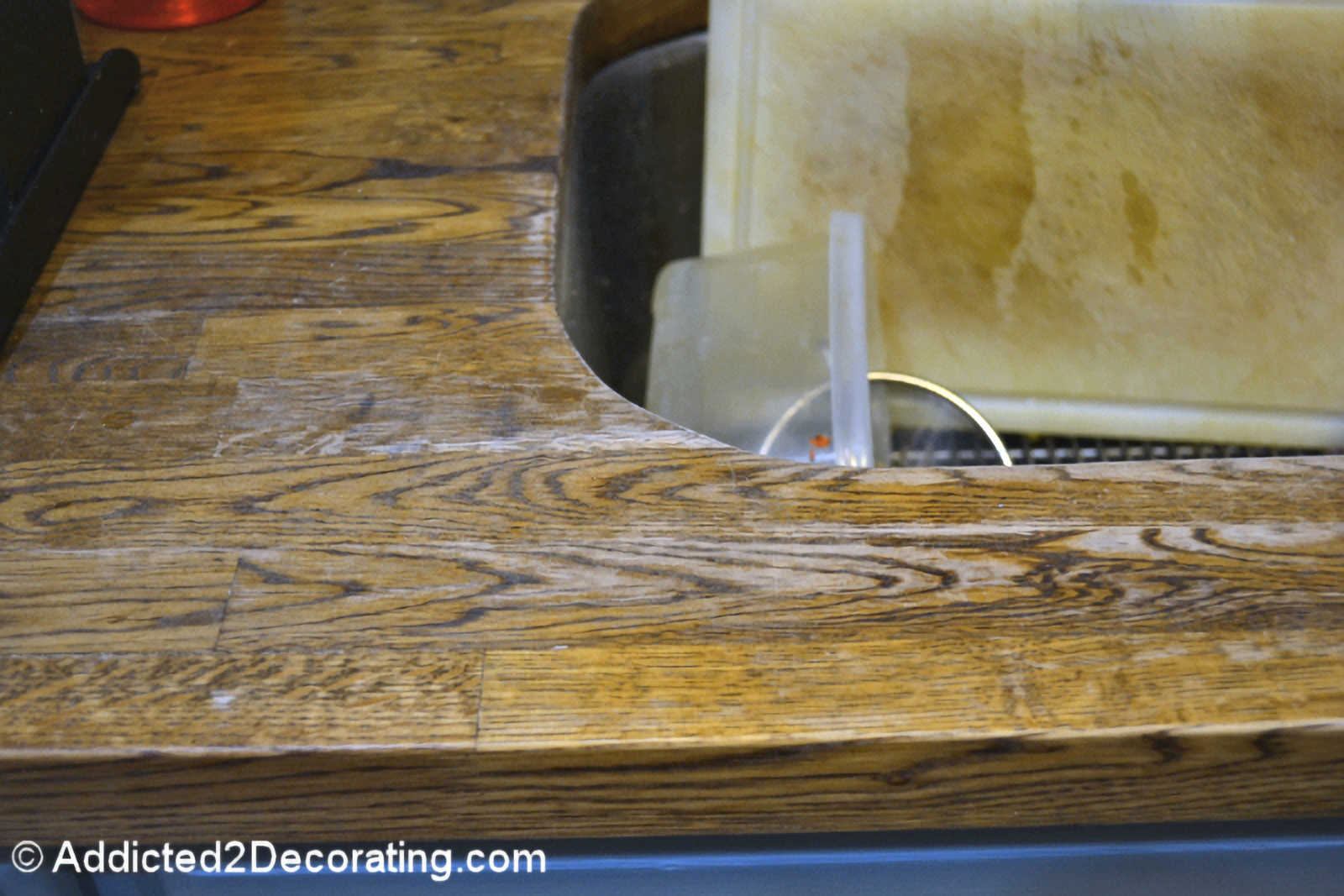 The sealer has worn off, along with the stain. The wood is incredibly dry, and desperately needs a protective finish.
Yep. My fault. I should have taken the time to do things right the first time, because now I have to do it again…for the third time. I should know better.
And the sad thing is that even though I have a million other projects to do in my condo, I really need to push this to the top of the list before my countertops get ruined beyond repair. If they get too dried out, they could crack, and then my only option would be replacing them completely.
So now I'm back to deciding how I want to refinish them.  I've used Waterlox twice now.  The first time, I used it according to the instructions, and even then, I still had trouble with the finish wearing off in places.  If something ever got stuck on the countertop, and I used the green scrubby side of a sponge to get it off (never, ever using much pressure at all), the color would come off and leave spots like this…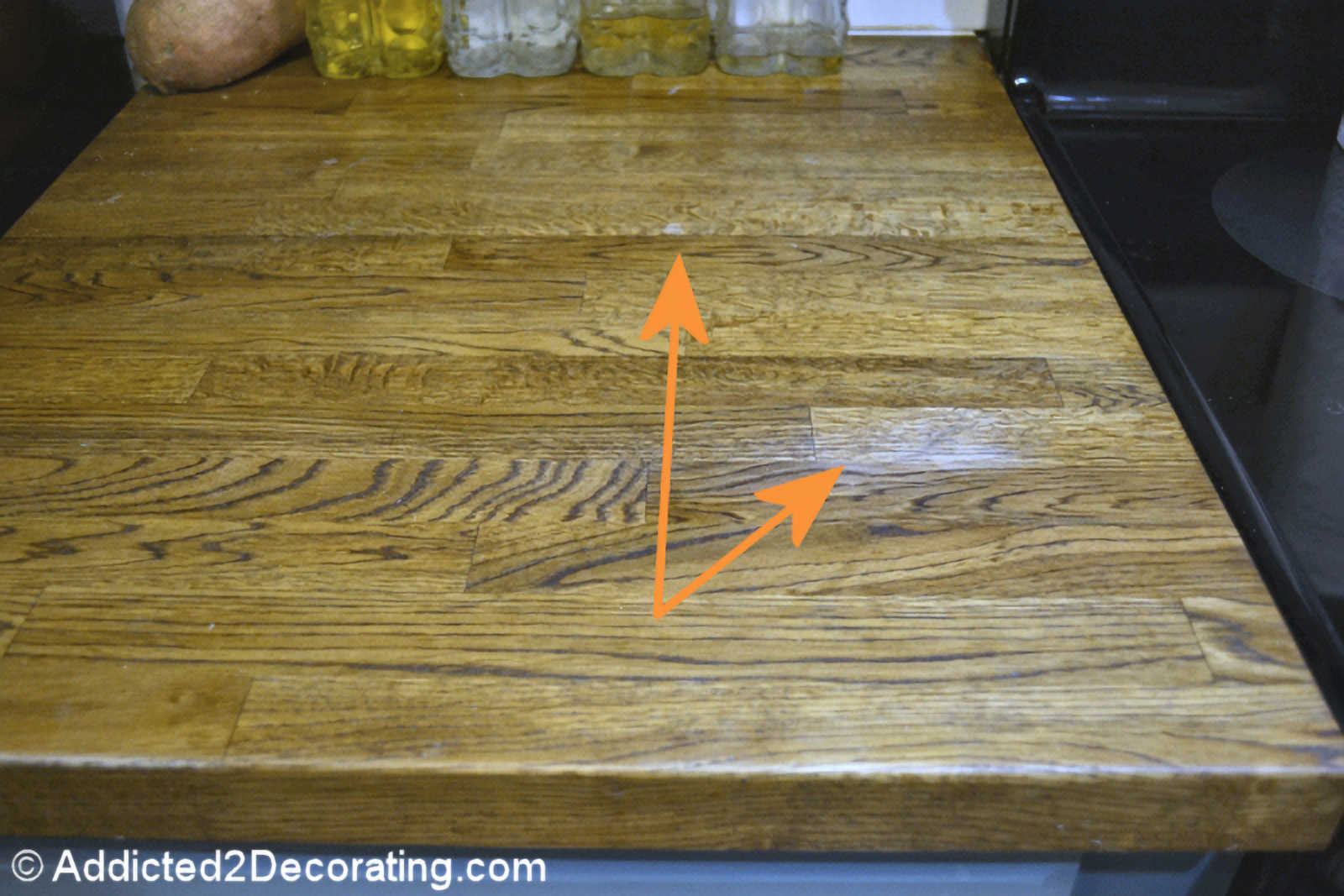 And again, that happened even when I used the Waterlox according to the directions, and used more than the required number of coats.
And another thing…I keep wondering if I really do need a food-safe finish. I never, ever, EVER put food on my countertops. I always use a plate or cutting board, so the issue of a food-safe finish seems unimportant.
I'm just not sure, but I need to make a decision soon.  If you've had great success in getting a perfect, durable finish on your butcherblock countertops, please share your secret!
UPDATE:
I ended up refinishing these countertops two more times. The final time was the clear winner! Here's what I tried:
Want to see other posts about this kitchen?
Click here if you'd like to see all posts about this kitchen remodel, including the final pictures of the finished kitchen.
Addicted 2 Decorating is where I share my DIY and decorating journey as I remodel and decorate the 1948 fixer upper that my husband, Matt, and I bought in 2013. Matt has M.S. and is unable to do physical work, so I do the majority of the work on the house by myself. You can learn more about me here.
I hope you'll join me on my DIY and decorating journey! If you want to follow my projects and progress, you can subscribe below and have each new post delivered to your email inbox. That way you'll never miss a thing!