Back Painted Glass Backsplash – My DIY Trial Run
Well, y'all really had some strong opinions about the fabric-under-glass backsplash idea yesterday! 😀
I'm still not ready to resign myself to subway tile (or any other kind of tile for that matter). My creative juices are still flowing, and I'm kind of determined to come up with something that hasn't already been done on every single DIY/decorating blog out there (including mine…I had subway tile at the condo).
Okay, so I've ruled out the fabric part, but I haven't quite ruled out the glass part. In fact, the more I look at it, the more I love it. Glass backsplashes don't need fabric behind them to be beautiful. Check out these back painted glass backsplashes.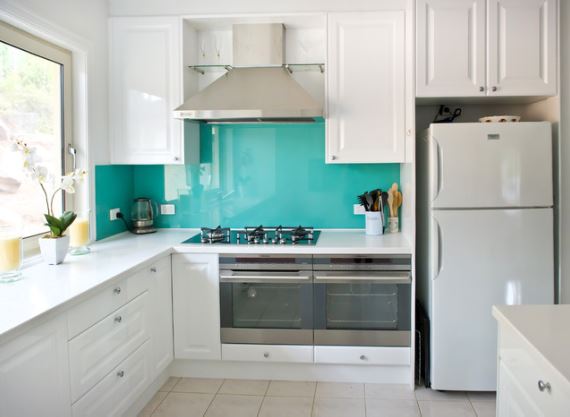 Contemporary Kitchen by Melbourne Kitchen & Bath Designers Let's Talk Kitchens with Allan Aitken
Midcentury Kitchen by Bristol Architects & Designers DHV Architects
Those are solid pieces of glass that have been painted on the back and then installed. I think they look amazing! Now obviously, those are brightly colored backsplashes in neutral kitchens, and my situation will be quite different. But it still got my creative juices flowing.
First, I needed to find out if glass was even option. I mean, if it was going to cost $1200 or so just for the glass, I could rule it out immediately. I know many of you suggested plexiglass/acrylic, but if I go this direction, I want real glass. So I called the local glass place that I always use for any of my projects that require glass or mirror to be cut, and told them exactly what I wanted to use the glass for. I gave him the measurements just for the one big piece that would go on the wall of cabinets. And the price for a solid piece of 1/4-inch thick, 18-inches-tall, 10-foot-long tempered glass with the edges sanded smooth?
$190.00!!!
I couldn't believe it! That's totally do-able!
So the next step was to figure out a paint option. Professionally painted and installed back painted glass backsplashes are quite expensive, but I knew I could save money if I could find a way to do it myself. In fact, the guy at the glass place asked me if I would be using the glass just plain, or if I would be painting the back of it, so he's obviously heard of this before. Of course, there's such a thing as glass paint that you can get at Michael's and Hobby Lobby, but the colors can be quite limited, and glass paints generally aren't completely opaque.
I did find this Glass Paint by GlassPrimer. It looks like an amazing product, AND they can mix it to any color you want (matched to any manufacturer's paint colors), but it's quite expensive. One gallon of the paint and catalyst is $265.00. Yikes! Plus, I don't need a gallon of paint for my two backsplash areas. Not even close.
And then I remembered that the Martha Stewart craft paints will actually stick to glass. It takes a while for it to cure (21 days, I believe), but once it's cured, it stays and is actually dishwasher safe. So I decided to do a little experiment.
First, I grabbed three of these 12″ x 16″ pieces of glass from Home Depot.
(Sorry for the awful pics! I was working outside in the bright sunlight under a tree, so there were lots of shadows and reflections.)
And then I used these five colors paint — gold, light gold, yellow gold, green gold, and wedding cake.
My idea was to do a "watercolor" effect, much like I did on the paper I used for the herringbone "tile" lamps. So I placed random squirts of all five paint colors on the glass…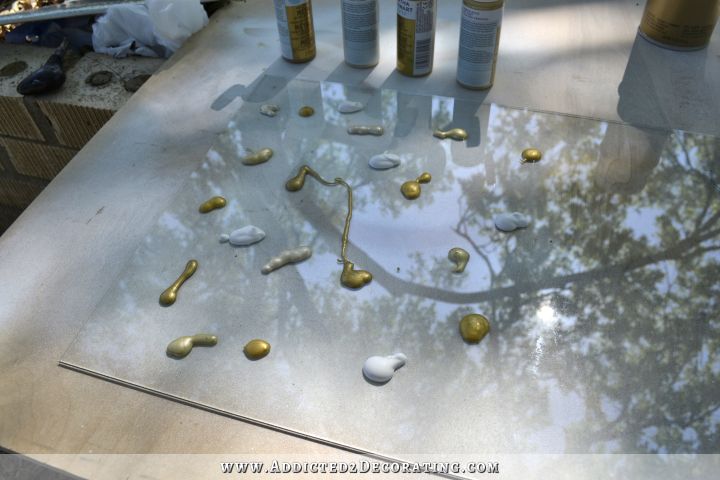 And then I dragged my brush across the paint enough to cover the glass, but not so much that all of the paint colors mixed to together too much.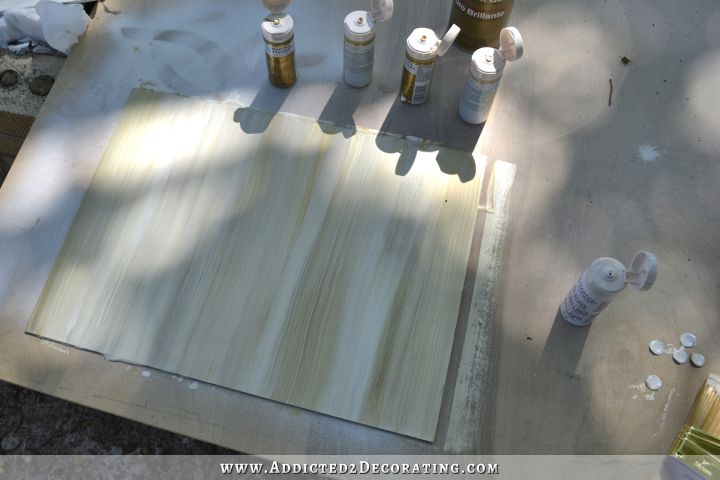 Then I did a second leaving out the white. I thought that various shades of gold might be really nice together with no white mixed in.
And then for the third one, I placed all of the colors along the bottom, and then dragged the brush up to spread the paint over the glass.
When the paint was dry, I used this Design Master brilliant gold spray paint…
…and I sprayed the back of the painted glass just to be sure that there weren't any clear or translucent areas on the glass.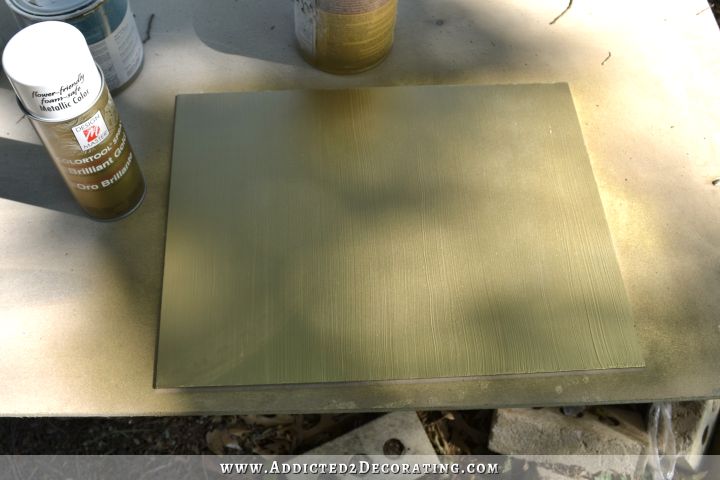 Ready to see the results? I painted a piece of MDF with the green cabinet color so that I could see them together.
First up, here's the one with all five paint colors scattered randomly over the back of the glass…
And next, here's the one with the four paint colors (sans white) scattered randomly over the back of the glass…
And then the one with the paint colors lined up at the bottom of the glass…
I don't really like the last two, but I have to admit, I'm loving this one with the white…
I've decided to keep my walls white, and my countertops will be white (not bright white, but kind of a natural bone white).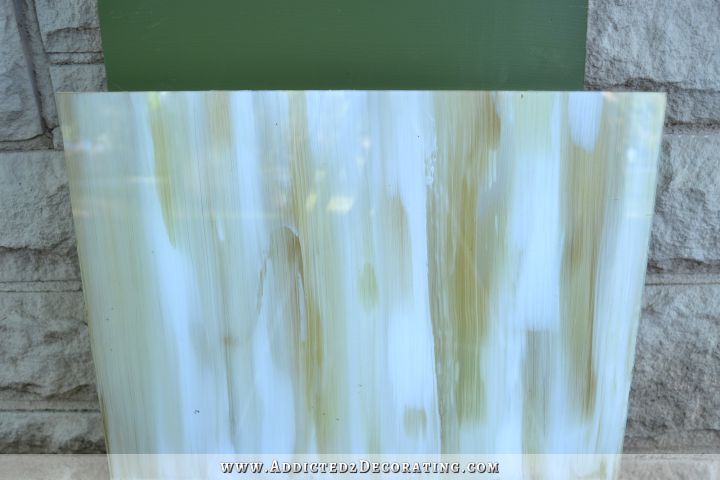 And I LOVE the super shiny effect that the glass gives it.
I still haven't made a final decision. There are several other ideas I want to try. The first thing I want to do is try the five colors randomly placed again, but use less gold and more white so that the gold is even more subtle. Because I absolutely love how this section looks…
But I'm not too crazy about the heavier gold look of this section…
So my paint technique definitely will need some improvement if I go this route. But this was just a first trial run, so I'm okay with having room for improvement. 🙂
There are several other ideas I want to try as well, such as using a stenciled design on the back of the glass, and then one paint technique that I have in mind that uses a spray bottle of paint, and then another that creates a "gold flake" effect, and yet another where I create a marble effect using golds instead of gray paints. And I might even want to try some sort of "mercury glass" effect using gold paints instead of silver.
So I have lots of other paint-on-glass ideas swimming around in my head that I want to try out. If I do eventually land on a tile backsplash, it'll be because I've exhausted other possibilities. But for now, I'm really wanting to challenge myself to come up with something that's beautiful and unique to my kitchen.
One last note, several of you mentioned yesterday how liquids could seep behind glass, which makes it a not-so-great choice for a backsplash. But glass backsplashes are sealed with caulk, just like stone, tile, granite, beadboard, and any other kind of backsplash, so moisture behind the glass shouldn't be an issue.
Addicted 2 Decorating is where I share my DIY and decorating journey as I remodel and decorate the 1948 fixer upper that my husband, Matt, and I bought in 2013. Matt has M.S. and is unable to do physical work, so I do the majority of the work on the house by myself. You can learn more about me here.