Last Updated on December 24, 2015 by Kristi Linauer
The last two days have been a bit stressful around the Linauer household.  Our 12-year-old flame point Siamese cat Powder (the white-ish cat who always photo bombs my pictures) became very sick on Monday evening.  After an emergency after-hours call to the vet to describe symptoms, she said to keep her comfortable during the night (a long, sleepless night) and bring her in first thing in the morning (yesterday morning).  Powder's now in the kitty hospital being treated, and we're hoping and praying for a good outcome.
After all of that, I tried to work on the kitchen yesterday afternoon, thinking it would be good to keep my mind busy.  But when I tried to build the half wall for the peninsula and the top board came out over 1/2-inch off level from one end to the other, it was obvious that my mind just wasn't in it and I was wasting my time even trying.  I'll try again today, and hopefully have better results.
During my down time, I read (again) Jackie's post on why she quite DIY, plus all of the comments.  I think what I found most interesting about that post is how different all of us are.  For some, DIY can become drudgery.  For others (like me) DIY is what makes us thrive.
So after reading Darlene's comment on Monday's post where she said:
I have to ask you something because I'm amazed on the amount of work you're doing.

Are you doing this yourself to save money and/or is it personal satisfaction of doing on your own?

I ask because you've undertaken huge tasks (in my opinion) worthy of experienced sub-contractors.. and yet, here you are!
…and then reading Jackie's post and all of the comments, I did a bit of soul-searching to ask myself why, exactly, I DIY.  I realized there are numerous reasons.  This is by no means an exhaustive list, but here are a few.
1.  To save money
Since this seems to be the most obvious reason, I thought I'd start here.
It isn't always true that DIY can save you money, especially now that so much of what we consumers are offered is cheap stuff made from cheap materials made in China or Phillipines or Taiwan.  (I could write a whole blog post on that whole sad state of affairs, but I'll spare you.)
But DIY can very often save you money.  And not just a little bit of money, but thousands and thousands of dollars.
The wall of built-ins that I installed at the condo is a great example of this.  I paid about $850 for this whole wall of built-ins.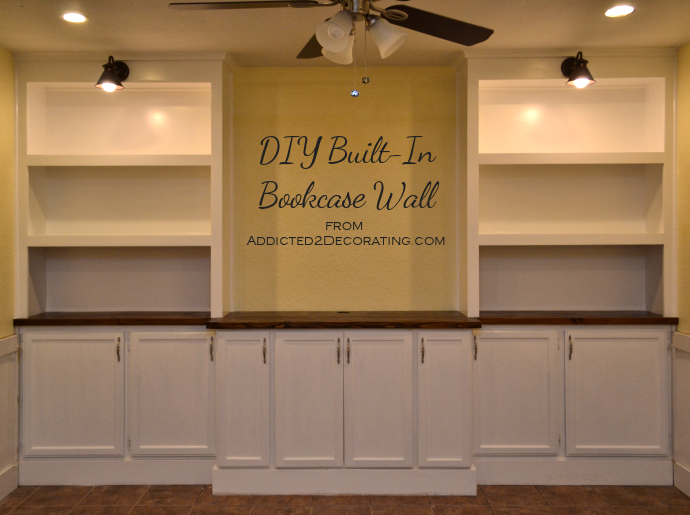 Having something like this built and installed by a pro would have cost at least $2000, if not more.  So I can safely say that I saved at least $1150 by doing this myself.
My current kitchen is another great example.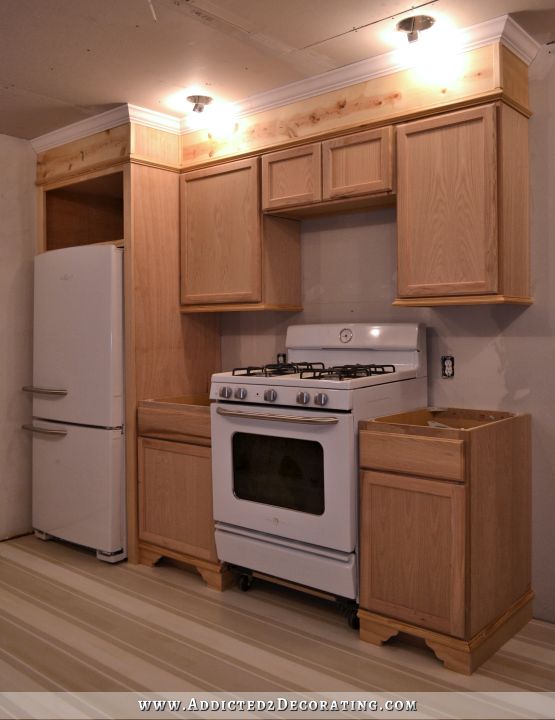 I honestly have no idea how much it would cost me to have cabinets designed and installed like the ones I'm doing in my kitchen, but I'm fairly certain it would cost thousands of dollars.  (I'll be getting a local cabinet maker to give me an idea of the cost so I can do a true cost comparison.)  My cost by doing it myself will be a fraction of that cost.
I often ask myself if I'd still DIY if I had a bank account full of money that I could throw away on anything and everything my heart desired.  While I might use better quality materials, I really do think I would still DIY simply because the money savings is only one of many reasons that I tackle these projects.  And it's very likely that it's not even the most important reason.
2.  To get exactly what I want.
My tufted ottoman coffee table is a great example of DIYing to get exactly what I want.  Since the first day I saw this house, about a year before we actually closed on it, I knew how I wanted to decorate my living room.  And a large teal tufted ottoman was part of that plan.
I searched and searched online trying to find the perfect ready-made ottoman, but there was absolutely nothing available that fit my vision for my living room.  Getting the right size, the right colors, the right style, and the right tufting all on one piece of ready-made furniture was impossible.
Then I came across the Layla Grayce ottoman and knew right away that it was exactly what I wanted.  Well, it was exact, except for the color, the size, the fabric…
So I made my own, and got exactly what I wanted.  Saving a bundle of money in the process was an added bonus.
3.  It's my form of art.
I joke all the time about how I'm not an artist, I'm just a DIYer.  But the truth is, I am an artist, and my house is my canvas.
Okay, okay…I know that sounds incredibly cheesy, but I really feel like it's the truth.  What I do differs from what a traditional "interior decorator" or "interior designer" does, in that most decorators and designers have a vision, but then hire others to carry out that vision.  That's actually the very thing about being an interior decorator that I hated most.  That's what became drudgery to me, and made me want to quit.
An artist doesn't have a vision, and then commission others to carry it out.  An artist would never trust someone else to carry out the vision in his or her head.  An artist has the vision, and then sets about bringing that vision to life with his or her own hands.  Actually creating the art is what makes a person an artist instead of a product designer or interior designer.
My herringbone lamps are, in fact, my artwork.
If I had had the vision, and then commissioned someone else to make them for me, they would be the artist.  I would be the product designer.  For many years, I commissioned others to carry out the visions I had in my head, and it was so incredibly dissatisfying.  Now, I'm the artist, and it feels so satisfying to me.
4.  DIY is empowering.
When I was in junior high school, my mom had a friend whose husband died.  The woman was completely lost.  Not only had she lost her spouse, which was devastating in itself, but during their marriage, he had taken care of everything to the point that she didn't even know how to pay bills.  She was devastated and helpless, not even knowing how to take care of the most basic things to run a household.  I can't even imagine how it would feel to be so helpless.  That's a feeling I never want to experience.
Now that's a drastic example, of course.  But what isn't so uncommon is women relying on their husbands to do all of the DIY projects around the house.
Almost every single time I post a home improvement type project, I have women comment with something like, "I love that, Kristi!  I'm going to show my husband this and have him do this in our house," or, "Oh, that's going on my husband's honey-do list this summer!"
I'll be honest with you.  Those types of comments are like fingernails on a chalkboard to me.  In fact, if you were standing in my house as I read comments like that, you would very often hear me yelling at my computer screen, "DO IT YOURSELF!!!  Don't rely on him to do it for you!!!"  🙂
Ladies, I don't write this blog and show how to do these projects and how to use these tools so that you can add to your husbands' honey do lists.  🙂
There's something so empowering about not having to rely on a husband or someone else to do things for you.  I wouldn't trade that feeling…that freedom…for anything.
And my hope is that every woman reading my blog, no matter what her circumstance (married to a strong DIY-loving husband, widowed, never married, divorced, married to a man physically incapable of helping around the house, or married to a total couch potato who couldn't care less) can know that she, too, can feel that same sense of empowerment, not having to rely on others to do things around the house for her.
5.  I love using power tools.
When I was reading Jackie's post and got to the sentence where she said, "I don't like using power tools," I literally gasped in disbelief.  I'm so much the opposite that I can't imagine someone not liking power tools as much as I do.  😀
But after a couple of seconds, I came to my senses and realized that it's okay if others don't love it as much as I do.  We're all different, and that's what makes this world so interesting, right?
But yes, I love using power tools.  And it's much more than just a sense of empowerment.  To me, it's just plain 'ole fun.  I can't wait for the day that I can set up my workshop in the garage, and have all of my power tools at the ready when I need them.  Once my workshop is set up, I very well may disappear for a few days, only to surface when I need to eat, pee, and sleep.  And eating and sleeping may very well be optional.  😀
6.  I love the challenge…and the process.
I honestly think that DIY can be very helpful in keeping one's mind sharp, and I love to use and exercise my mind.  I love a good challenge.
I love to think to myself, "Okay, I'm starting with "A", and my goal is "Z".  So what steps do I need to take to get from A to Z?  What tools will I need?  What processes will be necessary?  What materials do I need, and how much of each do I need?  This thing is going to cause an issue, so how will I work around it to accomplish my goal?"
That process of challenging my mind, of forcing myself to constantly use math that doesn't come naturally to my brain, of hitting roadblocks and finding ways around them, and everything else that's part of the process, keeps my brain working overtime.  It's a much better, healthier feeling than I used to feel wasting hours each day in front of the television.
7.  Nothing beats the satisfaction of a finished project well done.
For me, there's nothing like that feeling of satisfaction when I walk into my house and am surrounded by all of the things that my own two hands have created.
Nothing beats that feeling.  It's something that money can't buy.
So those are just a few of the main reasons I DIY.  Are you a DIYer?  What are your main motivating reasons for doing things yourself rather than buying?
Addicted 2 Decorating is where I share my DIY and decorating journey as I remodel and decorate the 1948 fixer upper that my husband, Matt, and I bought in 2013. Matt has M.S. and is unable to do physical work, so I do the majority of the work on the house by myself. You can learn more about me here.
I hope you'll join me on my DIY and decorating journey! If you want to follow my projects and progress, you can subscribe below and have each new post delivered to your email inbox. That way you'll never miss a thing!