Last Updated on February 8, 2019 by Kristi Linauer
Not a day goes by without someone asking me the status of my kitchen. I'm still waiting for my replacement doors and drawer fronts. I can't finish the kitchen without them. It's a frustrating waiting game, but that's the price you pay when you're careless and leave your doors and drawer fronts out overnight and they get rained on. *Sigh* I haven't quite gotten past the point where that doesn't sting a little just thinking about it.
I did, however, get my cabinet hardware from Pottery Barn!! I haven't gotten it all installed yet. Installing cabinet hardware is one of my least favorite things to do ever. There's so little margin for error, and it just makes me nervous drilling into freshly painted and polyurethaned cabinet doors. But I'm getting it done little by little.
Everything is still covered in dust, and I'm creating even more as I drill through these doors, so kindly overlook that, please. 🙂
This isn't the hardware I originally ordered. The stuff I originally ordered had been on backorder for a month, and every time I checked my order online, the estimated delivery date was pushed back. First it was September 3rd, then September 5th, then the 8th, then the 10th.
I finally got so frustrated with the constant delays that I used their chat system online to talk with a customer service representative. He checked the order and told me that my hardware was, in fact, on backorder until November 10th!!! Not September 10th, as my online order said. Not October 10th. But November 10th!!
I was beyond irritated. And disappointed. So I called customer service and spoke with a wonderfully helpful woman named Mallory. She checked all over for the hardware, and couldn't find any available. So finally I asked about cancelling that order and placing a new order for this different (and quit a bit more expensive) hardware.
They had it all in stock, she gave me a discount so that the new more expensive hardware would cost me only $10 more than the original hardware, and she sent it to me overnight and didn't charge me for shipping. Now that's good customer service right there!
These are the Pitted Antique Brass pulls and bin pulls. I had originally ordered the Classic Antique Brass hardware. I'm installing it little by little, but I still have quite a bit to go.
This kitchen remodel has taken so dang long, and has really been such a pain in my rear lately, that when it's finally finished I'm going to drag the final before and after "taaadaaaaa" posts for an entire week. Maybe two. One post for every month I've been working on this room. Ha! Just kidding. 🙂
In other news…
Let's talk about my rolling doors, shall we? When I asked what y'all thought about the glass designs yesterday, soooooo many of you suggested that I just cut out the six panels and install glass. It was even my mom's favorite idea. It would look like this…
That is certainly the idea that made the most sense. Of all the designs, this is the one that would be the easiest and would keep the original look of the door intact. There's only one problem. I just don't like the way it looks. 🙁
Y'all have no idea how much I wanted to like it. I almost just made myself do it anyway, because like I said, it makes the most sense. But I just couldn't do it. There's just something about the wood-to-glass ratio that seems "off" on that door.
The center rails and stile just seem so heavy and dominant, while the glass looks so wimpy and insignificant. It looks nothing like a French door to me. Am I being crazy, or do others of you see that also?
Isn't personal taste a strange an interesting thing? One person can absolutely love something, while the next person doesn't like it at all. It's what makes decorating (and so many other aspects of life!) so interesting. We humans are funny creatures.
So I ended up taking my Dremel MultiMax to one of the doors, and cutting out the top section, just as I had planned.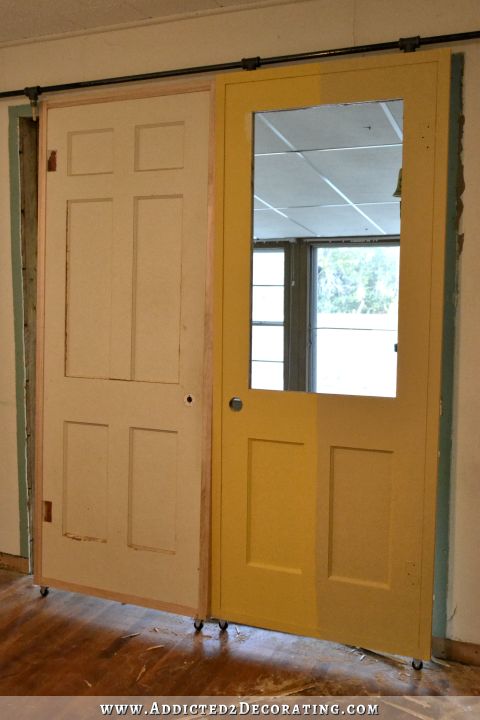 And do you see what else I did? I tested some actual colors on the door on the right. These are two colors that I actually tested on my hallway doors a while back. The one on the left is called Jackfruit, and the one on the right is Warm Muffin. Both are Behr colors. I don't like Warm Muffin at all. It looks muddy and dull. But I'm really loving the Jackfruit color.
As soon as I painted that color and then stepped away to look at it from the front door (so I could see my living room with it also), it made me realize that my house is missing warm colors. It needs an injection of warm colors to balance out the greens and blues I'm using.
To be honest, I'm really struggling with finding that middle line to walk in this house regarding colors. I don't want to go back to the overly bright and fun (and somewhat juvenile) palette I used in the condo. I do want this house to be more refined and grown up. But at the same time, I don't want to completely abandon my love of bright and saturated colors. Finding that balance is difficult for me.
So I'm not sure if I'll stick with this, or if I'll try another color, or if I'll end up with black, or even if I'll do so something more like an aged Restoration Hardware-type finish. And since I really don't have any firm decorating plans for the music room just yet, I'm kind of flexible. The only thing is that whatever I choose has to look good with both the green kitchen and the dark teal living room, so that makes it a bit more challenging.
The only definite plan for the music room is that it will house my piano. I don't have a picture of it, and I haven't actually seen it in about eight years (it's in storage somewhere in east Texas), but if my memory serves me correctly, it looks very similar to this piano both in style and in color.
I love that piano. My grandparents bought it when my mom was in the seventh grade. She learned to play on it, and then I learned to play on it when I was a young girl. I can't wait to get it here and start playing again. I also play the guitar, but don't have one at the moment. So perhaps my music room will also include a new guitar in the near future.
So that's really the only thing I need to decorate around in my music room. Other than that, I have no definite decorating plans for that room just yet.
And one last thing… (wow, I'm really in a chatty mood today!) 😀
I know lots of people were concerned with that first door in yesterday's post looking either too institutional/commercial (I was concerned about that, too), or looking like an exterior door. The exterior door thing doesn't bother me at all. They'll just look reclaimed and repurposed, and I actually love that. But as far as them looking too commercial, I wanted to see if that was a bad thing, so I went in search of inspiration.
As soon as I saw this mockup that Layla at The Lettered Cottage did for her upstairs hallway, I knew that the "commercial" look was something that I could most certainly deal with if my doors had this much amazing character.
I could certainly deal with a few commercial-looking doors in my house if they looked like that. 🙂
I also came across this antique door from Knick Of Time Interiors. This is an exterior door, but with that beautiful detail, I'd use it inside in a heartbeat.
So the bottom line is that I'm okay with the commercial look and/or the exterior door look, but I'll probably end up adding some pretty details to my doors so that they don't look quite so plain.
Well, that was kind of rambling and long. I guess I had a lot on my mind today. 🙂
Update:
Well, as you've probably come to expect from me, I changed my mind once again. This afternoon, I took my Dremel MultiMax to the bottom part of my door also, and now it looks like this…
The good thing is that I'm no longer confused about the direction I'm going with this.  I have a very definite plan.  It'll be a bit unexpected, but it'll go very well with my kitchen.  Nothing rustic, or country, or farmhouse, or cottage style.  At least that's the plan for now, but I could very well change my mind again by tomorrow.  🙂
Update #2
To see the next step in my rolling barn door-style French door project, you can see that here…
Update #3:
My rolling barn-style doors are finished! Here's a peek at how they turned out…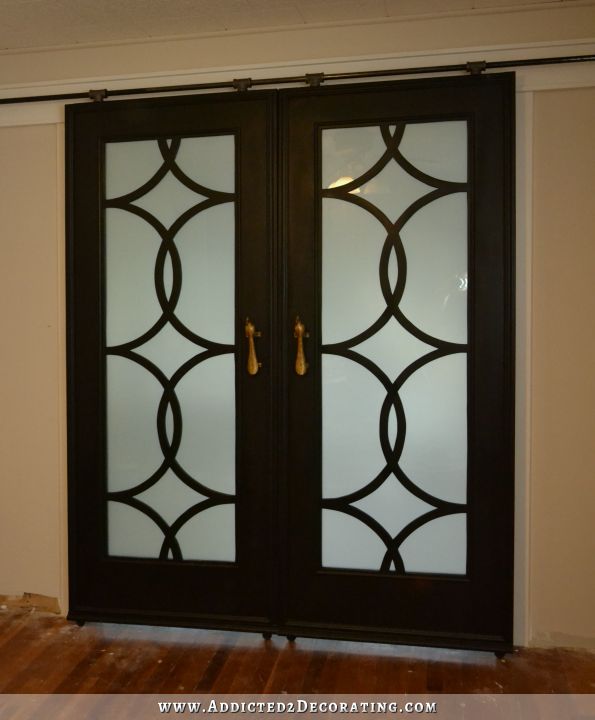 You can see more pictures of the finished doors here…
Addicted 2 Decorating is where I share my DIY and decorating journey as I remodel and decorate the 1948 fixer upper that my husband, Matt, and I bought in 2013. Matt has M.S. and is unable to do physical work, so I do the majority of the work on the house by myself. You can learn more about me here.
I hope you'll join me on my DIY and decorating journey! If you want to follow my projects and progress, you can subscribe below and have each new post delivered to your email inbox. That way you'll never miss a thing!