Last Updated on December 24, 2015 by Kristi Linauer
So I had this brilliant idea for my music room. 😀 And while I'm not quite ready to divulge the details of my brilliant idea, I will share with you that it requires some changes to my rolling doors. Specifically, it requires that the doors be installed as actually sliding barn doors rather than rolling doors as I had them before.
I had previously installed them as rolling doors using cheap items from the plumbing section of Home Depot.
The benefit of that design is that it's really cheap. The drawback is that it's virtually impossible to install the wheels on the bottom of the door perfectly straight, so as the doors are rolled back and forth, they can become misaligned. It's not a big deal. I just simply gave them a little push to get them aligned again. But once I have my new grand idea in place, it will be much more difficult to push the doors back into alignment, and my doors could actually be very easily dinged and scraped when they become misaligned.
Are you curious? 😀 I won't keep you in suspense too long. I promise! I hope to be able to share the details with you next week.
So anyway, for this design idea I have in mind, I had to find a cheap way to install my doors as actual sliding barn doors. Back when I first made and installed these doors, I checked just about every source I could find for barn door hardware, and the hardware needed for my double doors with a 10-foot span was anywhere from about $800 to $1200. I wasn't going to spend that kind of money on door hardware, so that's when I came up with my $60 rolling door option.
This time, I started my search at Home Depot and Lowe's, and I found that they both now carry some pretty nice barn door hardware. But that's just for one door. I have two doors, so I would need to purchase two packages and join two rails together. So again, that put me at around $340 for door hardware. That still seemed a bit excessive, especially since this hardware isn't going to show once my new idea is in place.
And then I came across something that was about half that price. I bought everything I needed at Lowe's. Home Depot carries these products also, but they don't carry them in either of the stores here in Waco. But our Lowe's carries them in stock here.
Y'all may already know about this cheap barn door hardware, but I had no idea this option existed! It's a square tube rail, and the wheels that allow the door to slide back and forth actually roll inside the square tube. And the best part was the price. Everything I needed for my double doors with a 10-foot span cost right at $160. That's insanely cheap compared to all of the other barn door hardware I had looked at for this kind of width!
Here's how it looks installed.
It doesn't look pretty right now, but it'll look better when it's finished.  🙂
The great thing about this system is that all of the moving/rolling parts are actually inside the square rail. That means that this hardware can be painted any color you want, and there will be no wear and tear that will rub the paint off over time.  I'll be painting the door brackets black so that they'll blend in with my doors, and everything else will be covered completely when everything is finished.
So here are the details of this barn door hardware, and how I installed it…
First, I installed very simple door casing around my door. Then above the top casing, I attached a 10-foot 1″ x 6″ piece of lumber using 3-inch framing nails. (Lots of them!) This was originally an exterior wall, so this wall is load-bearing, and this doorway has a solid wood header above it. My walls are also lined with shiplap underneath the drywall. So I shot the nails in at random, knowing that wherever I placed them, I'd be hitting solid wood. So if your situation is different (which is very likely), you definitely need to screw or nail this into studs.
And then because my doors are thicker than standard doors, and I needed to be sure there was plenty of clearance for my doors to slide past the door casings, I added another 1″ x 6″ x 10′ piece of lumber on top of the first one, again attaching it with 3-inch framing nails. Before I attached this second board, I marked and measured where the bottom of the metal rail needed to be, and I stalled the board so that the bottom of the board would be perfectly lined up with the bottom of the rail.
And then I attached the rail to the 1″ x 6″ board. Because I was installing a 10-foot track on a wall that's only three inches wider than the rail, I had to pre-assemble the wheel/door bracket assembly and place them into the track before installing the track.
This definitely made things more challenging. I was installing this by myself, and the whole thing was quite heavy. Those wheels move back and forth very easily, and so they kept sliding back and forth, throwing me off balance. Holding that rail up with one hand and trying to screw in the first screw was almost too much for me to do on my own, but I finally got it. In order to do it by myself, I had to mark and measure where the first lag screw needed to go (I started with the middle one), and then pre-drill the hole in advance. That way when I climbed up on the ladder and held the metal track in one hand, while holding the drill in the other, I knew exactly where that lag bolt needed to go. It was very difficult, and I definitely suggest having someone help you install this hardware.
Here is what the track looks like. You can see here where the wheel assembly slides into the rail, and then through the bottom of the rail.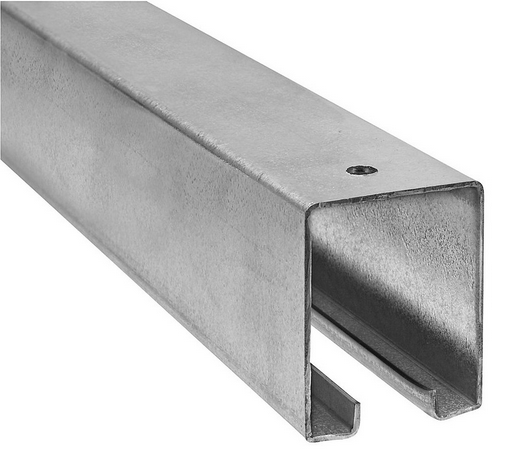 The rail is attached with these brackets. I had no idea how many were necessary, so on my 10-foot rail, I used a total of seven brackets. Those just slide right over the rail. They're a pretty tight fit, but not so tight that it's difficult to slide them into place.
I attached those brackets with these large lag bolts. You definitely have to pre-drill your holes for these huge things, and you can buy a bit for your drill to screw these in.
Here's what the wheel assembly looks like…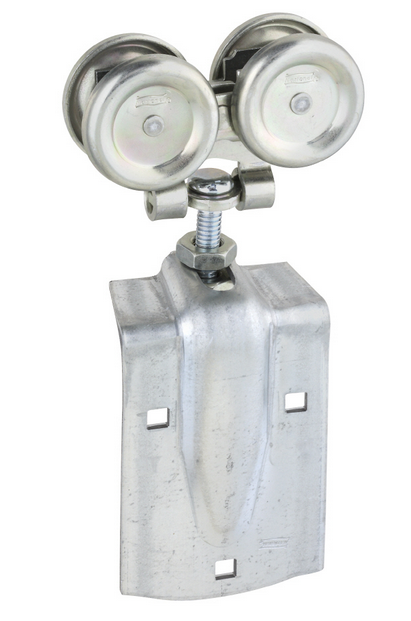 Our Lowe's carries three different types of wheel assemblies. There's one that's rigid, one that's adjustable, and then one that…well…I couldn't figure it out so I have no idea how it installs or works. I got the one that's adjustable, and it's made up of five parts.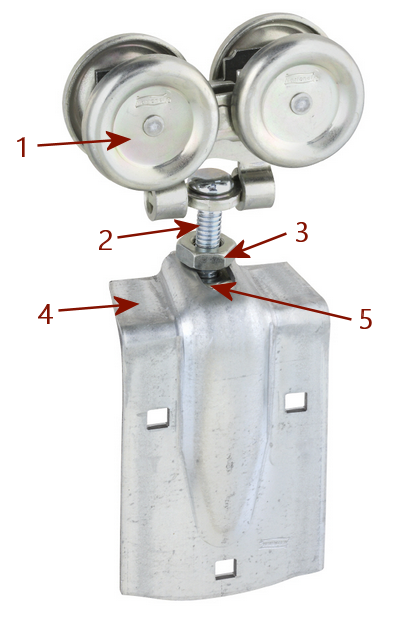 The main piece with the wheels has a hole in the bottom where a big bolt slides through.
The bolt slides through the hole in the wheel piece, and then through the bracket that attaches to the door.
The top nut can be loosened to adjust the bolt back and forth in the slot. You can make the necessary adjustments after the door is installed so that the door hangs perfectly straight.
The bracket attaches to the door (there are six additional nuts and bolts in the box to attach this bracket).
And the bottom nut (not seen) holds the bolt onto the bracket.
When you buy these, you have to be very sure that all of the pieces are in the box — two wheel pieces, two brackets, and all of the necessary nuts and bolts. The Lowe's here had about ten boxes, and only two of them had all of the parts.
In order to attach the brackets to my doors, I had to cut away part of the top decorative trim so that I had a flat surface for the brackets to attach to. I used my Dremel Mult-Max to cut through and remove the excess trim.
The bracket fit perfectly against the door. I also pre-drilled the holes for the bolts that would attach the bracket to the door.
So again, because I was installed a 10-foot rail on a 10-foot wall, I pre-assembled everything before installing the rail.
If you're working on a much wider wall, then you won't need to add the wheel/bracket assemblies before installing the track. You can simply install the track, and then attach the brackets to the doors and slide the wheels into the track on the end.
But I didn't have that option, so after the track was installed, I placed a long 1″ x 6″ piece of lumber on the floor, and placed the door on top and leaned the door against the door casing. Then I slid the brackets in front of the door and into place, and placed the bolts into the pre-drilled holes. Then I was able to move my ladder to the back of the door, and add the nuts onto the bolts on back of the door. I tightened the nuts as tightly as I could with pliers. The bolts stick out about 1/2-inch from the back of the door, so I'll probably eventually cut those off with my Dremel Multi-Max.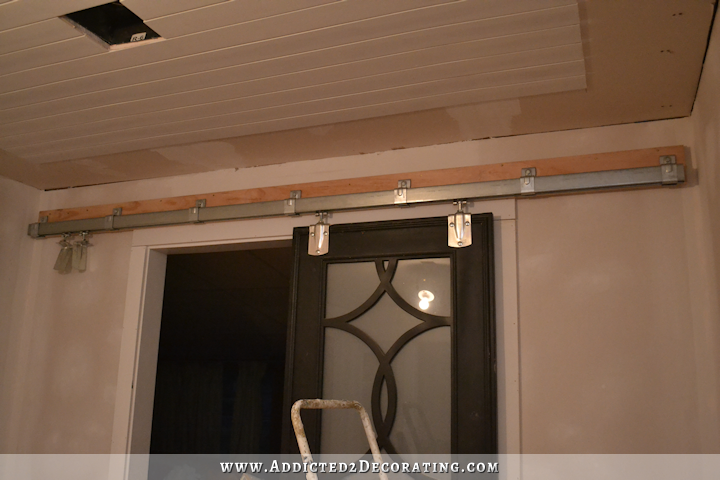 And then I repeated that process with the second door.
This hardware works perfectly. The wheels slide very easily and smoothly, and while it does make noise, it's not too terribly noisy.
And as I mentioned, after everything is installed, adjustments can be made. If the door isn't hanging perfectly straight, you can simply loosen the nut on top of the door bracket, and adjust the bolt (i.e., slide it more to the front or back of the slot) as needed until the door hangs straight. You can also adjust the height of the door by loosening that same nut, and using a pair of pliers to turn the actual bolt. The design of the bracket holds that bottom nut in place, so when you turn the actual bolt, the bolt will move up or down in that nut, adjusting the door as needed. As you can see, there's about an inch of play in the height, but do note that if you want the option of adjusting the height of the door after installation, you need to drill a hole in the top of the door BEFORE installing the bracket so that the bolt can move up and down as needed for height adjustments.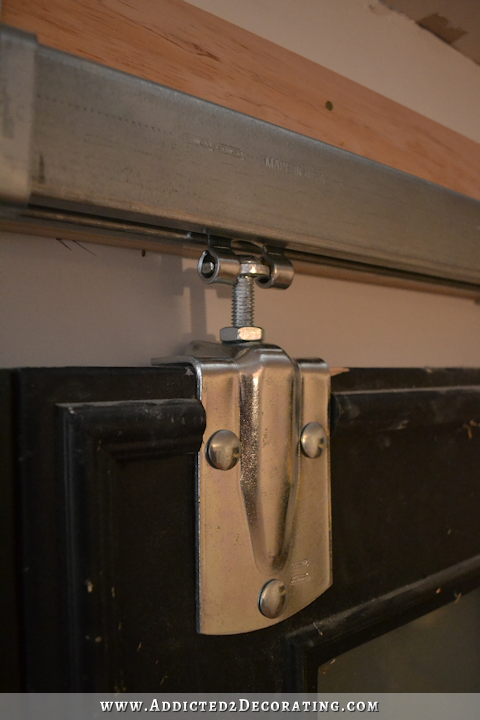 And here's a close-up view of how the bracket holds the track in place.
This hardware is really heavy duty, quality stuff. And again, you can always spray paint it black or oil-rubbed bronze if the silver color doesn't work for you. Or you can built a wood cornice to hide the whole track if you don't like the look of it at all.
But as far as the price and the durability of this hardware, I don't think you can beat it. Again, I was looking at prices between $800 and $1200 for barn door hardware for double doors on a 10-foot span. This stuff came in at $160.
But mine is far from done. 🙂 I'll hopefully be ready to share my big idea with you next week.
UPDATE:  Let me stress…  I will be painting my brackets black so that they'll blend in with the doors, and the top hardware will not show in my final design. I'm simply sharing my process, as I always do, and wanted to tell those who are interested about this cheap barn door hardware option.
UPDATE #2: To see what this type of hardware would look like painted in a matte black, check out the first picture in this post at House of Hipsters. I have a different plan for mine, but I think that looks amazing!
Addicted 2 Decorating is where I share my DIY and decorating journey as I remodel and decorate the 1948 fixer upper that my husband, Matt, and I bought in 2013. Matt has M.S. and is unable to do physical work, so I do the majority of the work on the house by myself. You can learn more about me here.
I hope you'll join me on my DIY and decorating journey! If you want to follow my projects and progress, you can subscribe below and have each new post delivered to your email inbox. That way you'll never miss a thing!