DIY Triple Layer Scalloped Mirror
I was beginning to think that I would close out an entire week without actually finishing a single project. It wasn't for lack of trying. It's just been one of those incredibly frustrating weeks where nothing seemed to go right. But yesterday, I finally got something finished, which is why I'm here with a rare Saturday post. And the project that I finished is this triple layer scalloped mirror that I made to go over my piano in the music room.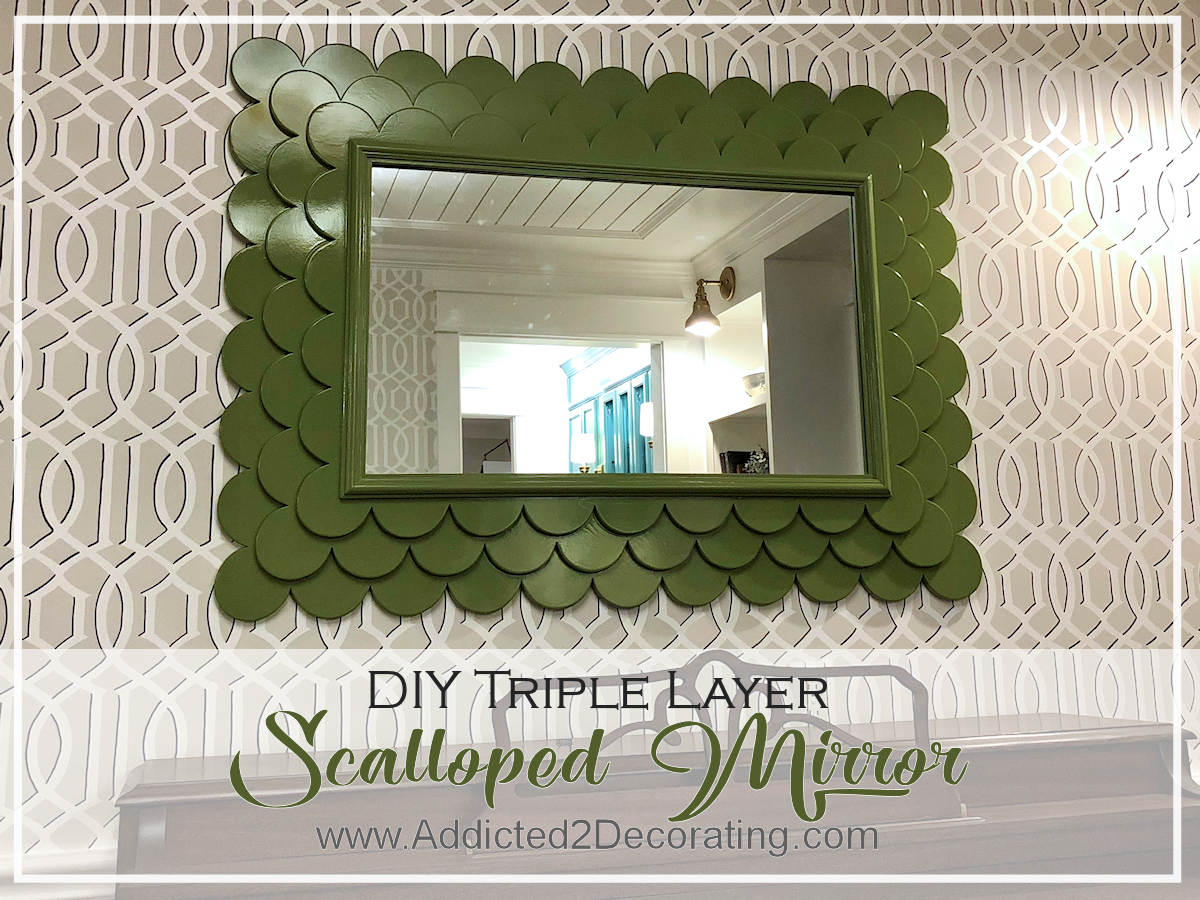 I'll just tell you up front that this is not a quick and easy project. I mean, it's not difficult, but there's certainly nothing quick about it. There were hours of sanding. Hours, I tell you. There was so much sanding that if I decided right now to turn to a life of crime, I'd be good to go because I'm pretty sure my fingerprints are gone. 😀
I've been looking at least since December (maybe longer) for the perfect mirror to go over my piano. I had my heart set on a mirror (instead of artwork) but I had no idea what I wanted it to look like. I looked at wood framed mirrors, metal framed mirrors, mirrors with thick painted frames, mirrors with delicate gold frames, round mirrors, rectangle mirrors, carved mirrors, and on and on.
In all that time, the only mirror that I really got excited about was the Atoll Mirror from Ballard Designs. I just loved that scalloped design with the ruffled edges. I would have snatched it up immediately, but the size was too small. I found several others similar to it, and even one (from Ethan Allen, I believe) that was the right size, but the price was way more than I wanted to spend, and it wasn't nearly as pretty as the Atoll mirror.
So I had kind of given up on the mirror search. I was still keeping my eye open for anything interesting, but I wasn't actively searching anymore. And I was open to either purchasing a reasonably-priced, ready-made mirror or DIYing something,
And then last week as I was scrolling through Instagram, I saw it. It was the one. It was this scalloped mirror from High Point Market. It's available in lots of different colors with a beautiful lacquered finish, but it's also $1850. As in, one thousand eight hundred fifty dollars. If you know me at all, you know that ain't happenin'. Three hundred dollars was about my limit, and even that would have been hard for me to part with for a framed mirror.
But it's just scallops. And I have a jigsaw. So I set out to make my own triple layer scalloped mirror at a cost of about $90. I had to buy 1/2-inch MDF (although I found one piece that I needed on the 70% of pile at the back of the store), lattice and moulding, a mirror, spray paint, and spray lacquer. I had everything else (sandpaper, wood glue, nails, etc.) on hand.
So let me show you how I did it.
How To Make A Scalloped Mirror Frame
Step 1: Use a lid or other round object to trace a scalloped design on four sides of the frame.
I started by marking a line parallel with the end of my 1/2-inch MDF board, about five inches from the edge, and then I measured and marked the center of the line. Then I found a lid that was the size I wanted for my scallops. For reference, I think a can of Bondo is the same size as a standard quart size paint can. I marked each side of the lid with painters tape, just shy of a full half circle. This painters tape would give me guides for lining up the lid with the pencil line. Starting in the middle (at the center pencil mark), I drew one scallop, and then I worked my way towards the sides. For the long sides of the frame, I drew nine scallops.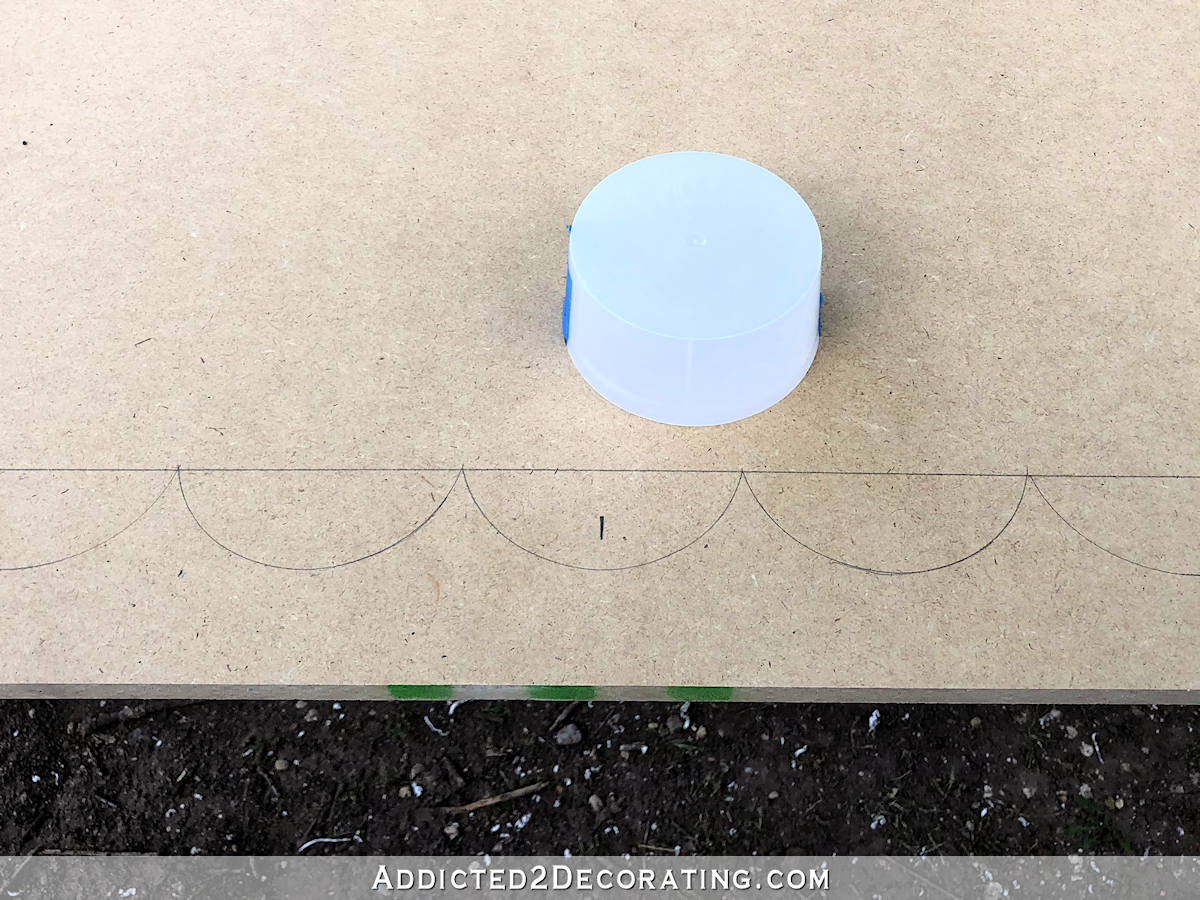 On the last scallop at each end, I used my speed square to draw a 45-degree line, and then I measured and marked that line at 3.5 inches from where the scallop meets the line.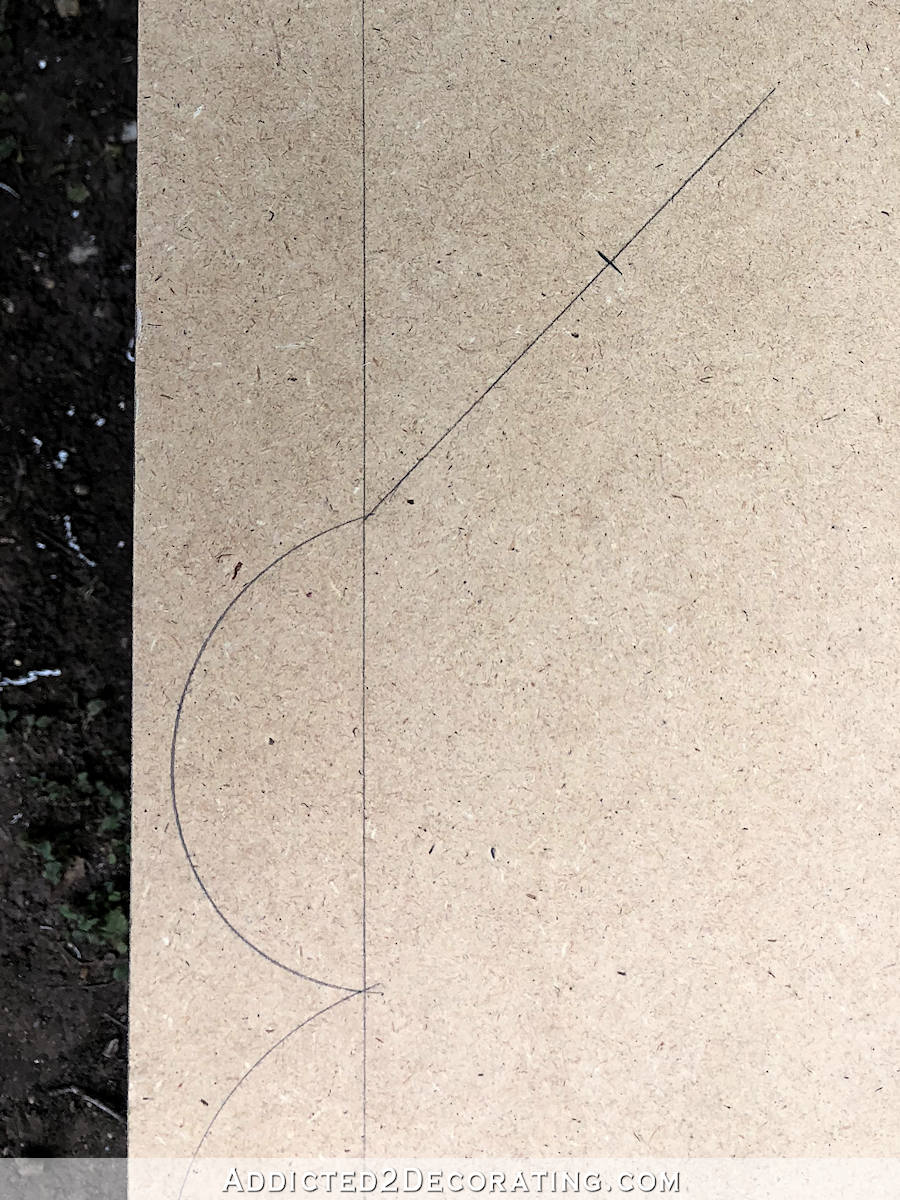 And then I used that mark at 3.5 inches on the diagonal line as a reference for drawing the perpendicular side of the frame, which I did using a framing square. Then I traced my scallops on that side. For the short sides of the frame, I did six scallops.
I continued around the other two sides of the frame the same way — marking a 45-degree angle from the last scallop, measuring 3.5 inches on that diagonal line, drawing a line perpendicular to the previous row I had drawn, and tracing scallops on that new line. Then repeat.
Step 2: Connect the sides with a corner scallop.
Once I had the scallops traced on all four sides of the frame, I went back and did the corners. I simply added one more scallop on each side…
And since I avoid actual geometry at all costs, and simply guessed at how long the diagonal line needed to be, you can see above that the two additional scallops didn't quite form a perfect circle. I wasn't concerned about that. I just used a pencil to round that pointy intersection of the two lines before I cut out the frame with my jigsaw.
Step 3: Draw two more scalloped rectangles
After I had the first scalloped rectangle drawn, I used that exact method to do two more layers, reducing the numbers of scallops on each side by one with each smaller layer.
So the first (bottom) layer has nine scallops on the long side, and six on the short side (not including the corners).
The middle layer has eight scallops on the long side, and five on the short side (not including the corners).
The top layer has seven scallops on the long side, and four on the short side (not including the corners).
Step 4: Cut out the scalloped rectangles with a jigsaw.
I cut those out using my jigsaw on the slowest setting (i.e., for smooth cuts) and used a blade made for cutting curves/scrolls. These blades are just narrower and a bit shorter than standard jigsaw blades. I shared some tips for cutting out scallops in this post about building my niece's daybed.
Step 5: Cut out the center rectangles to make frames.
To turn these layers into an actual frame, I needed to cut out the middle rectangles. I used a 1 x 2 piece of lumber (which is actually only 1.5 inches wide) to mark a line 1.5 inches from the innermost cuts on the scallops around all four sides of the frame. You can see those lines in the picture above. Then I used my jigsaw to cut out those rectangles. I cut one layer at a time.
Step 6: Sand, sand, and sand some more.
But it still wasn't ready to assemble, because all of those scallops needed to be sanded first. It's a huge pain, and a very tedious process since most of it has to be done by hand, but it makes such a big difference in the appearance.
Step 7: Assemble the frame.
After hours of sanding (and unfortunately, that's not hyperbole), I was finally ready to assemble the layers. I didn't use any nails on this. I just used wood glue.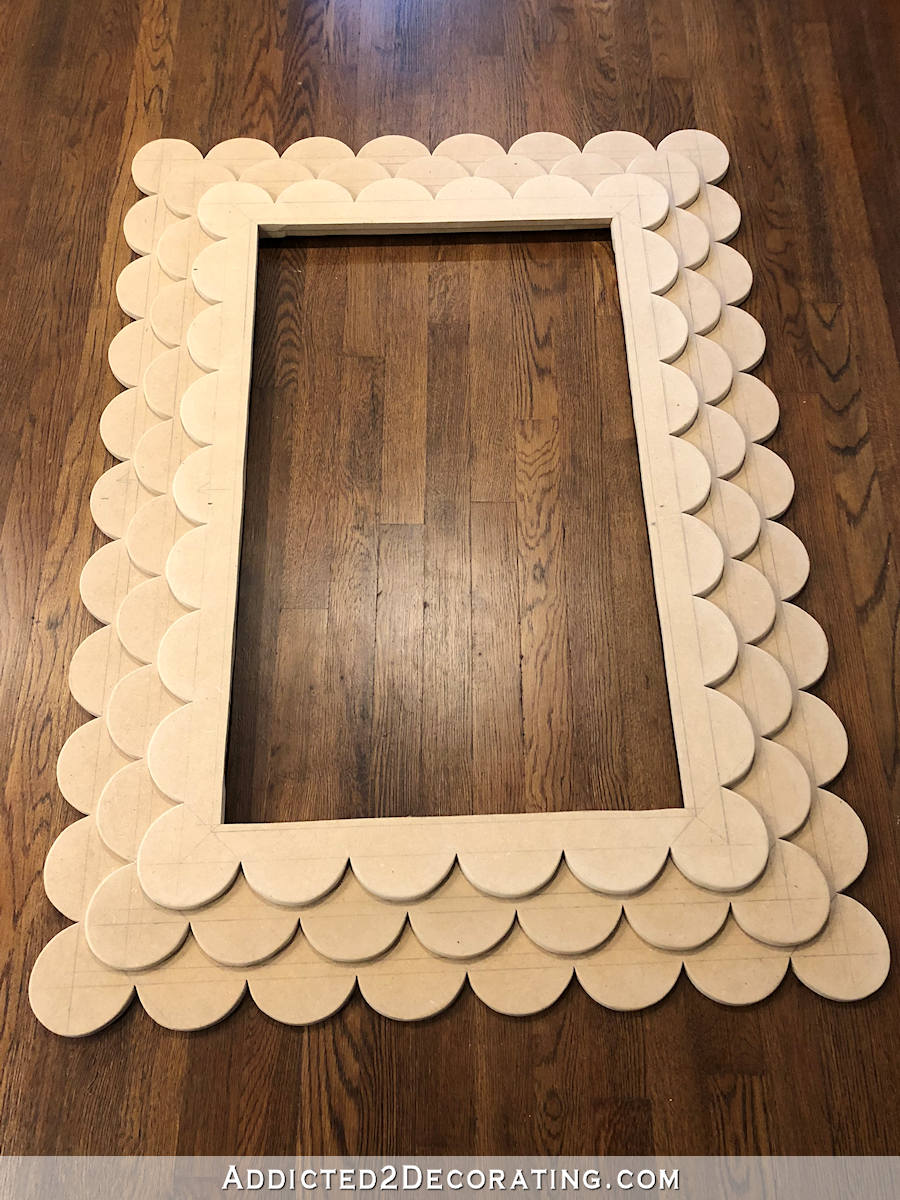 I gave it about two hours for the glue to dry before moving it, and then I used my miter saw to cut some pieces of lattice to frame the cut out rectangle area. I measured and attached these pieces so that half of the width of each lattice piece was on the MDF, and the other half was over the cut out area to form a rabbet that the mirror would rest on when it was installed later.
I actually ended up adding one more piece of decorative moulding (a medium-sized cabinet moulding) on top of the lattice just for a more decorative touch. I forgot to take a picture of it during assembly, but you can see it on the finished mirror frame.
Step 8: Prime, paint and lacquer the frame.
I brushed on a coat of primer, let it dry overnight, and then sanded it with 220-grit sandpaper. Then I used Rust-Oleum Painter's Touch spray paint in the color Eden. I followed up with about four coats of Rust-Oleum Lacquer. It's a heavy mirror (MDF is heavy stuff!), so I used an Ook Hangman French cleat to hang it securely and easily on my wall.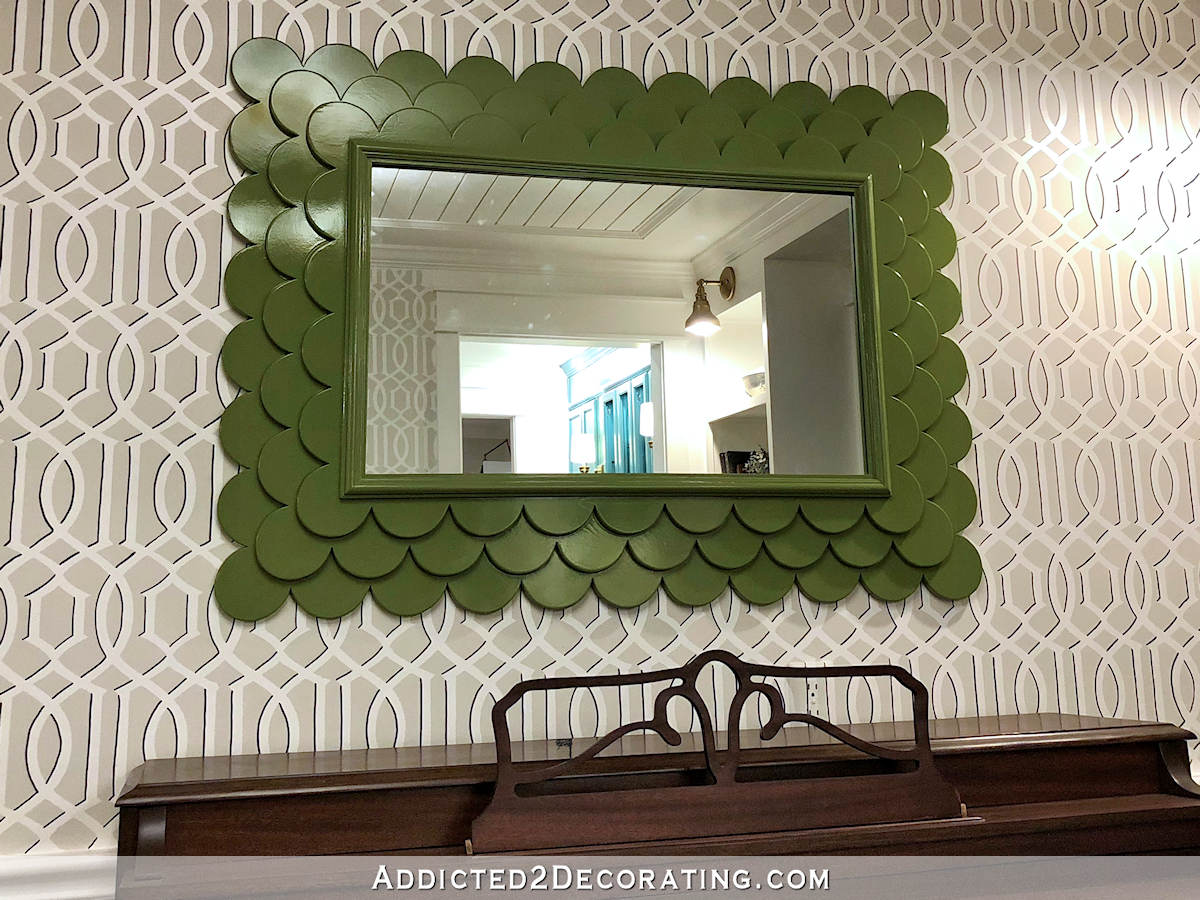 It was a lot of work, but totally worth it to save $1760. And I love it in my music room. That room has been so neutral and colorless for so long now, and it's amazing how just one item with color has breathed some life into that room. I'm anxious to add more color in there now!
Addicted 2 Decorating is where I share my DIY and decorating journey as I remodel and decorate the 1948 fixer upper that my husband, Matt, and I bought in 2013. Matt has M.S. and is unable to do physical work, so I do the majority of the work on the house by myself. You can learn more about me here.