I wanted to quickly share a follow up on my refinished hardwood floors, and my decision to use Waterlox to seal them rather than polyurethane.
And let me make this perfectly clear — this is not a sponsored post. The good folks at Waterlox don't know me from Eve, and I didn't receive any free products from them.
I simply did my own research (lots and lots of research) and considered everything from polyurethane, tung oil, Waterlox, and even a couple of other things. And I finally decided on Waterlox. And then I purchased my products online, and paid full price, just like you would have to.  But when I come across a product that I truly believe in, I like to pass that info along to y'all.
So anyway, remember when my floors looked like this…
And then I removed all of the carpet and they looked like this…
Well, during that time, I was researching like a crazy woman, trying to decide how to seal my hardwood floors.  Do I want to use polyurethane?  Should I stain them first?  What if I don't stain them, and then they don't come out dark enough for my taste?  What if I stain them and they come out too dark?  What about tung oil?
I nearly drove myself crazy with indecision, afraid that I'd make a terrible decision.
But by the time my floors finally looked like this…
I knew exactly what I wanted.  And as soon as the sanding was finished, I was able to seal them with the Waterlox that I purchased (I didn't use any stain at all), and after all that work my floors finally looked like this…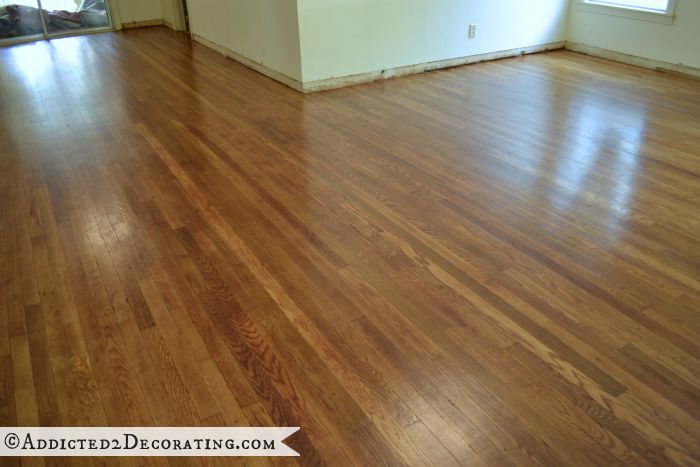 Ahhhh…they were gorgeous and perfect (I mean, as perfect as 65-year-old hardwood floors can be). But of course, over time, hardwood floors get scratched from everyday use.  Especially when someone as independent and (yes) careless and I am lives in the house.
Let's just say that dragging heavy furniture around (like a sofa) all by myself has left some pretty sad looking gouges in my hardwood floors.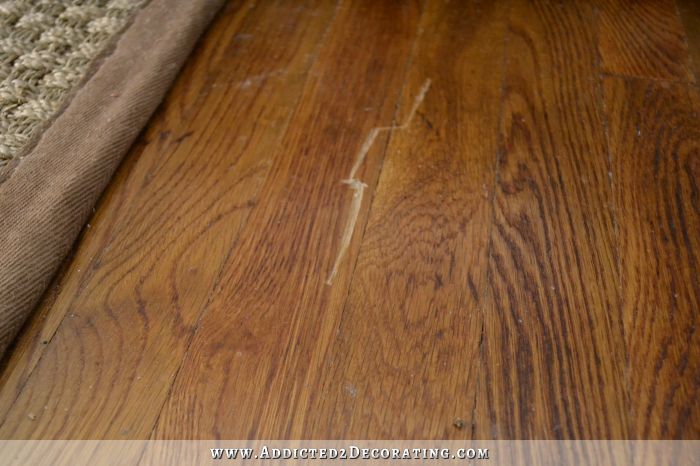 But here's where the real beauty of Waterlox kicks in.
This is one of the main reasons I finally settled on Waterlox over every other finish — the ease of repairing scratches in the floor.  Don't try this with polyurethaned floors.  It won't work.
When I get a scratch like that, I simply grab some sandpaper (120-grit in this case, just because it's the first one I found), and I sand the area so that it's pretty smooth.
This one happened to be a pretty deep gouge, so I wasn't really concerned about getting it perfectly smooth.  I just wanted to smooth out the rough edges and minimize the gouge as much as possible.  I actually had three right next to each other.  The big one (shown in the first picture) was about five inches long.  The other two were less than an inch.  (You can see one of them in the picture above.)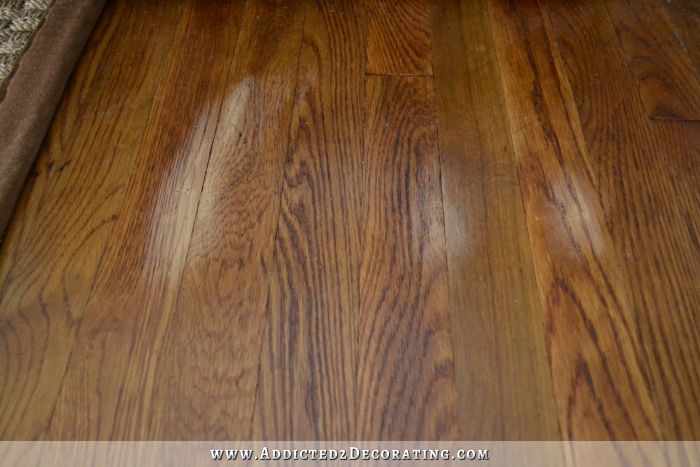 And then I just added more Waterlox right on top.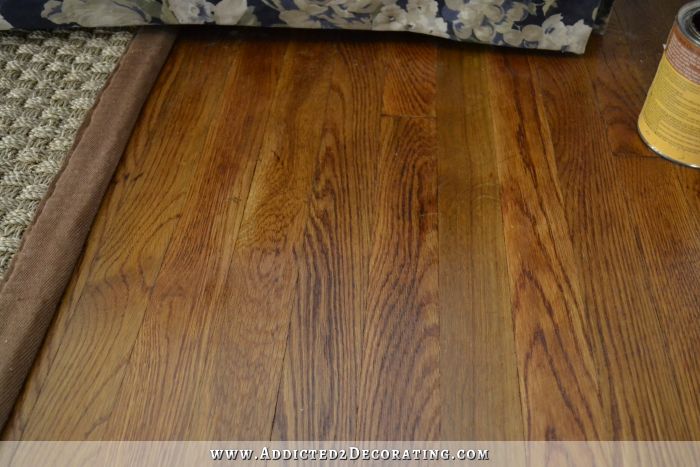 I took that picture right after I added the new Waterlox, and it's still wet.  (And I did this about an hour ago, so even now it's still wet.  It takes several hours to dry.)  But even wet, it still looks so much better already!
Once that's dry, I'll probably add one more coat.  After about two coats of Waterlox, the color stays pretty consistent.  In other words, unlike stain, it doesn't keep getting darker with each new coat.  The depth of color maxes out on the second or third coat (depending on how thick the coats are).
And here's a zoomed out view.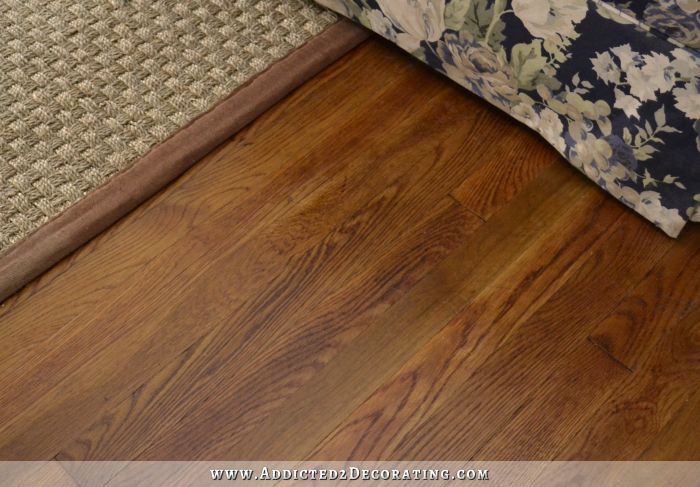 I really don't think that anyone would be able to tell that there was once a 5-inch gouge in the floor right there.
I love that about Waterlox.  And generally if I do this right before I head to bed, it's dry enough to walk on by the time I get up in the morning.
Isn't that awesome?  That benefit alone is probably the single thing that sold me on Waterlox for my floors.   I'm so glad that dealing with scratches from here on out will never require a whole-house or even a whole-room sanding and refinishing of the floors!
Addicted 2 Decorating is where I share my DIY and decorating journey as I remodel and decorate the 1948 fixer upper that my husband, Matt, and I bought in 2013. Matt has M.S. and is unable to do physical work, so I do the majority of the work on the house by myself. You can learn more about me here.
I hope you'll join me on my DIY and decorating journey! If you want to follow my projects and progress, you can subscribe below and have each new post delivered to your email inbox. That way you'll never miss a thing!