My Finished Stationary French Door Panels
I finished my stationary French door panels! (If you missed how I built these, you can find those details here.)
I had thought that I would wait to do the wood filling, sanding, caulking, priming, and painting on my new stationary French door panels, and then do all of the trim in the room at the same time.  But I changed my mind. 🙂 I was far too anxious to see what these would look like finished. Of course, with the rest of the room(s) still so far from complete, and with my floor covered with drywall mud, it still takes quite a bit of imagination to see past all of the mess.  But here's how the panels turned out…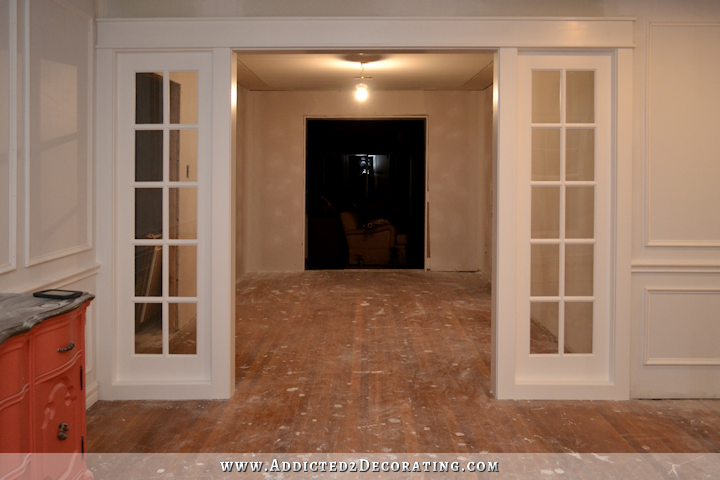 And once again, you get late night photos since I didn't finish painting until around 10:00 last night. 🙂
Since I currently have the rolling doors and door casings removed and stored away until after I get the walls finished, I found an old picture of my rolling doors and copied and pasted them onto this pic so that we could at least get an idea of what they'll look like.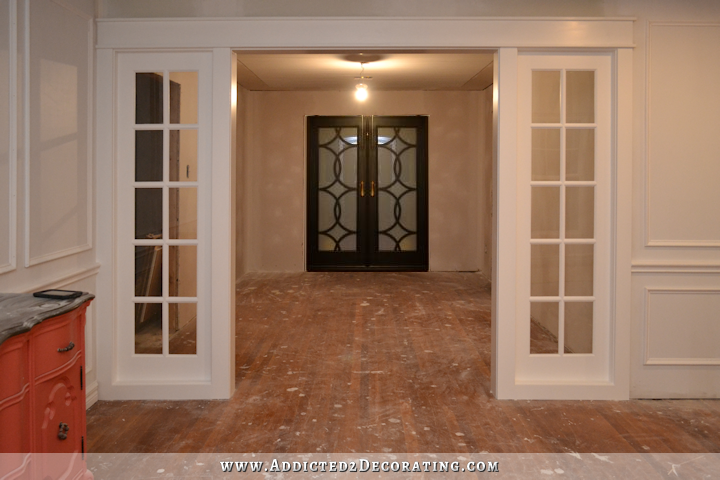 I really like the juxtaposition of the linear French door design and the circular rolling door design. I think keeping the circle design only to the rolling doors makes them look more special and unique.
I had someone ask a question the other day about why I made these so thick (framed with 2 x 6's instead of 2 x 4's).
The reason I did that is so that these would match the thickness of all of my other door jambs. Not only do my walls have the standard 2 x 4 framing with a layer of drywall on each side, but they also have a layer of 3/4-inch shiplap underneath the drywall on both sides. So my walls (and door jambs) throughout the house are thicker than what is standard today.
Here's the view from the other direction — looking from the back of the music room (at the rolling doors) towards the front door.
I'm so pleased with how these turned out. And more importantly, those awkward transitions from the wainscoting to the pony walls are gone. This detour/do-over was definitely worth the extra time and money.
Speaking of money, I used these 24-inch 10-lite pine French doors from Home Depot, which were $120 each. So with the two doors, plus the extra trim and supplies, this came in at around $320.
This room is far from finished, but it's gone through quite a metamorphosis already. Remember how it started out?
Wasn't that green carpet gorgeous?! 😀 Then I built the pony walls and columns, which I really did like.
But with the addition of the wainscoting in the entryway and dining room, these French door panels are a much better fit. And if I'm honest with myself, I have to admit that I like this look much better than the pony walls and columns.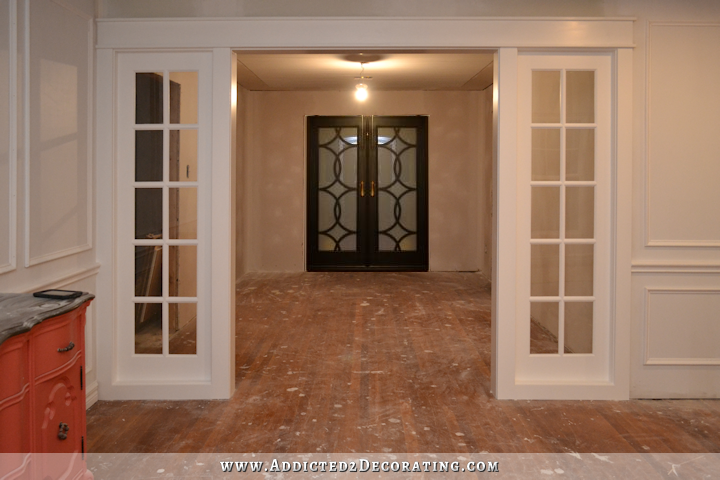 It's a cleaner look, and I think it fits the style and age of my house much better. Plus, French doors, no matter how they're used, are always a good idea in my book.  🙂
Addicted 2 Decorating is where I share my DIY and decorating journey as I remodel and decorate the 1948 fixer upper that my husband, Matt, and I bought in 2013. Matt has M.S. and is unable to do physical work, so I do the majority of the work on the house by myself. You can learn more about me here.