My pony walls are in progress!  When I work on a project like this, I visualize the process from beginning to end, generally several times, before actually starting so that I can make sure I know how to get all the way from concept to completion.  It's only if I get stuck…really stuck…somewhere in the process that I search online for help.  But I really like to figure things out on my own.  I've never built anything like this before, and I haven't searched online for help, so this is my own design.  I'm telling you that because a few of you said you'd like to do this project in your home, and I want to make it clear that I'm just kind of making this up as I go along.  I can't guarantee that I'm doing it the absolute best way, but I think what I have in mind will work.  We'll see.  🙂
What I do know for sure is that my wall doesn't have to carry any weight at all.  It's going in a place that is currently wide open, and that area is supported by a load-bearing beam in the attic.  I'm so glad!  So none of this is actually structural as far as needing to carry any type of load from the roof.  It needs to be sturdy enough so that if people lean on it or sit on it, it'll be strong, but that's it.  Other than that, it's strictly a decorative wall to give some architectural interest and define the two spaces.
All of that to say that if you're wanting to open up a wall in your house and add pony walls and columns, please check first to see if it's a load-bearing wall!!  If it's load-bearing, your process will be much different than mine.
But here's what I've done on mine so far.  I started out by building two frames for the pony walls.  I decided to make my pony walls about 25 inches high, and 30 inches wide.  I used 2 x 4 lumber, and put them together using wood glue and 3-inch screws.
Then I placed it against the wall and screwed it into the wall using 3-inch screws.  My walls have shiplap underneath the drywall, so fortunately I didn't have to worry about finding a stud.  I did have to shim one side just a bit to get it perfectly level.  After screwing it to the wall in three places, I made sure it was square with the perpendicular wall and screwed it into the floor.
You can see here that I left 1/2 inch of space so that once this wall is drywalled with 1/2-inch drywall, the new drywall will be flush with the existing wall.  It needs to be flush so that when I add the trim, the trim will fit around this cased opening just the same as it does on all of the other doorways and cased openings.  (If that's confusing, hopefully this will make more sense when I get to that point.)
I repeated that step on the other side, using a 10-foot piece of lumber, as well as my tape measure to measure for placement, to make sure that the two pony walls were even with each other.
Next I placed a scrap piece of MDF board on top of the pony wall to use as a spacer since I was going to use 3/4-inch MDF to finish off the tops of the pony walls.  Then I cut a piece of 2 x 4 to go from the top of the spacer all the way to the ceiling.  I screwed the 2 x 4 in place on the wall after checking to be sure it was plumb.
And then I repeated that step on the other side.
Next I cut a piece of 2 x 4 to span the width along the ceiling, and I screwed that into place, making sure that the screws went into the ceiling joists.
And of course, that 2 x 4 went all the way from one side to the other, right in between the vertical 2 x 4's that I had just attached to the walls.
Next I cut a 2 x 4 to serve as a spacer.  All of my doorways are 82 inches tall, and I wanted this one to be the same height.  So I measured how long the 2 x 4 spacer needed to be in order to give me an 82-inch-tall opening.
I repeated that process on the other side.
Then I used a small scrap of 2 x 4 and screwed it into the vertical 2 x 4 with a space above it just big enough for a 2 x 4 to fit in there.  The reason I did this is because, as usual, I was working alone and didn't have an extra set of hands to help me hold the 10-foot-long 2 x 4 in place while I screwed it into place.  So I temporarily screwed that scrap piece on there to act as my second set of helping hands.
That way I could put my ladder on the other end (on the right side), lift the 2 x 4 and slide it into place above the temporary brace on the left side, while holding it and screwing it into place on the right side.
Then I could move my ladder to the left side, remove the temporary brace, and screw the 2 x 4 into place.
And here's what it looked like at that point.  I know it's kind of hard to see with the sea of 1 x 4's on the ceiling in the music room (that I'm trying really hard to ignore for now).  But hopefully you can tell the new, lighter 2 x 4's from the old, darker 1 x 4's on the ceiling.
And then I added another vertical 2 x 4 on each side, extending from the MDF spacer on top of the pony wall, to just under the lower horizontal 2 x 4 framing the opening.  Not only did this lend extra support to the horizontal 2 x 4, but it also made the sides the correct width for the trim I'm going to add.
And then finally, I added a few pieces of 2 x 4 between the top horizontal 2 x 4's.  I attached them with screws, first toenailing them into the top 2 x 4 on the ceiling, and then screwing straight through the bottom horizontal 2 x 4 and into the ends of the small vertical 2 x 4's.  These not only added some needed strength and support to those horizontal 2 x 4's, but will also give me something to screw the drywall onto.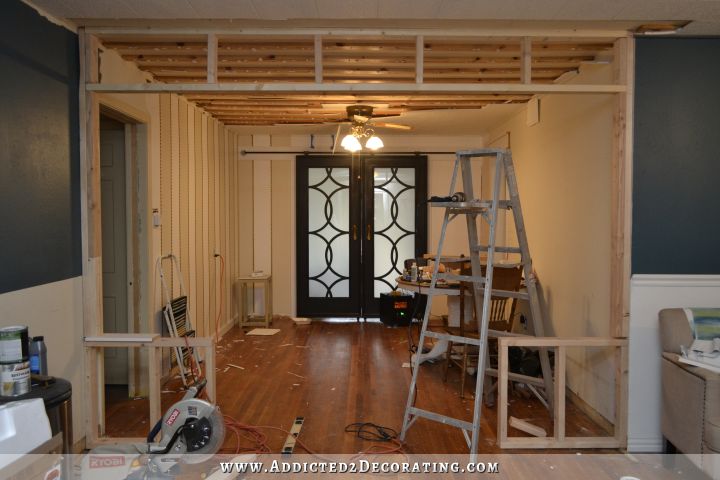 And that's the progress so far!  Obviously it'll take a whoooole lotta trim to get from this very roughed-in wall to the elegant pony walls with columns that I can see in my mind.  But can you visualize it yet?  And can you see how they'll "frame" my rolling doors in the background?
I'm so excited about this design!!!
Addicted 2 Decorating is where I share my DIY and decorating journey as I remodel and decorate the 1948 fixer upper that my husband, Matt, and I bought in 2013. Matt has M.S. and is unable to do physical work, so I do the majority of the work on the house by myself. You can learn more about me here.