Last Updated on December 24, 2015 by Kristi Linauer
Y'all, will you indulge me for a few minutes while I whine and pout like a spoiled little girl?  I know that my house troubles aren't unique to me.  I'm certainly not the only person who has ever had furnace issues, or plumbing problems, or electrical issues, or trees that need a serious trim.
But that certainly hasn't stopped me from wallowing in self-pity over the last 24 hours.
Let me explain why I'm wallowing this morning.
At this moment, I want one thing, and one thing only.  I want to have our foundation leveled.  It's the one single thing that I've desperately wanted to plunk down a wad of cash for ever since the moment we closed on the house.
The cost?  About $2800.
Right now when you walk through the house, you can feel at certain spots where you're literally walking uphill and downhill.  Trust me…no level is needed to see if the floor is uneven.  You can feel it, without question.
We actually get quite a kick out of it sometimes.  Matt will roll up to me in his wheelchair to talk to me about something, let go of his wheels, and just start drifting backwards.  We laugh.  We make our jokes about it.  We laugh when guests are here, and he shows them how unlevel the floor is.  We all get a kick out of it.  Ahhh…good times.
But I want it fixed…immediately.
It happens with old pier and beam houses, and it's fixable.  But of course, the fix costs money.
And I can't really dig into this house and get stuff done until the foundation gets leveled.
You know how I want to add wainscoting to the living room and our bedroom?  (I want to do something similar to this tutorial on This Old House.)
I can't do that until the foundation is level.  If I get everything straight-ish on the walls right now, and then they come in and level the foundation, it'll mess everything up.
I'd also love to replace the trim around all of the windows and doors, starting with the living room and bedroom.
I can't do that until the foundation is level.
I'm so unbelievably anxious to rip down all of those polystyrene ceiling tiles and see what's hidden behind them. Chances are that some or all of the ceiling will need to be re-drywalled.
I can't do that until the foundation is level.
I could go on and on, but you get the point.  So much has to wait until the foundation is level.  Adding trim, wainscoting, new drywall, new walls, and anything else that actually gets attached to, or becomes part of, the structure of the house has to wait until the foundation is level.
But every time we think, "It's time!  We can get the foundation level!" another issue arises, whether it's having trees trimmed, or parts needed for the furnace, or electrical upgrades so that I can actually use my dryer.
The latest?  Plumbing.  More stinking plumbing.  We've already spent $1500 having the pipes coming into the house replaced.  (Yes, I realize $1500 is quite a steal of a deal for that much plumbing, but remember…I'm pouting like a spoiled child right now, and if you've read this far, you have, by default, agreed to indulge me.)  😀
Now the issue is the pipe(s) going away from the house.
The culprit?  Roots.  My beautiful oak tree has turned against me.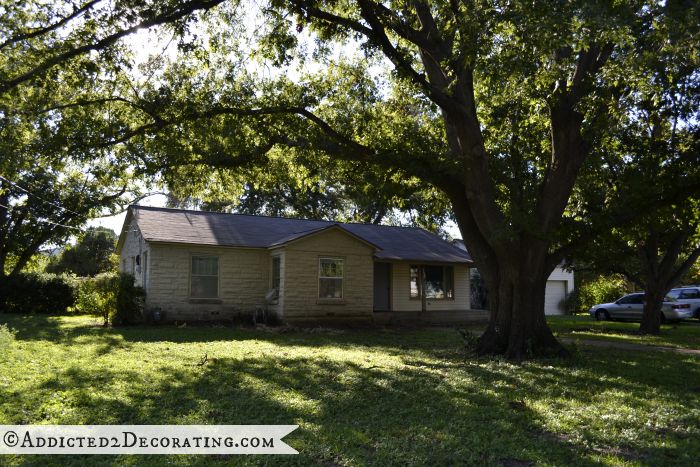 And because its roots are blocking the line, it causes nastiness like this in my bathtub.
(Turn away now if you have a weak stomach.  Seriously.)
Aahhhhh…isn't that delightful?!
Interestingly, it didn't look or smell like sewage.  It looked like dirt.  And when I would run water in the kitchen sink, the tub would back up even more.
Anyway, after my sister Cathy and brother-in-law Bill came over to try to help me out (with no success…obviously…because the problem ended up being roots and not just a random clog in the line), I decided to give Liquid Plumber a try.
And here's my public service announcement…
Don't ever use Drano or Liquid Plumber if you have an old house with old metal pipes.  Never.  Just don't.  If you have a bad enough blockage and that stuff sits in the line, it will eat right through that old metal.
And that's exactly what it did under my house.
So the plumber replaced the pipe under the house.  That was the quick, (seemingly) easy, and surprisingly inexpensive part.
But it still wasn't draining properly.
So they went out to the front yard, and searched for a cleanout so they could snake the pipe.
And they searched.
And searched.
And searched some more.
Long story short, I don't have a cleanout on my pipe.  Current code states that you have to have a cleanout at the house, and another one at the street.
I have none.
What they did find was that evidently the pipe has been snaked before, but because there was no cleanout, someone just literally carved out a big 5-inch-long hole in the top of the buried pipe and then tried to cover it with some PVC.
Such a big mess.
They snaked that thing from the house to the street about four times, and finally got it clear enough so that everything would drain properly, but the bottom line is that the whole pipe from the house to the street needs to be replaced, and I need two cleanouts added.
That's another $1200 (plus the $180 I've already paid them over the last two days).
Once more, my house leveling has been postponed, along with all of those projects that have to wait until the house is level.
And so that, my friends, is why I'm pouting like a spoiled child.
And wallowing in self-pity.
Because all I want to do is decorate.
Addicted 2 Decorating is where I share my DIY and decorating journey as I remodel and decorate the 1948 fixer upper that my husband, Matt, and I bought in 2013. Matt has M.S. and is unable to do physical work, so I do the majority of the work on the house by myself. You can learn more about me here.
I hope you'll join me on my DIY and decorating journey! If you want to follow my projects and progress, you can subscribe below and have each new post delivered to your email inbox. That way you'll never miss a thing!