My Foundation Leveling Money Is Now Buried In My Front Yard
…in the form of a brand new sewer line going from the house to the street.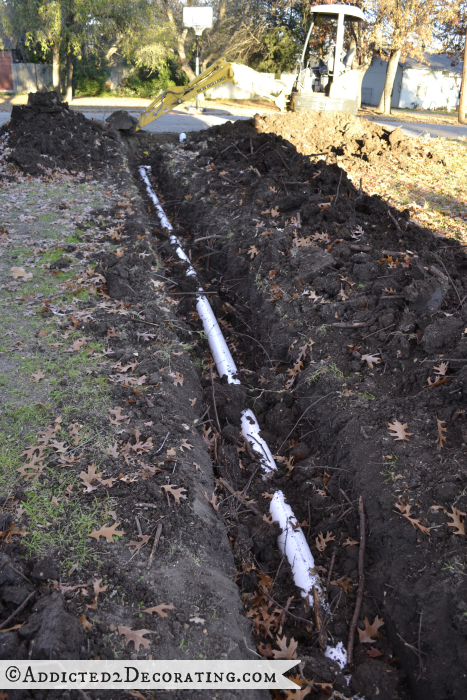 Isn't it beautiful? 🙂
You know what's funny? I was pouting and throwing a fit like a spoiled child about this just a few days ago (because all I really want to do is get our foundation leveled so I can start adding wainscoting, pretty trim, etc. to the rooms), but now I'm kind of excited about it.
I know…what a strange thing to be excited about, right? A new sewer line is exciting?
But I just love seeing old, outdated, non-functioning things on this old house being replaced with new functioning things that I know will last for several decades to come. And when the plumber dug the trench, and I saw the old clay (clay!?!) sewer line all jointed, crumbly, and filled with roots…
…I just got a bit excited for my house getting this upgrade, and I knew that we made the right decision to put this ahead of the house leveling.
And now we've got two very easily accessible cleanouts, whereas before, we had none. Not even one. I love seeing things being brought up to current code like that. 🙂
As local code requires, we've got a cleanout at the house…
…and another one at the street.
The only thing I wasn't excited about was seeing them dig a huge, deep trench right next to my beautiful oak tree.
I panicked at the thought of them ripping through very big, very old, very established roots to get to the sewer line. I went out and looked, and the biggest roots I saw were about 1 1/2 inches in diameter. I'm just hoping and praying that the tree will be okay. I'm sure it will. It has a massive root system going out in every other direction, so I'm almost certain it'll be okay.
Can you tell I'm trying to reassure myself? 🙂 I'd just be so incredibly sad if we lost that tree.
It'll be okay, right? 🙂
Addicted 2 Decorating is where I share my DIY and decorating journey as I remodel and decorate the 1948 fixer upper that my husband, Matt, and I bought in 2013. Matt has M.S. and is unable to do physical work, so I do the majority of the work on the house by myself. You can learn more about me here.