Last Updated on December 24, 2015 by Kristi Linauer
Y'all might have noticed that I pretty much jumped into my kitchen makeover/remodel/whatever-you-want-to-call-it with both feet and no real roadmap.
I've gone from thinking I was going to do some quick, cheap, temporary makeover, to now thinking that I'll just skip over that and go right for the permanent stuff.  I mean, if I can't reuse the long bank of cabinets (where my new sink will go), then I have to build something, and why not just build the final cabinets?  Why waste money on something temporary?  The other side, where the stove and fridge are, also needs cabinets.  Again, temporary stuff would just be a waste of money.
And if I'm going to put new cabinets on those walls, then why wouldn't I go ahead and put new cabinets on the glorious "wall of storage" wall?
Of course, it all comes down to money.  So you very well might see me making one cabinet a week until it all gets done.  Who knows?  I'm flying by the seat of my pants here.  (And strangely enough, I feel perfectly calm about that.)  😀
But at some point, I've got to start making some decisions.  Here's what I know for sure.
I have the appliances — the Artistry line from GE.
So far, I have the gas range and the fridge.  I'm debating whether or not I want the dishwasher.  I'm kind of leaning towards getting a dishwasher that can be covered with a cabinet door panel since it'll be on the side of the kitchen that is seen when you first walk into the kitchen.  I'd kind of like that whole bank of lower cabinets to be completely uninterrupted by appliances.  But then I wonder if that would make the other side feel too "appliance heavy."  Or if that even matters.  I don't know.
Anyway, we don't need the microwave.  We haven't used a microwave in ten years, and won't start now.
Cabinet color:
Cameron Diaz's Manhattan apartment kitchen as featured in Elle Decor.
I'm going for the green.  None of this "it's just a temporary fun color."  We all know I love color, and I love deep saturated color, so I'm not scared of the green at all.  I just know I'm going to love it.  And green is one of my two favorite colors.  (That would be greens and blues in case you haven't been paying attention.)  😀
As far as the cabinet door style, I'm still stumped on that, and I'm having a heck of a time deciding.
And I also love the gold/brass accents, which leads me to the lighting that I already have.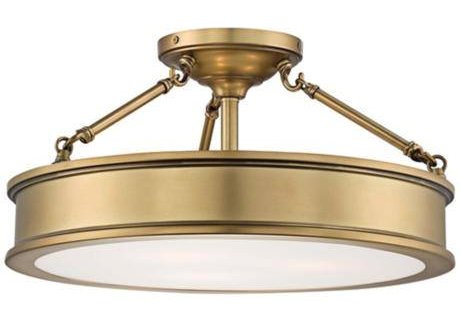 And then I want light and bright countertops.  My dream would be carrera marble, but until that day comes, I'm planning on doing the white Feather Finish countertops.
Via Kara Paslay Designs
Okay, but y'all already knew all of that. I just wanted to get all of that info in one place…mainly for myself.  I'm just trying to get all of my thoughts organized here.
Now here are the decisions that I haven't made yet.
Flooring.  Right now, I have a plywood subfloor covered with these tongue-and-groove wood planks that you can see in this picture.
When we moved in, this wood was covered in vinyl tiles that were barely stuck on, and that I removed with my fingernail.  As you know by now, if it can be peeled, I must peel.  So we've just been living with these bare wood floors since we moved in.
The only flooring option I have that would NOT require me to removed these tongue and groove boards is vinyl tile.  I had groutable vinyl tile in the condo, and absolutely loved it, but I'm just not sure if I want it here.
It would certainly be the easiest option, but since this is our forever house, I want to make a decision based on what I really want, rather than what's cheap and easy.
If I do ceramic tile, porcelain tile, or anything else, the tongue and groove wood will have to come out or else it will create a lip in the floor going from the music room (that's what I've decided to call the original dining room) into the kitchen.  A lip for most people would be no big deal.  But when you have someone in the house who uses a wheelchair, those things have to be considered.  You'd be surprised at what a challenge things like that that most of us don't even notice can cause for wheelchair users.
Honestly, tile doesn't really excited me, so I'm hesitant to go to all that trouble about a flooring that I'm feeling kind of "meh" about.
What does excite me is the possibility of hardwood flooring continuing seamlessly from the music room to the kitchen.  And the other day when I was in Home Depot, they just happened to have a whole pallet of red oak hardwood flooring, and the boards seemed to be the same width as the hardwood flooring in my house.  The only problem was that all of the boards were really short, as in, two feet long.  Strange.
But I thought I could get that, and maybe do a herringbone pattern in the hardwood floor in the kitchen.  The flooring material would be the same, but the design would be different.  And y'all know I love herringbone!
Now I know that a lot of us Americans tend to think of herringbone as a trend that might go away, but herringbone is a classic.  It's not going anywhere.  I first fell in love with herringbone hardwood floors when I lived in Turkey fourteen years ago.  Here's a look at my living room in my apartment in Turkey.
I've loved herringbone floors for fourteen years now, and I don't see me getting tired of it.  Especially since it's tied to such sweet memories of living in Turkey.
But then I wonder about the durability of hardwood floors in a kitchen.  Do any of you have real hardwood floors in your kitchen?  What are your thoughts on that?
So that's what I'm leaning towards for the flooring.  And I have to make a decision before any new cabinets are put in, because if I'm going to be taking out the existing tongue and groove boards, I have to take everything out of the kitchen and get that done first since the current boards go underneath the cabinets.
And then I need to decide about this opening that I'm wanting to create here.
I originally thought that I wanted it just completely open, similar to this…
Contemporary Kitchen by Providence Architects & Designers Union Studio, Architecture & Community Design
But now I'm wondering if I might want to add a support column on both sides of that opening (just from the top of the opening down to the countertop or bar or whatever will be there), kind of like this, but not exactly like this (but I think you get the idea)…
And then on the support columns, I would use the sconces that I got to go above my fireplace and now don't have room for. (I got them from Shades of Light, but I think I bought the last two because it's not on their site anymore.)
I really love the idea of using these sconces in the kitchen, but I'm not sure about adding a support column just so I can use a sconce if I don't otherwise need a support column.  (I'm still waiting on a contractor to make time in his schedule to come over and give me his input on that.)
And then the final decision I need to make pretty soon is what I want to do on the walls.  Do I want tile?  Paint?  A combination?  Do I want to be daring and find some wallpaper that I love?  Do  I want to DIY something that looks like wallpaper?
I've had this crazy idea of using nail heads to create a design all over the wall — something similar to what Sarah did in her bedroom with the nailhead trim design behind the headboard.
So those are my random, scattered thoughts on my kitchen.  I've got some decisions to make!  Thankfully, I have a couple more days of drywall mudding ahead of me, and that'll give me lots of time in the kitchen where I can ponder these ideas.
But if you have any input on (1) hardwood flooring in the kitchen, or (2) adding a support column even if it's not needed for the actual structural support, just for aesthetics and so I can uses my sconces, I'd love your input!
Addicted 2 Decorating is where I share my DIY and decorating journey as I remodel and decorate the 1948 fixer upper that my husband, Matt, and I bought in 2013. Matt has M.S. and is unable to do physical work, so I do the majority of the work on the house by myself. You can learn more about me here.
I hope you'll join me on my DIY and decorating journey! If you want to follow my projects and progress, you can subscribe below and have each new post delivered to your email inbox. That way you'll never miss a thing!