Last Updated on December 24, 2015 by Kristi Linauer
Y'all were so incredibly helpful with your kitchen flooring input yesterday!  To be honest, I was very shocked that the overwhelming majority of you who have hardwood floors in your kitchen seem to really love them.  Only a small percentage warned against putting wood floors in a kitchen, but the majority of you said you loved them, they were easy to clean and care for, and they were so much warmer and softer than tile.  I really expected the majority to say it was crazy to put hardwood in a kitchen.
So based on that input, I've decided to definitely go for a wood floor, but not necessarily the herringbone floor I mentioned yesterday.  Since quite a few of you suggested keeping the wood I currently have and refinishing it, I've given that some thought as well.
One problem is that the wood that's currently in the kitchen is a completely different species from the rest of the house.  So sanding it and coating it with Waterlox like I did on the red oak floors in the rest of the house is out of the question.  It would look completely different, and look like I just ran out of material and ran out and grabbed whatever discount flooring I could find to make up the difference.
But I could paint it.
So my choices have been narrowed to:
Purchasing new red oak hardwood floors and installing them in a herringbone pattern, or
Keeping the current wood floor and painting it.
I honestly don't know which one I prefer.  They both have pros and cons.
The main "pro" about a herringbone floor is that I absolutely love the way it looks.
Transitional Hall by Hudson Home Builders Divine Custom Homes
And it would keep the flooring consistent throughout all of the original parts of the house, with the exception of the hallway bathroom.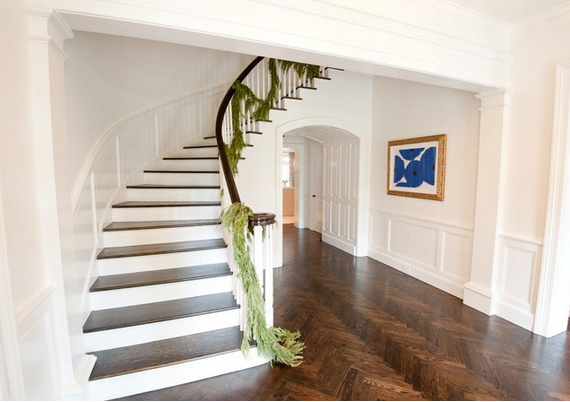 Traditional Staircase by Houston Interior Designers & Decorators Munger Interiors
As I mentioned yesterday, I've loved herringbone hardwood floors for at least 14 years now, so it's not just some trendy flooring that I'll get tired of any time soon.  Herringbone hardwood floors are classic.
Traditional Entry by Phoenix Architects & Designers Candelaria Design Associates
But of course, there are some cons.
Traditional Home Office by Washington Interior Designers & Decorators Sroka Design, Inc.
The flooring in the rest of the house is 65 years old, so there's no guarantee that the new hardwood floor, even if it's the same species and sealed the exact same way, will match the rest of the house.
The floors would be a medium brown, and I wonder if that would be too dark in a tiny kitchen with dark cabinets.
This option would be incredibly labor intensive.  I'd have to remove everything from the kitchen (appliances and existing cabinets), remove the existing tongue and groove floor, and install the new floor…and I'd be working by myself.
It's the most expensive option.
I couldn't do new hardwood floors immediately.  While it's not break-the-bank expensive, it's one of those somewhat big expenses that would come out of our main account rather than out of my fun decorating money that we budget each month.  And the next house-related project we have scheduled to come out of our account is leveling the foundation of the house, which Matt all but guarantees will happen next month.  That means that new hardwood floors would have to wait until probably the end of next month before I could even order them.  So that would put everything on hold.
The other option is painting the existing floor.
I absolutely love a painted wood floor, and I've wanted a painted wood floor for a very long time.  They're so charming, and I could keep it light and bright with lots of white, which would be great with my green cabinets.
Traditional Living Room by New York Media & Bloggers ABRAMS
I could do it all one solid color like the photo above, or I could do a design on it.  Because my kitchen is so small, I'd keep the design simple, like a large checked pattern.
Traditional Kitchen by Ambler Interior Designers & Decorators The Painted Home
And I'd keep it bright, like this bathroom floor, with white and cream.
Traditional Bathroom by Charlotte Interior Designers & Decorators Katie Emmons Design
Painting the existing floor would save money, and it's something I could do almost immediately, so no holding up progress on the kitchen.
Of course, the one "con" to a painted floor that I can think of is the wear.  But I honestly can't decide if that really is a con.  The kitchen floor above from The Painted Home shows wear, and I kind of think it adds charm to the floor.  Plus, it can always be repainted very easily.
So those are the two I'm contemplating.  If I were pressed to make a decision right this minute, I actually think I'm leaning ever so slightly towards the painted floor.  Believe it or not, my slight preference for the painted floor isn't even based on the cost/time factors.  My main reason for my slight preference towards the painted floor is that I can keep it light and bright by using lots of white, and I think that might really be needed in a tiny kitchen where I'm planning on painting the cabinets a dark-ish green.
And I guess I could go ahead and paint the floors, see how I like them, and then in a month I could decide whether I want to swap out for a red oak herringbone, or if I want to stay with the painted floor.
I'd love to know if any of you have a painted wood floor in your home!  And if so, do you like it?  Is it easy to care for?  Does it wear?  And if it wears, does it bother you, or do you find it part of the charm of a painted wood floor?
Addicted 2 Decorating is where I share my DIY and decorating journey as I remodel and decorate the 1948 fixer upper that my husband, Matt, and I bought in 2013. Matt has M.S. and is unable to do physical work, so I do the majority of the work on the house by myself. You can learn more about me here.
I hope you'll join me on my DIY and decorating journey! If you want to follow my projects and progress, you can subscribe below and have each new post delivered to your email inbox. That way you'll never miss a thing!