Last Updated on December 24, 2015 by Kristi Linauer
I've promised for a while now to show you how my living room looks today, so today's the day.  I didn't do a lot of (or any at all) deep cleaning in here, so please overlook the layer of sawdust that seems to cover everything.  🙂
You'll remember that my living room looked like this on the day that we were handed our keys…
And today it looks like this…
It's definitely an improvement, and you can see that I did have a vision in mind as I was working on it, but oh my goodness….there are so many abandoned projects in this room!!
You like how I left that one area of painted concrete floor exposed?  I honestly have no idea why it still, to this day, has no tiles.
I mean, the tiles are right there, stacked in those boxes.  And don't even ask me how long they've been there.  (If I start thinking about it too much, it could get really depressing!)
And then there's that nice 4-inch gap in the baseboards.  See it?  When the hallway closet was removed and expanded to make way for the cabinets, and the new opening was drywalled, it somehow left a 4-inch area that wasn't covered with baseboard.  So I removed the baseboard and moved it over.  Then that messed up one of the battens, so I reattached it and loaded it down with wood filler.  And it's been like that ever since.  🙂
There are two really daunting tasks ahead in this makeover.  The first is the ceiling.  You'll remember that my kitchen and breakfast room ceiling has the faux wood plank treatment…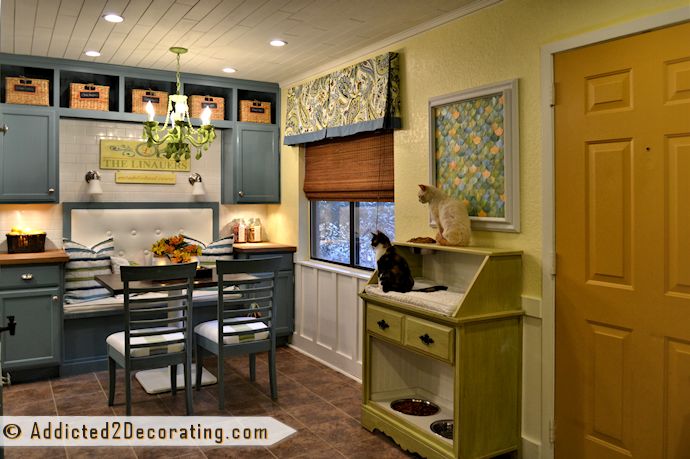 But looking the other way, here's what you see…
(Those dark rings around the lights are just from my poor photography.  I have no idea how to photograph lights.)
So I have two concerns about the ceiling.
First, I don't own a table saw, and the last time I asked someone at Home Depot to cut wood into 4-inch strips for me, it caused drama.  And seeing that this project will take about eight sheets of 1/4-inch plywood to cover, I just know that that's going to cause a problem.  So do I just go ahead and buy a table saw (since I want one when we move into the house anyway), and then put it in storage until then?  Or do I try to get the people at Home Depot to do it for me?  I dread that.
The second concern is that I have no idea how to arrange the slats on the ceiling.  See how I ended the breakfast room ceiling with one slat running perpendicular to the rest?  I can do one of two things.  I can either remove that one slat, and continue all of the slats in the same direction.  OR, I can leave that one perpendicular slat there, and continue adding slats that direction from the front door through the hallway (which is directly in front of the door), and then in the living room, I can change directions again so that the slats are going the same direction as in the breakfast room.
Wow…did you follow all of that?  I have concerns about both way.  I'm afraid changing directions in the doorway/hallway area might make things look busy.  But if the entire ceiling has slats going the same way, I'm afraid that any crooked slats will be even more noticeable.
Okay, moving on…
The second daunting project is the main wall with the cabinets.
Basically, I want to keep this basic concept, but I want a do-over.
I had originally wanted the cabinets on either side to look more furniture-like, so I added furniture legs to them (which I removed several months ago when I decided that I wanted to finish the floor…and you see how far I got on that).  🙂
I don't like that anymore, and I think it's wasting valuable space.  In a place this tiny, that space would be better used for a drawer for more storage.  So I want to try my hand at building a drawer.  (I've never done that before!)
Then there's that middle cabinet section.  These are all just stock cabinets from Home Depot.  The problem is that they are kitchen cabinets…and they LOOK like kitchen cabinets.  Built-in cabinets in a living room generally don't have a toekicks, and the cabinet is just way too deep.  I do really like the differing heights and depths, but a 24-inch cabinet right there is just too much.
Then there's the color.  I want these cabinets to be white.  I absolutely love my teal color on my kitchen cabinets, but it's just too much having that color in here also.  With the teal color overused like this, it becomes not-quite-so-special.
And then there's the shelves.  I don't like them anymore.  I want to build some bookcases on either side instead of having open shelving.
So that's where I'm heading with this makeover.  And of course, there are a thousand other things that need to be done, but if I cover all of them in this post, I'd be here writing all day.  🙂  And obviously, I need to step away from the computer and busy!
And please, if you have any input on the ceiling situation, let me know!!!!
Addicted 2 Decorating is where I share my DIY and decorating journey as I remodel and decorate the 1948 fixer upper that my husband, Matt, and I bought in 2013. Matt has M.S. and is unable to do physical work, so I do the majority of the work on the house by myself. You can learn more about me here.
I hope you'll join me on my DIY and decorating journey! If you want to follow my projects and progress, you can subscribe below and have each new post delivered to your email inbox. That way you'll never miss a thing!