Last Updated on December 24, 2015 by Kristi Linauer
Well, the time has come.  It's time for me to get on the ball with my living room makeover!  I finished up my whirlwind bathroom makeover, took a couple of weeks off of DIYing to rest up, and now it's time.
Generally when I start a room makeover, I have some grand vision in my head of what it'll look like when it's finished.
I'll be honest.  I have no such vision for my living room.  I mean, there are certain elements that I've already installed, like a whole wall of cabinets, that will be the focal point in the room.  But other than that, I'm at a loss.
I'm just gonna wing it, and we'll see how that works.
So for now, let me show you what I started off with.  There's really not much to show.  When we bought the condo, the whole place was filled with apartment-grade everything, and the living room was just a plain, drab, empty box of a room.
You can see the front door on the far left side of the picture, and then our one living room window.  (We only have four windows in our whole condo.  I'm starved for windows and sunlight!!!)
And as I've said before, when we were handed the keys to our condo, I didn't even bother waiting for the electricity to be turned on, or clearing out the previous occupants' junk.  I just went in and started taking pictures.  I was a bit anxious.  🙂
You can see how drab and dull the place was, but in my mind, it was a blank canvas.
Look at that gross carpet.  Yuck!  It was one of the first things to go.  I'm not a huge fan of carpet in the first place, especially not when living with pets, but living with carpet in a place that was previously used as a rental is absolutely unbearable to me.
The one thing I love about the living room is that it had two large, blank walls.  The possibilities really seemed endless to me.
And in that picture above, you can see the hallway to the far right side of the picture.
So to help you get your bearings (and for those of you who may be new here…welcome!), when you're looking at the front door from inside the condo, to the right is the living room….
…and to the left is the breakfast room, which now looks like this…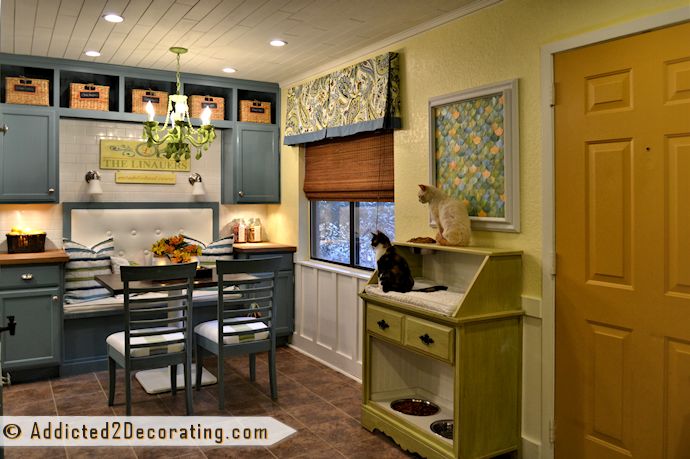 …but started out looking like this…
And if you stand in front of the door and look straight ahead, you'll see the hallway.  You can catch a glimpse of that hallway on the right side of this picture of the living room, with the old bi-fold doors on the closet door…
That hallway now looks like this…
…but it started out looking like this…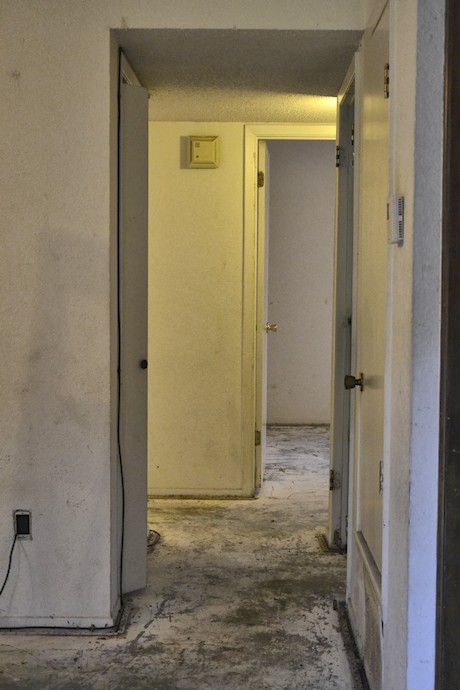 (That picture was taken after I had already started doing work on the condo.  You can see that the flooring had been removed.  With all of my picture taking, I never did get a good true before picture of the hallway!)
So that's where I'll leave you today…with all of the possibilities swirling around in your heads!
Although I haven't done any work on the living room in probably two years, it really looks drastically different from the before pictures above (thank goodness!!).  I would show you today, but in all honesty, the living room is a complete mess right now, filled with tools, ladders, and other randomness.  I'd be horrified if any of you saw it in its current condition.
So today, I'm going to get it clean up and emptied out, and tomorrow in a couple of days in a few days I'll show you where it stands today.  And hopefully as I'm working and cleaning today, a clearer plan of action will form in my head as to what I want to do with this room.  If that happens, I'll share that with you tomorrow as well.
Addicted 2 Decorating is where I share my DIY and decorating journey as I remodel and decorate the 1948 fixer upper that my husband, Matt, and I bought in 2013. Matt has M.S. and is unable to do physical work, so I do the majority of the work on the house by myself. You can learn more about me here.
I hope you'll join me on my DIY and decorating journey! If you want to follow my projects and progress, you can subscribe below and have each new post delivered to your email inbox. That way you'll never miss a thing!