Living Room Update: Bookcases, Ceiling Fan, and Bargain Basement Chairs
Progress is being made on the living room. Yay!
My in-laws are here this week, and they've graciously volunteered to help me get some projects done around here. So yesterday they installed a ceiling fan in the living room.
I know, I know…an interesting chandelier or something like that would have been much better. Believe me, I did NOT want to put a ceiling fan in there, and if we were staying here, I most certainly would have opted for a more stylish and interesting lighting option.
But the truth is, this is Texas, and this condo will be on the market in the summer, and I'm trying to make myself think more practically. And that means ceiling fans. Truth be told, I think it looks pretty great, too. Especially considering we've just had a bare bulb there for so long!!
And as you can see, I also started on the bookcases.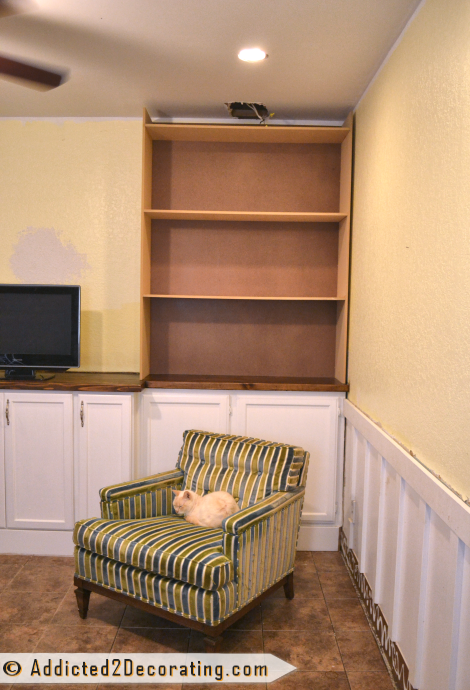 They're very rough at this point, and have a very long way to go. Right now, I'm feeling a bit unsure about the whole thing. I used MDF because it's cheaper than plywood, but the problem with that is that MDF isn't as rigid as plywood. So I either need to find a way to add a ton of support to the shelves so that they won't bow, or I need to go a different route with a different material.
I've done some research, and it seems that there really isn't any perfect material for shelves this wide (45 inches). They say that even high grade plywood will bow over time. But that was on a forum with a bunch of carpenters (all men) talking about building wide shelves. And if there's anything I've learned from years of watching my father work on projects, followed by years of working with contractors on clients' homes, and then ten years of marriage, it's this: Men are generally quicker to say "That can't be done!" than women are. And quite often, I've found a way to do the "impossible". 🙂 So I'm going to put some thought into it, and I'll let you know what I come up with.
And then the last thing…
Did you see my chairs?
I bought this pair of chairs from a church garage sale about three years ago for eight dollars (four dollars each). They're incredibly sturdy, and I liked the boxy shape, so I bought them and have had them in storage all these years, thinking that I would eventually reupholster them and use them.
Well, I've been a big concerned about staging my living room for sale, because I didn't want to buy furniture for it since I might not use it in the house, and that would be money wasted. So a few days ago, I was at my storage building, I saw the chairs, and it dawned on me that I could probably just use those in the living room. So I brought them back, and I love them!
They're teal and green stripe, so they really do look like they were made just for my condo!
The only problem is that the previous owner clearly had a cat, and kitty clearly like to use these chairs as her scratching post.
The sides on the back of the chairs are all scratched up, but even the fronts have snags all over. But I've found that if I use scissors and trim the threads, it actually looks pretty good. So I'm going to finish that up, and then clean the chairs, and I think they'll really look nice in the finished room.
Can't beat two upholstered chairs in the perfect colors for eight bucks!!
Addicted 2 Decorating is where I share my DIY and decorating journey as I remodel and decorate the 1948 fixer upper that my husband, Matt, and I bought in 2013. Matt has M.S. and is unable to do physical work, so I do the majority of the work on the house by myself. You can learn more about me here.