The Finished Studio Door Portico (Plus, One More Coral Door)
I have finally finished the portico over the side studio door! And it was just so darn cute that I couldn't help but to paint that door coral also. Here's how it turned out…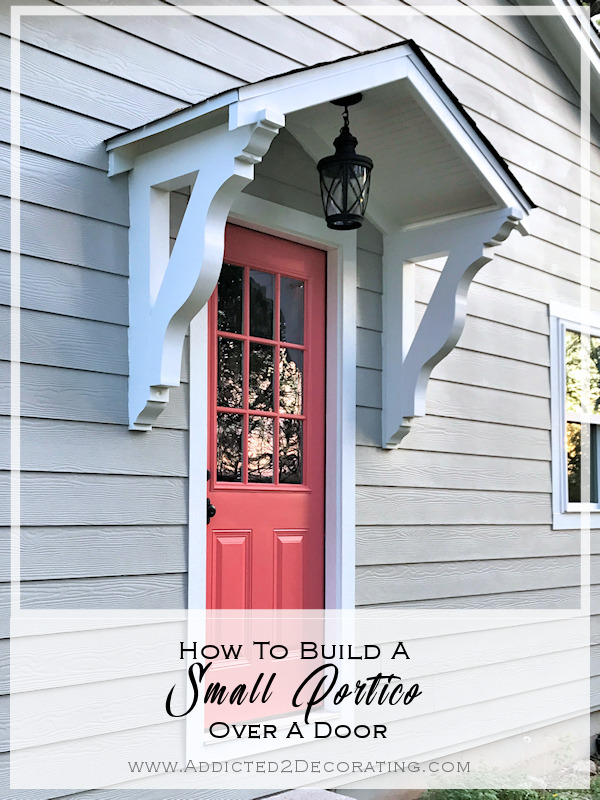 I've done several multi-post projects before, and I've done several projects that have taken me a while to finish, but this one takes the cake. It has been seven months since my last portico post!
If you missed the first two posts about this project, you can click the links below to see the details.
I was in a time crunch to get the portico roof to a certain point (flashing and shingles on the roof) before the guys installed the siding, but the pretty brackets that I ordered hadn't yet arrived, so I originally built the brackets with three pieces of 2″ x 4″ lumber — one vertical, one horizontal, and one diagonal. The vertical and horizontal pieces were a permanent part of the structure, but the diagonal piece was intended to be temporary until my more decorative brackets arrived.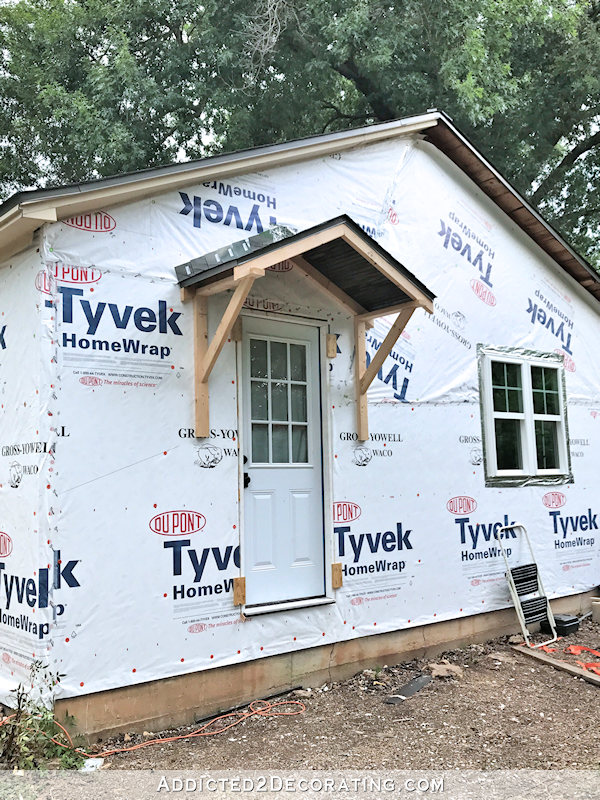 The brackets that I used are these 3.5-inch-wide, 24″ x 36″ western red cedar brackets. They weren't cheap, but I think they're totally worth it. They really elevated the appearance of the portico from a standard DIY look to a totally custom look.
To install them, my brother literally held the roof up as I removed the diagonal 2″ x 4″ piece of lumber, lifted the new bracket into place, and then screwed it into place while we both held it up there. I used HeadLOK screws (big screws that I found at Home Depot that take the place of lag bolts) screwed through holes that I had pre-drilled. And here's how it looked with the new brackets…
When I had my house painted in January, they painted the portico for me. I was happy to have a couple of coats of paint on it to protect the wood from the weather a bit, but the portico wasn't actually finished at that time. I hadn't done any caulking or sanding, the flat ceiling still wasn't installed, and there was no wiring for the light.
So last Thursday, I decided that a seven month wait was long enough, and it was time to get this portico finished. The first thing I needed to do was run a wire through the wall for the exterior pendant light that would go inside the portico. I had attached a horizontal piece of wood near the peak of the ceiling on both sides. You can see one of them in the picture below.
The purpose of these pieces was to give me something to attach a flat ceiling to (made from the same tongue-and-groove beadboard as the rest of the ceiling). This would give me a small space between the flat ceiling and the peaked ceiling above it to run wiring for a light.
So using a 1/2″ drill bit, I drilled a hole through the frame of the portico near the peak, through the house sheathing (i.e., OSB) and to the interior of the studio. Then I ran my electrical wire through that hole.
I then cut four more pieces of tongue-and-groove beadboard to fit inside the portico from front to back, and glued them together using wood glue. Once they were dry, I measured the width that I needed to create my flat ceiling, used my table saw to trim it to the correct width, and drilled a 1/2″ hole in the center for the electrical wire to come through.
To install the little flat ceiling, I threaded the electrical wire through the hole and nailed the flat ceiling boards to those horizontal strips of wood. Once that was all caulked and painted, I could finally install my pendant light. I selected this Allen + Roth Castine pendant light from Lowe's, which matches the lights on my front porch.
Here's a closer view of the flat ceiling…
I had originally planned to rip the edges of the flat ceiling boards at an angle where they meet the angled ceiling so that it would look continuous, but I tried and tried and couldn't get the angle right. My table saw only cuts angles up to 45 degrees, and I needed more like 60 degrees. So I ended up just ripping the edges of the assembled flat ceiling piece at a 90-degree angle, and then I used some scrap pieces of trim to cover the edges and fill any gaps. It doesn't have that seamless look that I had envisioned, but once everything was caulked and painted, it looked fine.
This little flat ceiling posed a bit of a challenge for me. Since the space between the flat ceiling and the peak of the angled ceiling above it was so short, there wasn't enough space for a regular ceiling junction box. But also, I didn't want to cut a big hole in the center of a narrow ceiling that's made up of individual tongue-and-groove boards that are glued together. A hole large enough for a junction box could potentially weaken the flat ceiling structure.
So I used a shallow box that is often called a "pancake" junction box and surface mounted it to the ceiling. (Just google "pancake junction box" to see what that looks like. I used a round 4″ diameter and 1/2″ deep pancake box.) I don't think that is the true and proper use for a pancake box (so do so at your own risk), but it's something I saw an electrician do years ago when I asked him to install two pendant lights over bedside tables in an area where there was zero space for junction boxes. so I figured it was better than no junction box at all. And most light canopies will fit over and completely hide a 1/2″ pancake box. They're a little more difficult to work with than a regular junction box since there's far less space to move wires around and to house the wires once the light is wired up, but they're great for tight fits like this one.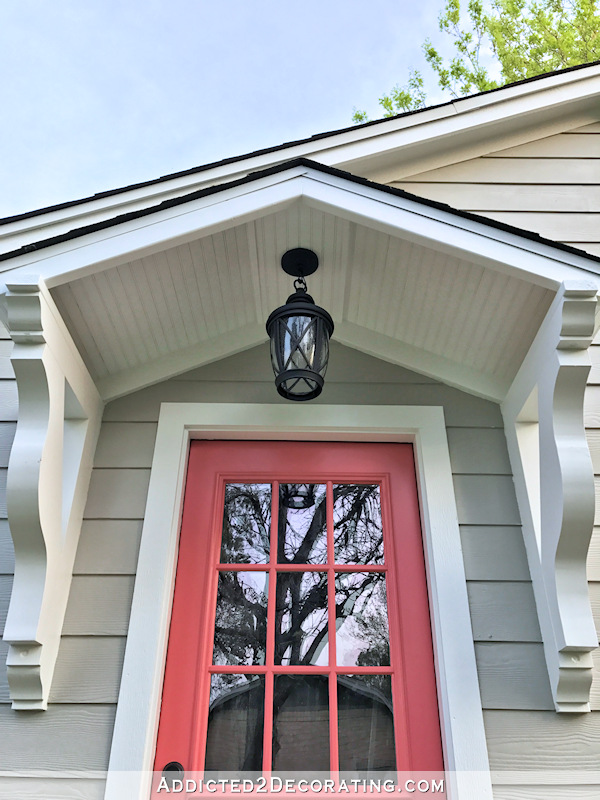 The light doesn't actually work yet since there's still no electrical wiring inside my studio. So for now, the wire inside is just hanging there just inside the door, waiting to be wired up to a switch and powered in the near future. But for now, I can at least look at my pretty, non-functional light.
With the portico finished and looking all pretty, I wanted to go ahead and paint the door. But first, it needed a few repairs. Since I carry my heavy saws in and out of this door quite often, the door had gotten a few dents in it, so I mixed up some Bondo (which you can find at Home Depot or Lowe's) and filled in the dents.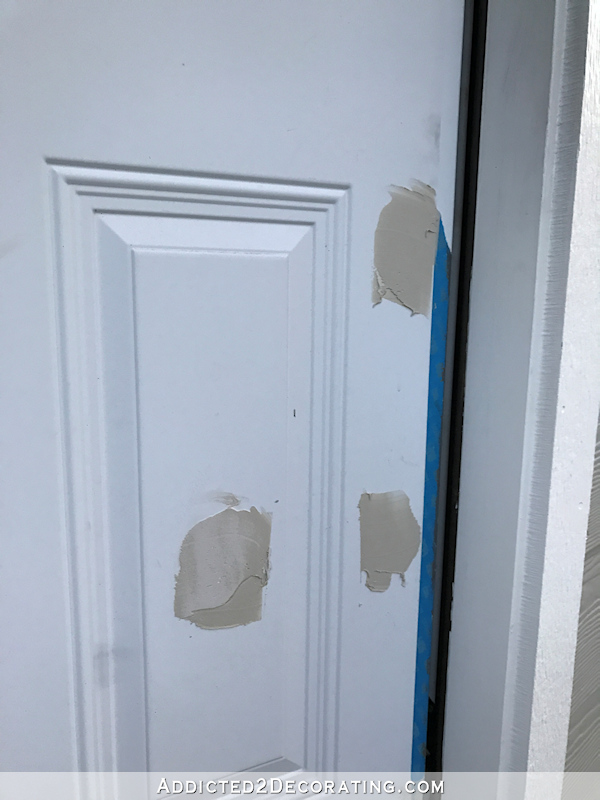 When it was dry, I used my electric sander to sand it smooth, and then painted the door the same coral color as my front door — Benjamin Moore's Bird of Paradise.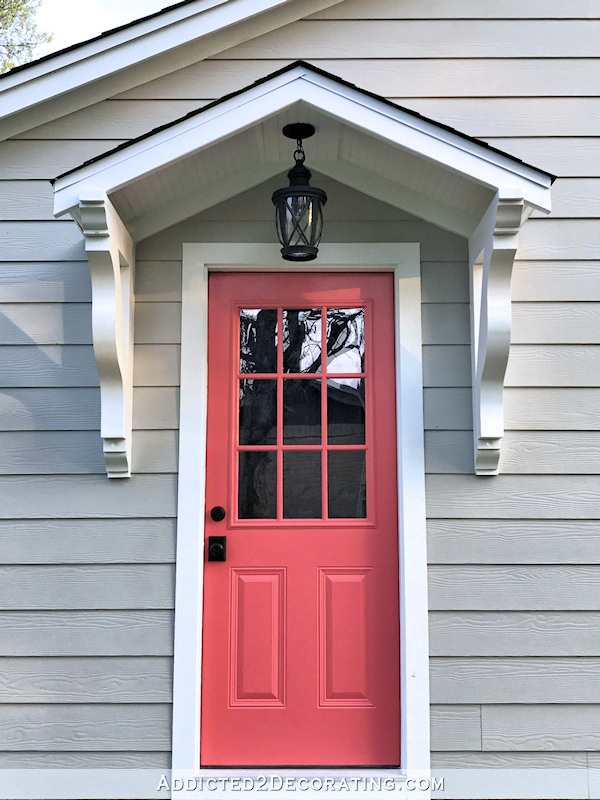 For the record, in theory I totally agreed with those of you who said that I should leave the coral just for the front door. That is completely logical and makes perfect sense to me. But in practice, I just love this color so much and it makes me happy to see it used with my cute little portico and pretty black pendant light.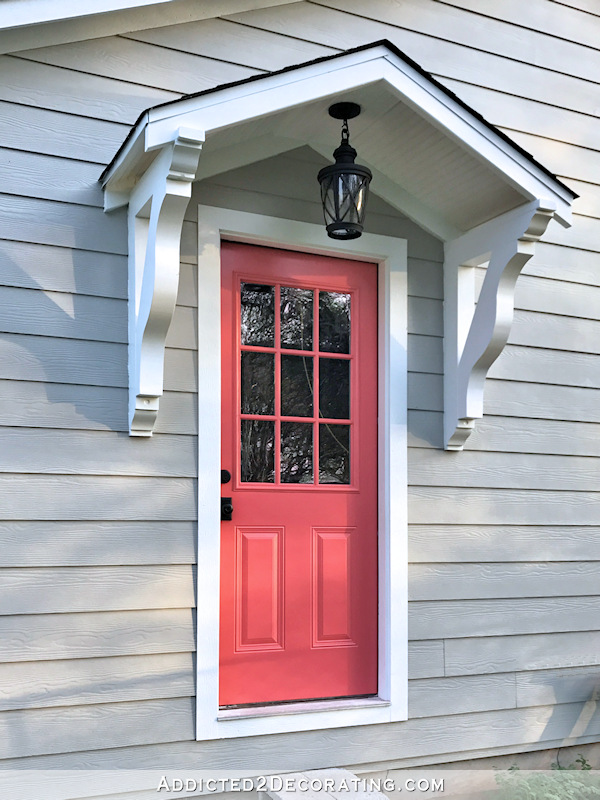 So I just couldn't help myself. I now have a second coral door, and this little area just makes me smile.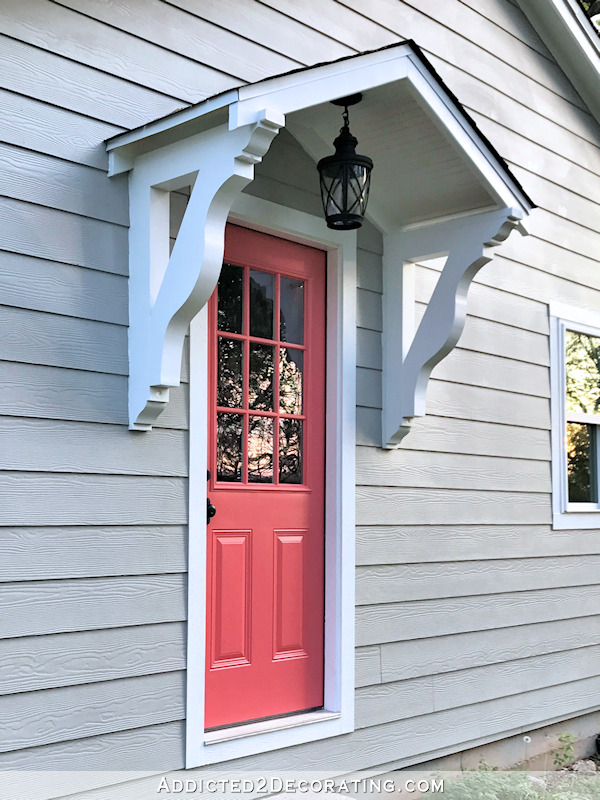 Do you remember what the side of the garage used to look like? I took this picture after that huge, overgrown shrub-turned-tree was cut down about three years ago, which revealed all kinds of mold and mildew that was thriving under that tree.
And now that area has been through quite a makeover, with its new siding, new window, new door, and cute portico.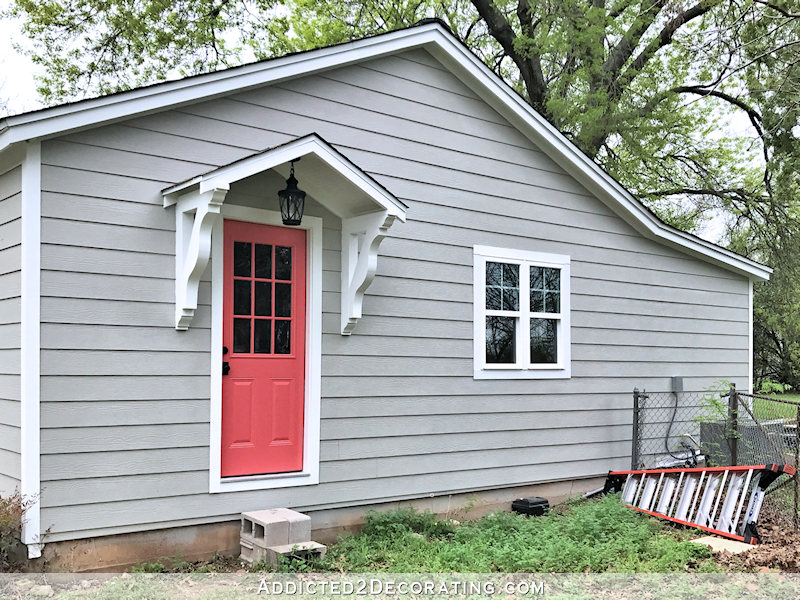 I still need to build some steps and handrails, paint those vertical corner trim boards gray, add shutters and a window box, and do some landscaping. And eventually, the chain link fence and gate will be removed, and the driveway will wrap around this side of the studio and lead to a carport in the back. There's still so much more to do. 🙂
Addicted 2 Decorating is where I share my DIY and decorating journey as I remodel and decorate the 1948 fixer upper that my husband, Matt, and I bought in 2013. Matt has M.S. and is unable to do physical work, so I do the majority of the work on the house by myself. You can learn more about me here.