C.O.P. Week 6 — Quick and Easy Bathroom Organization
You may have noticed that I skipped last Saturday's C.O.P. post. (That stands for cleaning, organizing, purging, in case you're new around here — that's my overarching goal for this year.) Life just got too hectic and I didn't have time to focus on any organizing or purging for that week. I decided to let myself off the hook as long as I picked right back up this week, and I did just that. This week, I focused on purging and organizing the hallway bathroom.
Right now, this is THE main bathroom in our house. On the surface, it looks nice and put together…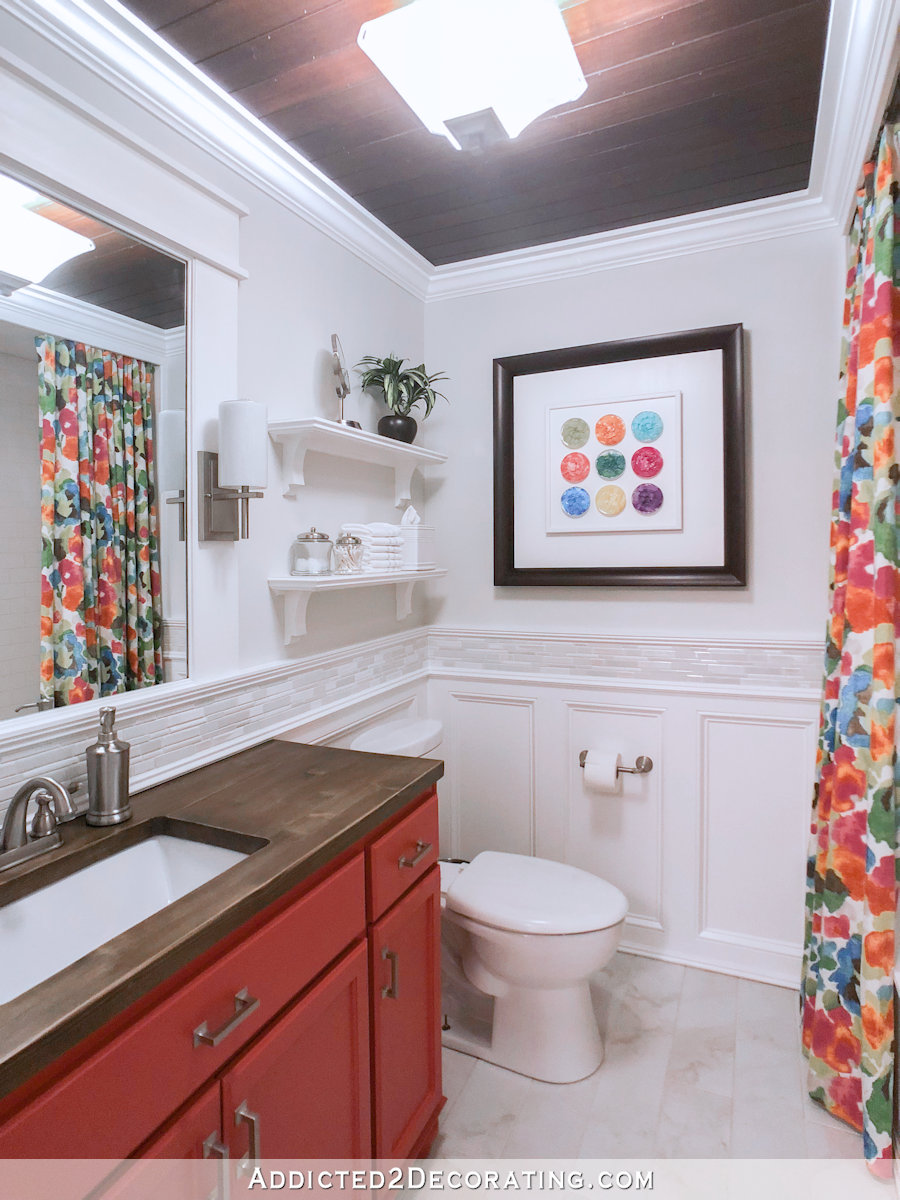 But what you'd never know from those pictures is what an unorganized mess lies behind those cabinet doors and inside those drawers.
These cabinets and drawers did start off with some semblance of organization at one time. But because I had no real organization systems in place, those somewhat organized areas have just turned into a jumbled mass of confusion and junk over the years.
This is really embarrassing and humiliating, but I'm going to show you anyway because if my C.O.P.ing journey can help other messy people like myself, then it's totally worth it. So as embarrassing as it is, let me show you the mess that these cabinets and drawers had turned into…
The top left drawer of the vanity used to hold my makeup. But until yesterday, my makeup sat in a bag that was almost always on the countertop because it had been displaced by this mass of random items…
If I absolutely needed to (read: if someone was coming over), I could shove that bag of makeup into that drawer. But because it was such a hassle (and such a small drawer already filled with random junk) that almost never happened.
The top right vanity drawer is where I used to keep toothbrushes, toothpaste, deodorant, etc. And until yesterday, those pretty much always stayed on the countertop right along with my makeup bag, because they had been displaced with these items…
Well, evidently the deodorant still managed to find a spot among the jumbled mess of other items that included (among other things) a crumpled plastic cup, a random LED light bulb, and Cooper's nail clippers.
The middle cabinet in the vanity used to hold cleaning supplies, and that was pretty much it. But over time, all of this random stuff has crept into the cabinet. And a lot of this stuff — the shampoo bottle, the body wash — are bottles that have just a tiny bit of product left, and rather than being thrown away, they found their way to this cabinet.
This left cabinet is where I keep my hair dryer, curling wand, etc. They're usually just piled on top of whatever this is, but when I took this picture, they were also sitting on the countertop.
The right cabinet didn't have anything in it except dust (and plenty of it) 😀 , so I didn't take a picture of it.
So the entire interior of the vanity was a mess, but the chaos didn't stop there! This other cabinet was also a mess.
At one time, the drawer held Band-aids and other first aid things. But I never really had a plan or purpose for it, so just like the others, over time it has become a jumbled mess.
The lower cabinet has never had a purpose, other than the little towel rack that I installed inside the door to hold the little bath mat. The rest of it has been a mess from the beginning. (The lesson here is that if a cabinet or drawer doesn't have a specific purpose, I will fill it with random junk over time.)
See those two white trash bags filled with stuff and shoved in there? Those are from the condo. As in, I filled those bags with stuff from the condo when we moved out, brought them to the house, and at some point, they found their way into this cabinet. In six-and-a-half years, I've never gone through those bags to see what's in them. Embarrassing.
Obviously, this room needed help. Where there may have once been some semblance of organization, as of yesterday morning, there was none to be found. There was no longer any rhyme or reason to any of these drawers or cabinets. My storage plan for this bathroom until yesterday amounted to "find an empty space and shove it in." And because I had so little empty space because of all of the random junk I was holding onto, so much of the stuff I actually use on a regular basis (hair dryer, curling iron, makeup, hairspray) ended up staying on the countertop pretty much all the time.
So yesterday, this room was my goal, and my mission was to empty out all of the drawers and cabinets, throw away the empty bottles and other random junk, find homes elsewhere for items that didn't need to be in the bathroom (e.g., lightbulbs, power supplies, flea combs and clippers for our pets, etc.).
Unlike the kitchen, I didn't want to add a whole lot of highly customized storage in this bathroom. This is the main bathroom we're using right now, but it won't always be. So there's no need to fully customize this bathroom to hold our stuff since we'll be customizing the master bathroom for that purpose. So I headed to Lowe's and Bed, Bath & Beyond (because we don't have a Container Store in Waco) and bought some simple containers to help me organize my drawers and cabinets better.
Ready to see my progress?
We'll start with the left side of the vanity. (And one thing you'll learn about me in this process is that I'm a sucker for Facebook and Instagram ads. 😀 How many Facebook/Instagram ad products can you spot in my bathroom?)
In the top left drawer, I added two plastic containers, and this is now where my hair clips, ponytail holders, bobby pins, etc.
Side note: If you've seen the ads for the braided hair headband and the messy bun hair doodad, here are my reviews. I don't love the braided hair headband, but I do love the messy bun hair doodad. 😀
In the cabinet below that drawer, I kept with the hair care category. Since the cabinet was so tall and narrow with so much wasted vertical space before, I decided to add a second shelf. This was quick and easy, and only required two pieces of 1″ x 2″ lumber as the shelf supports (attached with 1.5″ 16-gauge nails), and a piece of 1/2-inch plywood that I cut to size on my table saw. Then I found these plastic bins (which I think were labeled as refrigerator bins at BB&B), and used those to store my items…
The bottom container holds my hair dryer, curling wand, etc.
And the top container holds my hairspray-covered brush 😀 , hairspray, hair cutting scissors, etc.
So now all of my hair items are on the left side of the vanity.
For the middle cabinet, I purchased this under-the-sink shelf unit at BB&B (you can also find it here on Amazon) that has mesh snap-on shelves that you can configure around plumbing. I didn't attach the front bottom bar or the bottom mesh shelves so that I could have a little more room. So now that area looks like this…
So much better, right?! After throwing out everything I didn't need (or everything that was basically empty) and relocating items that didn't need to be under the sink, this is all that was left. I kept one bottle of mouthwash and extra bars of soap on the top left, first aid stuff on the top right, my sinus rinse (similar to a neti pot) and saline packets in the basket, hand soap and soap pump (which I'll go back to when I'm through with the current bottle of Mrs. Meyers soap I bought, and after learning that almost all Mrs. Meyers products have a rating of 8 in the Think Dirty app…ugh!!), Matt's hair clippers, my coconut oil, and Epsom salt. I have no idea why that wheat grass was in the bathroom, or why I kept it under the sink. That should be in the kitchen — an obvious oversight last night.
The right vanity drawer is also looking so much better. Here's what's in there now…
Only necessities that I actually use! All of the other stuff has been thrown out or relocated.
And even though the right cabinet started out empty, I still went ahead and created a second shelf and added storage bins in there as well.
It's amazing how good purging and organizing feels! So now my vanity not only looks pretty on the outside…
…but it looks nice and organized on the inside as well!
But obviously, I wasn't done. I still had that other cabinet to conquer. So after emptying out the drawer, purging, relocating, adding containers, and organizing, here's how the drawer looks now…
Side note: More Instagram/Facebook ad product reviews. Face Silk reusable makeup remover pads — amazing! Jerome Alexander MagicMinerals Foundation? Also amazing! Ever since I've started using this foundation, every time I see my mom, she has commented on how amazing my skin looks. Last time she said, "I don't know if it's your diet, or your makeup, but your skin looks so pretty!" I think it's both, and I love this foundation.
And that just leaves one more cabinet, which now looks like this…
I think Matt must have accidentally ordered a 5-pack of Listerine on Amazon rather than just one bottle 😀 . Anyway, this cabinet now holds our overstock of Listerine, cleaning supplies, paper towels, the little bath mat, etc. So much better!
So now this cabinet is pretty on the outside…
…and also nice and organized on the inside…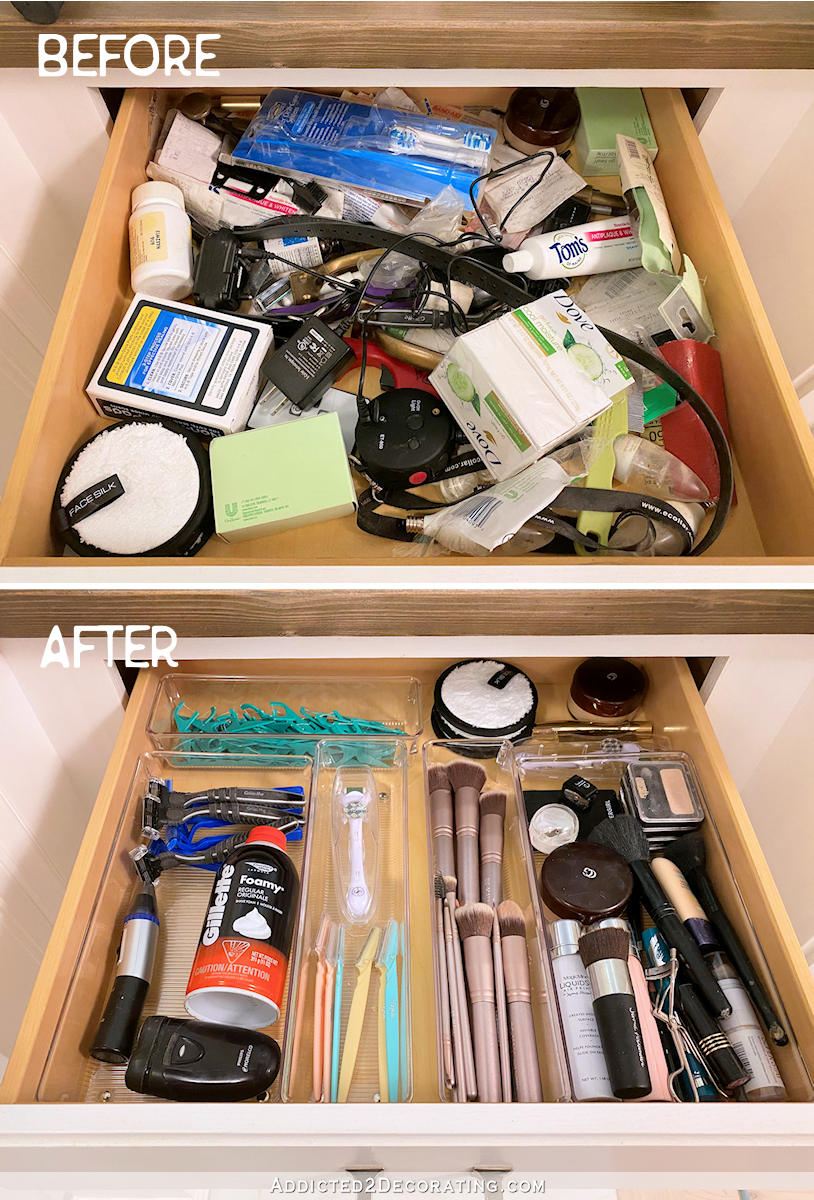 So this week feels like a huge accomplishment in the C.O.P. category. If you're C.O.P.ing with me this year, how have the last two weeks gone for you?
---
---
If you've missed any previous posts about my cleaning, organizing, purging journey this year, you can get caught up here:
Addicted 2 Decorating is where I share my DIY and decorating journey as I remodel and decorate the 1948 fixer upper that my husband, Matt, and I bought in 2013. Matt has M.S. and is unable to do physical work, so I do the majority of the work on the house by myself. You can learn more about me here.