Last Updated on October 6, 2017 by Kristi Linauer
This week, I've had several people ask me why I chose to use polyurethane on my hardwood floors when I refinished them this time after singing the praises of Waterlox for the last three years. So rather than answering all of those people individually, I thought I'd just gather my thoughts and put them in a post for those of you who are considering Waterlox based on my recommendation.
First, let me make it very clear that I was never paid by Waterlox to use or promote their product. I spent weeks prior to us closing on our house researching various products for sealing hardwood floor, and I decided on Waterlox. I ordered my products online and paid full price just like anyone else.
So let me break down the pros and cons based on my personal experience for each of these products.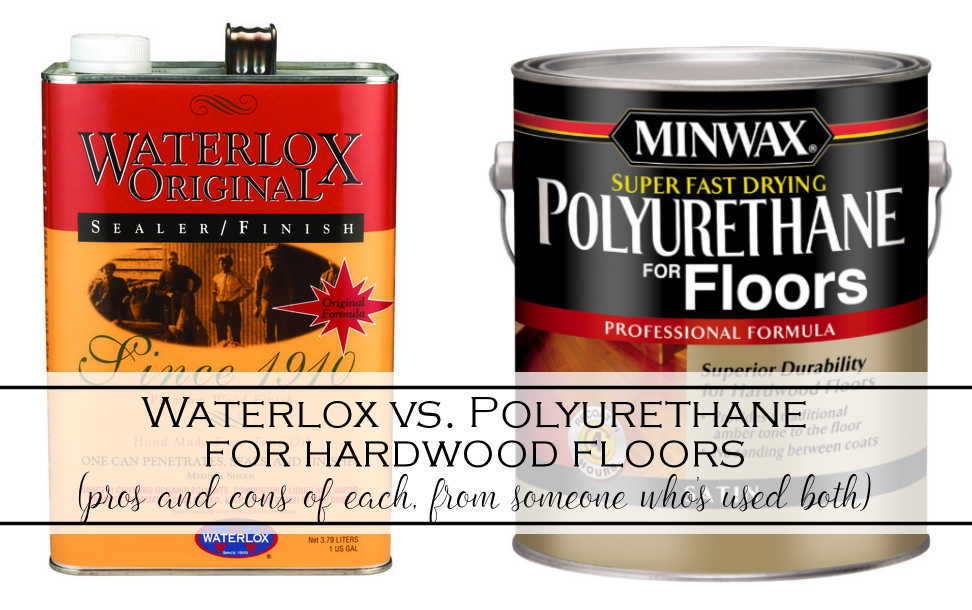 The pros of using Waterlox on hardwood floors
I was drawn to Waterlox initially for three reasons. First, it's a tung oil product, and tung oil has been used to seal hardwood floors for a very long time. With Waterlox, you get the benefit of the beauty of a floor finished with tung oil, plus the long-wearing durability of the hardeners that they use in their proprietary mix.
Second, Waterlox is a penetrating sealer, so it really gets down into the wood to protect it. The first coat basically soaks right in, and part of the second coat does as well, so you'll find that the sheen of the finish is very uneven at that point. It's not until you build up the finish with a minimum of three coats that you'll get an even sheen on the floor.
Because it's a penetrating tung oil product, you really do get a different look and feel from it than you get with a polyurethane, which just sits on top of the wood and forms a plastic-like coating on the wood. It's a quality that's hard to explain, and you probably can't even tell the difference in pictures, but in person there's definitely a difference. This is what my entryway, living room and music room floors looked like back in September 2013 right after I finished them with Waterlox.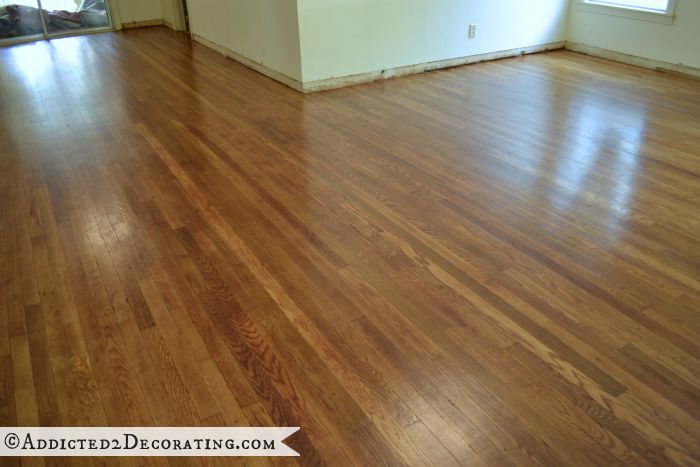 But ultimately, the thing that made me choose Waterlox three years ago is that ability to repair scratches without having to refinish the whole floor.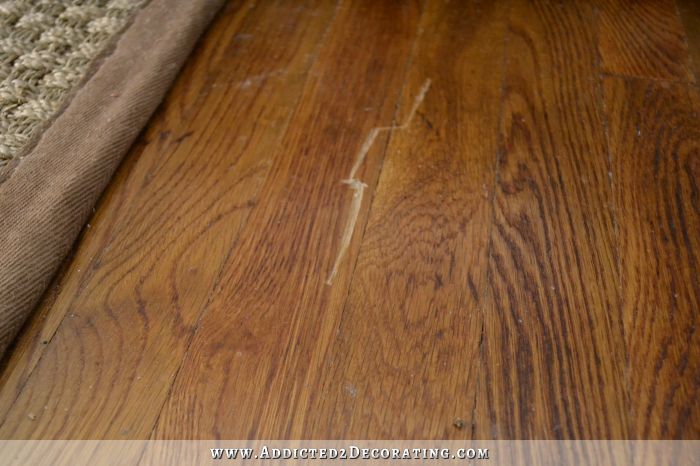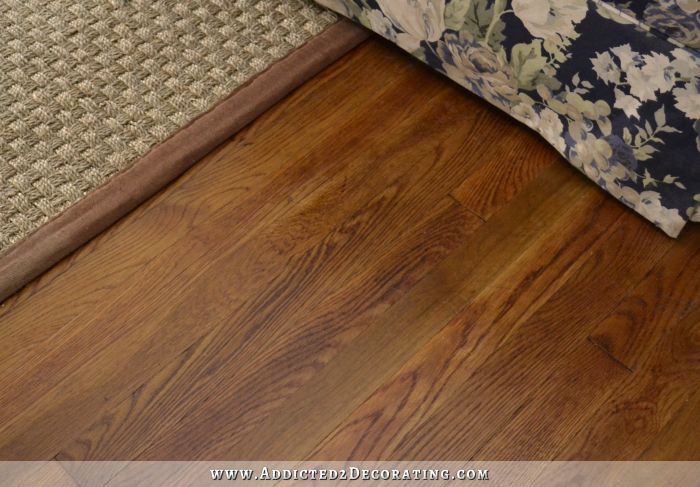 You can read more about that here.
The reason that's possible is because when you add a new layer of Waterlox over an old layer, the new layer basically reactivates the old layer, and the two chemically bond together as one layer. Because of that, you can also recoat your entire floor with a new coat of Waterox without having to sand first (as long as you've never used any kind of waxy cleaner on the floor). Just move out all of your furniture, spot sand any scratches if necessary, clean the floor with TSP, add a new coat, and your floors will be good as new.
So the ability to do spot touchups was the final (and most important) selling point for me.
The cons of using Waterlox on hardwood floors
The main con to using Waterlox on your floors is simply the amount of time it takes. Each coat takes 24 hours to dry before recoating, and you need a minimum of three coats. Once you have applied all of your coats, you need to be gentle with the floors for at least seven days. I'd personally recommend only foot traffic (with clean socks) during that time. They say you can replace furniture and rugs after 7 days, but the last time I did a recoat on my living room and entryway floor…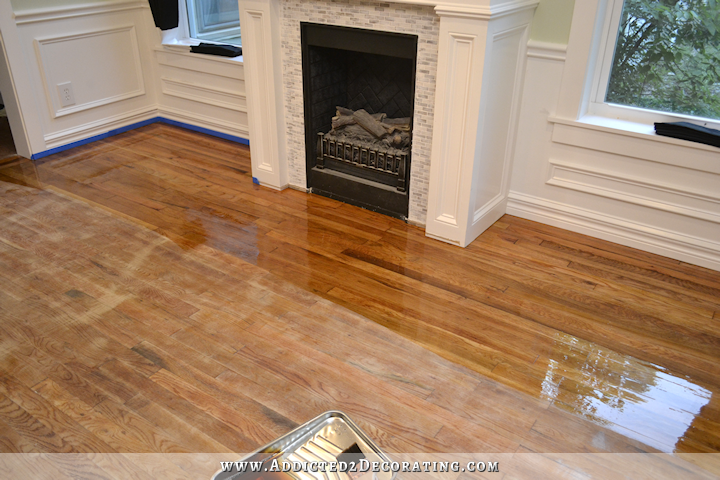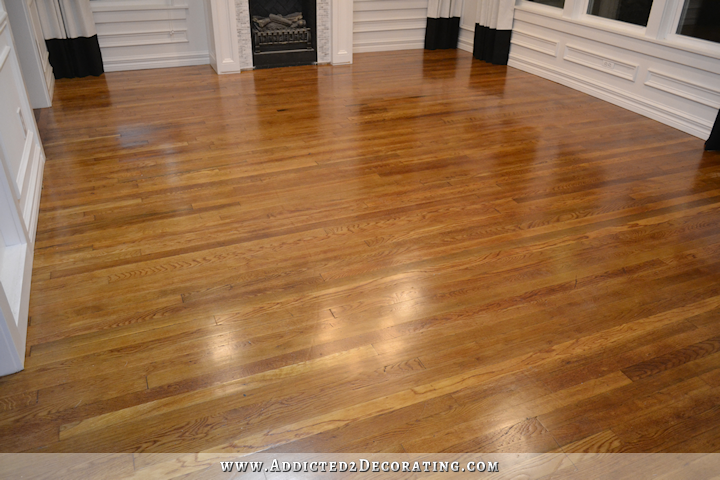 …I waited the seven days to replace the rug and furniture, and the rug still left marks all over my floor. So I'd recommend waiting even longer — two weeks if possible. But even at that, Waterlox takes 30-90 days to fully cure, so during that time, you need to be relatively careful with your floors.
Another big drawback with Waterlox for me, and one that I found over the last three years that I really didn't want to live with, was the orange color it turned my red oak floors. Waterlox has a very definite amber color to it when it's first applied, and it turns even more amber over time. But of course, the way it affects your floor depends completely on the type of wood. If you have a type of wood that's just naturally beautiful on its own, and doesn't need any kind of stain to make it pretty, AND that has a natural color that can stand to be warmed up a bit with an amber tone, then it's perfect. For my taste, that would be something like mahogany or walnut. Waterlox looks gorgeous on those woods.
But if you're using it on lighter wood, like my red oak, or white oak, or pine, etc., then there will be a definite orange undertone. Some people like that and are fine with it. I learned after three years that I'm not one of those people. 🙂
You CAN use Waterlox with stain. There are two options for that. You can either stain the wood first, allow it to dry completely, and then add the Waterlox on top. OR, you can mix stain with your first coat of Waterlox and then follow up with two coats of clear Waterlox.
So why didn't I do that this time around?
Well, in mind, once you start adding stain to the equation, you lose the main benefit that sold me on Waterlox — the easy spot touchups. I'm not saying it's impossible. Where there's a will, there's a way. But let's take my particular floor for example…
I stained my floors with 50/50 mix of Dark Walnut and Special Walnut. That was pretty, but not quite dark enough for me, and I wanted the color evened out some. So if I had been using Waterlox, I would have added some stain to my first coat of Waterlox to even out the color and darken it a bit. Then I would have added two more coats of clear Waterlox.
Repairing any scratches and gouges in that floor would be a multi-day process — first the stain, then the stain/Waterlox coat, and then clear Waterlox over that. There's nothing easy about that, so the addition of stain kind of ruins the main benefit of Waterlox in my mind.
And since the main benefit was gone with my addition of stain, I had little or no motivation to go through the long process of waiting 24 hours between coats, applying three coats, waiting two weeks to replace furniture, etc.
So this time around, I went with polyurethane…
The pros of using polyurethane on hardwood floors
I used Minwax Super Fast Drying Polyurethane For Floors in a satin finish. It's an oil-based polyurethane. (I still don't quite trust water-based polyurethanes.)
The main advantage of using polyurethane is the dry time/cure time of the product. The poly that I used dried and could be recoated in four hours. That means you can completely seal your floors in one day. Staining and polyurethaning can be completely done in two days. TWO DAYS. You can walk on it with socks in just a few hours. You can place furniture on it after 72 hours and rugs after 7 days. It takes 7 days to fully cure. That's a fraction of the time that Waterlox takes to fully cure!
Polyurethane is also the industry standard for hardwood floors. Yes, it's probably because of the convenience of the fast drying and cure time, but it wouldn't be the standard go-to sealer for hardwood floors if it was absolutely terrible, right?
The cons of using polyurethane on hardwood floors
I've pretty much already mentioned the cons, but let me sum them up.
First, polyurethane is basically like coating your floors in a layer of plastic. It's not really a penetrating finish, and just sits right on top of the floor. It does have a different look and feel to it than a natural tung oil finish (or any other wax or natural oil finish), but if you haven't experienced both, you wouldn't ever notice that.
Second, polyurethane is kind of finicky when it comes to recoating. Some polyurethanes have a window of time during which you can recoat without having to sand first. With the Minwax poly that I used, that window of time was 12 hours. If I waited longer than 12 hours, I would have had to sand the floors before recoating. The reason for that is that the individual coats of polyurethane don't bond together to become one coat like Waterlox does. The layers of polyurethane are literally just individual layers. So if you let the first coat dry/cure too much, then you have to sand it to give that coat some "tooth" for the next coat to grab onto. If you don't sand between coats, the polyurethane could literally peel off in layers in time. And what a headache that would be!
But again, you have to read the label. Not all polyurethanes are created equally. The one I used had a window of time that didn't require sanding before recoating. Other polyurethanes will always require sanding between coats no matter how long you wait.  So READ THE LABEL and understand the requirements before starting.
And finally, if you do decide to recoat the floor in your room with polyurethane, it will ALWAYS need to be sanded first. You can do what's called a "screen and recoat" which basically just scuffs up the surface of the polyurethane without taking off so much of the finish that it will affect your stained wood. Once the whole surface is screened, you can add a new coat of polyurethane.
Since I just finished my floors a few days ago, I can't really compare the durability of the two products. Time will tell. But in the meantime, I'm really enjoying the fact that I no longer have orange floors.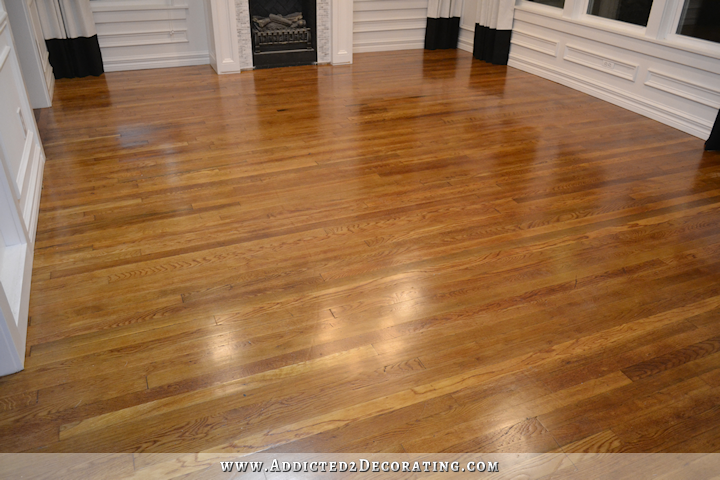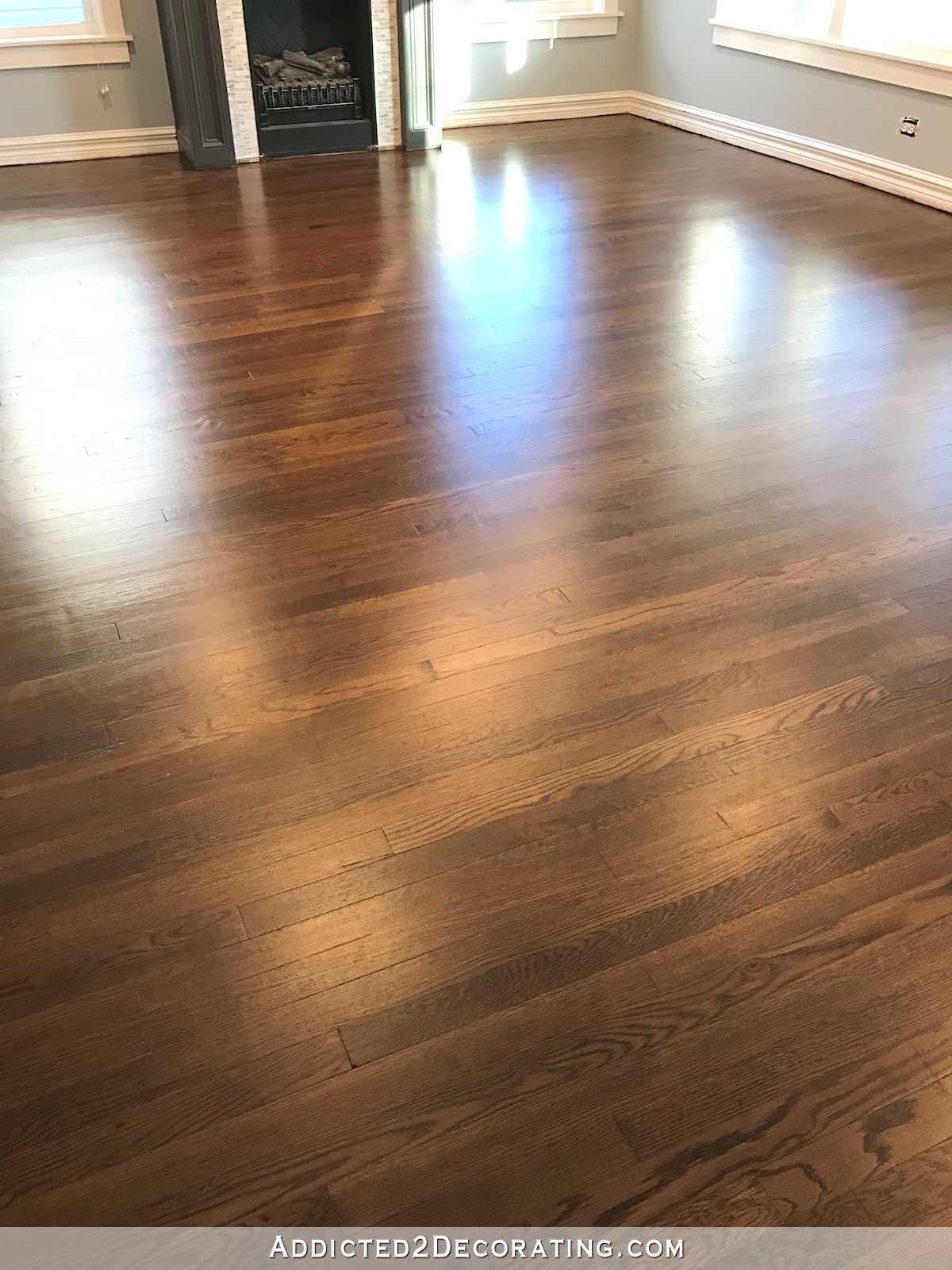 Now just a word about Minwax. 🙂
Several of you asked, "Why did you use Minwax stain on your floor when you've said so many times that you don't like Minwax?"
Fair question. First, I've never had a problem with Minwax oil-based polyurethane. It's always been my go to polyurethane. I've used it for well over a decade, and I'm always pleased with the look and durability of it.
But as far as the stain goes, yes, I have been incredibly frustrated with Minwax stain in the past. But really, it's not so much the stain as it is the wood that I generally use. Minwax is a penetrating stain. If you leave any of that stain built up on the surface of the wood, you need to wipe it off or it'll take a very long time (sometimes days) to dry.
Penetrating stains are perfect for woods that are naturally beautiful — again I go back to walnut and mahogany since those are my favorites. Well, when was the last time you saw me make a project out of walnut or mahogany? Ummm…never. Those woods are incredibly expensive, so I generally stick with pine. Cheap pine. Well, in my humble opinion, pine isn't a pretty wood. It has a lot of grain that turns an awful yellow/orange color when you use a penetrating stain on it. So for that reason, I never could get Minwax stains to look good on pine. (That's my opinion, of course. Many people love the grain in pine. I'm not one of those people. 🙂 )
So since Minwax + pine never worked for me, I had to find other options. My favorite was Rust-Oleum wood stain (which I believe has been discontinued, unfortunately), because it wasn't a penetrating stain. It was somewhere between a regular stain and a gel stain — not quite penetrating, not quite gel. But the point is that I could literally "paint" the stain onto the surface and cover up as much of the grain as I wanted, and even with the stain built up on the surface, it would still completely dry within hours. Gel stains are very similar, but most that I've tried are way too thick for my liking.
All of that to say that my issue has been less with Minwax stain and more with the fact that I'm generally building with cheap pine that looks awful (again, in my opinion) unless the grain can be at least partially disguised with a product that sits on the surface of the wood rather than completely soaking in and highlighting all of that grain.
My floors are red oak. And while they have loads of grain in them, oak grain doesn't turn yellow/orange when stained. It turns dark, and I'm okay with that. I actually like oak grain on a floor, especially an old floor like mine.
So anyway, those are my thoughts on Waterlox vs. polyurethane, and also on Minwax stain. If you have your own Waterlox vs. polyurethane experience and thoughts, I'd love for you to share them so that people searching for this information can hear others' experiences.
Addicted 2 Decorating is where I share my DIY and decorating journey as I remodel and decorate the 1948 fixer upper that my husband, Matt, and I bought in 2013. Matt has M.S. and is unable to do physical work, so I do the majority of the work on the house by myself. You can learn more about me here.
I hope you'll join me on my DIY and decorating journey! If you want to follow my projects and progress, you can subscribe below and have each new post delivered to your email inbox. That way you'll never miss a thing!