Fifteen Nature-Inspired Wall Murals & Wallpaper (Options For Our Master Bathroom)
Our master bathroom remodel project is quickly approaching, so I've been spending some time in the evenings to try to put together my plan for that room. After looking through hundreds of pictures of master bathrooms to narrow down exactly what I want for that room, I decided that I wanted to start our master bathroom design by finding a nature-inspired wall mural or wallpaper to use as a jumping off point for the rest of the room.
I envisioned putting an amazing nature-inspired wall mural or wallpaper on the vanity wall. As a refresher, this is what the bathroom layout will look like…
That wall is 12.5 feet wide, 8 feet high, and has a window right in the middle. And as y'all know, I absolutely love nature-inspired designs that specifically include trees, flowers, and/or birds. I also love designs that are reminiscent of geodes and natural stone, and pretty much anything that looks like watercolor.
So after searching hundreds of designs, I narrowed down my favorites to these fifteen murals and wallpapers. Most of these are from one particular website, but I don't have any kind of business relationship with that store. They just happened to have thousands of options, and I love that you can resize and crop their wall murals to any size you need to fit your wall. You don't get that option when you purchase wall murals from places like Overstock and Wayfair.
Anyway, I started with probably 60 options that I had saved, and narrowed them down to these fifteen.
---
Peach Blossom Floral Wall Mural
This mural has trees, flowers, and a watercolor look. Plus, the colors definitely fit my style. The only problem is that it's a one-size option only, and it's just shy of the width that I need. I'm not sure if I could make that work.
---
The pattern of this one (not necessarily the colors) kind of reminds me of natural stone.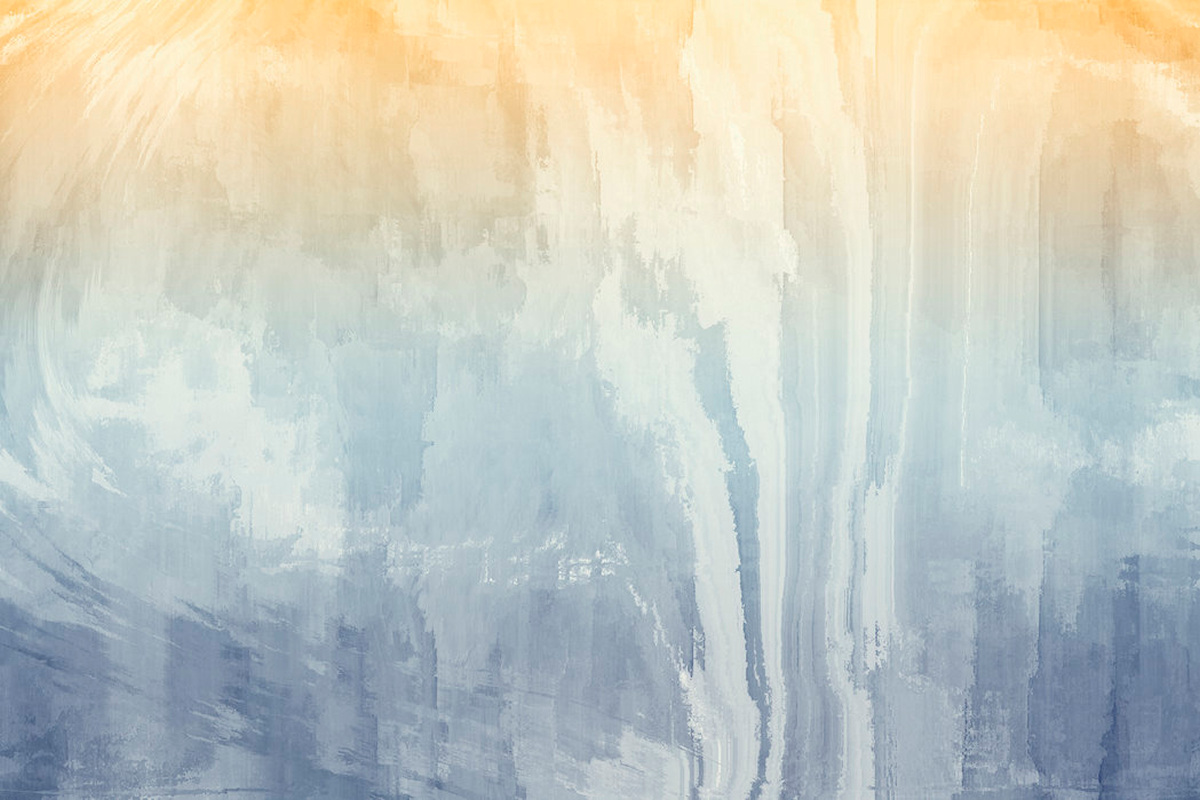 ---
This is the one mural that I included that isn't necessarily nature-inspired, although it kind of remindes me of a geode. But it's an alcohol ink painting, which is also one of my favorite things.
---
I really like this one, but it might be just a bit too abstract for my taste. I included it, though, because the colors are perfect for my taste.
---
This is one of my absolute favorites, but if I'm honest, I don't know that I'd used it in a master bathroom. It reminds me of the wallpaper I have in my studio, and while Matt has said repeatedly that he doesn't care what the master bathroom looks like, I might be pushing it with this one.
---
Once again, I was drawn to that watercolor look of this mural. Plus, these are my colors.
---
This one seems quite different for me as far as the colors go (although there's some teal and aqua in there), but this is actually one of my absolute favorites.
---
This one made it in my top fifteen because it's not quite so feminine, but I would still get my nature-inspired elements in there, plus there's some blush pink in there as well. But the black background keeps it from being too frilly.
---
But then I came across this one, and this is all flower, all feminine, and all frilly.
---
I also added a few florals on black backgrounds in my final fifteen. These seem a little out of character for me (since I usually like bright flowers and white backgrounds), but I think these black backgrounds could be a nice jumping off point for a good feminine/masculine mix in a bathroom. Matt hasn't asked for that, and he's not expecting it, but I think it could look amazing.
---
This is another floral on a black background that I had to add because I love those frilly soft pink flowers.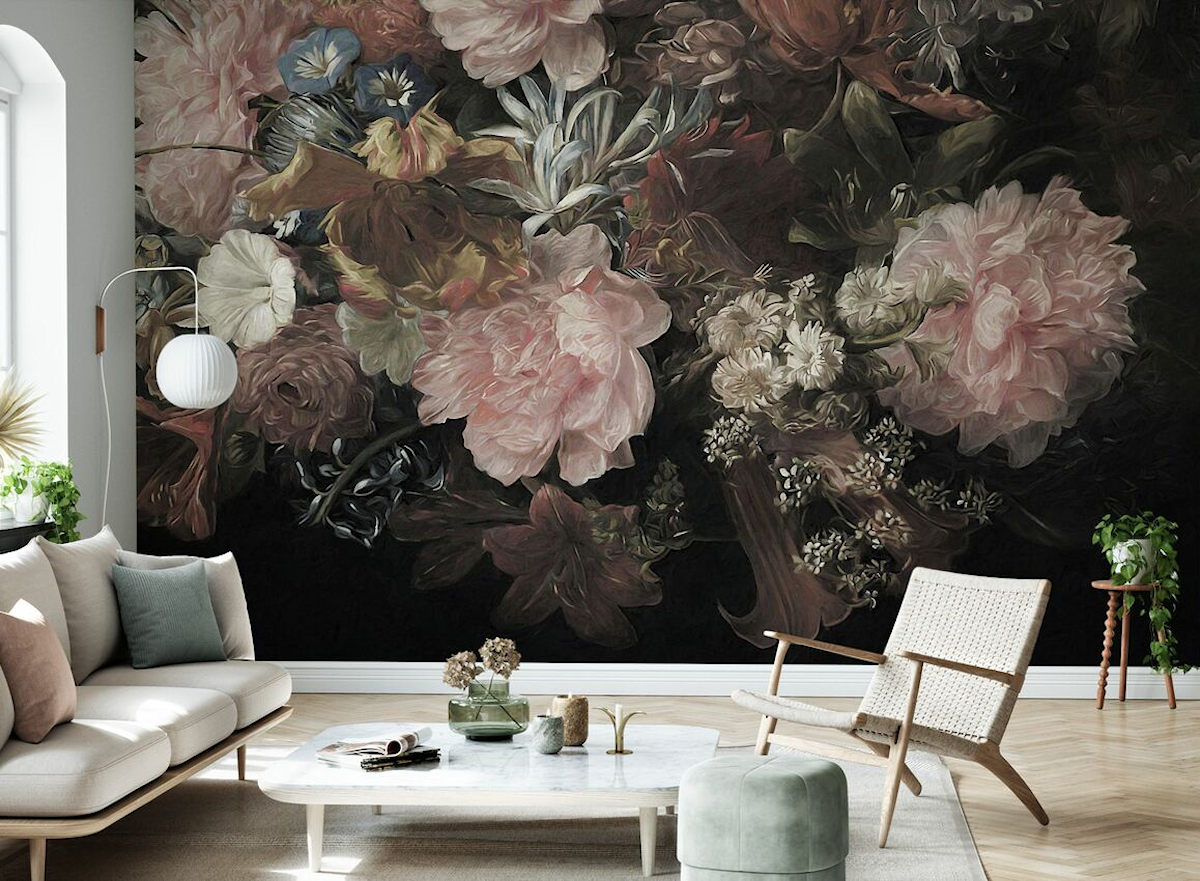 ---
And this is the third and final floral with a black background that I added. While these flowers aren't my favorites (I prefer the one just above), I do love that this background is gray and black.
---
And then there's this one. This one has it all — trees, flowers, birds, loads of color, and a watercolor-look on the background.
---
This is one of two wallpapers that I included in my final fifteen, because…peacocks.
---
And finally, this wallpaper that I had originally considered for the guest bedroom accent wall made it into my final fifteen for the master bathroom. Again, I love the black background, and I love the colors of the flowers on this wallpaper.
---
So those are my final fifteen murals and wallpapers that I'm considering for the master bathroom. And I can't stress this enough, but Matt seriously does not care what I do in there. We're just not one of those "design together, decorate together" couples, and I have to say that I love that. 😀 Every time we move to a new home, Matt hands me the keys and says, "Have fun! Do what you want with it!" And the best thing is that he sincerely means it.
He's always told me, "Just as long as you don't paint the walls pink," then he's okay with whatever I do. But when I started talking to him about this master bathroom, he said, "Do whatever you want! If you want pink walls, paint the walls pink!" (FYI, I hadn't even mentioned pink walls, and had never considered them.) And every time I ask him about a wallpaper, mural, or other master bathroom design element, he responds with, "Kristi, do you know what I'm going to be doing in there? I won't be looking at the walls." 😀
All of that to say that while the layout of the room has been designed with him in mind, and the design of the vanity will be built with accessibility for him in mind, I'm also going to have some elements in there that are specifically for me, starting with a nature-inspired wall mural.
But after narrowing down these options, I'm also considering using the wall mural (or wallpaper) in a different area of the bathroom. I don't like the idea of choosing an amazing design, only to use it on a wall that's taken up with a long vanity, a window, and two large mirrors. So instead, I'm thinking about using it in the bathtub alcove. I think that would look amazing!
Addicted 2 Decorating is where I share my DIY and decorating journey as I remodel and decorate the 1948 fixer upper that my husband, Matt, and I bought in 2013. Matt has M.S. and is unable to do physical work, so I do the majority of the work on the house by myself. You can learn more about me here.