As I write this, the subfloor is being taken up in the hallway. And again, it's both exciting and heartbreaking.
I'm just glad to see progress, and I'll be very glad to have this Phase 1 remodel of this part of the house finished and behind us. A finished and comfortable guest bedroom (that we'll use as our bedroom for a while) and a usable home gym are in our near future.
In other news, the bathroom is on hold. Ever since we learned that the cost would be around $30-35,000, Matt has had some serious doubts about us biting off that project right on the heels of the bedroom/hallway remodel that's already costing almost $20,000. I begged and pleaded with him to go ahead with it, but in the end, Matt is in charge of our budget. So if he truly feels uncomfortable with it right now, then I need to listen to him.
But I'm so disappointed, y'all. So unbelievably disappointed.
It's still going to happen, of course, but it just won't be a part of this current remodel. And when it does happen, I'm going to take on far more of the project myself than I had originally planned. In fact, I may tackle everything myself except for the plumbing.
I don't do plumbing. 🙂
And drywall. I don't do that either.
But everything else seems pretty doable to me.
Removing old flooring, including the subfloor? I've done that. Remember when my hallway bathroom looked like this?
Removing old drywall and shiplap? I've done that. At one time, my living room looked like this…
Building new walls? I've done that, too. At one time, my breakfast room and pantry were one big room, and I added a wall to separate the two areas.
Electrical? Yep, I can do that.
Building a vanity? Well, I've never built one as big as I'll need, but I've built a console table, a small vanity, and a pantry full of cabinets. I think I can manage.
Installing concrete board and tile? I've done that several times.
You get the point. There's really nothing in that bathroom that I haven't done before, with one HUGE exception — building a shower pan. And this won't be just any shower pan. In other words, it's not like I can just buy a shower pan, drop it into the shower, and be done. Since Matt will need a curbless shower, and we'll still need the slope to the drain, it will take some construction, materials, and processes that are unfamiliar to me.
But after searching all over for options, I've decided that the Schluter Kerdi system for curbless showers. I have watched this video about how to recess a subfloor and install the Schluter Kerdi shower pan about five times over this past weekend, and there doesn't seem to be anything particularly difficult about it.
If any of you have ever done your own recessed subfloor shower pan using a Schluter system or something similar, I'd love to hear about it! A shower pan is one of those things that, if you get it wrong, can wreak havoc on the actual structural integrity of your house, so it's something I don't want to take on lightly. But at the same time, it just doesn't look that difficult to me. And I think if I take my time, tackle each step thoroughly, I could get it done and save thousands of dollars just by doing that one thing myself.
The thought of turning this bathroom into a mostly-DIY project was dreadful and overwhelming to me initially. But the more I think about it, the more I'm actually getting excited about it. It's been a while since I took on a big remodel myself. I've gotten so used to hiring out things lately that I've kind of gotten spoiled. 😀 But the more I think about it, the more I'm actually looking forward to challenging myself.
So 2020 is looking to be a very busy year for me. I still need to build cabinets in my studio and get that finished. I'll need to build closets in the guest bedroom and get that room finished so that Matt and I can move in there. I'll need to install the flooring in the hallway and get it finished. And now, it looks like I'll be tackling a master bathroom remodel. And at some point along the way, I want to enclose the carport and turn it into a workshop. Exciting times ahead! 😀
And in case you're wondering, now my hallway looks like this…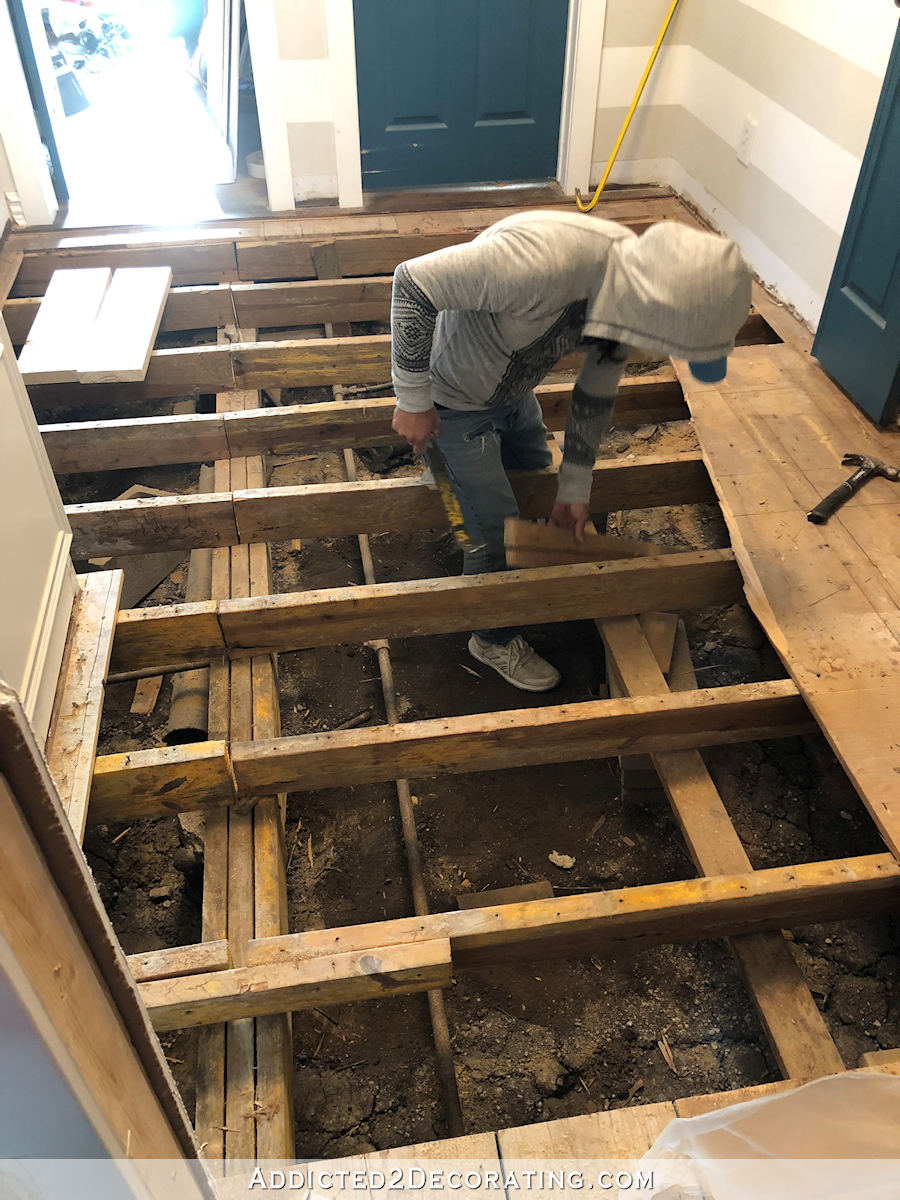 And the coffee table I'm building for the living room looks like this…
Assembling that top took way longer than I had anticipated, but the hard part is done now. Finishing the top and building the base shouldn't take long, so I'm about 98.6% sure I can get this done this week.
Addicted 2 Decorating is where I share my DIY and decorating journey as I remodel and decorate the 1948 fixer upper that my husband, Matt, and I bought in 2013. Matt has M.S. and is unable to do physical work, so I do the majority of the work on the house by myself. You can learn more about me here.
I hope you'll join me on my DIY and decorating journey! If you want to follow my projects and progress, you can subscribe below and have each new post delivered to your email inbox. That way you'll never miss a thing!