Stained Interior Doors? Those Are Sooooo Two Days Ago!
So remember two days ago when I showed you this picture of my almost-completely-stripped wood door…
…and I was all like, ""How in the world could someone put paint on that?!"
Well, it turns out that I now know exactly why someone would paint them.  It's because once you get stain on those incredibly busy wood grain-riddled panels, they look like this…
Ummm…yuck.  Just, no.
And in order to minimize the busy grain enough to satisfy my own personal taste for clear wood, the stain has to be so dark that it turns the door into a life-sucking, light-sucking black hole in my hallway.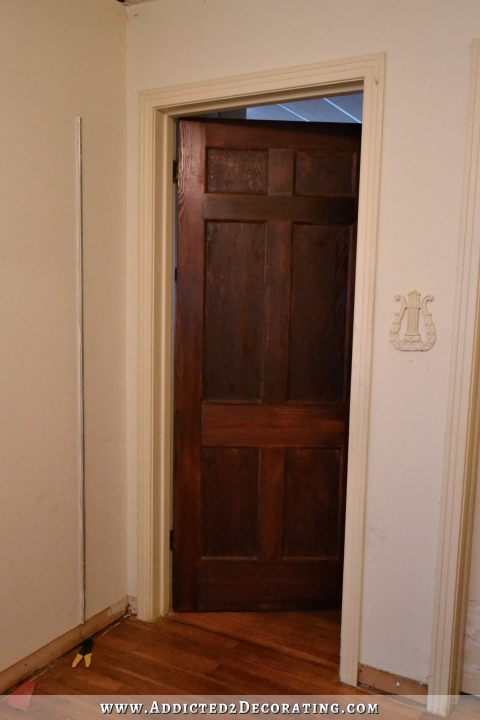 And that's just one door.  I can't imagine having four more just like it in the hallway.
Now if I learned anything from my living room, it's this.  When you make a wrong choice, just acknowledge it, and correct it…immediately.  Don't waste a couple of months and several hundreds of dollars heading down the wrong path, trying to make that wrong decision work.  (Yeah, brown walls!  I'm talking about you!)
So, the stained door is hideous, and I hate it, so I'm probably going to paint the doors.  The two things I know for sure are this:  (1) I want all of my interior doors to match, even the interior side of the front door and garage door, and even closet doors in the bedrooms, and (2) I do not want white painted doors.
I tried a few paint samples that I already had on hand, and then I headed to Home Depot to grab a few more.  From the first mention of paint, Matt said he wanted black doors, so I painted a sample of the Black Suede that I had on hand.  It's what I used inside the fire box on the fireplace.  It's more of a dark charcoal color.  And then because I can't seem to get enough green, I tried out Jungle Trail, which is what I used on the credenza and the console table.  And on the bottom is a new green color that I got yesterday.  I ruled it out for the doors immediately because that, my friends, is the green that I'm going to use on my kitchen cabinets!!  🙂
And I don't even know the name of it.  It's a Glidden color that I had mixed in a sample of Behr paint, and on the label it just says "custom color match."  And I've lost the little paint sample with the name on it.  *Sigh*  I'll give y'all a name as soon as I figure it out.
On the other door, I tested Arizona Tan on the top (which is the color I used in the hallway bathroom at the condo), and below that on the left is Jackfruit, and on the right is Warm Muffin.  And then under that is the most gorgeous dark red I've ever seen called Red Pepper.
I have no idea what possessed me to grab a red.  I just thought maybe red interior doors would be daring and vibrant, but I was immediately overruled by Matt when he informed me that I won't be able to use that color on the doors because he wants his game room painted that color.  😀
He further instructed me that he will have white wainscoting on the bottom portion of his walls, the dark red above that, and a white ceiling.  Ahhh…I've taught him well.  🙂
So as far as paint, I've narrowed the choices down to either Jackfruit or Warm Muffin.  I'm really drawn to the Jackfruit color, but I just wonder if it might be too bright and juvenile for all of my interior doors.  Once the Warm Muffin is on its own (and not right next to Jackfruit), it'll definitely read as more yellow, while also being softer and more neutral, which will play well with the other colors in the house.
Update:  I should mention that once this hallway is done, everything else — walls and trim — will be bright white.  Right now they're a kind of depressing antique white.  Plus, I'll have more light in here.  Right now, there's a one-bulb light fixture.  I'll be replacing that with the five-bulb semi-flush chandelier that was originally in the living room when we bought the house, plus I'm thinking about adding a solar tube at some point down the road so that this hallway can have some natural light as well.
But then I also keep coming back to this picture.
Now y'all know I'm not really a "shabby chic" kind of person, so the door in that condition doesn't really appeal to me.  But it did get me thinking about the possibility of liming the bare wood doors instead of staining them.  That would keep the appearance of the wood, but they would end up light and bright rather than light-sucking black holes in my hallway.
So just this morning I ordered a can of Briwax Liming Wax to test out on them.  Even if it doesn't work out on my doors, I've been wanting to get some liming wax because ever since seeing the kitchen that I'm using as the inspiration for my green kitchen cabinets, and seeing those cerused wood floors…
Cameron Diaz's Manhattan apartment kitchen as featured in Elle Decor
I've been wanting to ceruse the top of my oak dining table.  I'm not sure if I'll like it when it's finished, but it's one of those things that I want to try just to learn the process.  It looks fun to me.
Cerusing is simply the process of staining wood (generally in a dark color, like the ebony used on the floors in the kitchen above), and then using a wire brush to open up the grain of the wood, and filling the grain with white liming wax.  It's most definitely a look that won't appeal to everyone, but I love it.  And it works best on hard woods, so I've been on the lookout for something that I could try it on, and then realized I already have something!  My oak dining table!  So that's on my list of things to do down the road.
So anyway, back to my interior doors.  They'll either be yellow (probably Warm Muffin), or they'll be limed.  We'll see!
Addicted 2 Decorating is where I share my DIY and decorating journey as I remodel and decorate the 1948 fixer upper that my husband, Matt, and I bought in 2013. Matt has M.S. and is unable to do physical work, so I do the majority of the work on the house by myself. You can learn more about me here.