New Solar Tube In The Hallway
Lighting really does make all the difference in the world. My hallway has always been so dark, and then when I turned the light on, it cast such heavy shadows everywhere. There's nothing that compares to natural light, so I had a solar tube installed in the hallway.
And now here's what my hallway looks like with the natural light from the solar tube plus the ceiling light…
And here it is without the ceiling light on…
I love it! And as you can see, I also had one of the doors replaced. They're here right now replacing the other two.
The solar tube I used is this 10″ Velux Sun Tunnel from Home Depot. I also had to purchase two of the 24-inch extensions, although they only needed a few inches from the second extension. Here's what it looks like in my attic, from the ceiling of the hallway to the roof.
And then on the roof, there's a little dome.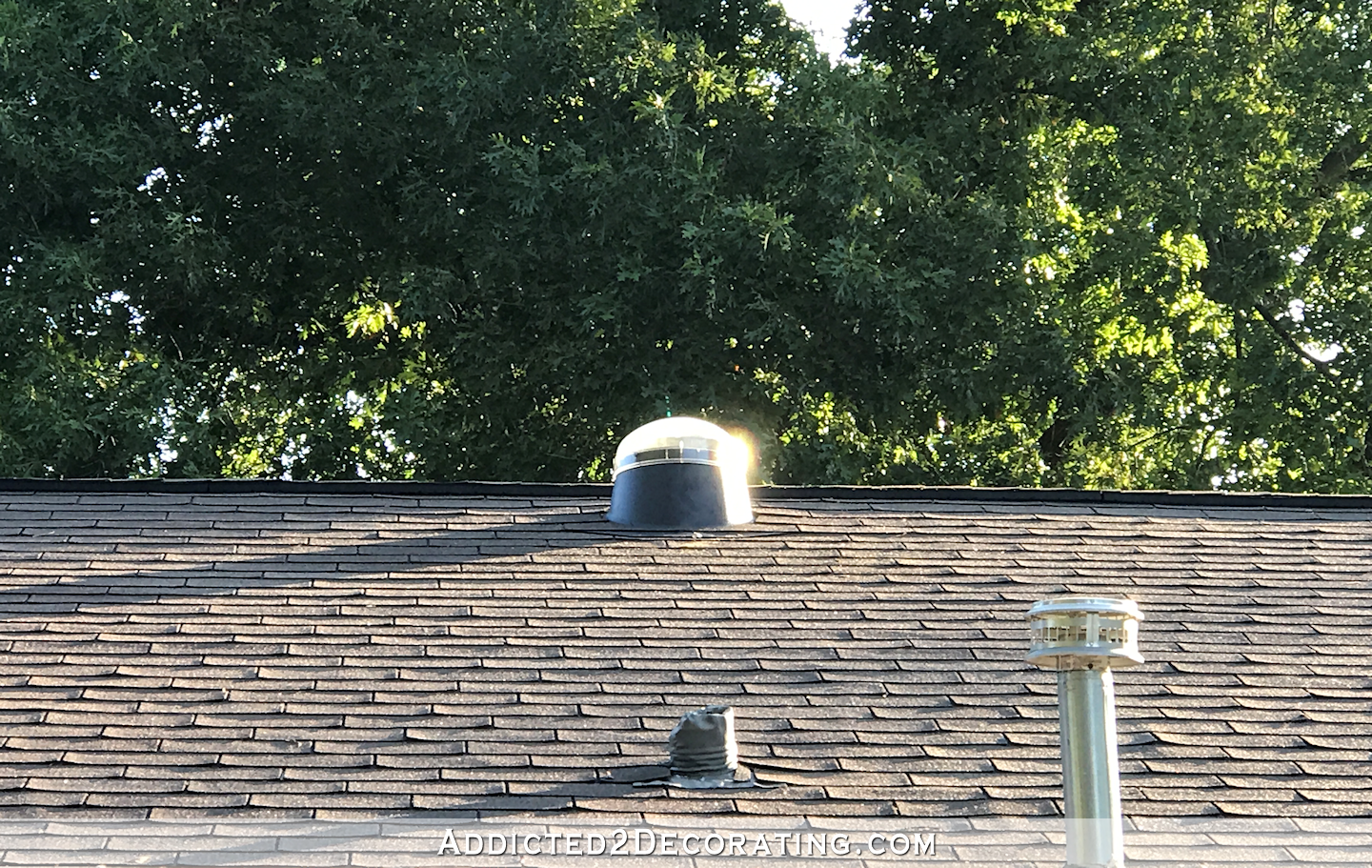 I probably get less light from my Sun Tunnel than some would because for many hours of the day, my big oak tree in the front yard is blocking the direct sunlight from the dome of the Sun Tunnel. But I'm okay with that…and certainly would never consider getting rid of my tree.
Now I want more! Of course, I don't want to get crazy with them, because it's always wise to limit the number of penetrations through a roof. They do make some where you just have one dome on the roof that leads to several tunnels in the attic that can be fed to different rooms. But when you have an attic with limited space like mine, having those tunnels spidering throughout the attic would really limit mobility up there.
Really, the only other room I can think of where I'd want a Sun Tunnel is my studio. You might remember that I had actually asked for two skylights in the original plan, but that idea fell through. But now I'm wondering if Sun Tunnels would work in there. I had just assumed that they wouldn't work since there's no attic, and just 5.5 inches between the roof and the ceiling drywall with 2″ x 6″ framing between. But I watched as they installed this one, and I really think it might work. It looked to me like you could cut the ducts down to be as short as needed. So I'm going to look into it. It may not work at all, but I'm hopeful! I'd love to have three of them in the studio, if possible.
Have any of you ever seen solar tubes installed on vaulted ceilings with little space between the ceiling and the roof? I'm curious.
Addicted 2 Decorating is where I share my DIY and decorating journey as I remodel and decorate the 1948 fixer upper that my husband, Matt, and I bought in 2013. Matt has M.S. and is unable to do physical work, so I do the majority of the work on the house by myself. You can learn more about me here.