I'm continuing our one year house tour today with the master bedroom, Matt's game room, and my office.  These rooms have had almost zero attention over the past year, but of course, I have grand plans for all three rooms.
Let me just say that if you're one of those people who reads decorating blogs filled with pictures of beautiful rooms and then feels bad about your own home, well, I'm here to help today.  I can guarantee you that after reading this post and seeing our bedroom, you'll feel much better about your own house. 🙂
Master Bedroom (1% complete)
Here's how our master bedroom started out when we bought the house a year ago…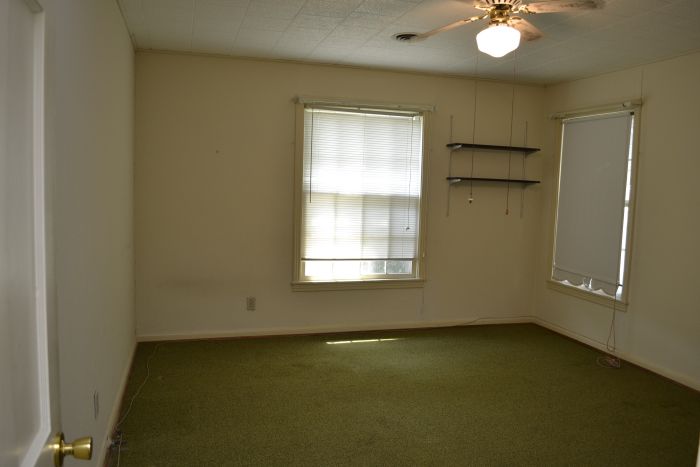 And now, the only things that have changed are the the floor and the wood bed frame that I made.  I removed the green carpet and refinished the original hardwood floor (which I didn't even bother to clean/mop before taking this picture…sorry!)  Oh, and we added a lovely window unit air conditioner.  😀
And looking back the other way looks pretty much the same except that I used my door to test out paint colors.
In fact, this is a pretty funny view.  Five navy blues tested on the wall, four colors tested on the door, and three more colors on the other door in the hallway.  😀
Now I know that some of you are wondering, "Kristi, how have you lived with this room (or this house) for a year?"  One person even commented that she "couldn't live in total mess everyplace" like I am.
You know, it's interesting.  While I do love beautiful rooms filled with nice things, and I'm very much a perfectionist with some OCD tendencies, I'm just not one of those high maintenance people who demands only the best.  I can live perfectly happy in a less than desirable room (or house) with the knowledge that each of these rooms will be finished eventually.  And each of these rooms will be gorgeous (to me) eventually.  I'm only one person and I can only do so much, and I'll get to them when I get to them.  Until then, I just try to live each day with a thankful heart for what I have.  I have a non-leaking roof over my head, clean running water, and a few very ugly window air conditioners that keep us from dying of heat stroke in the hot Texas summer.  We have a lot more than so much of the world's population has, and I'm just not going to turn my nose up at God's gracious provisions in my life, no matter how rough those provisions currently look on the outside.  My house is pretty much a blank slate…my playground…that I get to do whatever I want to with.  I'm blessed, indeed.  And perfectly content.
But…I do have plans for this room.  🙂
My first priority is to build a headboard.  Every morning and every night, I prop my pillows up against the window and blinds and sit in bed with my laptop.  Not only is that probably not good for the window, but I've ruined the blinds.  Not that I was planning on keeping them, but they were at least giving us privacy until I can work on this room.  Now…not so much.  So I really need a headboard as soon as possible.  I'd like something upholstered with a wood frame to match the wood on the bed frame.  Something like this, but not painted.
Headboard by Liz Williams Interiors, via Houzz
The window will be covered in natural colored linen draperies. The walls will be navy blue on top with white wainscoting on the bottom, and then I have this fabric as accent…
I already have so much of what I need for the bedroom…except for time.  And of course, just like every other room, the polystyrene tiles and 1 x 4's that they're attached to need to come down.  I'm sure the ceiling will also need new drywall.  *Sigh*
Now just a word about the master bathroom (if you can really call it that).  This is what it looked like when we bought the house…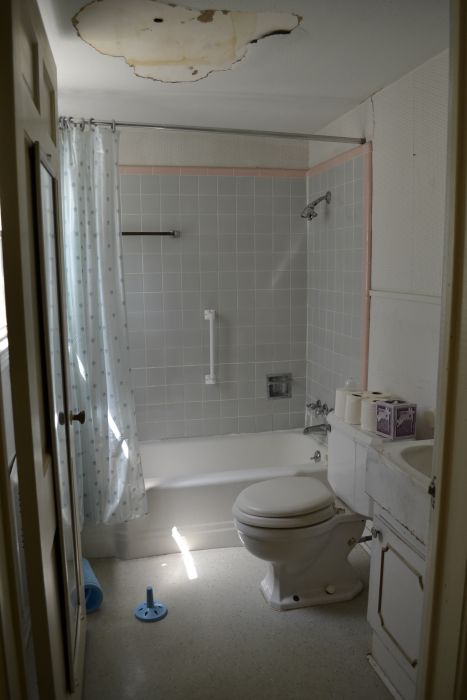 It looks pretty much exactly the same today.
That is the room I hate the most in the whole house.  In fact, I pretend like it's not even there, and I go in there only if I absolutely have to.  It's not original to the house, and I wish it weren't even there.
That room has zero redeeming value, and I have absolutely no plans to try to make it into anything pretty or functional.  It would be a waste of time — the very definition of "lipstick on a pig."  I won't even bother.
The eventual plan is to remove that bathroom completely and start over, creating a large master bathroom and closet.  I haven't really finalized anything yet (and won't until we're ready to start), but I'm thinking something like this…
On that floor plan above, the area in the master bedroom where it bumps out and shares an adjoining wall with the hall bathroom is the current closet.  I'd like to remove that wall and turn that area into a sitting area with a fireplace.
So that's the plan.  I didn't want to not mention that bathroom, but I have zero plans to try to do anything with that current bathroom.
Matt's Game Room (1% complete)
Until now, I've taken new pictures of every room that I've shown you for the one year tour.  But I'll admit, I kind of phoned it in with these next two rooms.  Matt's room is piled with stuff — an extra matress, a random dining table piled with his junk, a dresser, a makeshift table/desk thing that holds the only t.v. in the house that he uses to play his video games.  I mean, it's a mess, and I just didn't have the energy yesterday to try to straighten things up for a picture.
But here's what his room looked like when we moved in…
And today it looks exactly the same…except for way messier and piled with junk.
Matt is a collector of video game systems — everything from the oldest retro systems to the newest ones, and he'd love to continue to grow his collection.  And he would like for me to design this room around those gaming systems.  Yeah…that'll be an interesting project.  🙂
He's had this game room saved for quite some time.
I'd love to make him something like that to hold all of his current and retro gaming systems, and then maybe build some storage with closed doors to hold all of the games that go along with those systems.  He says his dream is to have a room that's basically a "video game museum".  😀
As far as the paneling on the walls, I have no idea what I'll do there.  I'd love to take it all down and drywall in there because the individual boards of the paneling are bowed out.  If they were all flat, I'd have no problem keeping them and just painting the room a solid color, but the warped boards really bother me.
That's really as far as we've gotten with the planning of his game room.  I'm sure he'll have way more input on that room once I get started on it, so it'll be interesting to see where it ends up.
My Office (1% complete)
My office is at the front of the house and has a window that looks right out the big red oak tree in the front yard.  It also has a door that goes out to the front porch.  Here's how it looked originally…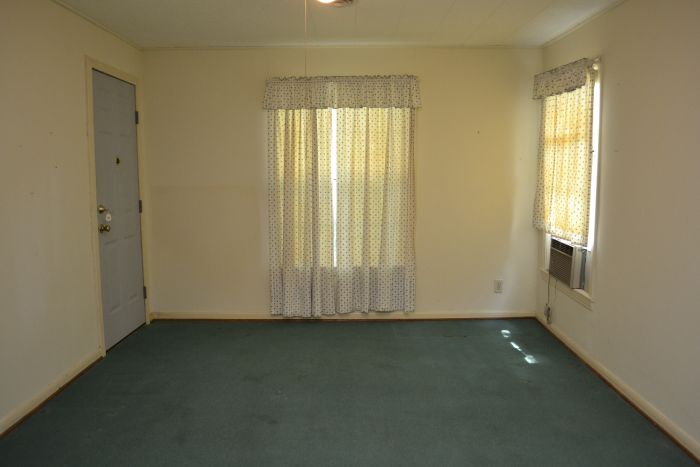 And of course, I removed the carpet and refinished the hardwood floor.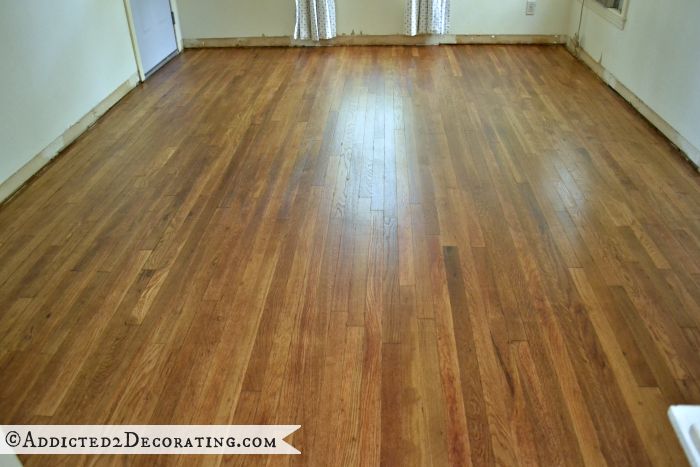 That room has had absolutely nothing else done to it.  I have a desk in there now that I got at an estate auction (that I probably won't keep), and then I have lots of tools, paint cans, and other junk piled in there.  I even still have those original curtains on the windows.  And they'll stay there until I decide what I want to do, because at least they offer privacy.
This room is really the only room that I don't have a plan for.  What I do know is that I want pretty, feminine colors in here (since it's my office and Matt won't have to look at it very often), and I want a really big work table in the center of the room.  Or maybe it can sit over to the side and be on wheels so that I can move it to the center of the room when I want to make draperies or something like that.  I really love this big craft table that Beckie at Infarrantly Creative made for her craft studio.
Something like that would be great.  I just need a place to spread out fabric so that when I'm making draperies and other large fabric items, I don't have to crawl around on the floor anymore!
As far as the colors go, I've had a swatch of this P. Kaufmann Brissac Jewel fabric for a year now, an I still love it.  Y'all know how I love floral fabric, and this has those pretty feminine colors that I want in my office.
So I might use that as the window treatment fabric and then go from there.  Or by the time I get to this room, I might have completely different ideas and colors in mind.  Who knows?!  🙂
I'll finish up this one year tour on Monday with the sunroom, breakfast room, and yes…the kitchen!  That'll give me one more weekend to get things accomplished in the kitchen, so we'll see how far I get.  It just might be my very first "100% complete" room in the whole house.  But even if it's not, it's already the most complete room in the house.  I'm oh so close to being finished!
Addicted 2 Decorating is where I share my DIY and decorating journey as I remodel and decorate the 1948 fixer upper that my husband, Matt, and I bought in 2013. Matt has M.S. and is unable to do physical work, so I do the majority of the work on the house by myself. You can learn more about me here.
I hope you'll join me on my DIY and decorating journey! If you want to follow my projects and progress, you can subscribe below and have each new post delivered to your email inbox. That way you'll never miss a thing!