Last Updated on December 24, 2015 by Kristi Linauer
Hi all!  I know it's rare for me to show up on a Saturday, but yesterday I spent about two hours scouring Houzz for some ideas to incorporate into the front of my house, and I want to show you what I've come up with, and also see if any of you have any brilliant ideas.
First of all, here's what the house looks like now.  It's pretty much a blank slate in desperate need of some color and details to bring it to life.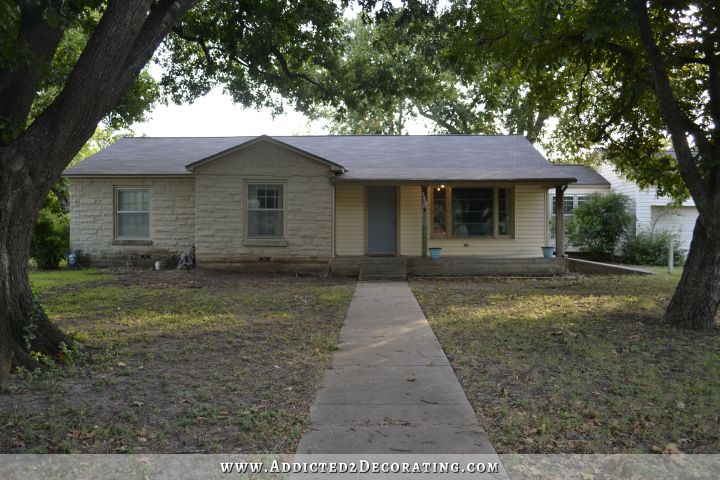 I have several issues with the house that I want corrected.
1.  I hate how there's a gable above the window in my office, and then the front door seems kind of like an afterthought.  I want a gable above the front door, and I want it to be much more "front and center" than the office window.
2.  The house needs some white to brighten up the front — the trim around the windows, the trim around the doors, the posts on the front porch, etc.
3.  I don't like how low the ceiling of the porch is.  It's so low there's barely enough room for trim above the door and the window on the porch.
4.  I'd like the porch to be bigger so that Matt can safely come out the front door without the possibility of heading right down those steps in his wheelchair.
Of course, there are also things like the color that I've also shared.  And the vinyl siding.  And I'm not too crazy about the fact that all of the Austin stone is concentrated on the left side of the house, while almost the entire right side is siding.  Honestly, I'd love to do the entire house in siding and just do away with the Austin stone altogether.
So after searching Houzz, I found one picture that just really made me smile.  I LOVE how this front porch looks, and how it really emphasizes the front door.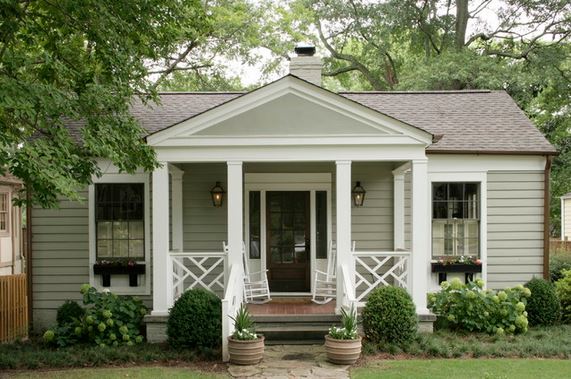 Traditional Exterior by Birmingham General Contractors Structures, Inc.
So I did a little copyin' and pastin' and photoshoppin' and came up with this…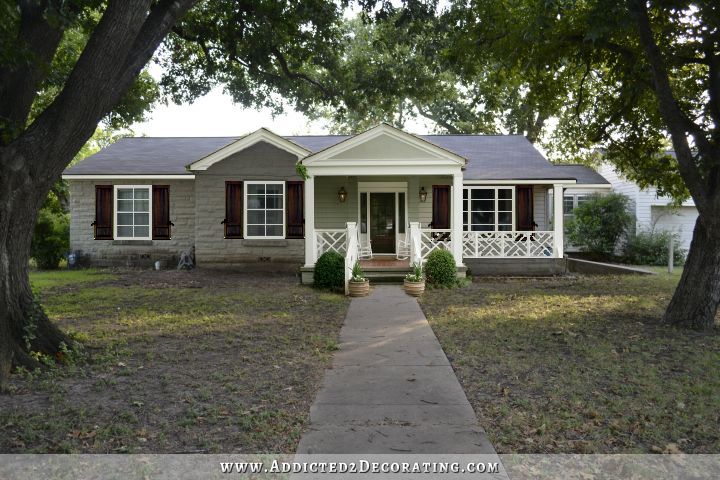 Now obviously my photoshop skills are limited.  The roof over the right side of the porch (the part that's still set back) would still need to be raised, but I don't know how to do that on the photo.  So you'll just have to imagine.  Also, I don't really like that style of railing on the porch.  I want just plain vertical balusters, but I just used what was already on that inspiration photo.  I'd like something like this…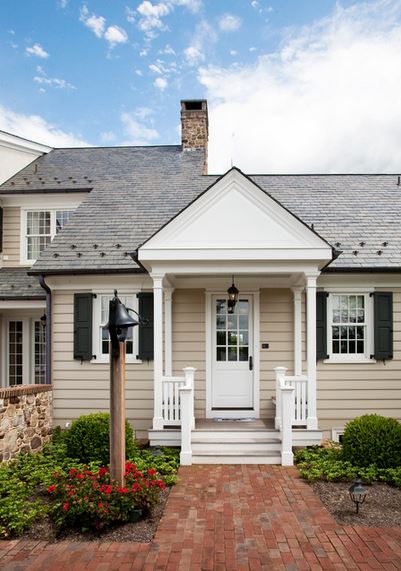 Farmhouse Exterior by New Hope Home Builders Worthington Custom Builder Inc.
Anyway, what really bugs me about the mock up I did are the two gables right next to each other that are basically the same height and size.  And I don't like that one of them has Austin stone right up to the top, while the other wouldn't have stone on it.  It just looks funny.  And I can't figure out what needs to happen to make that look better.  I wish I could get rid of that original gable altogether, but I don't know that that's possible since it covers the portion of the house that juts out in front.  I don't know of any other roof design that would cover that properly.
So, any architects or construction experts out there who have a great solution for me?  🙂
I love dreaming about what the exterior of my house could look like, and after the kitchen is finished, I'm considering the front porch area as the next major remodel I tackle.  I'll work on smaller, more decorative stuff on the interior while I save up for the front porch/exterior.
Oh, and you might notice that I'm testing out the idea of using stained shutters and a stained front door.  That's because when I posted this picture the other day of the split path driveway…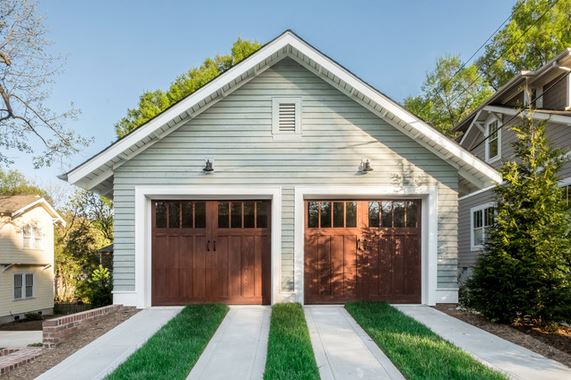 Craftsman Garage And Shed by Charlotte Home Builders Saussy Burbank
…I realized how fantastic my garage would look with carriage door style garage doors.  And carriage doors look the best when they're stained, in my humble opinion.  So at least right now, that look has edged out the navy blue shutters/coral front door just by a hair.
So, any advice about those gables? 🙂
UPDATE:  After reading your comments and playing around with some other ideas, I thin this might be my favorite solution: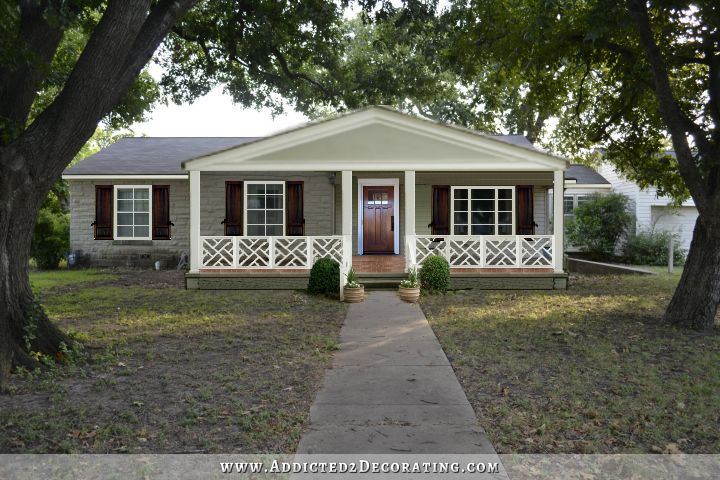 Now I just need to find a contractor I really trust, and hope that the city will approve plans to extend the front of my house out five feet.  🙂
UPDATE #2:
Okay, scratch that.  This is my favorite and final design, if it'll work.  🙂
A commenter left a link to this front porch by Porchco (thanks, Tracy!), and I love how this looks.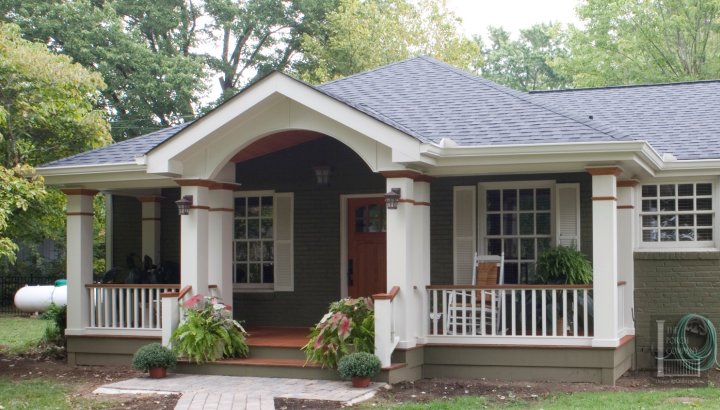 So I edited my photo once more.  I didn't do a very thorough job, but you get the idea.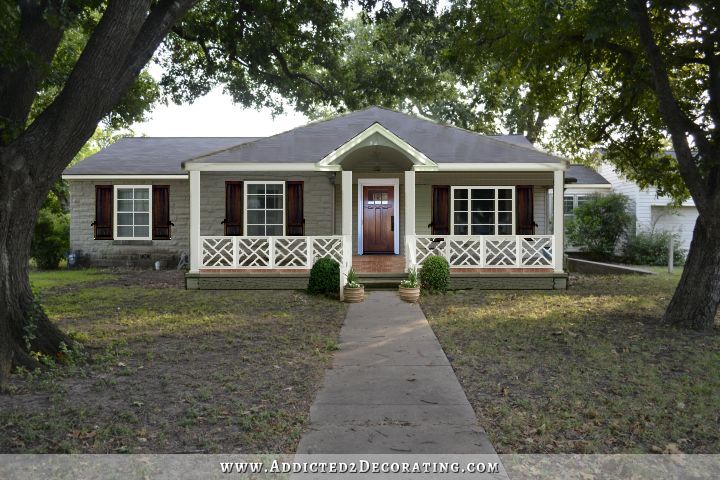 That's the winner in my book.  Now I'll just have to see if it's possible.
Addicted 2 Decorating is where I share my DIY and decorating journey as I remodel and decorate the 1948 fixer upper that my husband, Matt, and I bought in 2013. Matt has M.S. and is unable to do physical work, so I do the majority of the work on the house by myself. You can learn more about me here.
I hope you'll join me on my DIY and decorating journey! If you want to follow my projects and progress, you can subscribe below and have each new post delivered to your email inbox. That way you'll never miss a thing!