Our Decision Regarding The Addition (Plus, One Final Undecided Design Decision)
After reading all of your suggestions and input, and talking with Matt about the pros and cons of waiting vs. not waiting on the addition, we've decided to put the wheels in motion right at the beginning of 2023.
A lot of you brought up some really good points. First, contractors are never going to be available immediately when we decide we're ready to move forward. We could be on a waiting list for six months or longer. They may not even be able to start until June or even later in the year.
And also, as so many of you pointed out, just because the addition is built and ready for me to add the finishing touches, that doesn't mean that I'm obligated to start on it ASAP. If I'm not ready, I can wait until I'm ready.
But a friend of mine also brought up a very good point. As she was leaving our house the other day, she said, "Kristi, why do you park the van in front of your studio when you have to drive around to the back to put Matt in the van?" I explained that when it rains (and it had poured down rain that very morning), the side of the house gets really muddy to the point that I've gotten my car stuck in the mud over there on a few occasions. So if it rains really hard, Matt is stuck at home because I have no way to drive to the back since we have no driveway yet.
She said, "Well, that alone seems like a good reason to get the addition, and then the driveway, done ASAP." She was right. I hadn't considered that.
And one final point that so many of you brought up that stood out to me is that it's highly unlikely that the cost of building supplies is going to go down. And in fact, the likelihood is that the prices will go up. So it makes little sense to wait.
With all of that said, I'm very excited to get the ball rolling at the beginning of the year. I do have to manage my expectations, because now that I'm in "ASAP mode", I want it done NOW! 😀 But more than likely, this will be a very slow-rolling ball. We'll make arrangements, and then have to do a whole lot of waiting — waiting for our turn with the contractor, waiting for plans to be drawn up and submitted to the city, waiting for permits, waiting for building supplies, waiting, waiting, waiting.
So even with our new plan of getting this ball rolling ASAP, I still don't expect to have the contractor portion of the addition done until the end of 2023 or even the beginning of 2024. Then I can take over and do my part until each room is finished. So in my mind, we're still looking at not having the full addition finished until mid- to late-2024.
Anyway, that's the plan. So naturally, I'm excited, and I've been looking over the floor plan that I came up with to be sure that it's exactly what I want, and that I don't want to make any significant changes before passing them off to a contractor.
The one question that still remains in my mind is this wall in the kitchen. I've brought this up in a previous blog post (in 2018, I believe), but I'm still undecided about whether or not I want a cased opening into the new family room on this wall.
As things stand on the floor plan I have drawn up, the only entrance into the family room would be through the music room doors. The music room is right next to the kitchen, as you can see through the cased opening on the right in the picture below.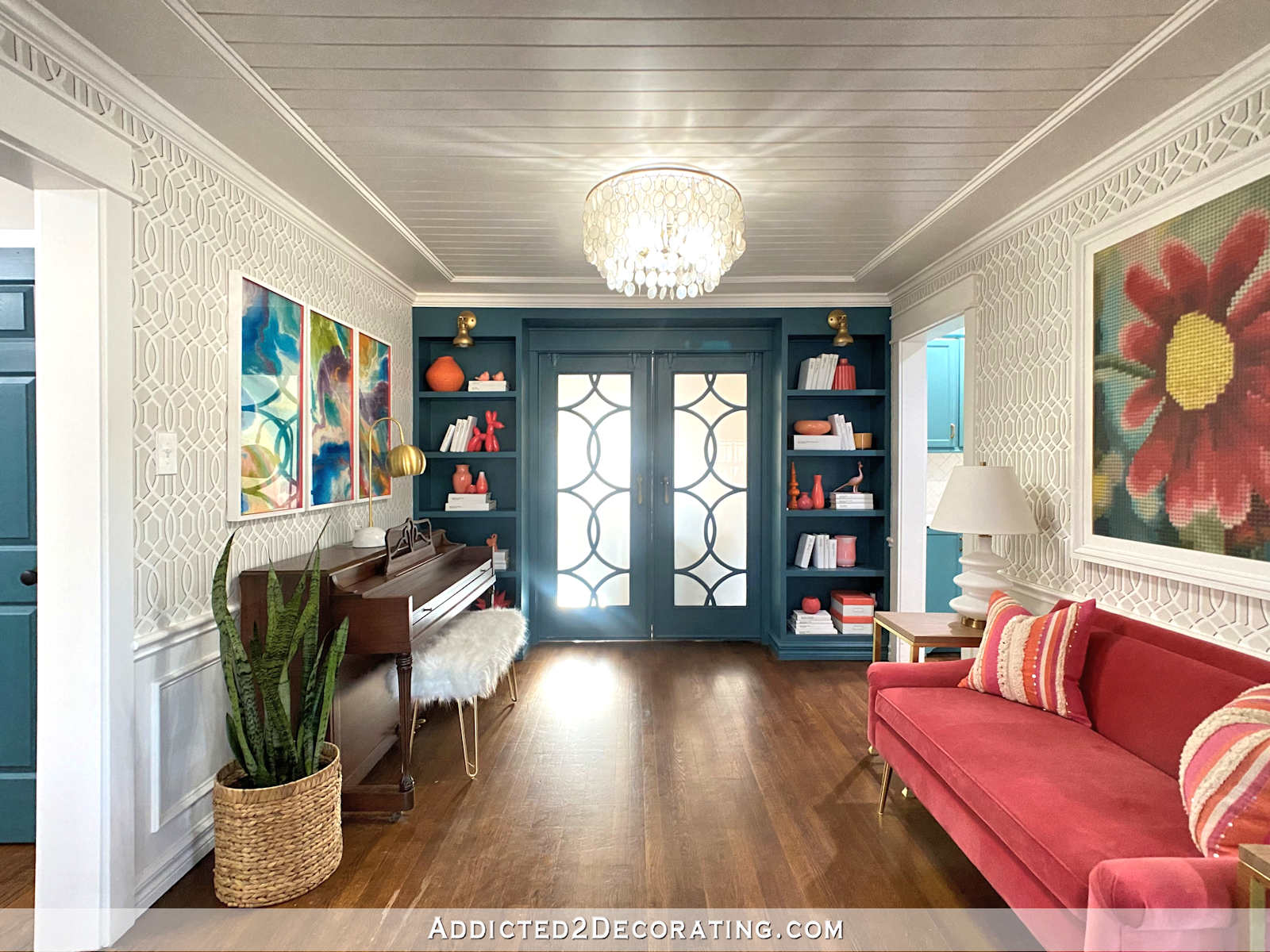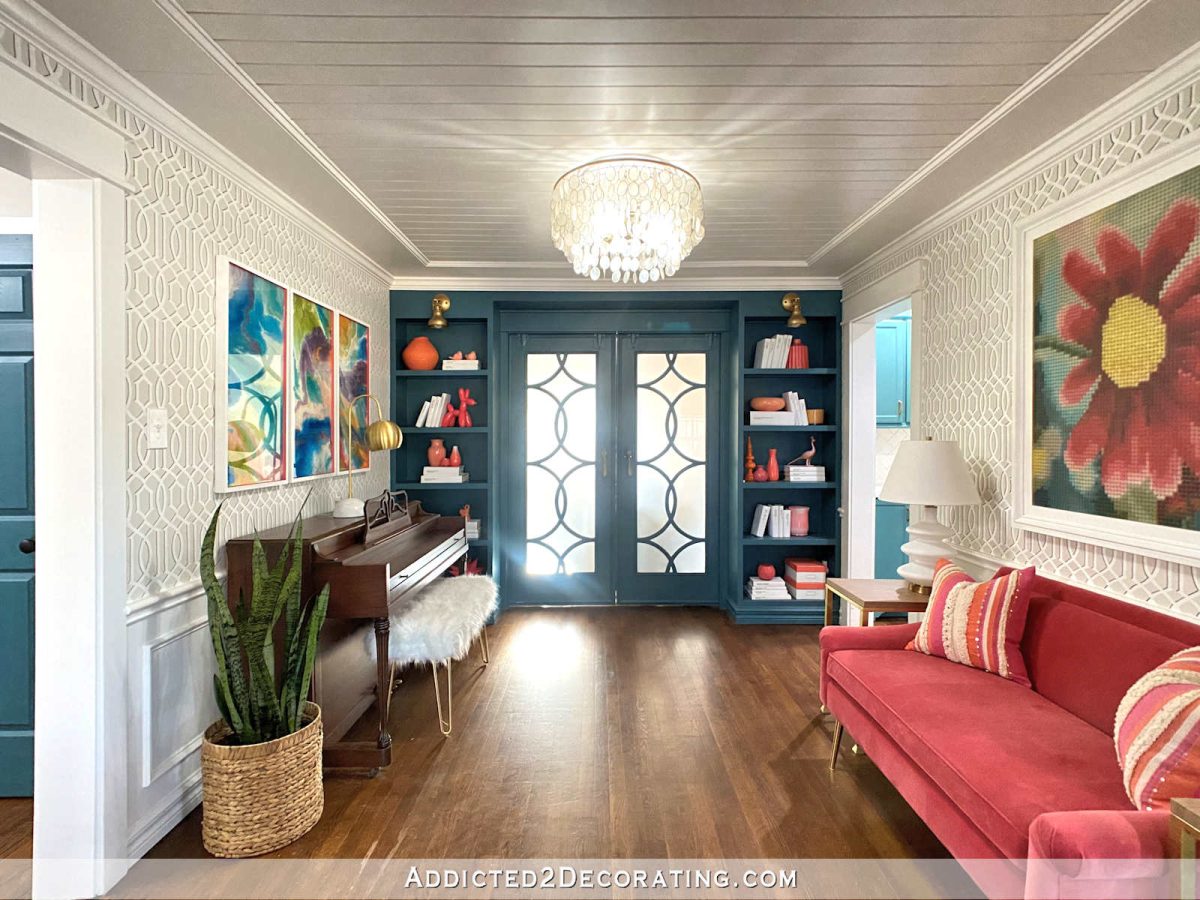 Here's what the floor plan looks like if I keep the kitchen as is. The addition will include the master bedroom, walk-in closet, laundry room, and family room.
But I'm still wondering if I want to put that cased opening on that back wall of the kitchen. Here's how it would look on the floor plan.
I know that the immediate response is probably going to be, "But you'll lose so much storage!"
I really wouldn't, though.
If you were around back when I did the kitchen remodel, you might remember that I used stock upper cabinets for the lower cabinets. Back then, I had never built cabinets before, and I wasn't confident enough to try to build the cabinets for the kitchen. So I was stuck trying to make it work with the stock cabinets that were available.
To make upper wall cabinets work as base cabinets, and not have them look skimpy and disproportionate in a kitchen, I not only built a base to set them on, but I also set them away from the wall quite a bit.
So while those finished cabinets may look like a standard depth kitchen cabinet (or close to it), the inside of those cabinets is only 12 inches deep.
On top of that, eight of the cabinets are only 12 inches wide. That was a design mistake I'll never make again, because 12-inch-wide cabinets are too small to be useful for most things. Dinner plates won't even fit in these cabinets. I'm not even joking or exaggerating.
So while I absolutely love the look of this wall, I don't like the function of these cabinets at all. I've learned to live with them, and I'm so thankful that I have the large pantry to store overflow kitchen items in. But in hindsight, I wish I had made some drastically different design decisions for this wall.
Putting a cased opening on that wall would give me the opportunity to redo the storage and correct my mistakes from eight years ago. I did a very quick (and not so great) mock up of what I'm thinking. I'd have two tall storage cabinets flanking the cased opening into the family room. (And no, our family room would look nothing like that. 😀 )
This type of storage, which would be deeper and have pull-out shelves, would be way more practical than the eight 12″ x 12″ cabinets that I have now that can't even hold a dinner plate.
The drawbacks? Well, those include (1) having my now-finished kitchen under construction…again, (2) losing what I think is the prettiest wall of my kitchen (and that I really have learned to live with), (3) arranging furniture in the family room with an additional doorway (the more doorways into a room, the more challenging furniture arrangement becomes) and (3) opening up the line of sight from the street straight through the living room, through the kitchen, and into the family room.
That last one is the biggest issue for me. I really like the idea of the family room being tucked away at the back of the house and not visible from the street, especially if we're in there at night. (Yes, I realize I could close my front living room shades 😀 , but I never do, and I probably won't start now.) But also, now that we're having people in our home more often, the idea of opening up that wall seems more practical and crowd-friendly.
I'm still undecided and weighting the pros and cons of each design. This is the last big decision I need to make before passing off the design to a contractor.
Addicted 2 Decorating is where I share my DIY and decorating journey as I remodel and decorate the 1948 fixer upper that my husband, Matt, and I bought in 2013. Matt has M.S. and is unable to do physical work, so I do the majority of the work on the house by myself. You can learn more about me here.