Let's See…Where Did I Leave Off?
Well, hello strangers! I kind of disappeared for a while, and I've missed y'all terribly!
Now I know you're probably expecting me to have all kinds of amazing condo updates today, and I hate to disappoint you, but I don't. 🙁
The last couple of weeks have been a bit crazy, but not really in ways that make for interesting DIY blog posts. I spent a few days packing, boxing, organizing, and moving things to storage.  Then I got totally sidetracked by a crazy person threatening me with a lawsuit over a negative review I wrote of his company / product, and the attention it has received in the last year…blah, blah, blah.
But now, I have no more time for distractions.  I need to get on the ball here!!
AND…now that the other cabinets have been moved to storage and are no longer sitting in the living room, I can finally show you a full view of the cabinet wall in the living room. Like I said, I really haven't made much progress since last time I showed you. I got the doors painted. I attached four of the handles. (Why only four? I have no idea!)  (And in case you're new around these parts…no, those shelves aren't staying there.  Why are they still there?  For the same reason that I only installed four of the eight handles on my cabinet doors.  That's just the way I do things. 🙂 )
Oh, and I also re-sanded and re-stained the countertop.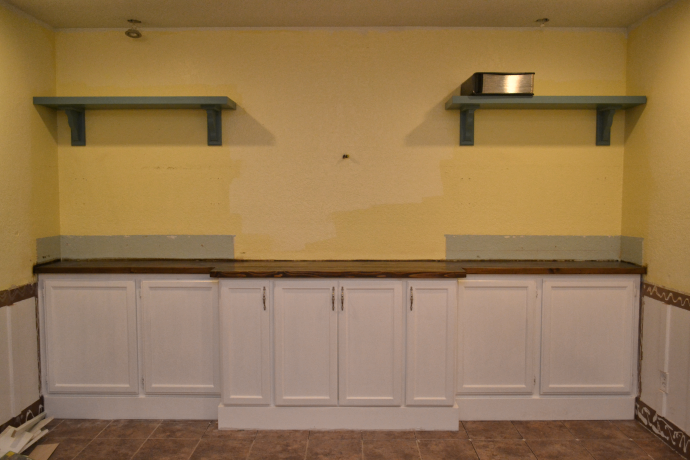 Yep, I had to refinish the countertop because the first time I polyurethaned it, it turned gray as it dried. And not a pretty gray, either. A streaky, dull, yucky gray. I have no idea why that happened. I've never had it happen before, so it was very frustrating. But in the end, I'm kind of happy about it, because I ended up staining it this time in Dark Walnut, and with one coat, it was gorgeous!! (At least I think it is! 🙂 )
Here's what it looked like before, with the Early American and Special Walnut stains: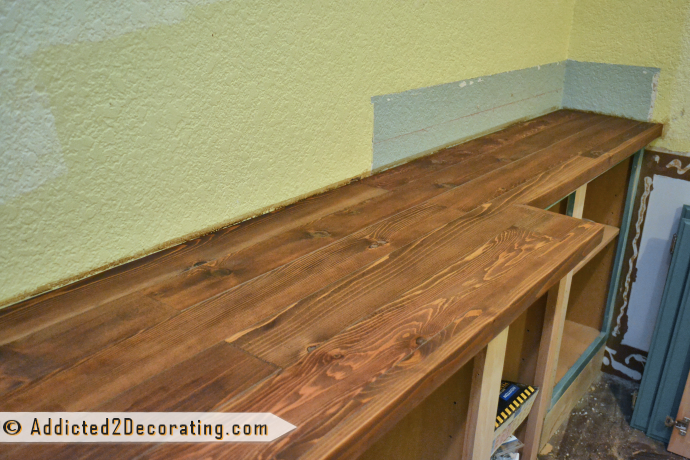 I definitely like the new color better, and I like happy accidents.  I just need to minimize the number of "re-do" projects I have from here on out, because time is running short!!  Fortunately, I have reinforcements coming to help.  Matt's parents are coming next week.  We haven't seen them in eight years, but that won't keep me from putting them to work!  🙂
So, that's what I've been up to.  What have you been up to lately?  Have you finished any amazing projects around your house?
Addicted 2 Decorating is where I share my DIY and decorating journey as I remodel and decorate the 1948 fixer upper that my husband, Matt, and I bought in 2013. Matt has M.S. and is unable to do physical work, so I do the majority of the work on the house by myself. You can learn more about me here.