I Painted My Sofa! (Before & After)
Well, y'all, I painted my sofa this weekend. Here's how it turned out.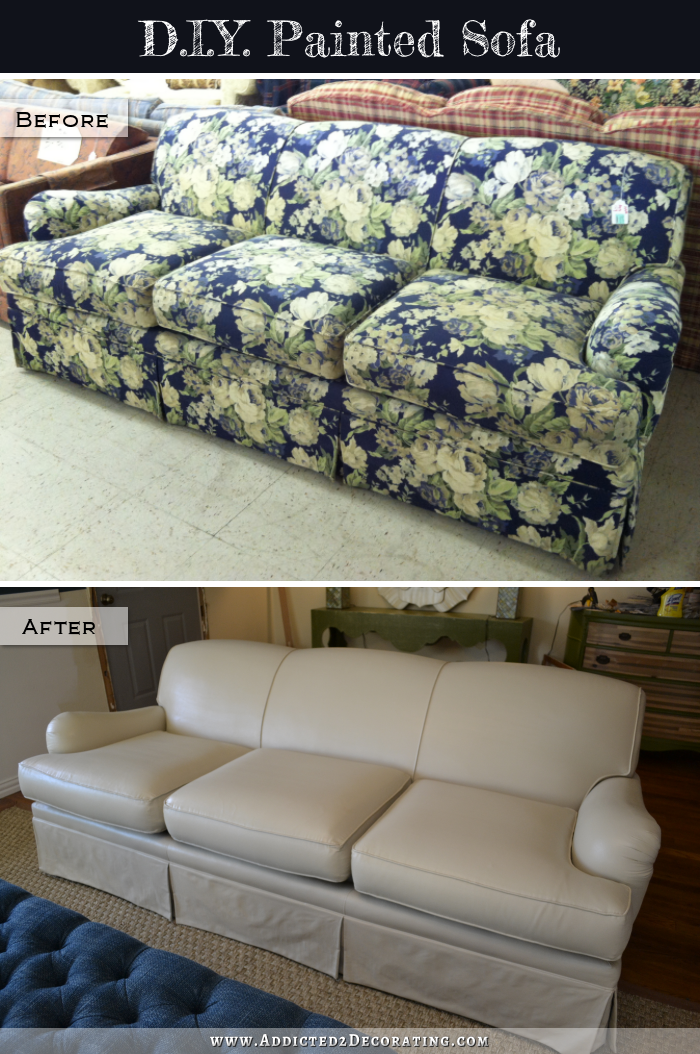 So let me back up a bit. 🙂
Y'all know that I've been dragging my feet on reupholstering this sofa, right? Well, I finally realized why I've been dragging my feet on it.
I don't really love this sofa.
I mean, it's okay. I really do love the English rolled arms, and I like that it has a skirt. But that's where my love for this sofa ends. I don't like how the back cushions look, and I really don't like the seat cushions. So the idea of spending hundreds of dollars on fabric and supplies, and then spending several days of my time (and my mom's time!) reupholstering this thing was less than thrilling to me.
So I want a new sofa. But I can't just go out and buy a new sofa right now. So for now, I painted this one. 🙂
I started with a tutorial from Hyphen Interiors (link no longer available), and then read about Kristi's experience here, and then used their info, made my own tweaks to the process, and wound up here.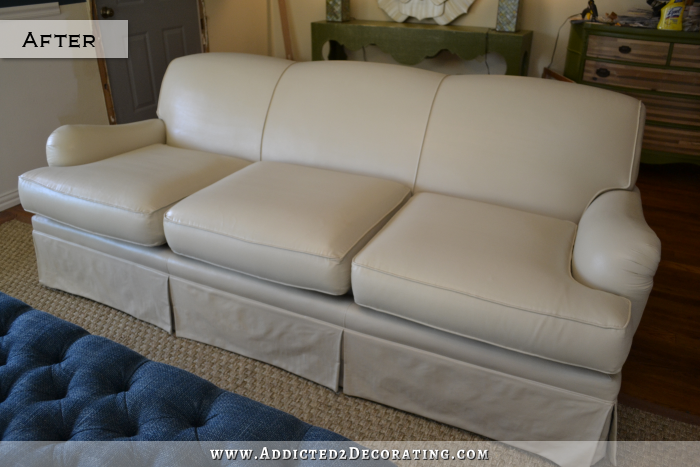 It's definitely a temporary solution to my sofa situation, but I think it looks pretty darn good! And it definitely looks a heck of a lot better than this beast.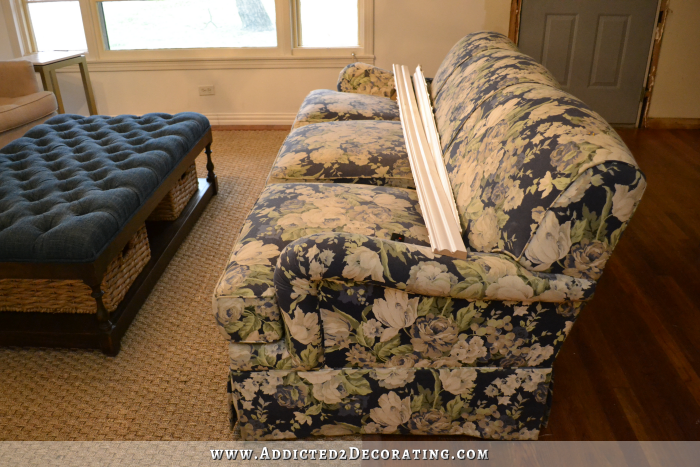 The process that I used is really pretty easy and straightforward. Here's what I used:
1 gallon of latex paint in an eggshell finish (I used Behr paint in a color called Stepping Stones from Home Depot, and if I did it again, I'd use flat paint)
(I didn't use an entire gallon, but for a sofa this size, it definitely requires more than a quart. And since the cost of two quarts is more than the cost of one gallon, I bought the gallon.)
8 8-oz bottles of Delta Fabric Medium
Water
Purdy paint brush (I used my favorite 2-inch XL-Cub)
Scrap piece of MDF (plywood or cardboard would have worked as well)
Drop cloth
220-grit sandpaper
And that's it!
On the first coat, I mixed up my paint, fabric medium, and water in a 2:2:1 ratio (2 parts paint, 2 parts fabric medium, 1 part water). I mixed it together really well and started painting. And yes, the first coat looked really awful!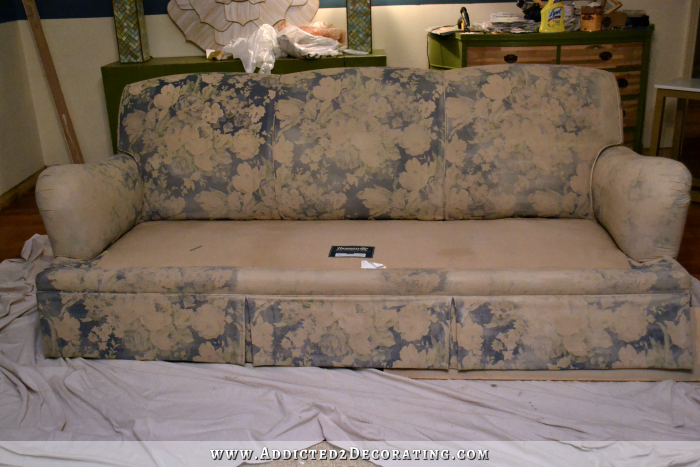 Now I did start off using a spray bottle full of water and saturating the fabric before painting like the tutorial said to do. But I only did that on the far left section of the back, and you can see that it's the section where the paint covered the least.
On the middle section, I decided to forgo the spray bottle (not only because it was messy and I didn't see that it was making much of a difference, but because it would have doubled the time it took to paint this sofa!). So on the middle section, I just painted and then rubbed in the paint with my hand. You can see that it covered just a bit better.
And then on the right section, I just painted it on. No spray bottle, and no rubbing the paint in with my hand. Just painting. It still soaked into the fabric really well, and it was a lot easier and way less time-consuming. So that's the method I used from there on out on the rest of the sofa.
I left that to dry for a few hours, and then came back to do the second coat.
For the second (and third and fourth) coat, I made the mixture 1 part paint to 1 part fabric medium. I left out the water completely. I also decided to lighten my paint, so I added some of my Polar Bear (the white on my trim) to the paint I had purchased. So my mixture was 1 cup of Stepping Stones, 1 cup of Polar Bear, and 2 cups of fabric medium.
Here's how it looked after the second coat…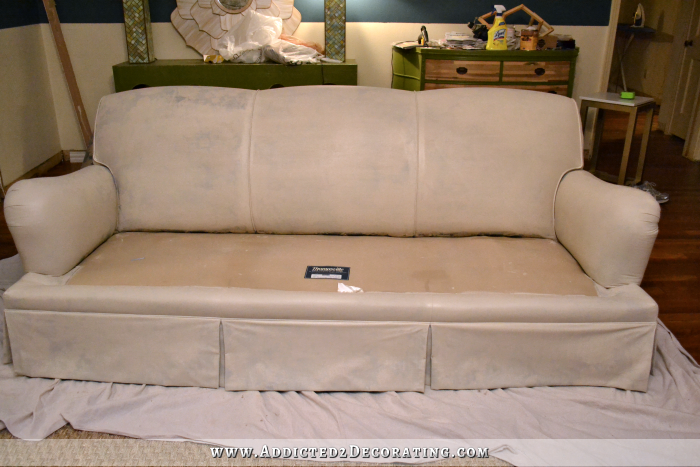 The second coat covered pretty well! I was beginning to think I would only need three coats, but I definitely needed four.
Here's how the seat cushions looked with a second coat.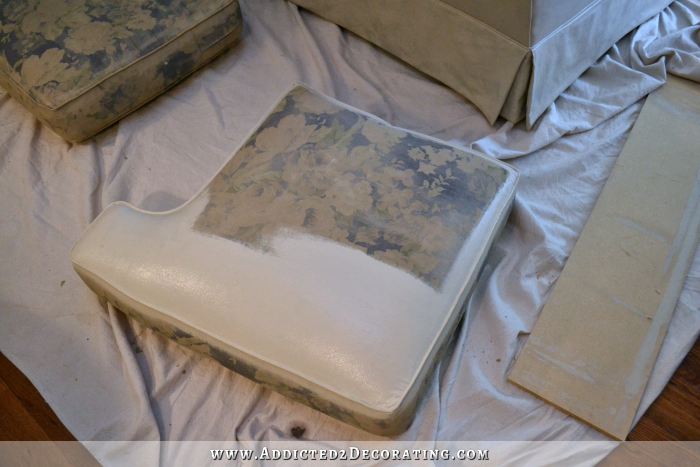 Of course, after a few minutes, the paint soaks in a bit more and the pattern on the fabric starts to show through. But that's still a huge difference between the first and second coats!
To paint the skirt, I found a scrap piece of MDF, and just slid it behind the skirt. This made it so much easier than trying to hold the skirt in one hand and painting with the other.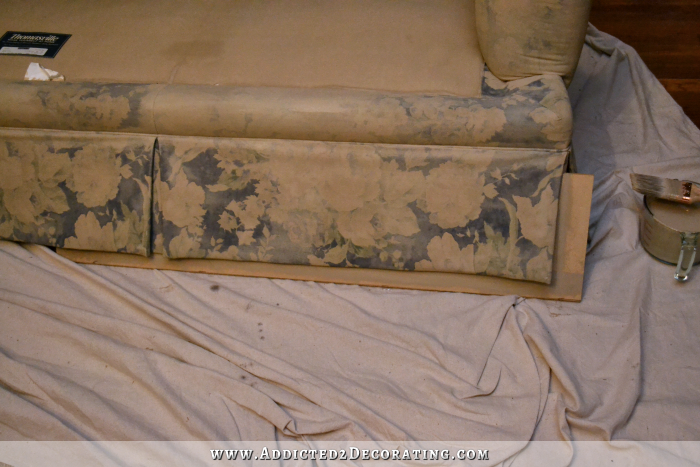 The only other thing I did was sand the sofa after the third coat, because the fabric does seem to feel rougher with each new coat. Sanding it made it smooth again, and also seemed to soften it up some.
Like I said, it did take four coats. But the good thing the first coat takes the longest, and each subsequent coat seems to take less time than the previous coat.
In all, I spent about $67 on this makeover ($26 for the paint, and $36 for the fabric medium with a 25% off total purchase coupon at Michael's — plus tax), and it took me two days to complete working by myself.
So here's some info I know some of you will want:
It now feels like brand new outdoor canvas. It's not soft like cotton, but it's also not hard and crunchy. Update: I actually think it feels more like a very soft, supple leather than outdoor canvas. Or possibly a hybrid of outdoor canvas and soft supple leather. 🙂
But what it is NOT is crunchy, hard, or scratchy.
It does have a sheen to it (which is why I'd use flat paint if I did it again). Matt says it looks like leather. It doesn't look like leather to me, but it does remind me of that Polished Apple shiny cotton fabric that was so popular in the 80s. I'm going to try to find a matte spray that I can use on it to tone down the sheen. HOWEVER, I do think this process would work beautifully if you want to turn your sofa in to a leather look. Use just the right colors over smooth fabric (mine was cotton upholstery fabric, so it had no texture to it) and I really do think you could achieve a leather look. (I don't think mine looks like leather because you generally don't see skirts on leather furniture.)
I do think it's very durable. I tried scratching the paint off with my fingernails after the third coat, and it didn't even budge.
It probably takes a few days for it to cure completely. Right now, it still has a bit of tack to it. You know how you can paint a bookcase with latex paint, think it's dry, put books on it, and then realize that the books have stuck slightly? It's kind of like that. Latex paint just takes much longer than we generally think for it to dry completely. I'll let y'all know how long it takes.
The sofa does smell like paint right now (since I just finished last night), but I expect that smell to dissipate and completely disappear, just like it does when you paint your walls.
I would not recommend doing this to a sofa or chair that is used on a daily basis. It's just not going to be a sofa that you want to snuggle on. So don't take your main sofa out of your family room where the family watches t.v. each night and paint it. Your family will hate you for it.
I wouldn't recommend this for a final, long-term, indefinite solution to an ugly seating problem. As an interim solution, I think it's awesome and budget friendly.
I think that's it. 🙂
All in all, not too bad for a $67 makeover, right?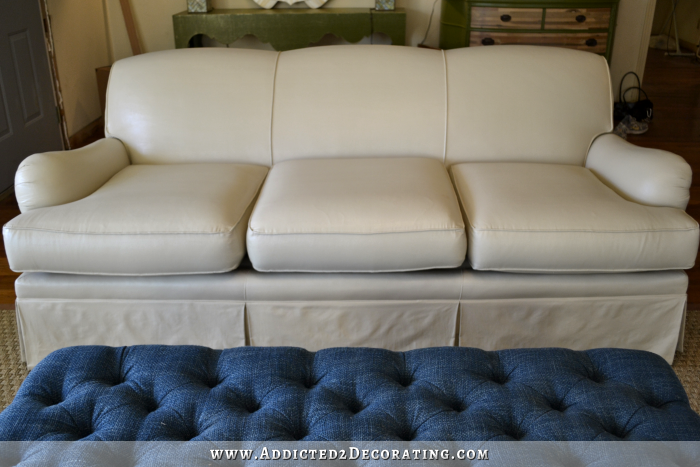 Update: I've had at least 50 people say that they think this will flake and peel off. Time will tell how this wears, but consider this…
Have you ever been painting something, accidentally got paint on your clothes, and didn't realize it until it was dry? That paint is virtually impossible to get out of your clothes. In fact, I've never been able to get dried latex paint out of my clothes. So I can't imagine this flaking and peeling, especially considering that I added fabric medium to this paint.
Heck, even on my paint shirts that have paint all over the front of them and have been washed 50+ times, the paint still won't come off! Yes, it cracks, but that's after the shirts go through the dryer many times. The heat from the dryer is what makes it crack.
So I'll keep y'all posted, but I'll be incredibly shocked if this paint flakes and peels. I don't see that happening.
Addicted 2 Decorating is where I share my DIY and decorating journey as I remodel and decorate the 1948 fixer upper that my husband, Matt, and I bought in 2013. Matt has M.S. and is unable to do physical work, so I do the majority of the work on the house by myself. You can learn more about me here.