Bathroom Built-In Storage – Tiled & Trimmed
Happy Monday, y'all!  I actually made really good progress on my bathroom built-in storage this weekend.  I had no major mishaps to speak of, and things are starting to take shape in this corner of the bathroom.
After getting the back piece wedged in there so tightly last week, and realizing that the box I was building, in its original size, wouldn't fit into that space around the door trim even if the back piece fit the width of the area perfectly, I decided to cut the width of the box down by a couple of inches so that it would fit.  That just required trimming down the back piece and the top piece and then reassembling the pieces.
Once it was built, my brother came over and helped me lift it into place.  It was heavy, and working in such a tight space was very challenging!  I even had to remove the crown moulding above the bathtub to get the box to fit.  But we finally (after three tries) got it into place.
Once it was in place, I had to measure and cut the opening for the electrical outlet.  I used my Dremel Multi-Max for that, and since I had used these adjustable outlet boxes in the bathroom, it made it very easy to move the box out to be flush with the inside of the cabinet.
Then I primed the inside of the cabinet with Zinsser oil-based Cover Stain, and once that was dry, I was ready for tile.
I installed this tile vertically, and to be quite honest, this wasn't a decision I made based on the design.  I decided to do this based on (1) ease of installation, and (2) the fact that vertical installation would make it less obvious if the shelves didn't end up perfectly level.
By installing the tile vertically, I was able to use whole sheets of mosaic tile on almost the entire thing.  I did have to use my tile saw to cut the two sheets at the top, which took less than five minutes.
And then I had to come back and fill in all of the spaces at the bottom with individually cut pieces.  That took quite a bit more time, but probably didn't take more than 30 minutes in all.
If I had installed these horizontally, every single sheet of mosaic would have to have been cut.  But it wasn't just the ease of application that made me decide to install it vertically.  I also considered the fact that absolutely nothing in this corner of the bathroom is perfectly straight, square, plumb or level.  That's just part of the challenge of working on an old house.  And I didn't want to take the chance of installing the tiles horizontally, and then having the shelves be just slightly off from the horizontal lines of the tile.  Even a difference of as little as 1/8″ would have driven me crazy every single time I had to look at it.  So, vertical it was.
After I grouted the tile, I installed the supports for the shelves.  I just used some small trim that I had on hand, and cut it down even smaller with my table saw.  Then I attached them to the sides with wood glue and 1-inch finishing nails.  After measuring and marking for placement, I also used the level to get them placed perfectly before nailing them on.
I had originally thought I would use glass shelves, but those shelves (for tempered glass) would run about $100 to $120, and quite frankly, I'm tired of spending money on this bathroom.  So I decided to just use what I had on hand, which of course, is MDF.  🙂  I did have to purchase a couple of pieces of lumber, but that was less than $10.  I can handle that.
So I ended up using some leftover 3/4-inch MDF for the shelves, which I cut to size using my circular saw.  I notched out the front corners before installing the shelves, and then ran a bead of wood glue along the top of the side supports, placed the MDF on top, and then nailed the MDF to the side supports (through the top of the shelves and into the side supports) using 1.5-inch finishing nails.
The reason I cut those notches is because I want to light this cabinet, and as I was considering different lighting options, the best one I could think of that would provide even light on all three shelves, is to use tape LED lights placed on the inside of the front trim.  In order to do that, the tape light needs to be able to run continuously from top to bottom on both sides, and those notches will allow that.  And I knew that they would be covered once the trim was added.
Speaking of trim, that went on next.  And again, since I was in an "I'm tired of spending money" mood, I made the decision to use some leftover 1 x 6 MDF board for the top trim — a decision I regret.  It's really a bad idea to trim out a built-in (or a separate bookshelf) with a combination of different materials, because the different materials are never going to be exactly the same thickness.
Y'all know I love my MDF, but I always suggest trimming out bookshelves, bookcases, and other built-ins with real solid wood lumber because it actually gives the structure a great deal of support, and will keep MDF shelves from bowing if you place heavy items on them.  But I was in a cheap mood, and didn't feel like buying a 1 x 6 piece of lumber when I had 1 x 6 scraps of MDF at home already.  Bad decision.
But anyway, I used 1 x 6 along the very top, and then attached 1 x 4's along the sides, attached with wood glue and 1.5-inch finishing nails.
And then I used 1 x 2's along the front edges of the shelves, attached in the same way.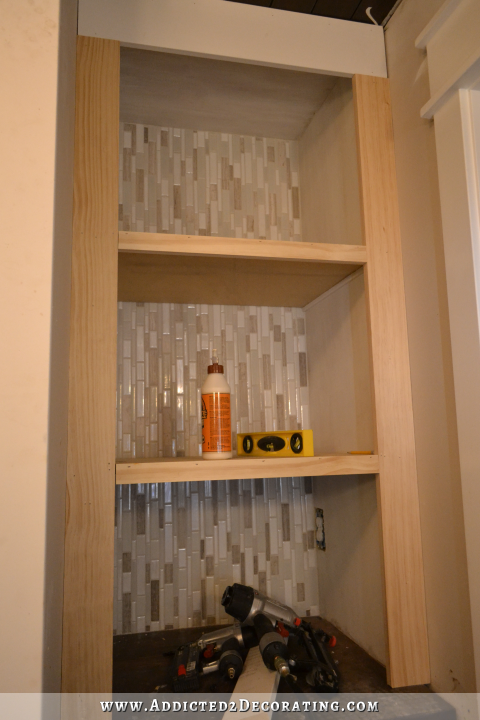 That's as far as I got, and while it's good progress, there's still so much to do on this to finish it — wood filling, sanding, priming, sanding, painting.  I also need to re-install the 1 x 4's and the crown moulding around the top, baseboards along the floor, and a bit of wainscoting (with tile) on the small amount of wall that shows in this corner.  I probably have about two more days of work left on this corner built-in before it's finished.
So just an FYI, it's possible that I'll be posting less over the next three weeks.  My father-in-law will arrive on Friday evening (the 17th).  That gives me just five days to get this messy house cleaned up (yep, it's still awful!), get the sawdust under control, put tools away, stock the fridge, and just do some general preparation for his two-week stay.  And then while he's here for the following two weeks, I'm still not quite sure what we'll be working on, or if it'll be blog post-worthy.  If it is, you can be sure I'll be here sharing!  If not (or if it's not quite worthy of daily sharing), there may be some longer than usual gaps in posting.  If I have my way, we'll be getting all of my ceilings drywalled while he's here.  Just wanted to give y'all a heads up so that if I'm not here for a couple of days back-to-back, you're not left wondering if something bad has happened to Matt or anything like that.  🙂  I'm really not quite sure what to expect while he's here, so we'll just play it by ear.  But I'll be back to normal posting after he leaves.  Sound good?  🙂
Addicted 2 Decorating is where I share my DIY and decorating journey as I remodel and decorate the 1948 fixer upper that my husband, Matt, and I bought in 2013. Matt has M.S. and is unable to do physical work, so I do the majority of the work on the house by myself. You can learn more about me here.