I spent all day yesterday in my pantry with my laptop, a roll of painters tape, and a tape measure. I tried so many cabinet configurations, thought through several corner designs, and then made some final decisions. At the end of the day, I had the basic footprint for my freezer and cabinets marked off.
So first, let's talk about those lower corners. There were so many great idea shared on my last post! If you're building or remodeling a kitchen or walk-in pantry, and wondering what to do with those lower corners, be sure to read all of the great suggestions on that post.
So here's the deal with the corners. If you just build two regular cabinets and put them together at a 90-degree angle so that the front corners meet, you have an entire corner of wasted space, right?
Another option is to build one cabinet all the way to the wall, and then build the other cabinet so that it covers 24 inches of the first cabinet. That creates a blind corner with no wasted space.
And of course, there are loads of products you can purchase to utilize that blind corner. But quite honestly, I don't really like most of the options out there. My favorite is this Rev-a-Shelf blind corner storage unit*…
But that costs $366! That's way more than what I want to spend on something like that. Plus, it still leaves space unused in the cabinets, and I DO NOT like wire storage shelves.
I also really liked this one*, which is a similar idea, and I like that it's made of wood. But the corner shelves only pull over to the side. They don't actually pull out. And this one is just under $275 with shipping.
Then I got to thinking that I could probably just make something like that for far less than $275. Many of you pointed me to Sawdust Girl's DIY blind corner storage, and then others of you pointed me to her post where she scrapped that idea and just blocked off the corner because after days and days of trying different hardware options, she just couldn't get it to function as smoothly as she wanted. If Sandra can't get it to function smoothly, I have very little confidence that I could.
Another idea that some of you had was to build corner drawers.
That was initially my very favorite option, but as I thought more about it, I couldn't figure out how that actually solved the issue of wasted storage space. So I drew it out, and realized that corner drawers are more of a really cool looking novelty than a an actual dead-space-utilizing idea. In order to have room for corner drawers, you have to take your cabinets that meet in the corner…
And you have to move them over so that there's room for drawer fronts. And then the drawers go straight back to the corner, creating a triangle of wasted space on each side.
Put those triangles of wasted space together to form a square, and you've basically got the same amount of wasted space as you had with the side cabinets sitting right together at the front corners. So corner drawers, while they look interesting, would be a headache to build with no payoff that I can see.
So in the end, when it comes to the specialty items for easier access to corner storage, my favorite idea is the 36-inch corner cabinet with Super Susans* (a term I had never heard until yesterday!).
Super Susans* seem to offer the most convenient access with the least amount of wasted storage space. And you can even buy the ball bearing lazy susan hardware and custom make one to perfectly fit the size of your cabinet so that you have as little wasted space as possible.
The difference between a lazy susan and a super susan is the pole in the middle. I've never been a fan of lazy susans because the pole in the middle just seems in the way and limits what you can store on them.
But Super Susans don't have that middle pole, so you can store much larger items on them. And because of the way they're built, you can also store heavy items on them.
So after reading through all of the various suggestions, and looking at tons of different ideas and configurations, I've decided that in these two back corners…
…I'm probably going to go with the easiest option which allows the most storage — blind corners with no fancy contraptions for easy access.
I'll just use those corners to store items that I use infrequently, and I'll probably even add some lighting in those cabinets so that I can see what's back there. If I change my mind and decide to do something fancy, I'll go with the Super Susan idea and build my own custom size to use every bit of space possible.
The only other specialty storage I'm planning will be right in the center of the back wall underneath the window. You can see where I have a 42-inch-wide space taped off there.
In that area, I will build a cabinet with two large, deep, strong drawers. Everything else will be open storage. The blue tape on the wall around the room marks the countertop height. The countertop will be along the full width of the back wall, and will wrap around the full width of the right wall.
And then on the wall with the pantry door, I plan to build some shallow shelves, floor to ceiling, for small items like canned good. I'm still working out how to tie that section in with the countertop section, so we'll have to see how that comes together. I'm determined to make it work, though, so that I don't lose any storage space.
On the opposite wall is where my freezer will go.
So the lower cabinets and countertop will wrap around onto that wall about 15 inches and then end against the freezer. Of course, that door will be gone. I just placed it against that opening so that I could mark off the area with tape. That leaves me with an awkward corner to the left of the freezer with more blind storage, but I chose to do it that way because blind storage is better than no storage at all. And if I shove the freezer all the way over to the left wall (i.e., the wall with the pantry doorway), then I completely lose all of the shallow storage next to the pantry door because I'd have to leave that space for the freezer door to swing open. So I figured that half usable storage and half hidden storage on that shallow storage area was better than losing all of it.
I still might rethink that, though, because as I'm writing this I'm realizing that moving the freezer all the way into the corner will gain that 12 inches of vertical space from floor to ceiling on the right side of the freezer, and it would all be easily accessible space. That actually makes more sense. 😀
So evidently, I still have some details to work out, but it's coming together!
---
---
Update:
My pantry is finished! Want to see the entire project from start to finish? You can find every single post about the pantry build right here…
Or you can skip to the end and see how it turned out. Here's a peek of the finished pantry…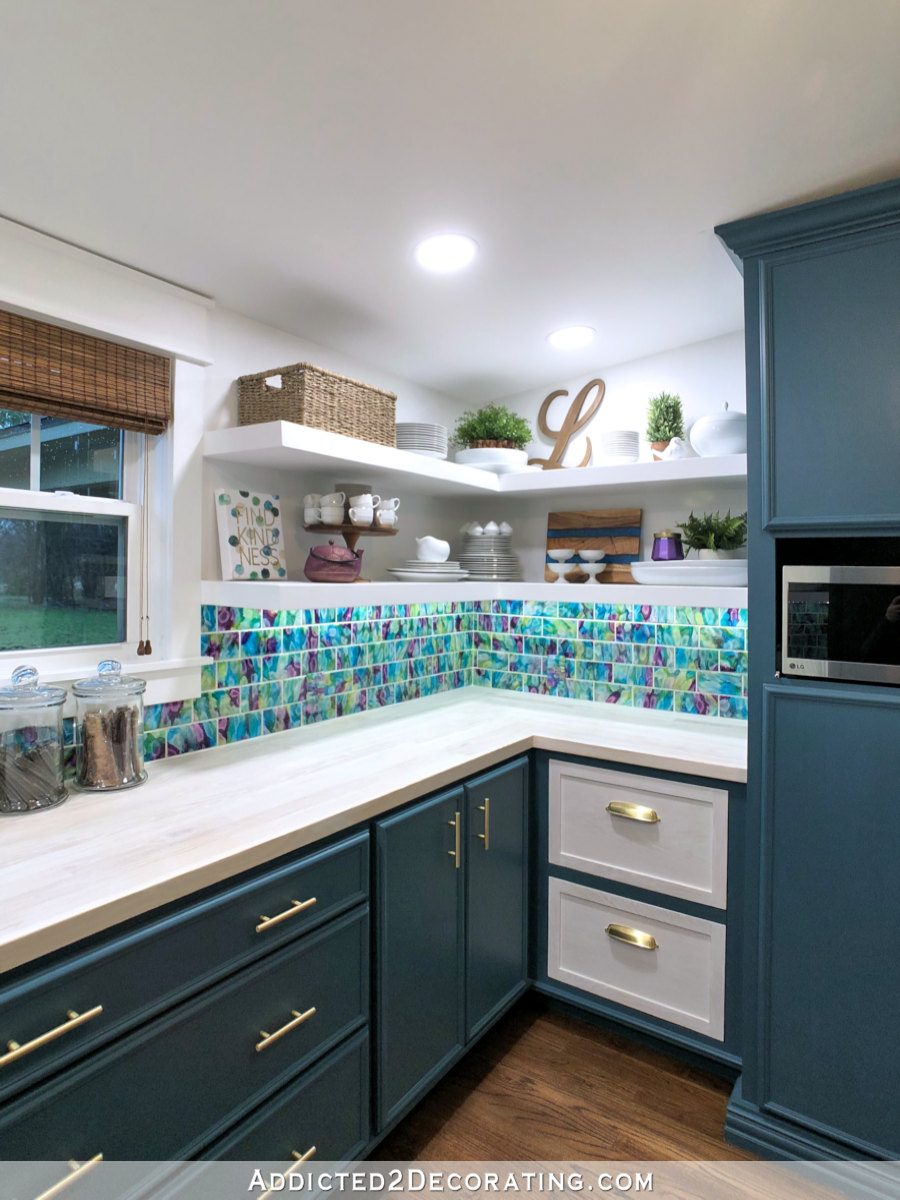 You can see more pictures on the before and after post right here…
Addicted 2 Decorating is where I share my DIY and decorating journey as I remodel and decorate the 1948 fixer upper that my husband, Matt, and I bought in 2013. Matt has M.S. and is unable to do physical work, so I do the majority of the work on the house by myself. You can learn more about me here.