Pantry Lighting (Plus, Adapting A Flush Mount Light For A Slanted Ceiling)
I finally got my lighting installed in my pantry. This wasn't on my list of things I hoped to accomplish by my end-of-year break, but I bought the lights a month-and-a-half ago, and had been procrastinating because I had no idea how I was going to install the main flush mount light on the slanted ceiling in a way that the little glass balls would hang straight. To refresh your memory, this is the light I bought to go right inside the pantry doors.
And by the way, that light is from Home Depot and costs just over $100. And it's almost identical (other than color) to this Callia Crystal Flushmount light from Pottery Barn, which is $349. The Home Depot light plus a can of spray paint will save you over $200.
Anyway, I finally realized that the solution was quite simple. It was just a matter of removing the top rigid canopy, which was held to the light with one lock washer and nut, and replacing it with a different light canopy that accommodates a chain so that the light can hang free rather than being attached to a rigid canopy. So I purchased this Westinghouse center hole canopy.
That allowed me to attach a chain to the canopy. Then I needed something to allow me to attach a chain to the actual light, so I purchased one of these female lighting loops to screw onto the very top of the threaded nipple that held the main light together.
I wasn't concerned about them being different colors since I was planning to paint the light anyway.
And then I needed chain to connect the lighting loop on the light to the loop on the new canopy. I always have extra chain in my stash of electrical and lighting parts, so I was set.
I just unscrewed and removed the nut and lock washer that was holding the top, rigid canopy to the light fixture, screwed the female lighting loop to the top of the threaded nipple, added one chain link, and then connected the chain to loop on the canopy. Then I spray painted the whole thing before installing it. It turned out looking like this…
And it worked perfectly.
So now you're wondering what's up with my ceiling, right? Well, let me tell you. Changing this light from a flush mount with a rigid canopy into a short hanging pendant light was absolutely the easiest part of this project. Installing it was a huge headache.
Generally, when installing a light with a chain attached to the canopy, you lower the canopy and chain down several inches onto the wire so that quite a bit of the wire is exposed out of the top of the canopy. That gives you lots of room to work with the wires and get the light wired. Well, because I was only dealing with one chain link and wires that weren't that long to begin with, I could barely see what I was doing to get the light wired.
The first time was a huge fail. I almost had the black wires connected when the entire light slipped out of my hand and went barreling towards the floor, but not without crashing into the metal frame of the ladder on its way down.
So I tried again. And again, I almost had the first to wires connected when the thing slipped out of my hand and fell. This time, I was more prepared for it, and reacted quickly and caught it.
The third time was the charm. I finally got it all wired, and got the canopy securely fastened to the ceiling. Then I stepped away to look at it, and realized that the whole thing was hanging all whomperjawed (that's a Texas word, y'all, and it means it was all askew).
Upon closer inspection, I realized that several of the metal links holding the different sized rings together had broken during the fall. I was beyond irritated at that point, but wasn't about to let this light defeat me, so I headed to Michael's, purchased a package of jump rings, removed all of the old metal pieces, and reassembled the entire thing with new jump rings.
But then not only were the jump rings bright silver, but the paint on other areas of the light had gotten chipped and scratched when the light fell. Well, obviously there was no way I was going to uninstall the light to repaint it, so I just painted it in place. I figured that a ceiling could be easily touched up, but if I had to go through the process of installing that light again, one of us was going down, and I didn't want to take that chance.
But I finally got it installed, along with the other four lights in the room.
The other four lights were very easy compared to the main light. There are only four inches of space between the ceiling and the roof in this room, so there wasn't even enough room to use the smallest recessed lights I could find. I mean there's no room at all in that ceiling for anything other than a layer of insulation and a few wires. So I chose these Lithonia Lighting 7″ Versi Lights, which are small, low profile flush mount LED lights that kinda, sorta, maybe, just a little bit, look like recessed lights with a bulky trim kit on them.
Once everything was installed and tested to be sure the lights actually worked, and the ceiling paint was repaired, I could finally install all of the little glass orbs on the center light. That took forever, and two of them were broken, so I had to head to Home Depot to exchange those. But after two days, I finally finished this lighting project that was only supposed to take me a couple of hours. 😀
These little 7″ Versi Light LED lights are awesome. They put out a lot of light (of course, I have four of them), and they were very easy to install. There are two kinds, and I got the ones that are 3000K, which said "warm white" or something like that. I much prefer "warm white" LED lighting to "daylight" LED lighting.
And I love how this light turned out. I had my doubts that it would survive there for a while, but it came out nicely.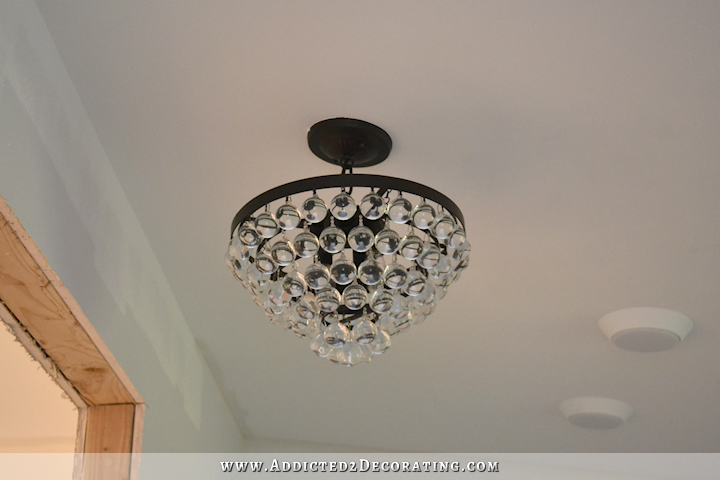 And I love how the glimmer and shine is visible just beyond the pantry doorway.
Last night as I stood at the sink washing dishes, I caught myself on several occasions glancing over at my new shiny light. I think it's so pretty. Now I just hope it's still visible (even if just barely so) when the doors are installed!
Now that that's out of the way, I can actually get started on my list from Friday. I think I've probably ruined my chances of finishing now, but I'll give it my best try.
---
---
Update:
My pantry is finished! Want to see the entire project from start to finish? You can find every single post about the pantry build right here…
Or you can skip to the end and see how it turned out. Here's a peek of the finished pantry…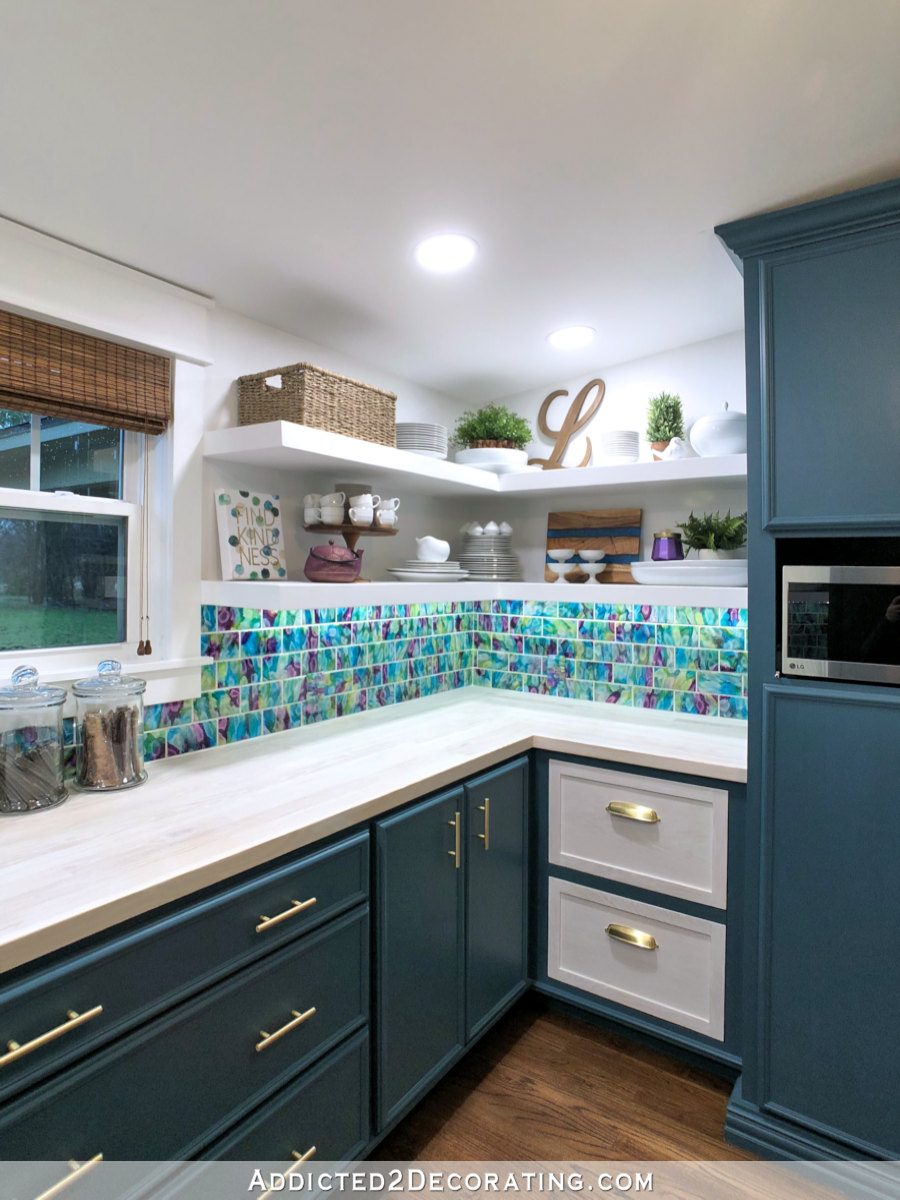 You can see more pictures on the before and after post right here…
Addicted 2 Decorating is where I share my DIY and decorating journey as I remodel and decorate the 1948 fixer upper that my husband, Matt, and I bought in 2013. Matt has M.S. and is unable to do physical work, so I do the majority of the work on the house by myself. You can learn more about me here.