Back To The Pantry (And A Need For Accountability) [VIDEO]
Alright, y'all. I need your help. I need you to hold me accountable to get my pantry done before I take my end-of-year break and we say goodbye to 2018 and welcome 2019. For my own mental health, I need to have this pantry project wrapped up before this year ends, but this last week, I've been finding any and every excuse to avoid the pantry. There are cheesy holiday romcoms to watch, and keto ice cream recipes to perfect, and blog maintenance tasks to be performed, and outdoor lights to be installed, and on, and on, and on.
Anything to avoid the pantry.
But I'm running out of time, and I need it done. For my own sanity, I need it done, and I need my breakfast room cleaned up and usable again.
So today, we're going to go through the punch list of things that need to be finished, and if I don't get at least one thing crossed off the list every single day (or at least make significant progress towards getting an item finished), then y'all have my permission to scold me like a disobedient child who refuses to do her homework. Just don't send me to my room, because I have a TV with Netflix and Hulu in there, so that wouldn't exactly be punishment. 😀
I made a quick video to show all of the items that still need to be finished in the pantry…
(If that video doesn't work, you can watch it here on YouTube.)
So here are the items that need to be finished…
On the tall cabinet on the right, I need a second coat of paint on the cabinet (or maybe two more on the crown moulding). I also need to add the stile to the top cabinet, and then add an electrical outlet in the open section where the microwave will go.
Then I need to do a second coat of paint around the edges of the ceiling, paint the walls and shelves, and paint the window trim.
Along the back wall, I need to finish building the new drawer fronts and get them primed and painted. (Yes, I had to build new ones because the original ones ended up being too wide once the cabinet doors were installed. And it's very time-consuming mistakes like that one that I seem to keep making over and over on this pantry that have made me so sick of it.) I also need to paint the four cabinet doors and finish building the pull-out shelves.
Once all the pull-out shelves are built, I want to put a clear coat on all of them so they're easier to keep clean.
On the freezer cabinet, I need to add a stile to the upper cabinet, paint a second coat on the cabinet (possibly two coats on the crown moulding), and then run the wire for the outlet to the breaker box so that it actually has electricity.
I also need to add under cabinet lighting under the lower shelves on each side.
And then I need to finish the door trim and re-install the ceiling light so that it sits flush on the ceiling.
After sharing what still needs to be done on my Instagram stories yesterday, several people suggested that I do things in order of easiest to hardest. That way I can knock off some easy things from my punch list really quickly, which will motivate me to continue on.
So I did sit down and make my list, doing a combination of easiest to hardest, as well as adding some things in where they just made more sense.
Here's the order I came up with…
Finish painting the edges of the ceiling
Add stile on top cabinet on the right
Add stile on top cabinet above freezer
Add electrical outlet for microwave
Paint the second coat on the side of the right side cabinet (i.e., the tall cabinet)
Paint the second coat on the side of the freezer cabinet
Paint the walls and shelves on the back and side walls
Paint the window trim
Wire freezer outlet to the breaker box
Install under cabinet lighting
Paint four cabinet doors
Finish building, priming and painting new drawer fronts
Built three more pull-out shelves
Clear coat all pull-out shelves
Install and finish door trim
Paint the wall around the pantry door
And finally, load in all of my stuff and start using and enjoying the pantry!
I think that about covers it. I'm going to share my daily progress here on the blog, and I'll also be sharing updates on Instagram, until the pantry is finished. Y'all hold me accountable, and if a day goes by that you don't hear from me, then come find me (probably sitting in front of a TV, buried under a comfy blanket, and watching ridiculous Netflix and Hulu holiday romcoms) and make sure I get back to work. 😀 This isn't a time for you gentle and understanding moms to tell me that I need a break and should just relax. I've been doing that for days. Right now, I need you "tough love" moms to give me a swift kick in the pants and keep me on track. Okay? Okay. Here I go…
---
---
Update:
My pantry is finished! Want to see the entire project from start to finish? You can find every single post about the pantry build right here…
Or you can skip to the end and see how it turned out. Here's a peek of the finished pantry…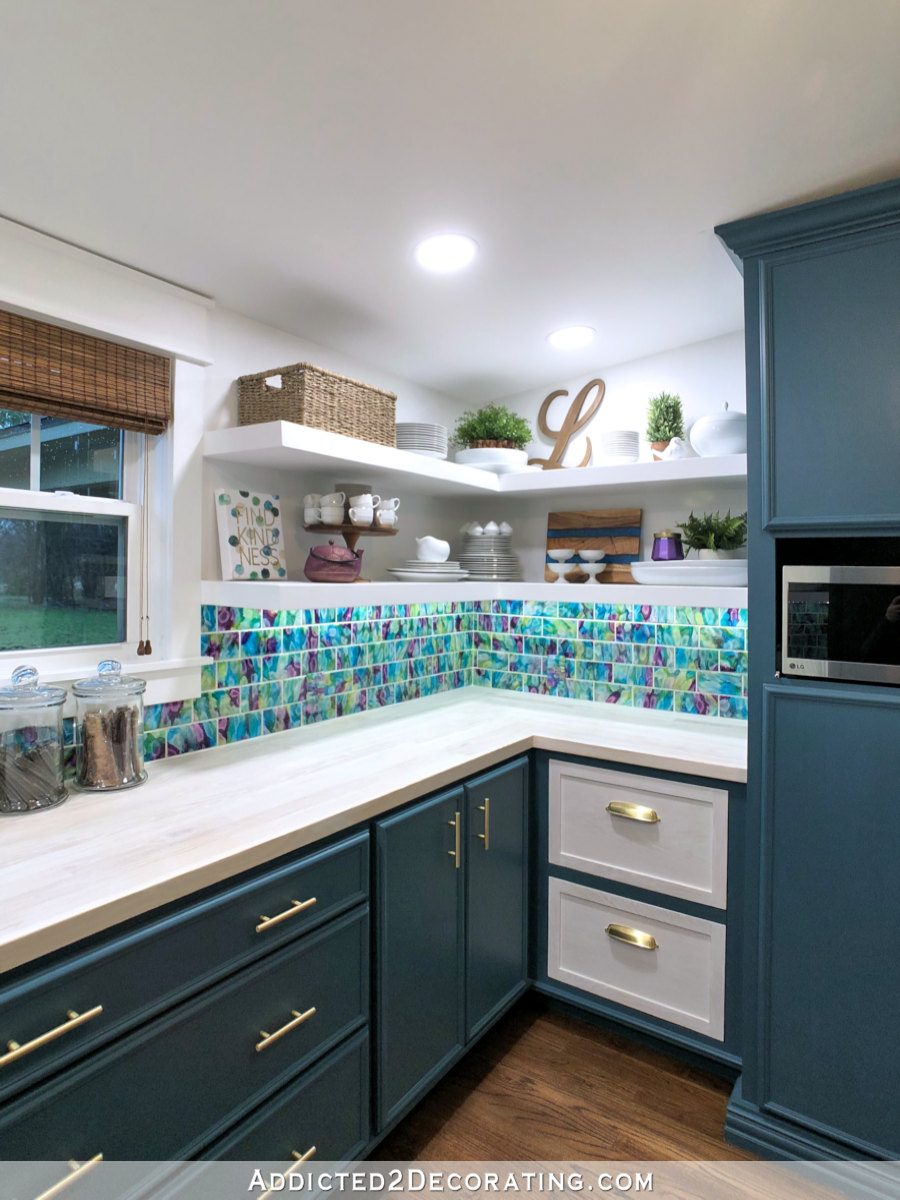 You can see more pictures on the before and after post right here…
Addicted 2 Decorating is where I share my DIY and decorating journey as I remodel and decorate the 1948 fixer upper that my husband, Matt, and I bought in 2013. Matt has M.S. and is unable to do physical work, so I do the majority of the work on the house by myself. You can learn more about me here.